Hey Hello Hive Community!
We are the NFTHypeSquad, a (not so) small collective of NFT-artists and -collectors, whose aim it is to build a community where empathy, kindness, support and love are at the forefront.
It all began as a seed of an idea by CryptoPom, T3D and PixelatedWorld, who met on Twitter, finding themselves in a mess of shill-threads, clout-chasers, Foundation invite contest threads and general chaos, which was the NFT-Community at the time.
It takes a lot of energy to navigate through the weird Twitter-NFT-world and try to get seen as an artist.
So they decided to build their own community, where artists are able to connect and support each other.
From there the collective grew, we are currently over 200 creatives, all eager build a place where everyone feels supported and appreciated within this crazy world called NFT-space.
We have all kinds of different projects going on, latest being a 24 hour art jam and the launch of our own podcast :)
And we're looking forward to start sharing all that fun stuff with you!

Another reason to start our blog here on the Hive blockchain is to be able to support artists who want to start selling their art on @NFTShowroom.
Ethereum still holds the biggest marketplaces for NFT's, but the high gas fees make it difficult for many artists as well as collectors to make a start. So we find it very important to support the alternative platforms and make it easy for artists to get a foot in the door.
All earnings from this blog will be used to raise a fund to help artists to get started on NFTShowroom!
We're very happy to join the amazing Community here on Hive now and looking forward to make some valuable new connections <3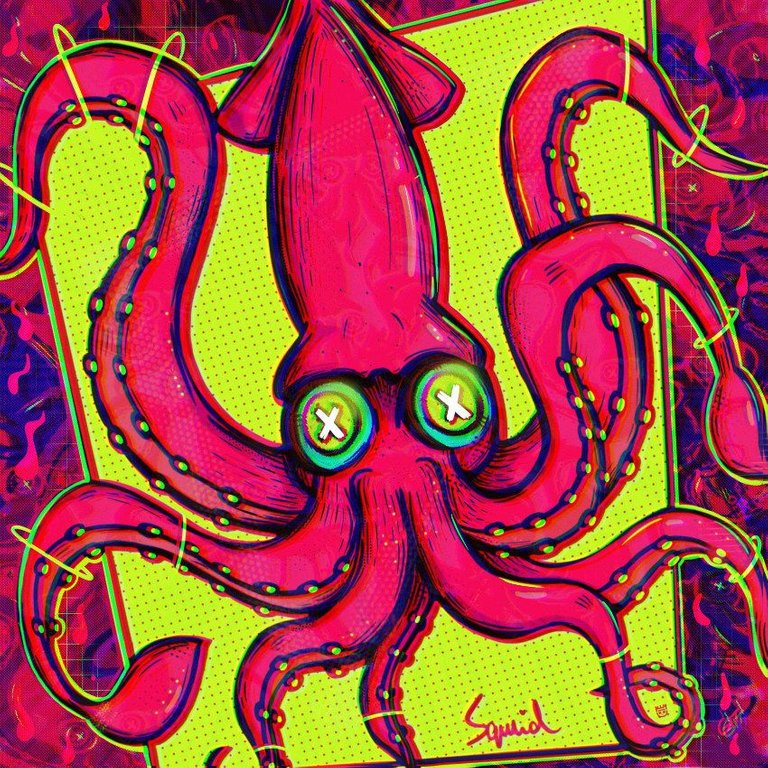 This lovely creature was created by GIT for our ongoing NFTHypeSquid Project, which we're gonna write about soon, too :)
Find us on Twitter, and follow if you like!
-> https://twitter.com/NFThypesquad