Dear Hivers,
As we complete July, I thought I will share my Twitter stats here. If you remember, this is an experiment with an abandoned Twitter account. Today, I completed 61 days on Twitter.
On this account, I have been talking only about Hive. And I am convinced Twitter is a perfect tool to onboard and discover new audience.
This post shows the combined result of the last two months.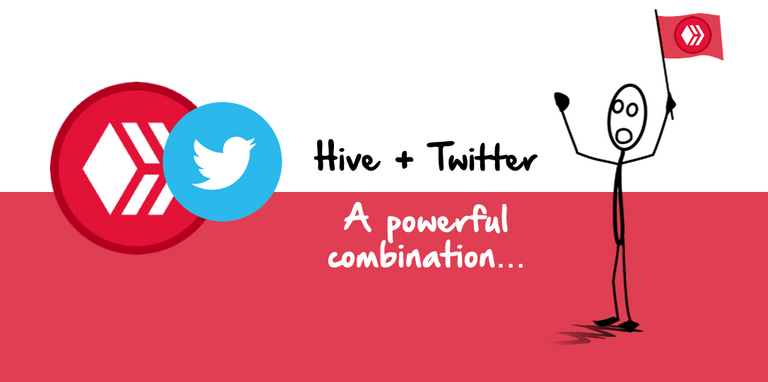 ---

---
I started this experiment with an anonymous account with zero friends — zero connections. I did not know anyone. I did collect a few influencers and followed crypto traders in the past.
Stats from the past: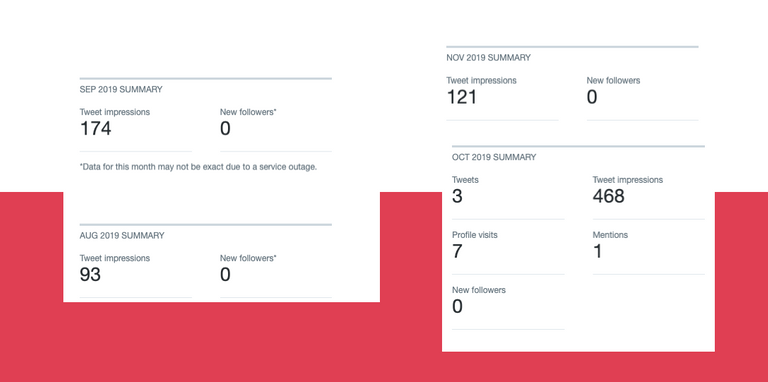 This was a random account I was using to trade crypto. Then I added a display pic and updated bio and began to tweet.
And now 60 days later, the stats look like this:


As you can see, there is activity every single day.
A total of 122,000+ impressions... all in 61 days.
There were also a total of 330 tweets. Few of them worked really well. And others were buried. All in all, it was a fun experiment I wish to continue.
Impressions in June were higher than July. This is also because I didn't tweet a lot of "Tweetstorms" as I was caught up with other work.
Once again, the goal is simple:
It is not that my stats are important. The idea is to show the power of social media. Twitter already has a built-in audience and we can collectively focus on Twitter to harness its power — and then channelize this power to grow Hive.
I also wish to repeat few key areas worth discussing:
---

---
I did it last month and saw fantastic results. Basically, you create a series of tweets (tweetstorms). I see #HiveChat (which is a weekly event) is creating such threads. Good to see this.
We can definitely use more of them.
Here are some Twitter thread links from June: The first Twitter thread I did was on Medium versus Hive. Link here. It received 4000+ impressions and 292 engagements.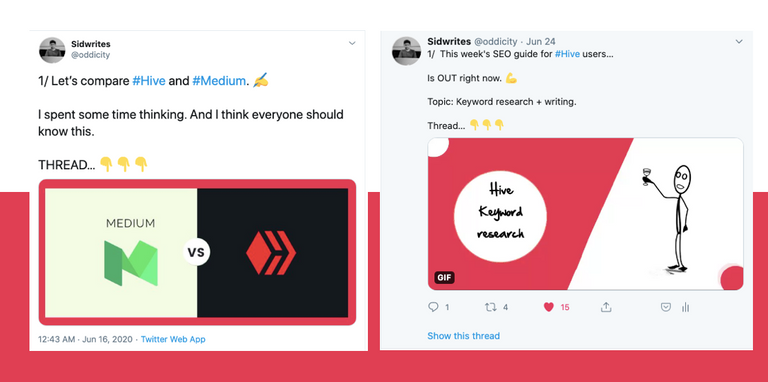 Few more Twitter threads that were successful:
---

---
Because I organically built Twitter followers from 0 to 10,000 for an exchange, I knew images work better. This month I added a couple of purely GIF + image-based tweets. [Example 1] [Example 2]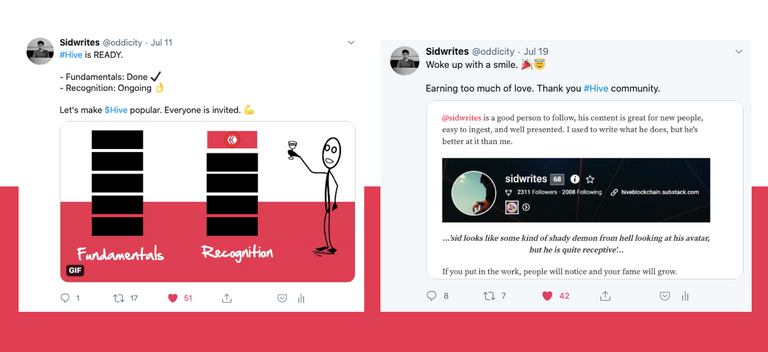 For those who wish to try it out, don't forget infographics. They have worked really well and Twitter loves image-tweets: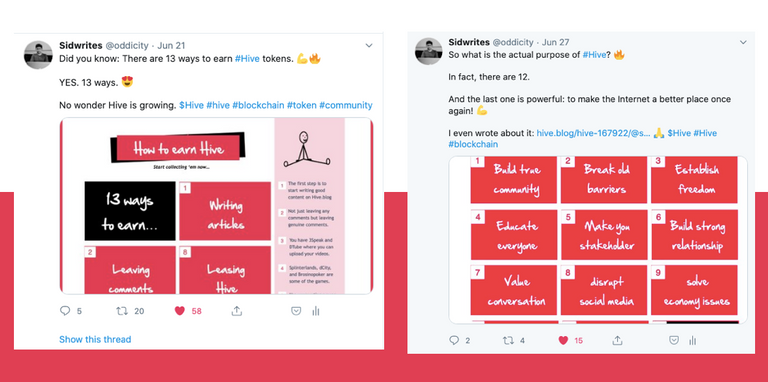 Because I was researching DeFi, I discovered Sam from the FTX exchange. Turns out, we follow each other (since I used to be a trader). I thought why not ask him to list Hive on his exchange? Wrote a simple tweet with a GIF.
I am not sure how the end results will look like. But I learned an important lesson: to leverage existing contacts.
Overall, the last 60 days have been fantastic on Twitter. Starting August, I wish to spend more time and follow more influencers.
---

---
Twitter is a great place to discover new audience and easily connect with our Hive community.
Few key takeaways:
#1: Humanize content. It always works. Make your tweet simple and fun.
---
#2: Hive Twitter community is incredibly active. We have initiatives like #HiveChat and #Hive5 that are keeping everyone engaged. Definitely participate.
---
#3: I specially like the batman Hive user (see the video). No one in the crypto community does this. It is fun and everyone loves it.
---
#4: Tweets with images or GIFs work better than tweets without.
---
#5: We also have a new dedicated account @hive-data that reveals Twitter data. Once again, the community is growing.
---
#6: I love using emojis on Twitter. They add a touch of casualness.
---
#7: Like tweets — so others get notified. Whenever I am on Twitter, I scroll and like #Hive $Hive hashtag tweets.
---
#8: Leverage contacts. As long as you are comfortable, use existing contacts to connect and request.
---
#9: For emojis, I have been using Emoji Keyboard extension.
---
#10: The Posh (Proof-of-Sharing) is now live. Though I am yet to register, every Twitter user should check it. (The registration bot should start working soon)
---
All in all, the idea is to have fun while tweeting. I visit Twitter twice a day — late at night and then early in the morning. I notice the community is buzzing with activities.
This Twitter experiment has led to several dozens of connections, new friends and followers that I am grateful for. As always, to promote Hive outside of Hive is the goal.
Been a fantastic 60 days so far.
And so if you using Twitter? Definitely try out some of these things and do share your thoughts. Also wish to thank every Hive-Twitter user out there. You guys are going a great job.
Let's stay together... 🔥
Cheers,
Sid
---
If you liked this article? Feel free to comment and upvote and reblog.