Dear Hivers,
After sharing several tutorials, inviting couple of people here, and even getting Hive listed on other sites…
I feel it is time for the next step.
It is time to step out of Hive and introduce something else.
Today, I am launching a new Hive newsletter.
This is not happening inside Hive. In fact, it is happening outside.
More on this later.
First, here is the link to the newsletter: https://hiveblockchain.substack.com/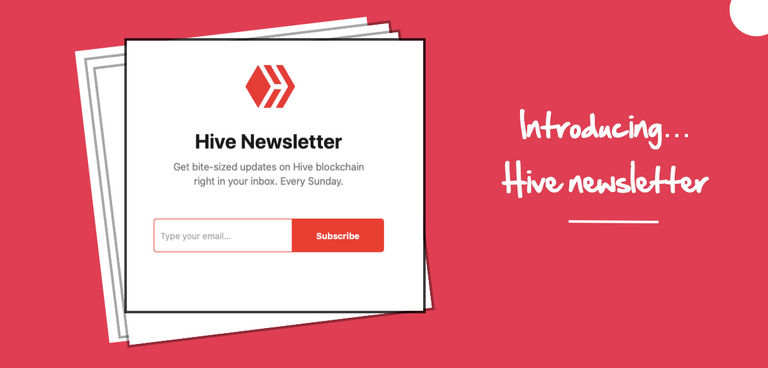 Short version: Once you go there, you can enter your email to subscribe. After subscribing, you will start receiving one email every week.
Note: I am using Substack because it is a 17 million dollar funded startup that makes newsletter writing and discovering easier. More on this later.
---

---
There is a reason why I started this newsletter. I figured there are some problems that needs to be solved.
Problem #1: We are overloaded with information.
There's simply too much going on.
For example: When people come to Hive, they will find dozens of articles to skim through… and might miss out on some of the most important updates.
Problem #2: Don't know what's happening outside.
If you are on Hive, you are probably NOT outside of Hive. People may not have enough time or strength to check out what's happening:
On Twitter
On crypto news websites
On exchanges and so on…
Problem #3: Lack of recommendation
We can't onboard new people by talking about Hive on Hive. By having a newsletter, recommendation gets easier.
People can simply opt-in with their email address and explore. That is why, with this newsletter, we solve all 3 problems.
---

---
Solution #1: Share organised information.
I will be collecting crucial links and updates from the Hive platform and saving them. Then I will organise this information and share it as a SINGLE newsletter once a week.
Solution #2: Bite-sized information
The newsletter just won't contain links to articles on Hive. It contains links and updates you might have missed… from the OUTSIDE world.
Check out the sneak peak below.
Solution #3: Everything in your inbox.
The way this newsletter is built, you don't have to visit the website. Just entering your email address is enough. Then, every Sunday, you will receive the newsletter in your inbox.
---

---
This is the homepage of the newsletter: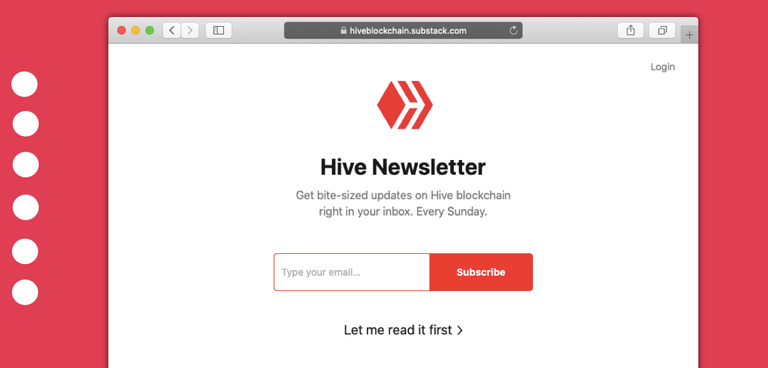 Moment you enter your email address, you will receive a thank you email (only once):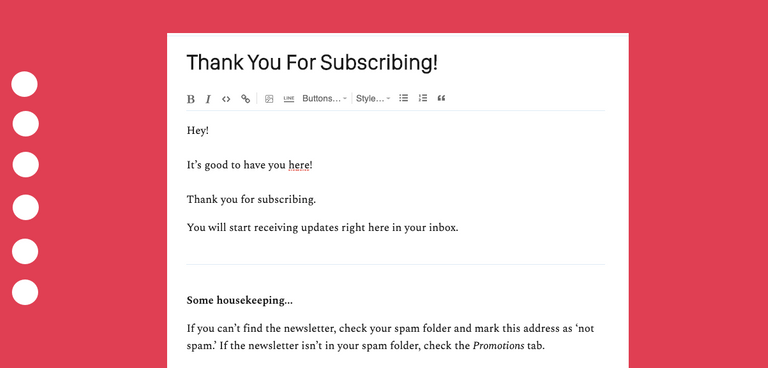 On the newsletter website, I have also published a "welcome" message that you can read.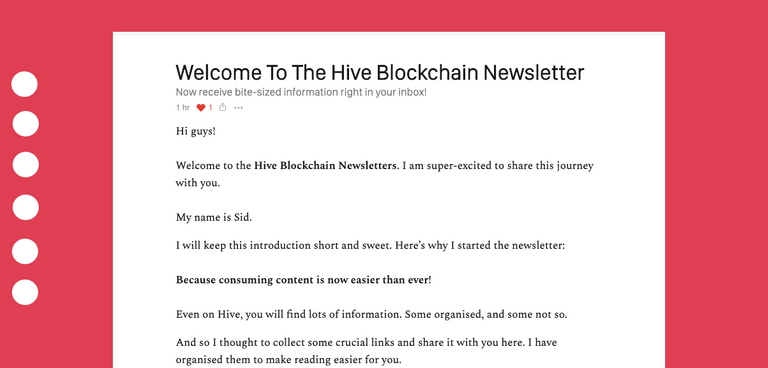 Then, in the next 12 hours, you will be receiving the first issue of the Hive newsletter in your inbox. A glimpse into the first issue: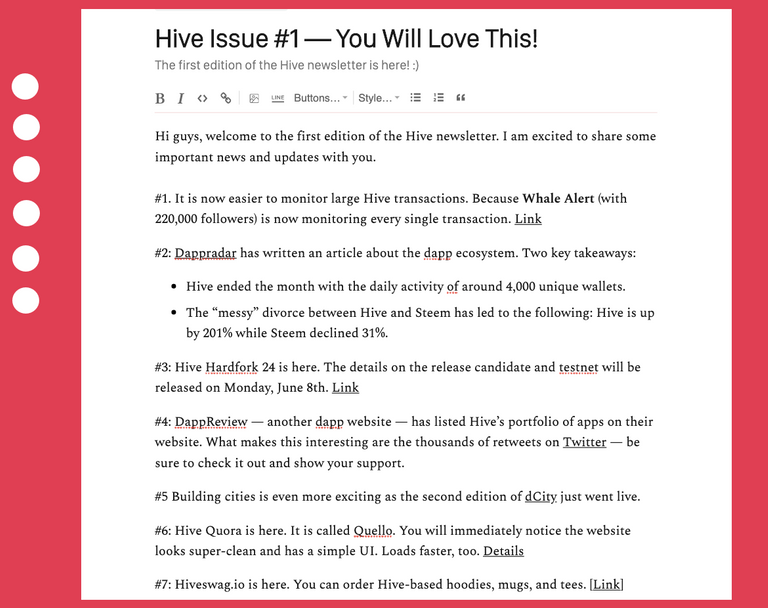 (As you can see, I am editing this newsletter and it will be out after 12 hours)
To summarise:
The Hive newsletter contains bite-sized information that is easy and quick to consume. Should take 10 minutes of your time.

You will be receiving the newsletter every week on Sunday.

I will be sharing 13 bite-sized info (13 is good. Otherwise it will be too much)
This is an experiment to see how many people will be interested. I also see my own newsletter ranking higher on Google, so I want to see how this goes.
I will be sharing the data (pageviews / visitors) regularly.
Here's what you can do next:
Action #1: You can go to Hiveblockchain.substack.com and enter your email address to subscribe.
Action #2: Feel free to like / RT this if you are on Twitter.
When you do this, you are also inviting other people to check out the newsletter.
Let's make this happen! 🔥
Cheers,
Sid
---
Liked this article? Feel free to comment and upvote and reblog.