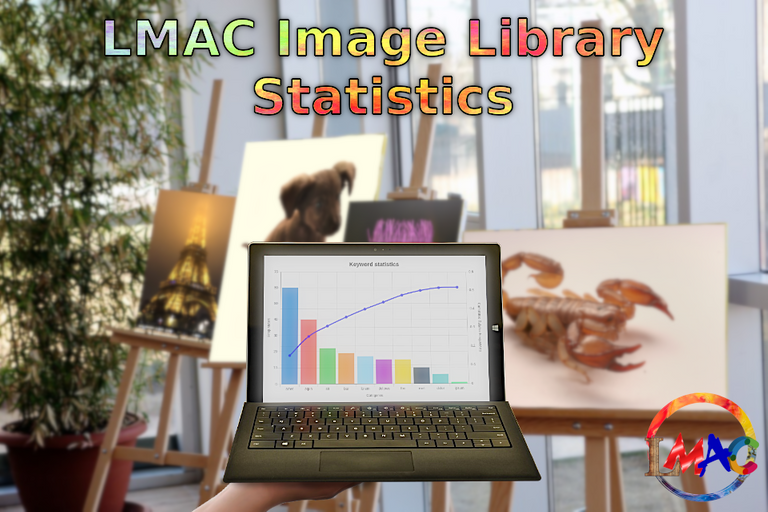 Dear Community,
The image business is booming at LMAC. Since we started the LMAC Image Library initiative, every day there have been dozens of new images contributed to the LIL. The initiative has been running for a few weeks now, so it was about time to check whether our child is growing up healthy.
I have made the effort to do a little keyword analysis of all LIL entries to be able to determine what we have a lot of and what kind of images are very rare.
The data obtained was very revealing, which is why I would like to share it with you, so that together we have the opportunity to fill thematic gaps in the LIL and more.
But also about the number of contributions per author I was able to determine data, which I would also like to share with you very much, simply to honour all those who have been particularly diligent in helping to build the content of the LIL. However, we are also a competitive community, which is why I have limited it to a top 10. :-D
Author statistics
A truly huge number of 66 Hivers donated all the 4112 images to the library. I proudly present the Top 10 of these authors.
(Based on the contributions that could be successfully read by the LIL bot so far.)
Keyword statistics
I have made list of most often used keywords, sorted by frequency of use in LIL contributions. For this, I took the painful trouble to match keywords from various websites on the internet, the LMAC community and a SEO keyword list with the keywords we have in the database to get the data of the most popular search keywords.
With this data we're wonderfully able to deduce which kind of images are still very rare in the library and which are very often to find there.
But, no guarantee that this keyword constellation is 100% correct. Because I had to make a part of the alignment with various sources (galleries and the like) by using a kind of a little web crawler program I developed myself. Difficult to validate that with one hundred percent certainty in view of that huge wild bunch of data out there and the different circumstances under which my program has found them.
However, some of the keywords below are obviously keywords that are quite popular, even in our community.
These are the keywords that my program found in the in some of the relevant places of the WWW as a basis for the keyword analysis:
Basically, most of them are the keywords found in the image entries of image top lists. So these are the keywords of the most often found images on the different websites, the successful ones.
As you will surely notice, many terms are in plural. Using plural was partly easier for my analysis.
animals, arts, humans, flowers, trees, cars, nature, sky, clouds, sea, landscape,
beach, mountains, hills, sun, moon, stars, balls, weapons, fruits, bicycles, 
gates, houses, streets, stones, fences, walls, devices, rivers, fungus, rocks,
spring, fall, autumn, winter, summer, castles, night, day, creatures, coffees,
dinosaurs, fantasy, food, jard, vegetation, water, bottles, leaves, boat, 
airplane, horizon, sunset, palms, islands, city, environment, herbs, fishes,
weather, travel, valley, old, antique, cutouts, textures, lights, lanterns, lamps,
insects, spiders, hiking, feathers, buildings, music, paintings, weeds, 
transparent, drawing, decoration, marine, glasses, metals, woods, mushrooms,
earth, planets, horror, alien, gold, silver, diamond, atmosphere, life, figures,
ornaments, papers, robotics, mechanics, sports, funny, persons, preys, 
predators, trucks, outdoors, explosions, minerals, eyes, skeleton, children, 
evil, good, umbrellas, vehicles, hats, honeycombs, hive, lightnings, dragons,
technology, organics, history, restaurants, furnitures, monuments, bonfires, 
fairy, boxes, agricultures, stairways, farming, sounds, machines, tunnels, 
ladders, hotels, roads, people, skulls, beefs, panels


The corresponding keywords used in the LIL contributions:
Syntax: keyword(frequency of use N)
nature(352), sky(314), animal(258), 
flower(202), beach(192), sea(186), clouds(169), 
mar(132), flowers(131), tree(130), vegetation(129), 
water(128), insect(121), leaves(117), landscape(117), 
trees(113), mountains(96), transparent(94), red(92), 
art(92), stone(86), rocks(77), birds(71), 
food(70), jard(68), hills(68), fantasy(67), 
rock(66), ave(66), insects(58), mountain(58), 
dog(57), cat(54), house(49), boat(47), 
drawing(45), river(39), light(37), bird(36), 
sun(36), wood(36), fruit(35), car(34), 
horizon(34), building(34), sunset(30), decoration(30), 
land(27), palm(23), cloud(23), island(23), 
marine(23), herbs(23), street(22), stones(22), 
fun(22), city(21), wall(21), glass(21), 
environment(21), road(20), hiking(20), antique(19), 
metal(19), lamp(18), fish(18), old(18), 
the(18), predator(18), hill(17), summer(17), 
monument(16), weather(16), travel(16), valley(16), 
mushroom(16), name(16), earth(15), cutout(15), 
outdoor(14), dogs(14), minerals(14), day(13), 
fire(13), texture(13), lantern(13), gold(13), 
horror(13), alien(12), autumn(12), spider(12), 
atmosphere(12), buildings(11), feathers(11), music(11), 
ball(11), weed(11), life(11), airplane(11), 
painting(11), figure(11), fence(10), ornament(10), 
bottle(10), weeds(10), glasses(10), 
paper(10), bee(10), mechanics(10), robotics(10), 
spare(10), room(9), person(9), fruits(9), 
prey(9), spiders(9), 
cars(8), sound(8), truck(8), air(8), 
paint(8), isla(8), outdoors(8), houses(7), 
explosion(7), man(7), dinosaurs(7), coffee(7), 
creature(7), moon(7), night(7), wing(7), 
spring(7), castle(7), gate(7), honey(7), 
mineral(7), fungus(7), eyes(6), door(6), 
skeleton(6), horse(6), bicycle(6), monster(6), 
children(6), aves(6), child(6), evil(6), 
and(6), weapon(6), ladder(5), umbrella(5), 
funny(5), vehicle(5), hat(5), honeycomb(5), 
hive(5), star(5), ornaments(5), dragon(5), 
technology(4), ring(4), eye(4), organic(4), 
hot(4), decor(4), sport(4), fall(4), 
silver(4), history(4), figures(4), restaurant(4), 
furniture(3), sphere(3), monuments(3), sports(3), 
all(3), bonfire(3), people(3), fairy(3), 
cows(3), herb(3), box(3), cats(3), 
agriculture(3), streets(3), stairway(3), 
dia(3), las(3), port(3), ant(3), 
culture(3), iron(3), farming(3), hotels(3), 
net(3), eco(3), mount(2), sounds(2), 
machine(2), tunnel(2), hotel(2), roads(2), 
bottles(2), log(2), walls(2), palms(2), 
stars(2), way(2), rest(2), device(2), 
dinosaur(2), lane(2), rat(2), panel(2), 
skulls(2), skull(2)

While browsing the keywords, you have probably already noticed which image categories are contributed to most frequently and to which not that often. Even within the different top categories, the frequency of images in individual subcategories is extremely out of balance.
Example (Top category->subcategory):
Top category: plant
- Sub category: flowers
- Sub category: trees
- Sub category: herbs
...

For example, let's look at the top category "animal", which contains 258 images in total. Although "animal" was not used as a keyword for all animal species, in view of these numbers, the imbalance can be seen very clearly here.
"insects"/"insect" make up the majority of all animal images with 179 images. We have 107 images tagged with "birds"/"bird".
However, the keywords "dog" and "dogs" together have only 71, "cats" and "cat" have only 57 images, although both types of animals are actually very popular and very often used in artworks.
Unfortunately there are only 3 images in the LIL which have a "cow" or "cows" keyword, only 6 horses...
Friends, we need more species in the library. Let's go out and take pictures of all kind of animals. The neighbor's dog will be happy when you visit it to take some photos. Dear Americans, you have cowboys on horses herding cows... In big cities crocodiles are said to live in the sewers, just as a tip! Exciting! :-D
In any case, it would be really great if we were able to balance it out.
Another example of what could be improved is the keyword list below. These are the top 30 non-aligned keywords.
cielo(408), nature(352), naturaleza(326), 
sky(314), green(293), animal(258), flower(202), 
arboles(195), beach(192), sea(186), garden(182), 
clouds(169), nubes(169), flor(142), yellow(141), 
plantas(140), playa(136), monta(134), mar(132), 
flowers(131), tree(130), vegetation(129), water(128), 
blue(125), plant(121), insect(121), leaves(117), 
landscape(117), flores(117), planta(116) 

As you can see, there are actually huge categories like "cielo" whose images can only be found by Spanish speakers. So I have to develop soon a program that translates the non-English keywords to include them additionally, so that they can be found by more people. This will be very heavy work for the server, that's why I wouldn't want to run the program permanently.
I would therefore like to encourage you to always add at least additional English keywords to the images to be contributed. You can earn more from your images when more people find them. This is in fact a little bit a kind of a SEO (Search Engine Optimization) task.
Rare types of images
... often used in collages.
creatures
cutouts
eyes
lanterns
aliens
dragons
fishes
cars
stars
castles
moon
sun
And we need much more animal species of all kinds, compared to the insects(179) and the birds(107).
We also need more images of other plants species, compared to flowers(333).
It would be so great if we could fix these unbalances together. :-)
How to improve your posts to be found better
1. Pluralized keywords
Most nouns simply get an "s" suffix to write them in plural form. That's fantastic, because so it is very easy to make an image findable for both, singular and plural keyword nouns by just writting the keyword in plural only.
The searcher might not be too annoyed of a search result with photos of two or more bicycles in case of having entered the singular term "bicycle".
If it is not possible to pluralize a specific keyword by adding a suffix, you could just use the plural in addition.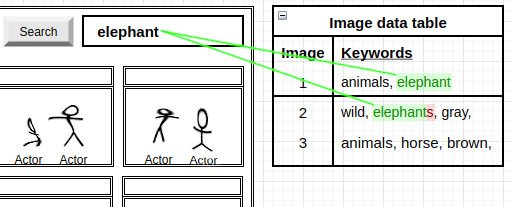 2. Variance
The more variants you use in your keywording, the higher the chance for your images to appear in search queries.
People think differently, even when it comes to entering terms in search queries. Culture, education, gender, social background etc... are all factors that influence this. Therefore, it can have a positive effect on the findability of your images if you keep this in mind when doing your keywording.
To search for a photo of a teddy bear or the like, many european women also would enter "cuddly animal" while many men would most likely enter "soft toy". Not to forget that US-Americans might even type in "stuffed animal", I guess.
More examples...
Example 1.:
AU: Hot chips
UK: Chips
US: French Fries

Example 2.:
UK: Organisers
US: Organizers

Example 3.:
UK: Trousers
US: Pants

Example 4.:
Elegant: Automobiles
Casual: Vehicles
Common: Cars

Example 5.: 
Common: Sunglasses
Casual: Shades

For a photo showing pants, it obviously is a good idea to use "pants" as well as the keyword "trousers".
However, some people might not necessarily enter "trousers" or "pants" in the search field because they assume that they will get more results with a more general term.
So let's just expand the keyword list of our pant photo: "trousers", "pants", "textiles", "clothes", " fabrics". Now, it can be found in many cases.
---
Well, what I'm pointing out is... Let's use the data above to improve the diversity and the efficiency of the library together, by improving our keywording whenever we contribute to LIL and by trying to contribute a little more what is too rare. We will find easier, faster and much more in the gallery as a result and those who contribute have a good chance to earn much more. :-)
Best regards
QuantumG

╭━━⋞ ☙ My NFT artworks ≻≺ ♖ My dCity ⋟━━╮
╰━━━━⋞ ♫ My Rising Star(s) ⋟━━━━╯