DeFi- Decentralised Finance is another fud like ICO.
I would request you to forget every information that you've gathered about DeFi. I promise you to explain the most advance fundamentals in a layman term. So get ready to dig deep into it.
My elder brother, Sam, is a man who has no access to a bank account. He wants to lend money. He came and asked me to meet the bank manager so that I could solve his problem. I have done this several times for him. I keep a good credit rating with the banks. It is easier to get money, but the process is very cumbersome and expensive.
I had a different plan for this time. Recently I came to know about decentralised finance and its one of the applications; borrowing and lending service. I could borrow money, and that too without getting worried about credit ratings, bank account or any boring third party.
But DeFi terms were getting complex. I needed to know the way out of this, so I researched about DeFi. There were some concerns about DeFi space that I started with; these were as follow-
On what basis am I allowed to borrow money?
Can I borrow from any money market protocol?
What is the period to return the borrowed money?
What are interest rates?
What if I am not able to pay?
After a few clicks on the web, I was ready to face-off with DeFi terminologies,and trust me you do not need to know all of these. I've tried to keep it short and still worthy. Let me answer the above questions order-wise:
1:
I was allowed to borrow based on my crypto assets. Most of the major crypto assets are collateral in the lending and borrowing platforms. Investopedia says "Collateral is an item of value used to secure a loan". These collaterals vary from platform to platform. Bitcoin(BTC) and Ethereum(ETH) are the most popular crypto assets to back up your loan. I chose ether as the collateral to borrow $1000.
How many Etherium?– Nine. It was an instant and hassle-free process on the Nexo Platform.
I strongly believe Etherium 2.0 has very strong fundamentals. I want to hold it until it doesn't cross $1200/ether.
So with DeFi, I figured it out how not to sell my valuable assets for daily needs. I am an investor so I know these assets are going to increase in price, but my needs remain constant.
2:
There were two important parameters that I look into before choosing Nexo as my borrowing partner– Security auditing and project's reputation.
Security auditing is one of the most important steps before choosing your needed service's partner in the DeFi ecosystem. A good DeFi project must be audited by reputable security auditors like Certik et.c. Nexo is audited by the Callsito Network and you can find details here.
3-4:
There is no specific period to return the money, but sooner is better to save interest. I am liable to pay 5.9 % per annum (T&C: 10% of the principal amount must be staked in NEXO). These Interest rates depend on various lending platforms. Make sure to check t&c.
If you are thinking to borrow fiat/ stable tokens, and you want to compare interest rates: See here.
5:
I understand life doesn't always work out as planned. If I don't pay back, I lose my collateral. :-/
---
This was only one side of the story. What if I have excessive money?
What can I earn lending my crypto assets?
Yes, you can earn from 5 to 20% by lending money to the borrower. DeFi ecosystem connects lenders and borrowers. The interest paid is distributed among lenders participating in the platform for maintaining the liquidity. It is an outstanding way of passive income. We never get high-interest rates in the traditional banking systems. Surprisingly,these banks impose high fees to every member using Xyz services. This is the time to replace banks altogether. Did I sound too crazy?
---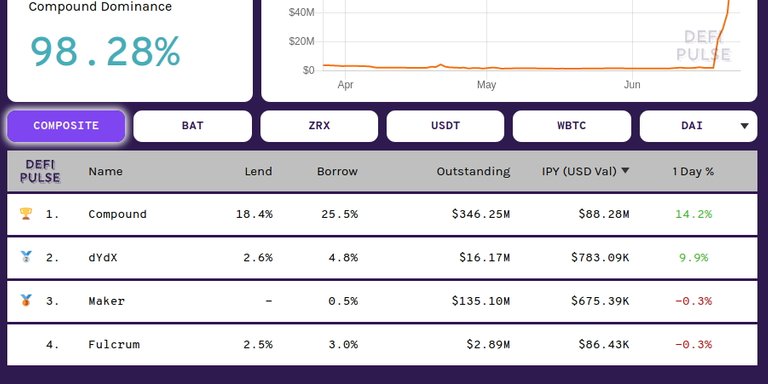 ---
Let's talk a little more about the subject.
Did you notice there is no middle man/ agent in DeFi: lending and borrowing ecosystem?
It is open finance which open doors for Staking, Cross-Border and Micro-payments, DEX and Tokenisation (Security Tokens).
We will discuss other applications sometime, but if I conclude it won't be wrong to say, "DeFi is an effective solution to address two most important problems- Unequal Access to Finance and Financial censorship."
Before I wrap up this discussion I would like to attract your attention towards risk involved in the DeFi ecosystem: Money Laundering ( Remember BitConnect ), Hacking (Recent being on dForce ecosystem protocol- $25M ) and variable interest rates. It is still a new space. I would recommend you to do your research and keep your funds very safe.
---
---
@hash-tag is rigid about speaking truth in spirituality, technology and relationships. He is an Ambivert who is studying to dissolve the self. He feels happiness in little things. Feel free to share his work.
Resources
DeFi Pulse (Screenshot)
Aave: Lending and Borrowing Platform
Nexo: Instant Credit