Source
Seeing the growing interest of resourceful governments in the space race and the results obtained by Elon Musk with his launches of the SNx prototypes, no one is making a joke of the human presence on Mars in a nearer future than most of us expect.
Viendo el creciente interés de los gobiernos con recursos por la carrera espacial y los resultados obtenidos por Elon Musk con sus lanzamientos de los prototipos SNx, ya nadie se toma a broma la presencia humana en Marte en un futuro más cercano de lo que la mayoría esperamos.
It is a study organized by The Mars Society and developed by an international group of scientists that lays the foundations to build a totally self-sustainable city on the planet Mars, whose design will be commissioned by the company ABIBOO Studio based on the indications of these experts.
Se trata de un estudio organizado por The Mars Society y desarrollado por un grupo internacional de científicos que sienta las bases para construir una ciudad totalmente autosostenible en el planeta Marte, de cuyo diseño se encargará la compañía ABIBOO Studio basándose en las indicaciones de estos expertos.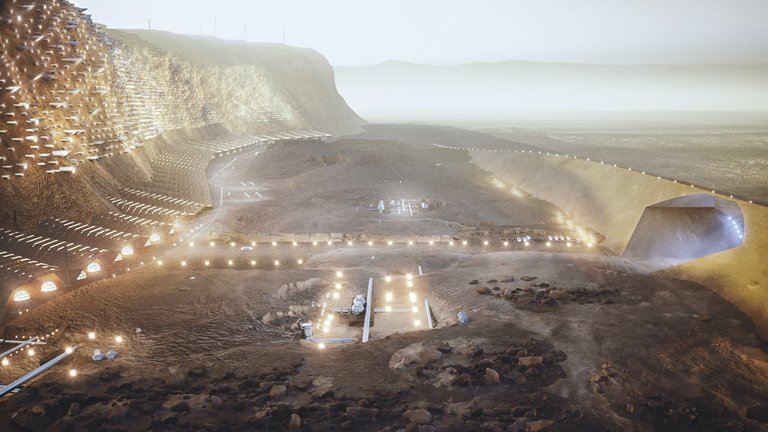 Source
The ABIBOO Studio company has designed these first sustainable Martian cities, 5 in total, whose capital will be called Nüwa, a vertical city with houses, offices and green spaces, this city has been built on the side of a cliff to preserve its inhabitants from cosmic radiation and the effects of low pressure.
La compañía ABIBOO Studio ha diseñado estas primeras ciudades marcianas sostenibles, 5 en total, cuya capital se llamará Nüwa, una ciudad vertical con viviendas, oficinas y espacios verdes, esta ciudad ha sido construida en la ladera de un acantilado para preservar a sus habitantes de la radiación cósmica y los efectos de la baja presión.
Nüwa will be built in Tempe Mensa, a place located in the northern hemisphere of Mars, the buildings will be linked by tunnels and will be equipped with schools, hospitals and all the services that a human may need, among the five cities that will be built will be able to house one million people.
Nüwa será construida en Tempe Mensa, un lugar situado en el hemisferio norte de Marte, los edificios estarán unidos por túneles y estará dotada de escuelas, hospitales y todos los servicios que un humano pueda necesitar, entre las circo ciudades que serán construidas podrán albergar a un millón de personas.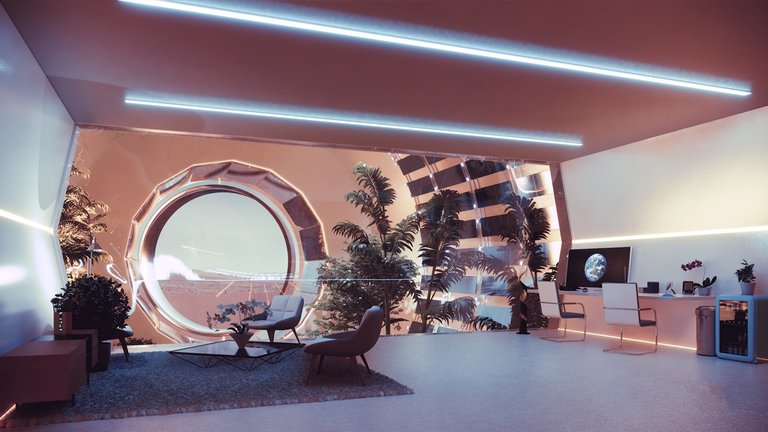 Source
Mars has the advantage of having water, which allows obtaining oxygen to breathe, hydrogen for fuel and with CO2, carbon could be obtained to make steel, also if on earth we use 6,000 m2 per person for crops, livestock and everything related with food, cities are designed to use only 120 m2 per person.
Marte tiene la ventaja de poseer agua lo que permite obtener oxígeno pare respirar, hidrógeno para combustible y con el CO2 se podría obtener carbono para fabricar acero, además si en la tierra empleamos 6.000 m2 por persona para cultivos, cria de ganado y todo lo relacionado con la alimentación las ciudades están diseñadas para utilizar tan solo 120 m2 por persona.
But do not rush to the bank to ask for a mortgage to buy an apartment on Mars because it is a long-term thing, according to the CEO of ABIBOO the cities could begin to be built in the year 2054 and be finished around the year 2100, it does not fit doubt that it would be a good place to celebrate the entrance of the XXII century for those who are in conditions to travel for those dates.
Pero no vayáis corriendo al banco a pedir una hipoteca para comprar un apartamento en Marte porque se trata de algo a largo plazo, según el CEO de ABIBOO las ciudades podrían empezar a construirse en el año 2054 y estar terminadas alrededor del año 2100, no cabe duda que sería un buen lugar para celebrar la entrada del siglo XXII para aquellos que estéis en condiciones de viajar para esas fechas.
More information/Más información
https://www.euronews.com/living/2021/03/19/plans-for-the-first-sustainable-city-on-mars-unveiled
https://abiboo.com/es/projects/nuwa-marte/
https://es.euronews.com/2021/03/23/descubre-las-primeras-ciudades-en-marte-un-proyecto-sostenible-para-mejorar-la-vida-en-la-