It looks like I've found a new home for my series on toilets in Thailand! I've been following this wonderful community for a while and the standard of post and in-depth knowledge being imparted here is awesome. It looks like I need to up my game a little but I apologise in advance as I feel I'm going to be dragging it down a little!
As I've explained before, this series is more than just a quirky novelty. I try to show how design and architecture are intrinsically linked to our whole mental well-being. I'm never going to suggest that form over function is all that matters but is it imperative that both combine harmoniously together to create the usable and enjoyable and thus keeping our beaten brows calm and balanced. Form and function. Ying and Yang!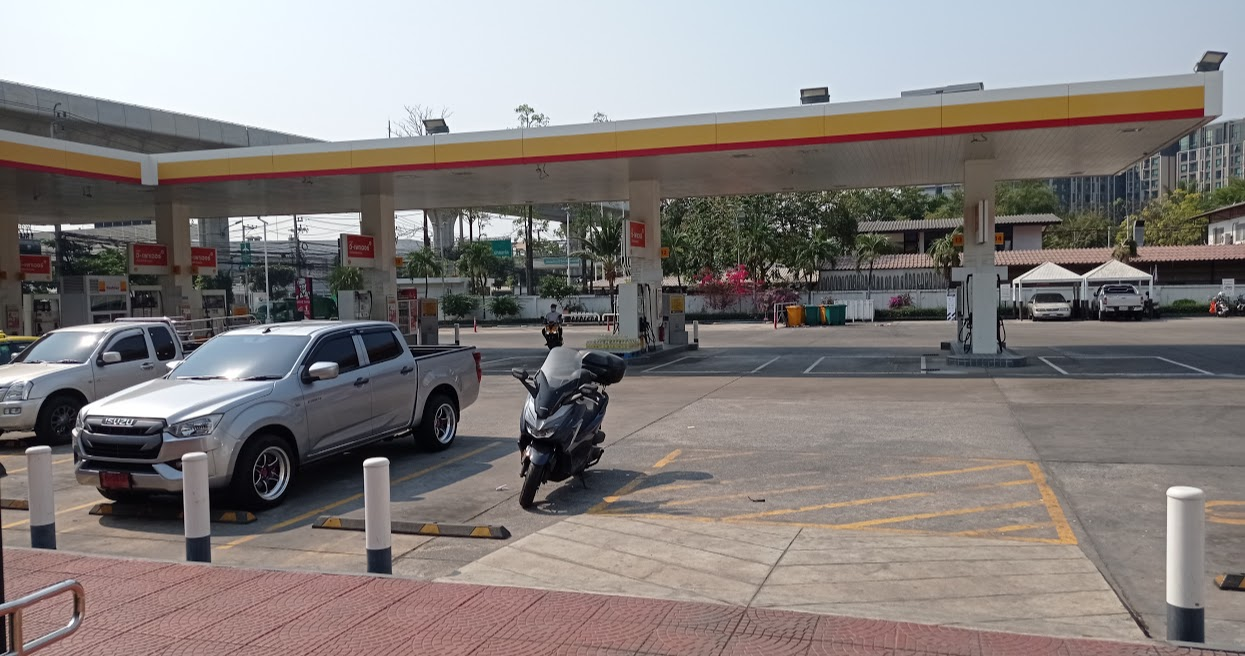 So I've been waiting for the opportunity to pop into these bathrooms, toilets, bogs, CR's or whatever you choose to call them for a while and they are in a petrol station! If youve ever tried to spend a penny in a toilet at an English petrol station, you'll know they are often locked, disgusting, single cubicles that when you enquire if you can use them, are told by a surly cashier that; "they're out of order!", as they seem to be every time you visit.
Here in Thailand however, that's not the case and the problem we usually have is having to wait for a cubicle! Taxi drivers, delivery drivers seem to use them for a wash and brush-up with the 'bum guns' providing a ready shower. Employees tend to use them for escaping work and you can often hear the sounds of mobile games being played!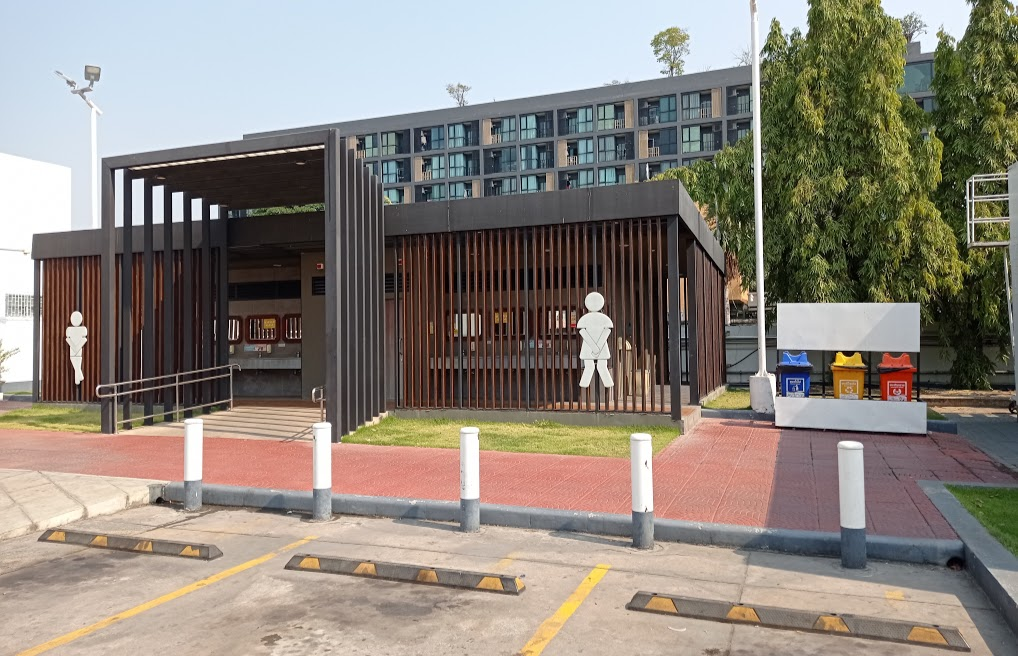 So firstly, the overall design and initial reaction.
Well, there is symmetry which I do love! The design is modern and although a little fussy, is nice. The use of the vertical beams serves both to shield the internals from the sun a little and to provide an interesting visual. I can't decide on the use of just the two colours of brown and grey but it does keep things simple and striking. Added visual interest is achieved by the use of the protruding, high entrance arch and the grass at either side, which breaks up the look with a splash of colour.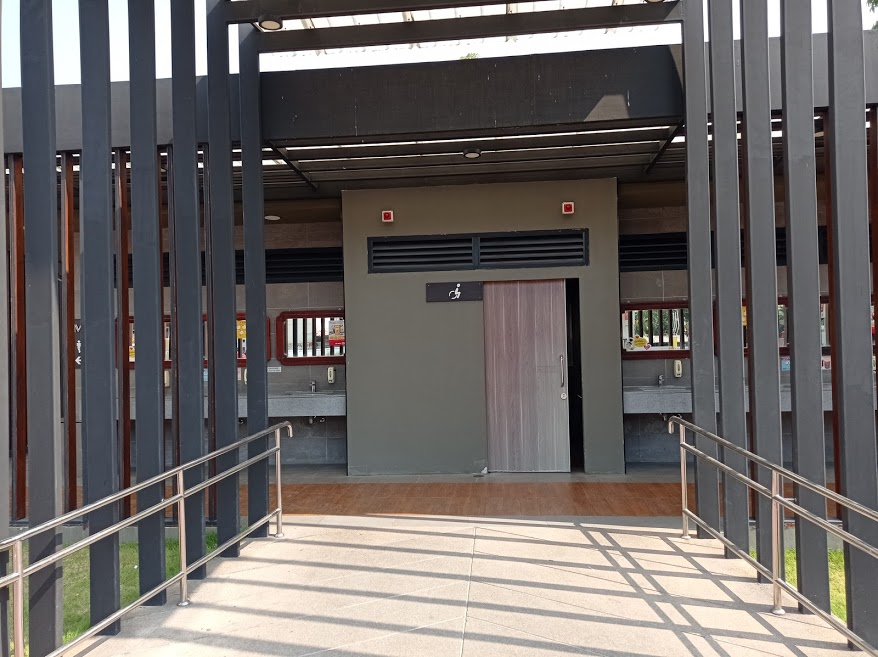 As for function. The ramp leading in is wide and shallow and perfect for wheelchair access to the disabled cubicle which is wide and directly to the front in the middle. This is perhaps where it always should be but on many blocks, often isn't!
The male and female signs are a perfect size and add a little fun to what is in effect, a functional building!
We need to move the urinals!
Normally on this type of block, the gent's urinals are outside on the back wall, with an extended roof but here, they had to be moved into the building itself due to the new condo block that was built behind!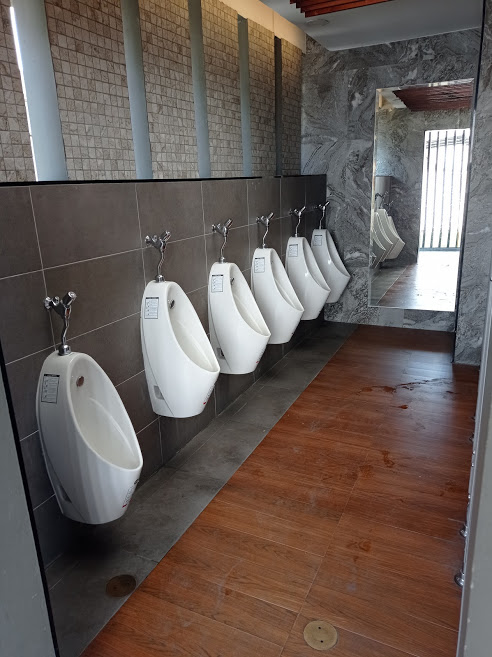 The continued theme throughout is brown and grey but with the use of different textures and creates an ever-changing landscape. I personally think it's just not there, however. The use of the uniformed tiles is a mistake, the walls should have been left as polished concrete in my opinion and the shades of brown and grey they have used just don't quite gel for me.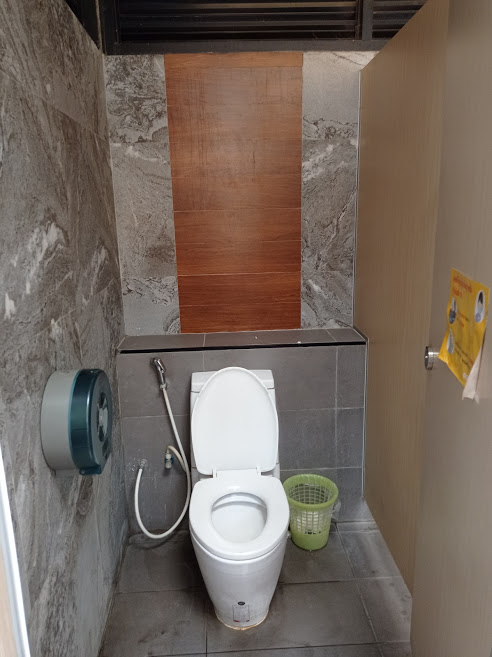 You can see again in the cubicles how those wall tiles are a poor representation of polished concrete but from a users point of view, we have everything we need; bum gun, paper basket (although a pedal bin would have been infinitely better!), toilet paper, hook on the door and a nice shelf to put your bag.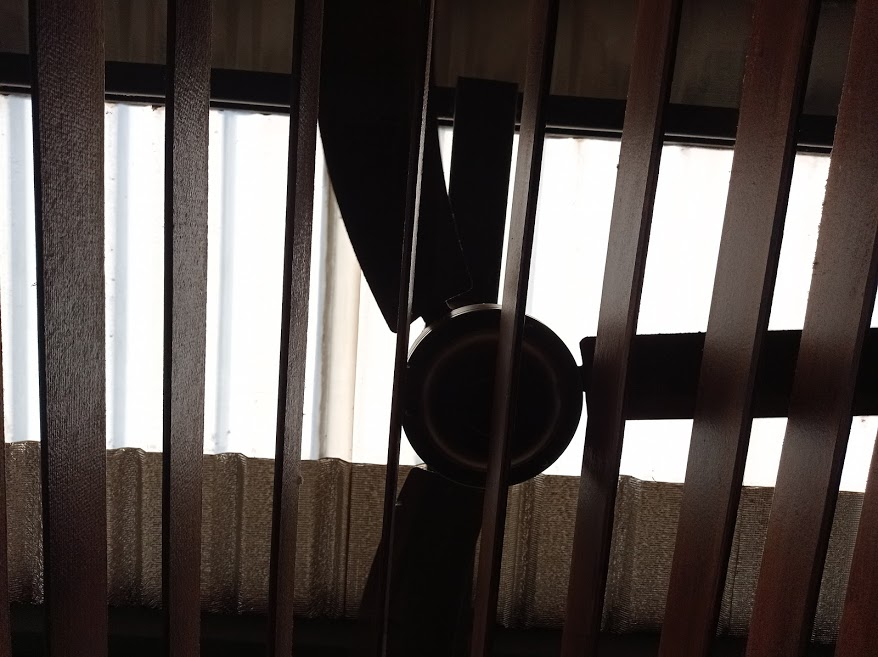 Inside again, one feature I loved was the fan which was sitting between the standard utilitarian roof and horizontally slatted ceiling which of course followed the theme from the outside. it imparted a nice breeze and reflected the light around casting nice shadows.
The disabled cubicle was perfect in function.....
Now I know a little about the regulations these days regarding disabled facilities due to my own house and clinic build and although Thailand has a little catching up to do, the last few years have seen them finally taking the issue seriously.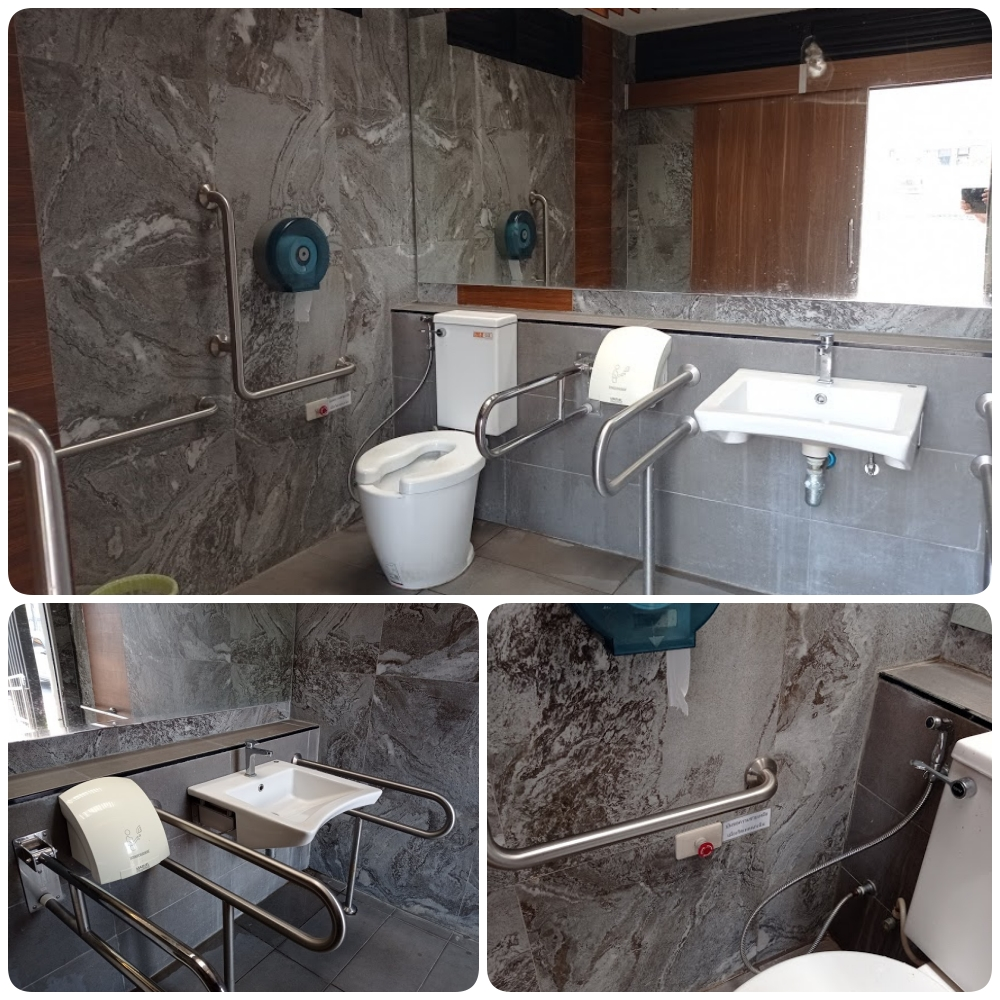 Lots of handrails, lots of space and everything in the right place and to hand. I won't keep banging on about those wall tiles but...
The devil's in the details!
And here is where it is really let down! The outside structure is excellent. I love the overall look I like, but the internals and details I hate. Seriously, look at those mirrors! What was the designer thinking? That horrendous font they used for the 'M'. Have I stepped back in time to 1876? And those soap dispensers. Obviously, they ran out of budget!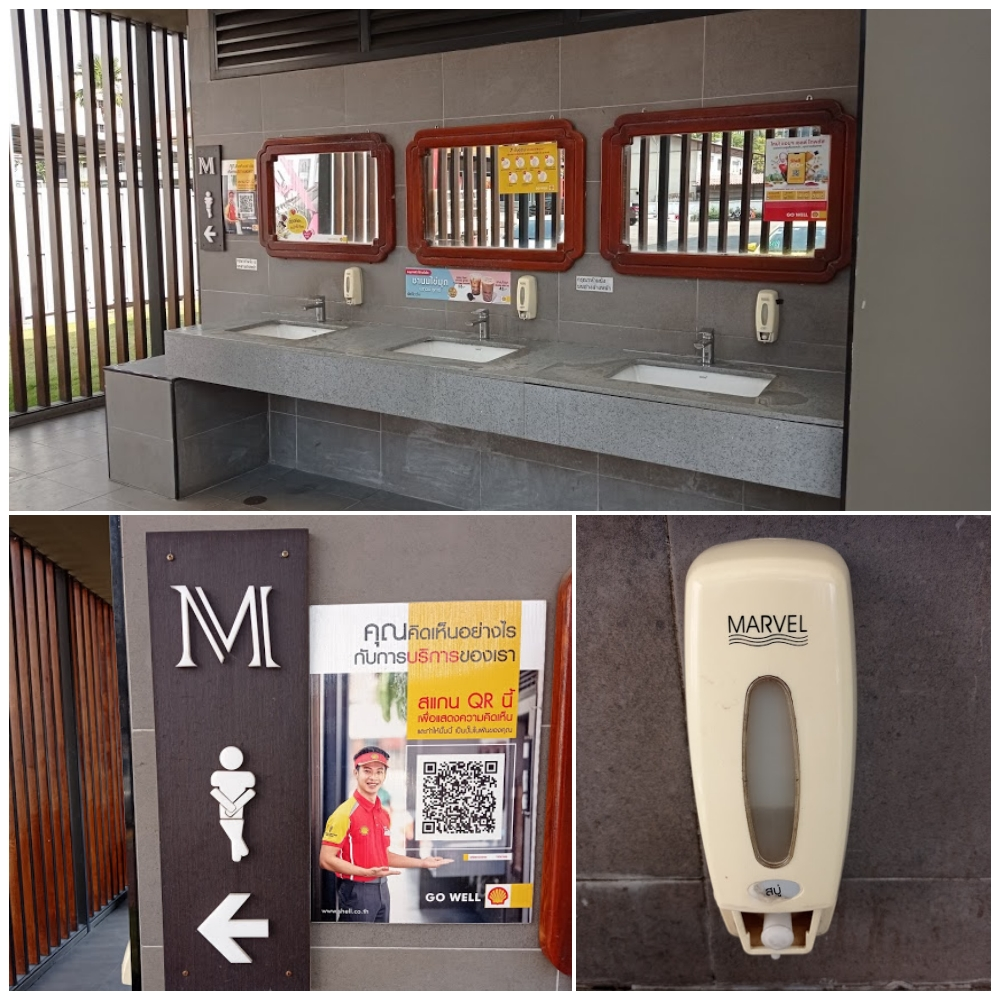 The Final Score
Design: 6/10 - so sad. It's like the architect created this beautiful exoskeleton and then they let the work experience schoolboy do the internal decorations. It could have been so much more!
Ambience: 4/10 - It's on a busy road in an urban environment but picks up points for the fan in the ceiling.
Cleanliness: 3/10 - Sadly, it wasn't good. Normally, bathrooms at the petrol stations have at least two cleaners who constantly mop and keep everything perfect. Here there was one young lad, sat at the back smoking. Poor! @livinguktaiwan will not be impressed!
Supplies: 5/10 - There was plenty of soap and toilet paper but no paper towels or hand-dryers which was odd.
Overall 4.5/10 - So much potential, ruined by thoughtless and rushed decoration and cheap fittings!
And that's it for this edition! I hope everyone is keeping safe and sane and as always, I have pinned it to @pinmapple so if you ever want to follow my toilet tour of Thailand, you'd be more than welcome!
Finally, for anyone who is new to this series and wants to see the Thai toilet design champion, please follow the link below!