The second part of this story takes place on a Holland America Cruise starting in Anchorage, Alaska and ending in Vancouver, Canada. We had never been on a cruise, or an organised tour before so this was all very new and exciting for us. (If you missed part one of this story you can read it here)
---
Day Five
Our first day at Sea! And our first whale sighting! We spotted humpbacks! We spent our first day at sea exploring the ship and taking advantage of some of the events they had on offer. We watched a documentary on the famous Iditarod (dog sledding race) in the theatre, took park in a wine and chocolate tasting, a beer tasting, and finished off by relaxing in the hot tub. The perfect beginning to our cruise.
---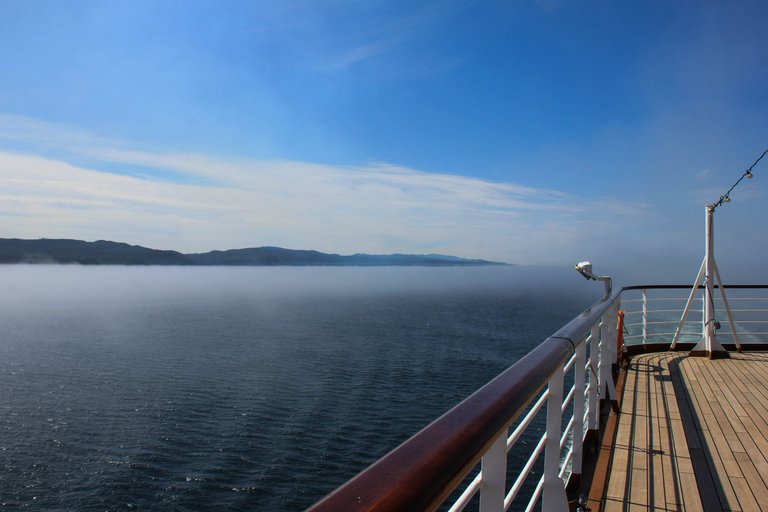 ---
Day Six
We woke up in Glacier Bay on our sixth day. There was no port stop but we floated around all day looking at glaciers. It was so beautiful even if we couldn't see much of the mountains because of the cloud and overcast weather. We found a nice spot on deck early on, grabbed blankets and rugged up, and spent the day drinking wine, and admiring the view. We were delivered soup for lunch and we read our books and relaxed. However, it was hard to focus on my book with the beautiful glaciers going past all day.
---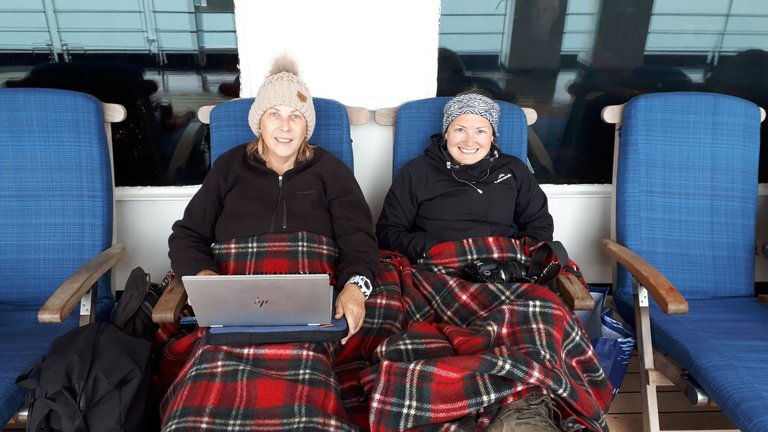 (Rugged up on deck for a day of glacier watching)
---
Day Seven
We had a port stop in Haines and decided to book a last minute scenic flight. We saw glaciers, mountain goats, and several glaciers that all merged into one giant glacier. We could see down into the glacier crevices and it was crazy to see how big they actually are when they extend behind the mountains. Usually you only see the face of a glacier. We timed the glacier pretty well too because just as we landed it started raining.
After the flight Ryan and I hiked to Battery Point, where we saw a humpback whale about 50 meters off shore! We also spotted some porpoises, and Ryan also saw a seal and some eagles. Spotting animals is always a welcome bonus to any trip.
After the hike we walked down to the Port Chilkoot Distillery where I got a delicious Bee's Knees cocktail (with gin and honey), and Ryan got a tasting tray with gin, absinthe, rye, and whiskey. We then stopped in at Haines Brewing Co. where Ryan tried some of the different beers before buying a 6-pack to take away.
---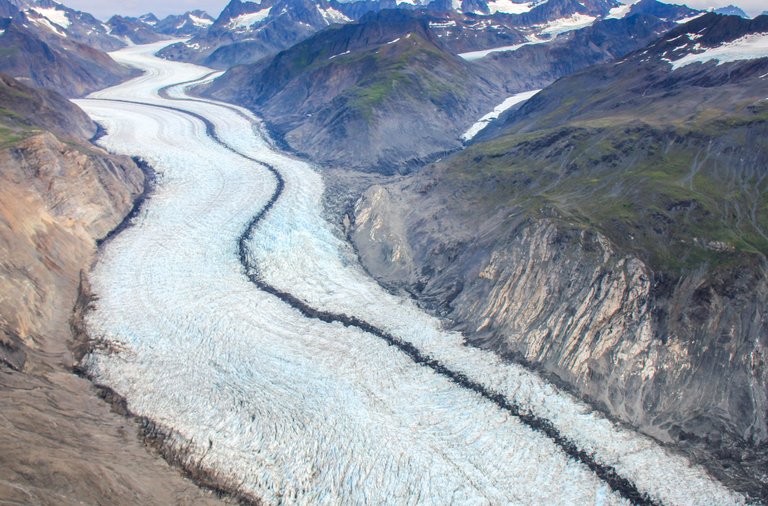 (The view from our scenic flight over Haines)
---
Day Eight
Today's port of call was Juneau. We had booked to go on a dogsledding tour but unfortunately it was cancelled due to bad weather, Ryan's mum was pretty upset, it was the only thing she really wanted to do in Alaska. Instead, we were able to book on a land-based sledding tour in our next port.
Ryan's mum ended up staying on the ship while he and I ended up spending the day exploring Juneau. We started at the Alaska State Museum. They had exhibits on everything from the local First Nations, to Russian Alaska, to defense, Alaskan Native technology, and the native animals. A very interesting museum.
For lunch we went to Tracey's King Crab Shack for lunch. It was pretty popular with the tourists but, Oh! My! God! The crab was delicious! And I don't even like seafood!
Next stop was the Red Dog Saloon, which felt more like a bar from a western movie. It had carriage wheels as chandeliers and taxidermy on the walls, and it even had the sawdust on the floor for soaking up spills. We grabbed a drink here before moving onto the next place. The next place we dubbed Swanky-Wanky Cocktail Bar. I believe its real name was actually The Narrows. The cocktails were nice but we only stayed for one drink before moving on to a more local bar; I can't even remember what it was called. Once again we only stayed for one drink, it's what we do. We like to experience all the bars in a place, haha! You will notice this becoming a trend as you read on.
Once back on the ship we spotted 7-10 humpbacks all at once! They must have been feeding. It was so amazing to see.
---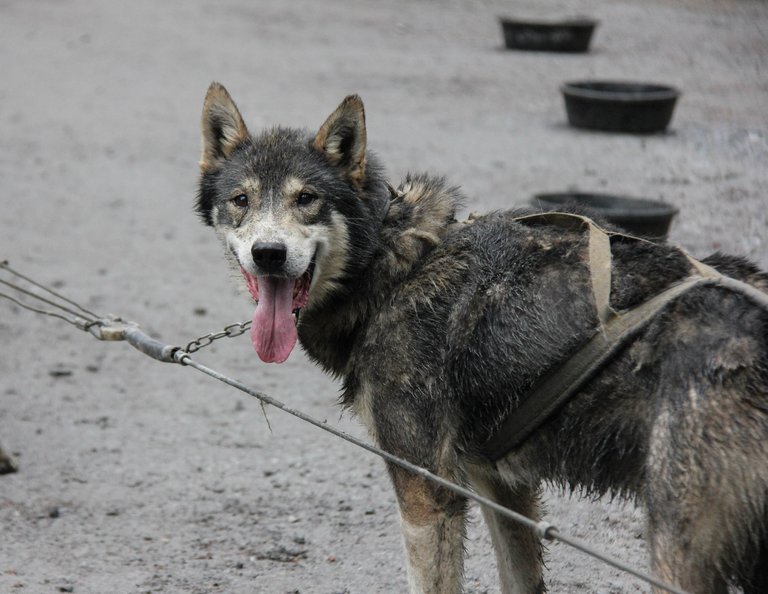 (one of the sled dogs in Ketchikan)
---
Day Nine
Today our port of call was Ketchikan. We spent the morning exploring the town and Creek Street. The street was such a cute little section of Ketchikan. All the buildings are stilted up over the water. I spent most of the morning watching a pair of harbour seals catching salmon in the creek before we headed over to the FOE pub for lunch. It was one of the stilted buildings over the water and it was surprisingly not full of tourists. We had a couple of drinks and ate some Dungeness crab with homemade honey mustard sauce and it was delicious!
In Ketchikan we also did the dog sledding that we had wanted to do earlier on our journey that ended up getting cancelled due to weather. It was so much fun, and I really think Ryan's mum enjoyed herself.
After lunch we did a mini pub crawl having one drink at each of the 4 bars we visited. I can't remember all their names. This trip was back in 2019 ad for whatever reason I didn't take note of the names.
I have a second stomach that I keep just for filling with desserts so on the way back to the ship we stopped at a doughnut shop, Jellyfish Doughnuts, and bought some sweets to take with us.
That evening we decided we'd try and get into the Gala Night on the cruise ship but Ryan didn't bring any collared shirts so they refused us entry. To be honest, I don't even think he owns a collared shirt, haha!
---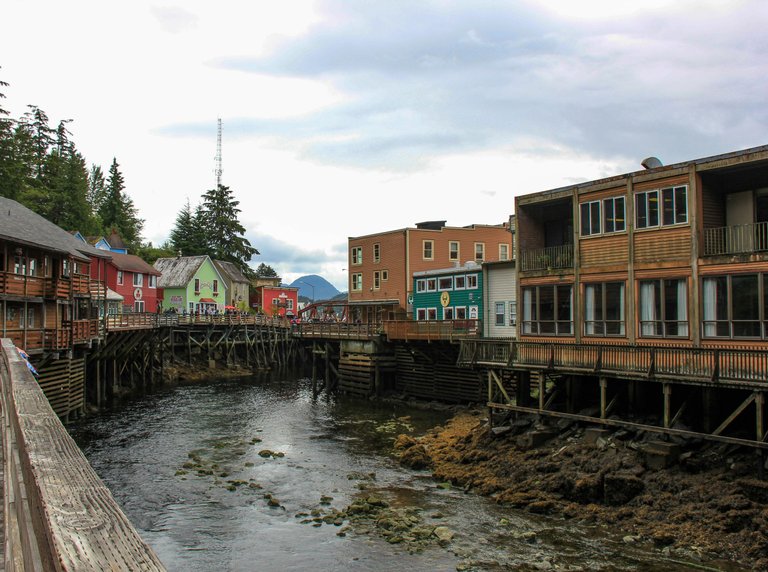 (Creek Street, Ketchikan)
---
Day Ten
Day ten was a pretty relaxing day (and our last day on the ship). We were at sea, and we FINALLY spotted some orcas! We had been hoping for the entire trip to see some. We also saw some Dall's porpoise playing on the bow, which was pretty cool too. I'd never seen Dall's porpoise before. Around mid-morning a heavy fog came over and we literally couldn't see a thing!
Around noon we went to a lecture on whales in the theatre. It was pretty interesting, but as usual I don't remember much and I'm writing this using some really basic notes that I took.
Our last night on the ship was spent enjoying Happy Hour on the bow before dinner. We would be disembarking in Vancouver in the morning.
---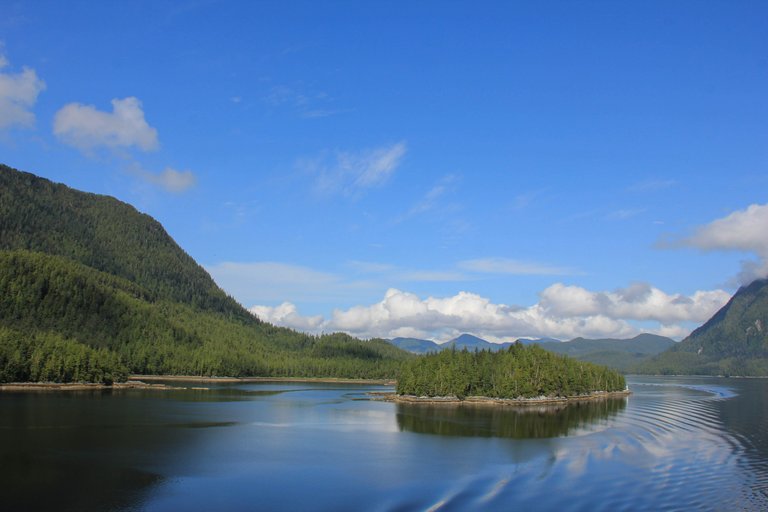 (Sailing into British Columbia, Canada)
---
I have split this story into four parts; the first being the land-based Alaskan section of our adventure (which you can read here), the second being the cruise, the third being The Canadian Rockies, and the fourth being our Mount Assiniboine backcountry adventure. I will post the third leg of this holiday in a couple days, so keep an eye out for it.
---
All images in this post were taken by and remain the Copyright of Bree Plater unless stated otherwise.

You can see more photos at:
website: https://saultphotography.com/
Instagram: @roaming.rammie and @saultphotography
Twitter: @sault_photo

If you'd like to learn a bit more about some of the photography featured on our page you can read an interview Ryan did with Photofeed here.