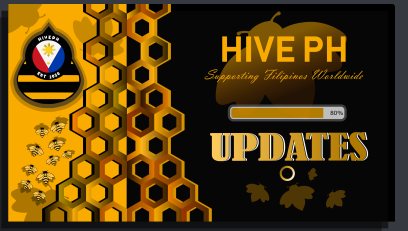 A short announcement on the recent changes that are taking place for this community by @adamada.
I'm now the lead for HivePH community. It's just a label and doesn't exactly change what I would usually do. Those long term goals I've set out for the community will still be implemented at a slow and steady pace.
HivePH is the product of people that have contributed to building it to what it is now. Even those who became inactive on the blockchain have become part of its history and it's all accounted for. It still survives because it's made up of members of the community willing to allocate their individual resources for the benefit of other members that have yet to do well thriving on the platform.
E taglish ko nalang itong part dahil alam kong konti lang naman mag babasa ng announcement. Ok naman yung introduction para mag mukhang organize sa global community kunyari lang. Mga besh, solid parin naman yung community kahit konti lang naman yung active, same parin na mga tao active mula noong 0.2$ pa yung Hive up to its highs of 3$ and then probably sinking back towards the bear market rates. Members come and go with the price and one thing I learned about price and engagement sa community, you can't keep user retention high even if you shove more money into their wallets.
Para sa mga bago sa Hive who are fortunate to see it rise high to a dollar or two, baka manibago kayo na biglang bumaba na siya sa presyong di na pwede makabayad ng pamasahe nyu sa pedicab. Ok lang, ditto parin kaming mga active na members sa community to help you learn how to use the platform and earn. Di naman kami yayamanin sa upvotes dahil walang pera sa hiveph pero kaya naman naming kayong turuan paano maging crypto literate dahil yun yung mas importante kesa sa upvotes na nakukuha ninyo.
Sa ngayon wala talagang malaking upvotes na mabibigay yung community account na to and panay curation posts lang ginagawa pampagood vibes sa mga kababayang maganda yung post. Pero slowly building that stake that eventually will matter later on and if the price of Hive goes up during the next Bull market, yung kendi na upvote nito pwede nyu na pang kape sa karinderia. Baka ilang dekada pa bago pwede na pang Starbucks pero darating din tayo diyan kung andito parin kayo.
Sa mga hindi nadadala sa curation compilation posts ng account na to, don't worry, meron naming @hivephilippines and a #voteme channel yung server to give you some upvotes by being a member. The weights are relatively almost the same naman to what @hiveph usually gives. Maliit na bagay lang ang ma feature sa curation compilations and hindi worth it ika stress porket di napansin post nyu. Long term, hindi naman posts nyu ang matatandaan ng community, kayo mismo na members and contribution nyu sa community yung matatandaan ng tao.
To think about the Hive price, be featured in curation compilations, getting big upvotes, fame, prestige and all the good stuff that goes on during the bull market is just a phase. It's short term thinking to be fixated on those matters. If you grow your stake on the platform, you can have more influence on how someone can be reward across the globe, not be censored, and maybe having some financial security when fiat isn't reliable to your life circumstance, whatever suits you besh.
Plug ko lang yung @hivephilippines, you delegate to it and it gives you delegation rewards after 7 days equivalent to your stake contribution with a 7.5% estimated fee that goes back to the community bank. Those funds are used to support community activities like onboarding initiative, charity posts, contests, and pang kape ko minsan.
Alam kong always naman e compare yung community na to with other communities that have well off support systems for their initiatives but remember, other communities have large investors willing to back up the program. Yung hiveph, is backed by kung anong budget nakatakda sa allowance ng common folks.
Word of warning nalang for members, avoid leaking some hints of entitlement to votes/support. You are just asking for questions kung ano yung na iambag mo sa community. The community does not owe anyone the support for just being a Filipino or being a member of the group.
It's a given that this community is open to support Filipinos and users that want to be part of it but this is a privilege given and not a right. Avoid the short term thinking that screams entitlement, if you are useful to the community, the community will reciprocate the favor by giving you more social rewards, that's a given fact.
Ang sabi ko short announcement lang yung gagawin pero nadala naman ako sapag type. I thought about making a formal English post but then sino naman ba talaga magbabasa ng mga posts ng account na to kundi mga intended na nakakaintindi. Mahirap ba intindihin yung Tagalog-English ko? ok, payt me.