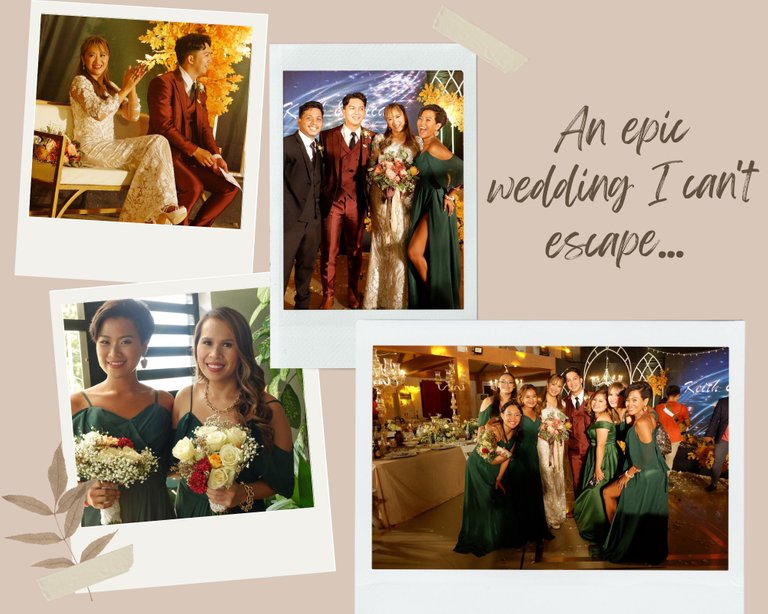 When a very close friend asked me to attend her wedding, I simply said yes although the wedding was to be held at her hometown in Pagadian and I wasn't sure that time if traveling would be easy despite the "covid restrictions". I also didn't expect her to make me one of her bridesmaids. I've deduced that I was chosen since all our other college friends couldn't attend because of the location of the wedding that would require them to go on leave and travel. Lucky me, I only have Hive for the moment so I take my blogging and curating anywhere I go.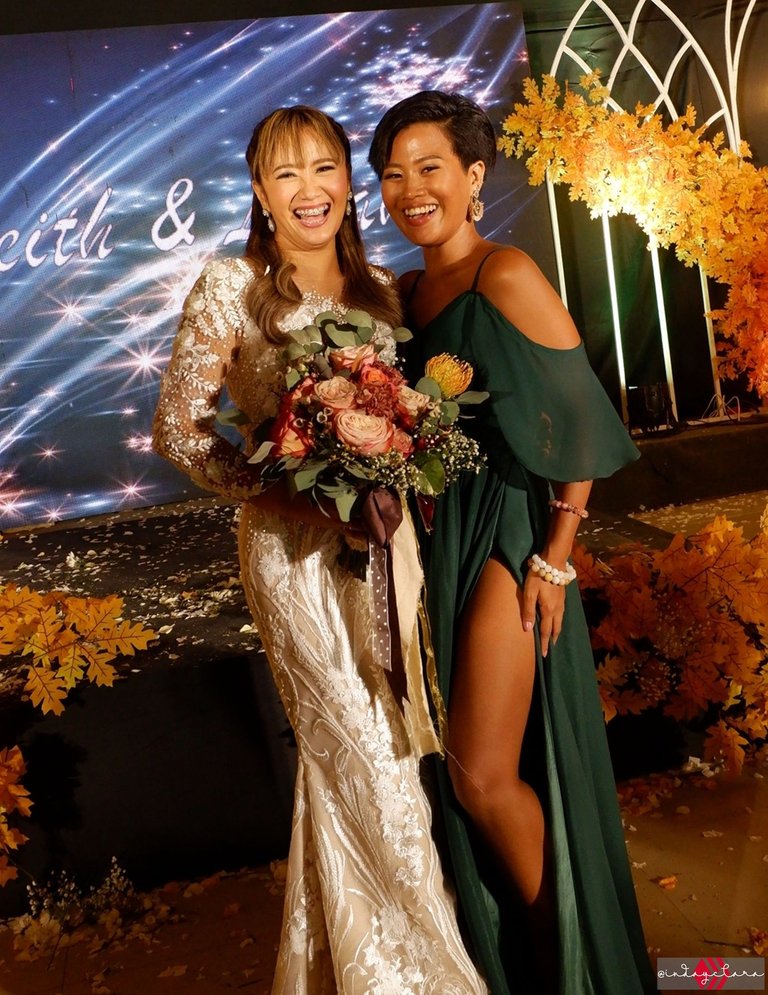 We had a beautiful friendship back in college. We still kept in touch when we were already focused on our careers. I witnessed how she and her husband started their love story. And 8 years later, I got to witness the culmination of their relationship. Pros for attending: I get to travel on the side and I get to witness her special day. Cons: Can't say there was one since declining or not attending the wedding was no longer an option.
The wedding was held in Pagadian City, the capital of Zamboanga Del Sur, Philippines. To reach the place, you must travel by plane or boat. I opted for the boat ride as I found it cheaper during my last-minute booking. I will share about the place in another blog. I met with the other bridesmaid a day before the wedding and we had a surprise Bridal Shower too!
---
Wedding Preparations
Our day started with getting our hair and makeup done. The call time was 5:00 am. I was there at 5:15 am. Hair and makeup started at 6:30ish am. And despite being there early, they couldn't start working on me as dead skin was peeling off from my face because of the facial routine I did days before! So I had to run off to the store to buy a face scrub. I had to wait another hour for my turn. The frustration was already building up. Good thing, I brought with me my laptop so I did my curation work while killing time.
At about 10:30 am, the photoshoot session began. It was fun but required so much energy, personality, star quality and time. I'm used to photographers just taking photos but I didn't expect they were making a music video for the wedding. I had to give it my all since I was a bridesmaid and a backup dancer at the same time! Who knew I might get discovered?! 😆 Want to watch the music video and check if I have the star quality? Click here.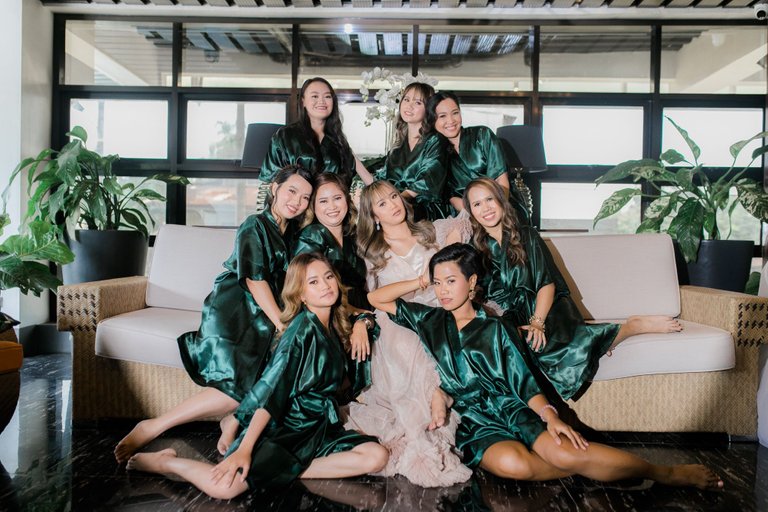 Channeling my inner diva... Source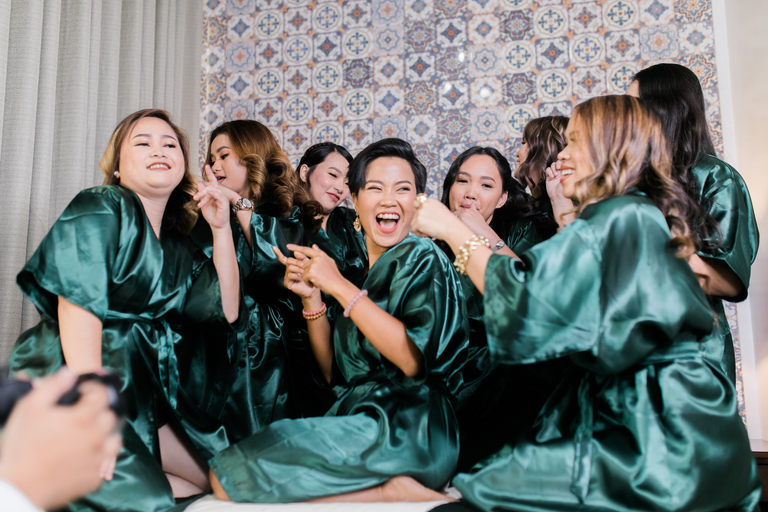 Jaw about to get locked from all the smiling we did... Source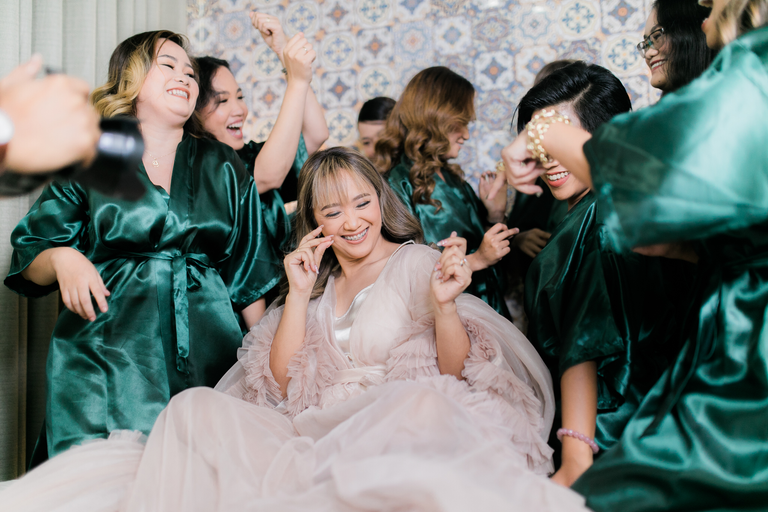 It was still a blast! Source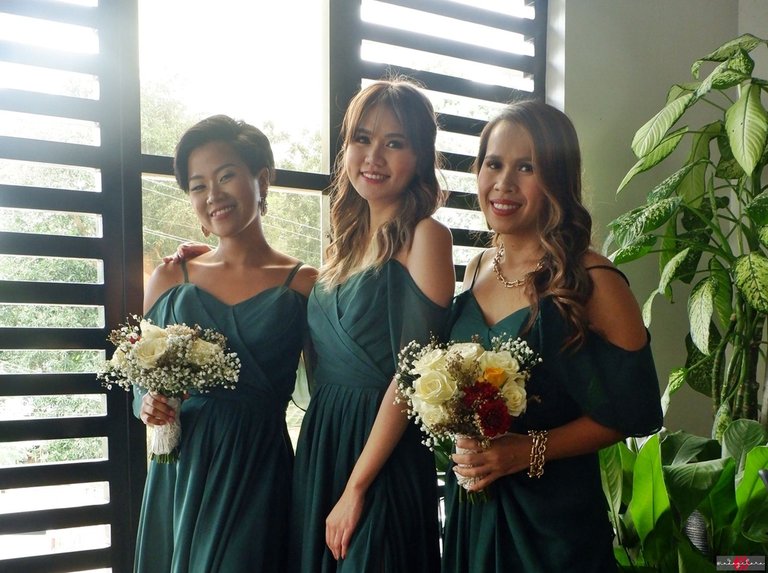 "Are you a policewoman? Your hair is short."
"I love your brown skin and hair..."
"You are likely to have a foreigner as your boyfriend."
Just a few remarks I won't forget about what people said to me during that day... It's either I just really made an impression because of my outgoing, extrovert personality and my looks, or perhaps the energy I was projecting out. But then again, I always try to remain authentic. To be honest, meeting new people and making some friends, especially with the other bridesmaid while remaining true to myself was amazing. I didn't know any single person before coming to the wedding. My only connection was the bride and the groom.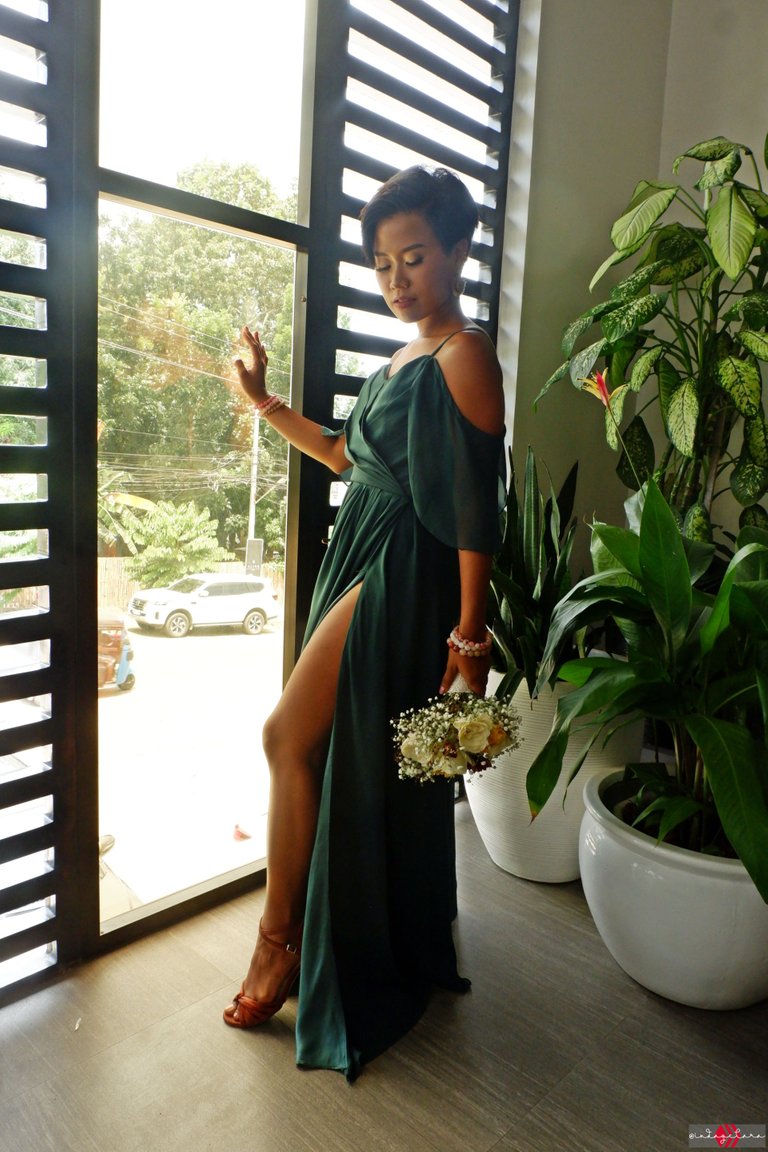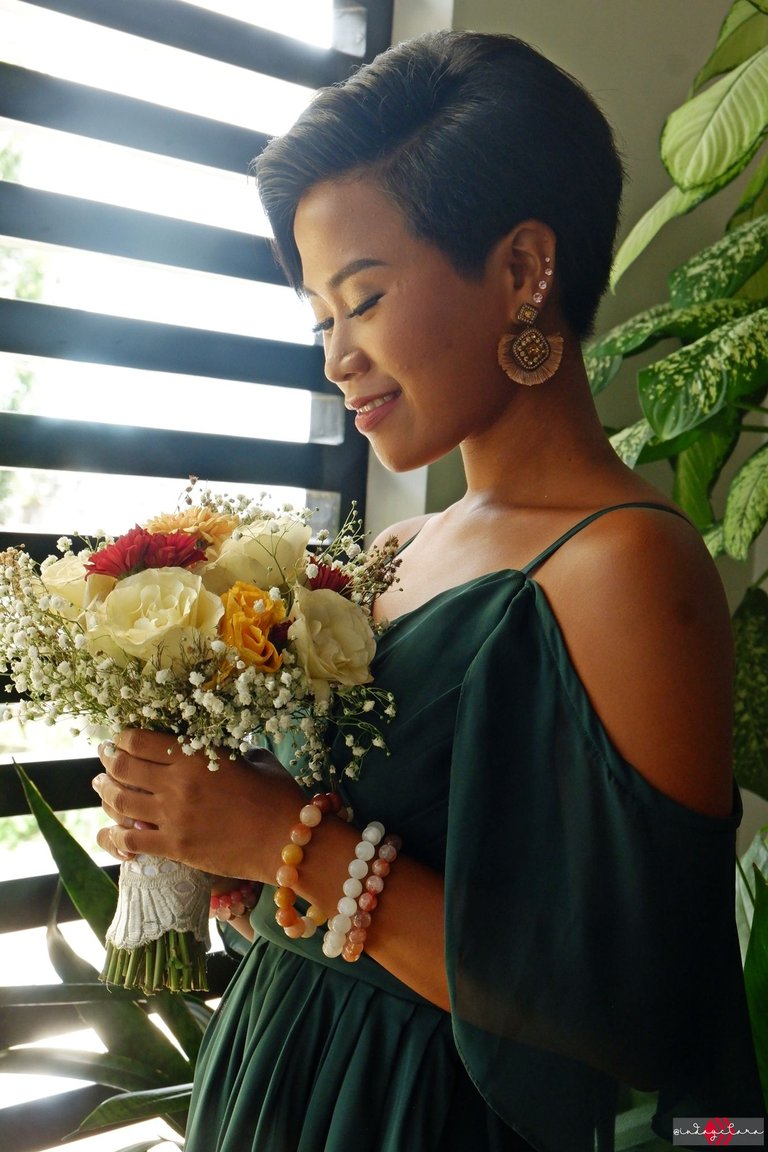 In a world full of conservative people, I shine.
---
Church Ceremony
The ceremony started at about 1:00 pm and it went smoothly in my case. I was in the moment - no distractions, no phone. Although I had my camera, I took a few shots just to have some photos for memories but that's it. In the past, I get too impatient with church ceremonies and my mind would often wander off. This time I was present in the now moment and I love every bit of it especially when they exchanged vows at the end.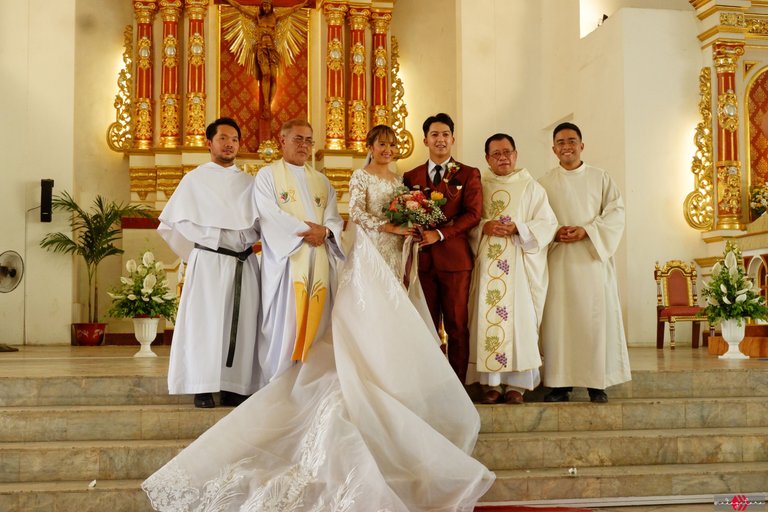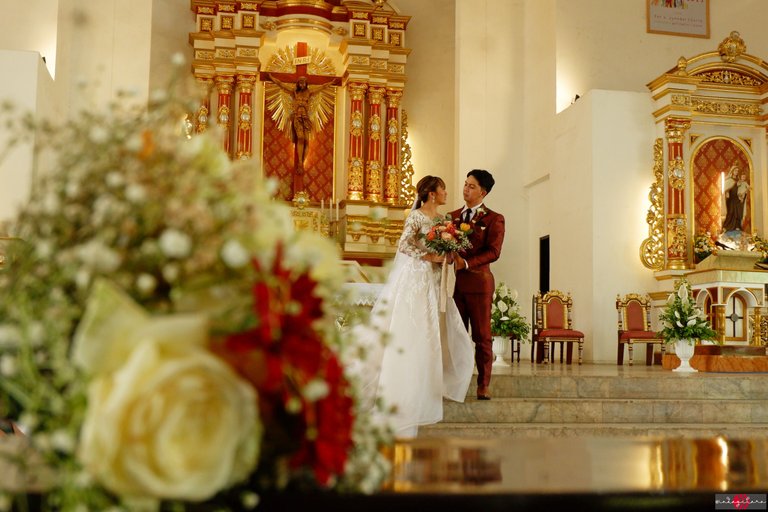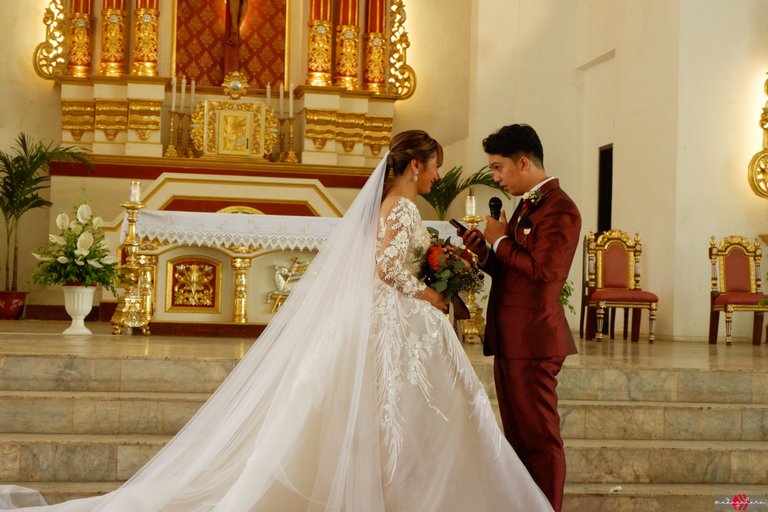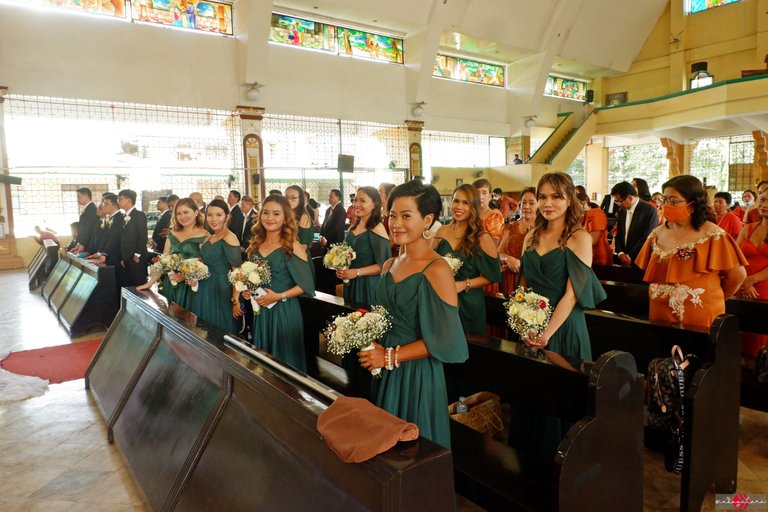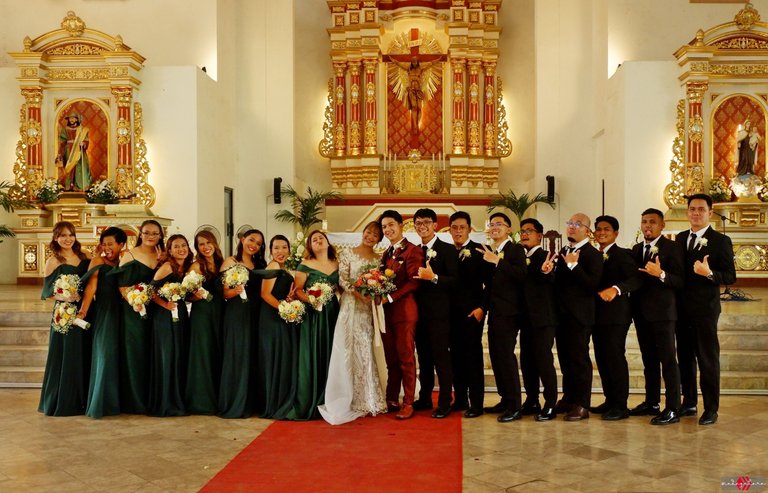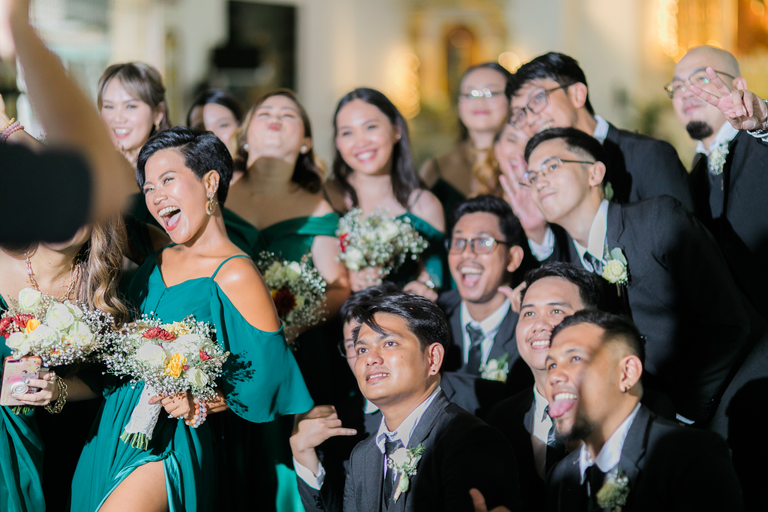 Yep, I always have a big smile...Source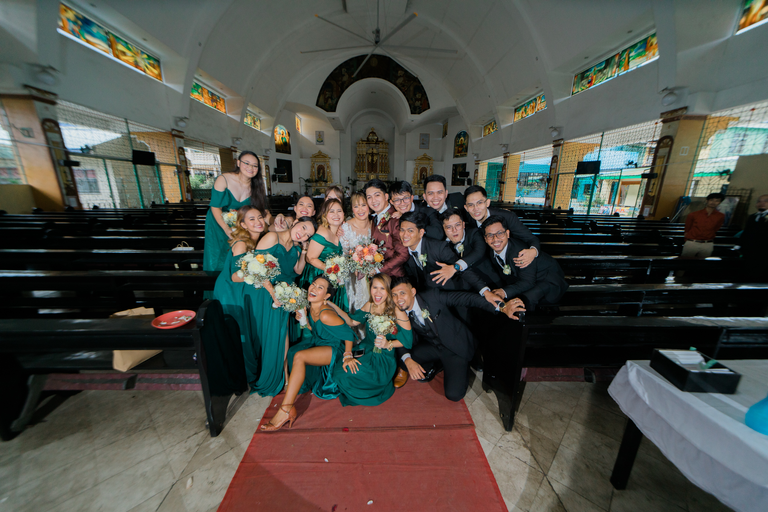 A teen asked if I was an artist coz I kept showing my leg! 😆 The slit of the dress was there for a reason...Source
---
Post Church Ceremony Photoshoot
Thought the photo and video shoot ended? It went on! This time we went to a secluded place with lots of trees near the wedding reception venue. And there was some running involved. I love it though.
Behind the scenes: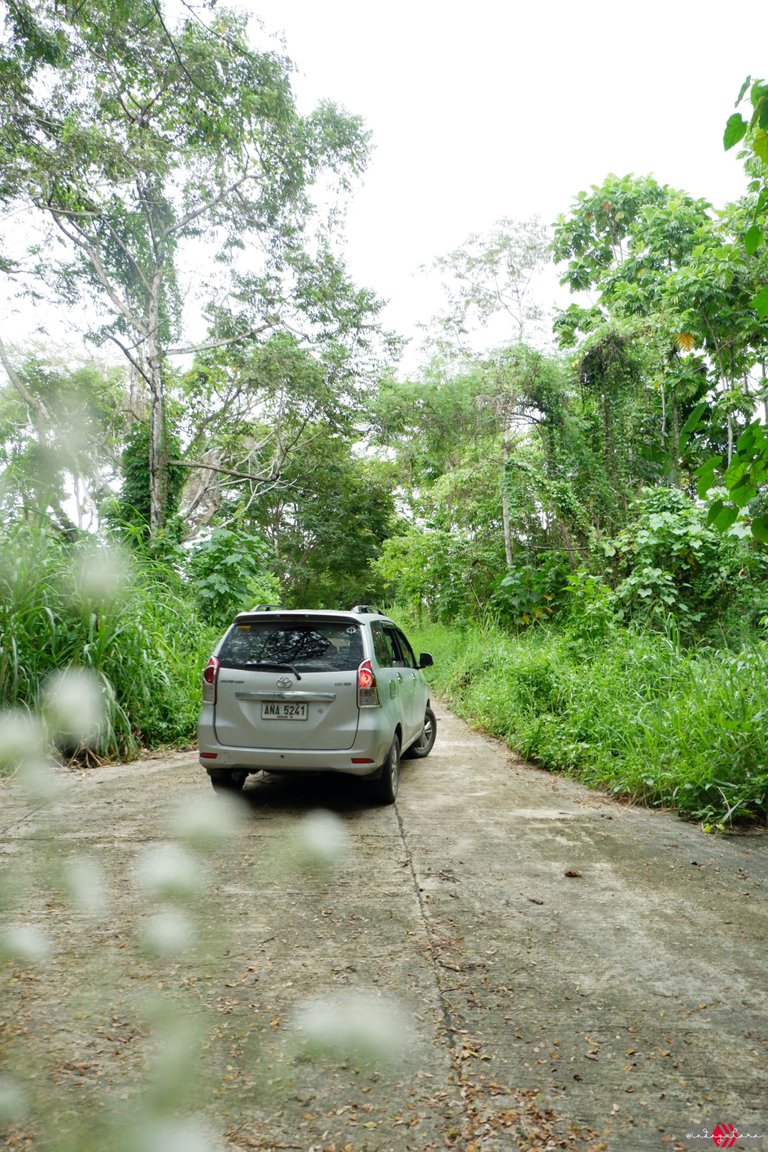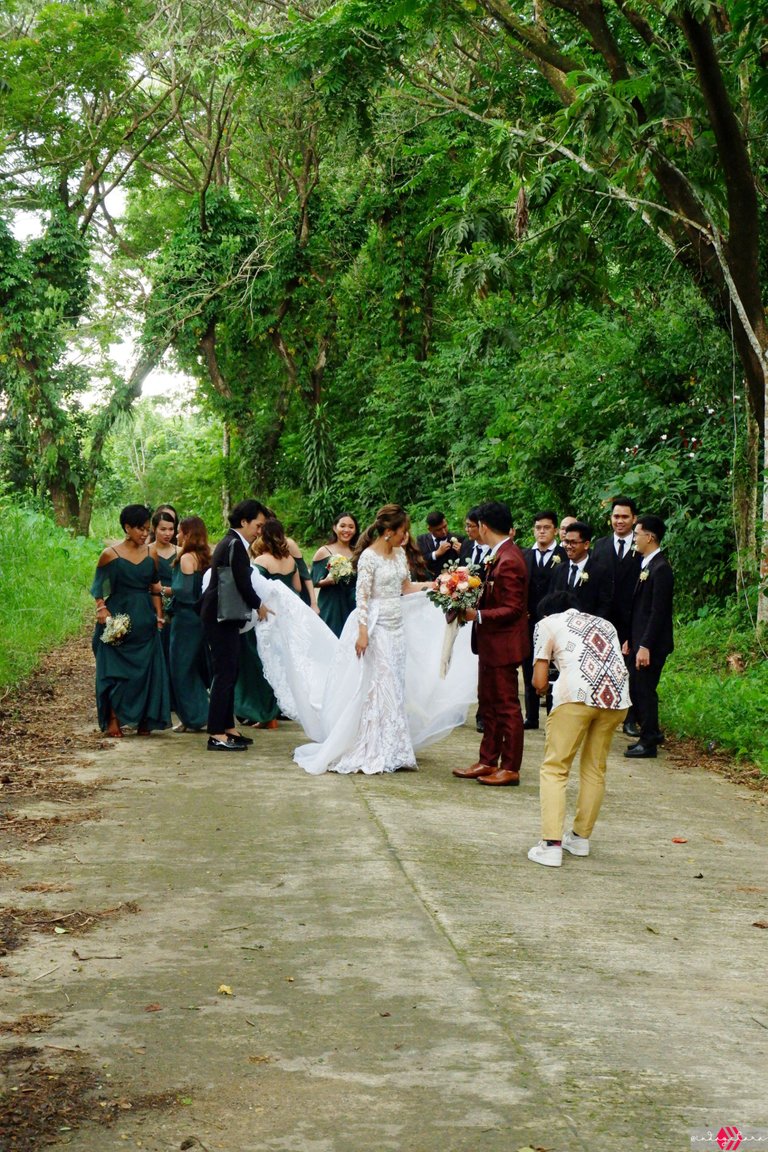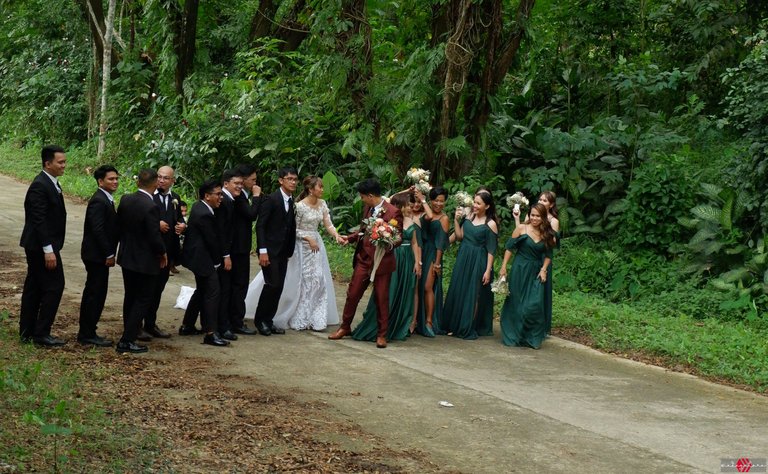 Shots from the photographers: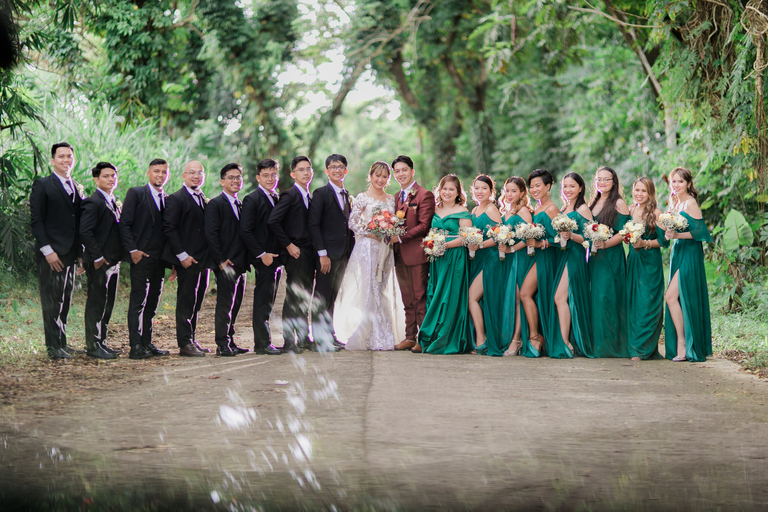 Lorden Titular Fine Art Wedding Photography.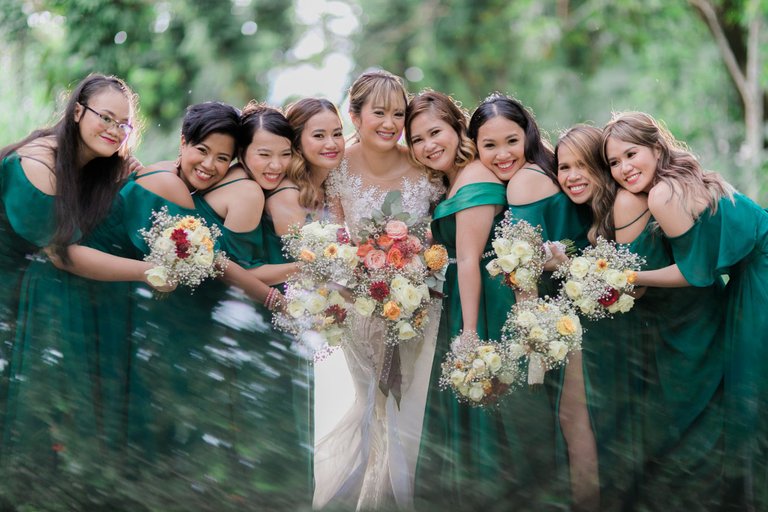 We all look gorgeous, don't we?...Source.
---
Wedding Reception
The wedding reception was held in Subanen Hall. The place was decorated well with a rustic theme. It was simple yet felt like Autumn season for me. Before the bride and the groom had their grand entrance, I was thrown into the hot seat when the host had a game for "singles" in the house. Another thing I thought I graduated from but I know it was all fun so I went along with it! The crowd was smiling and laughing because of the amazing hosting skills of the emcee throughout the night. Instead of the money dance, a new trend was done - the "money bridge". We also performed some dance numbers which I might share on another blog.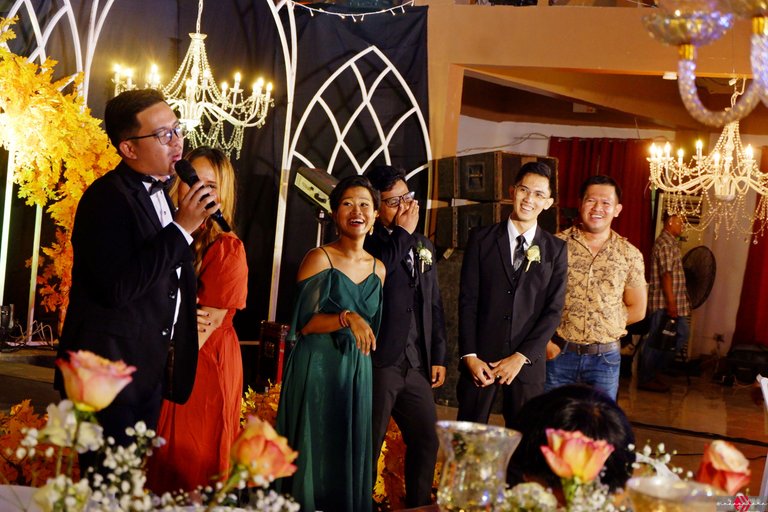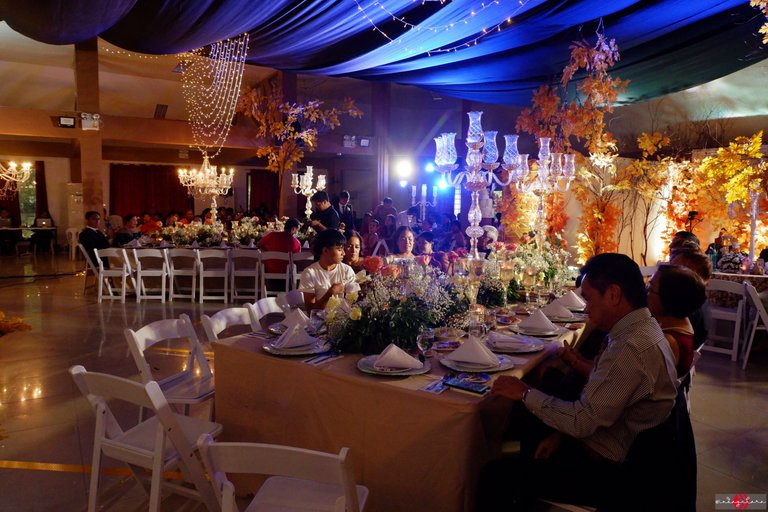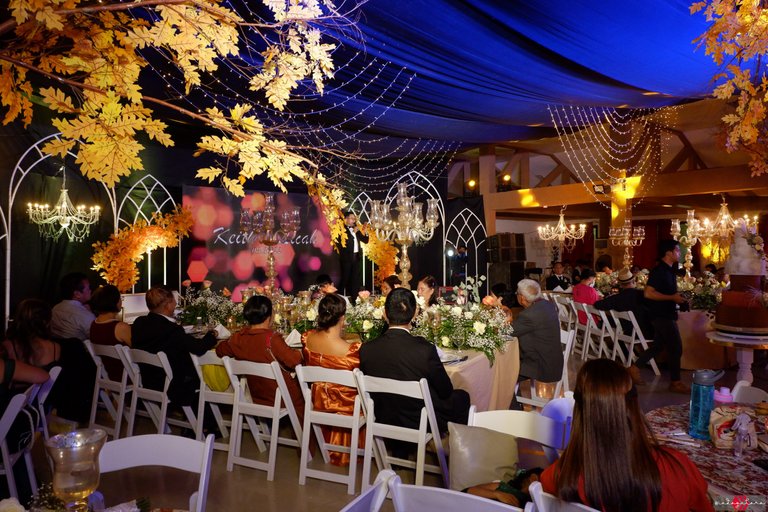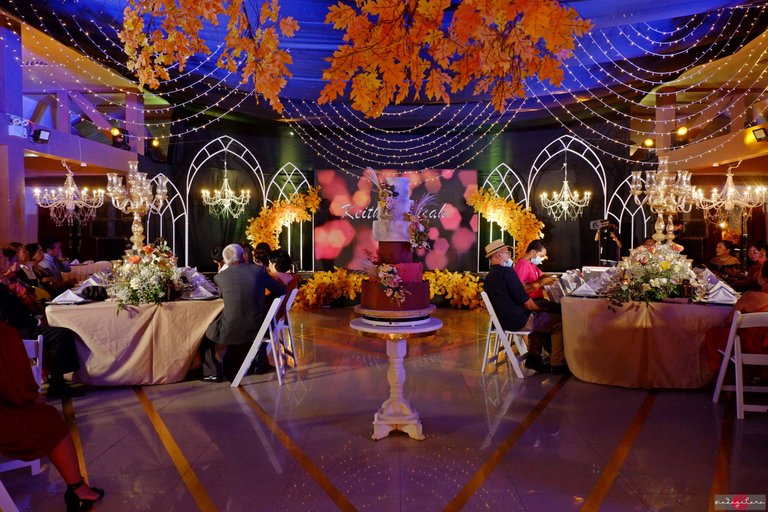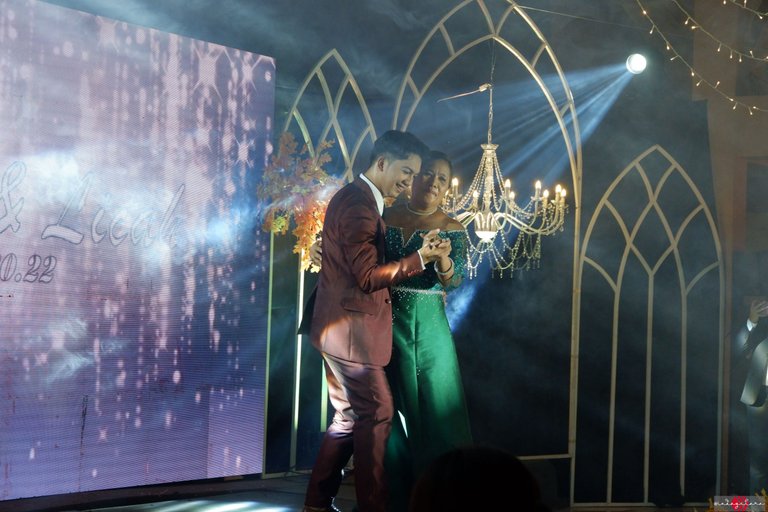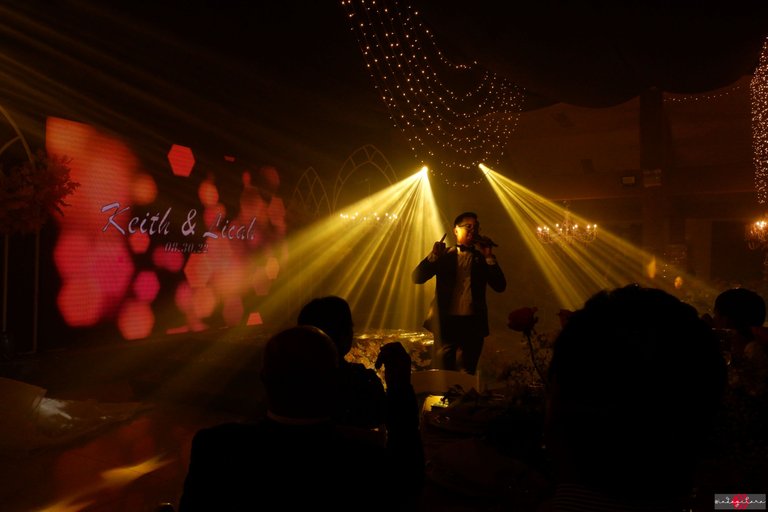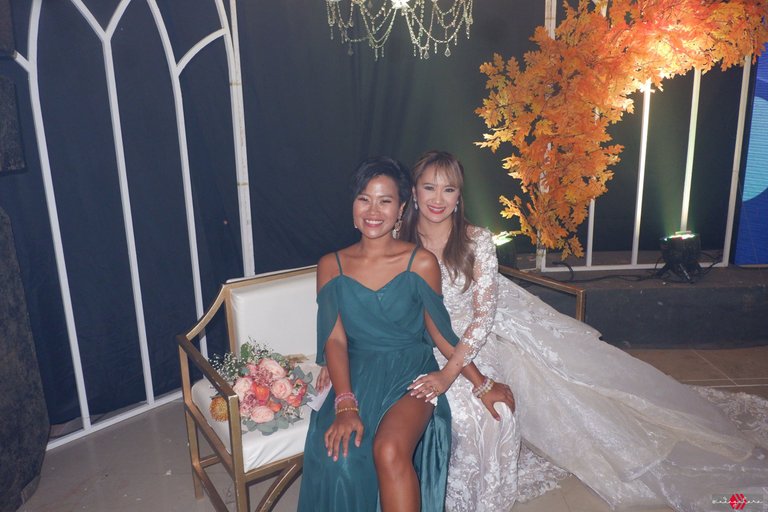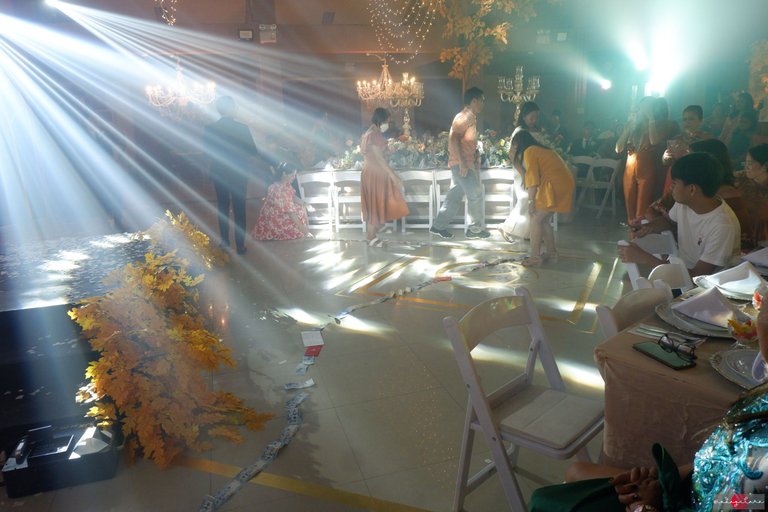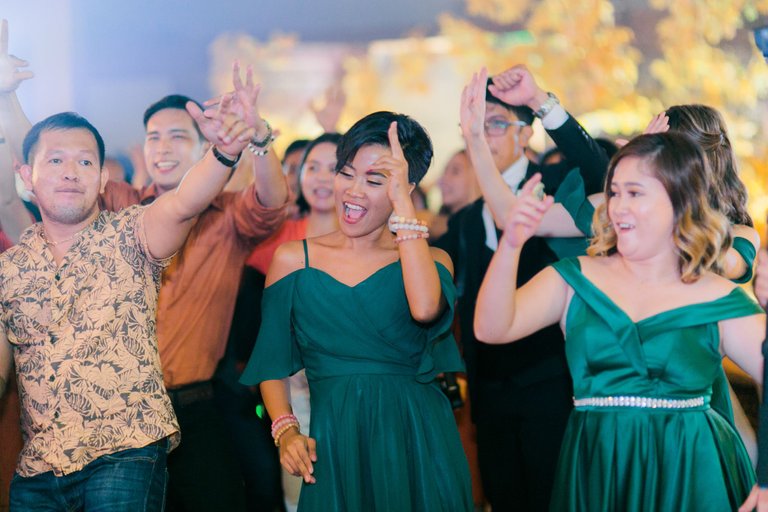 We got to flex our moves... Source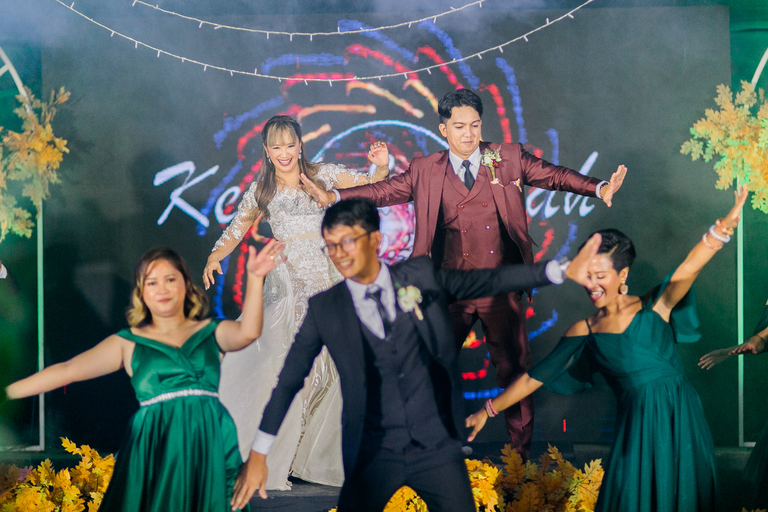 When you put in a show... give it your all and enjoy it too! Source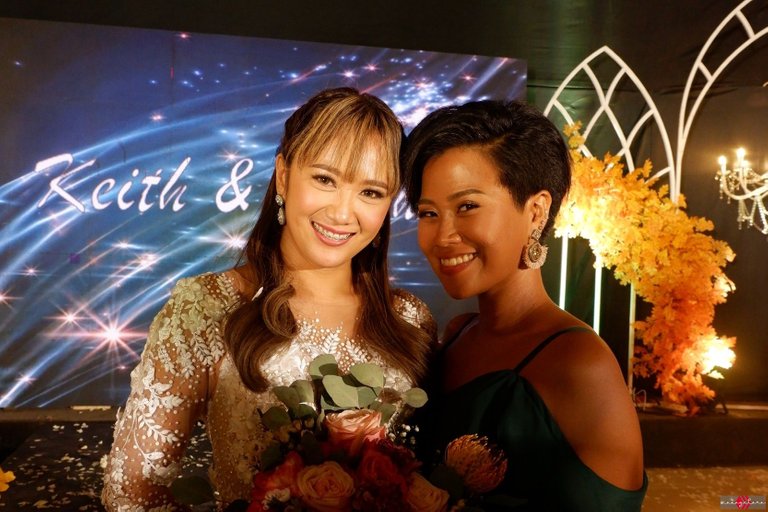 The night was long but it was amazing, fun, and heartwarming. The bride and the groom were all smiles throughout the event. It was a beautiful celebration I get to witness or shall I say an epic wedding I can't escape!
---
Dive into Clara's world of bliss as she ventures out into the universe and travel to awesome destinations.
Join her as she take on the road to self-discovery and limitless possibilities.

If her content made you 😁, then drop some ❤️ by upvoting and leaving a comment.
Also, click the Follow button to keep posted on her whimsical musings.