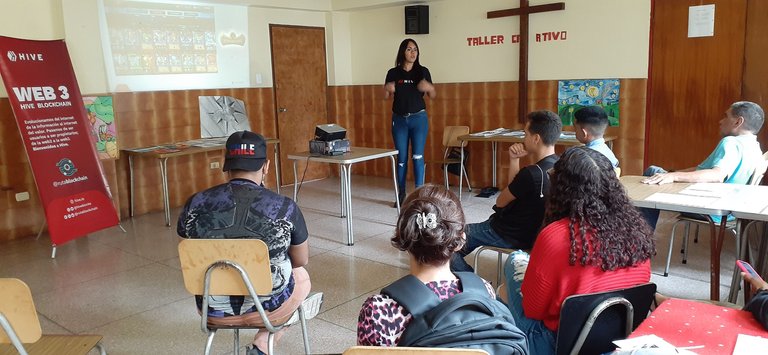 Emocionados y sobre todo felices, seguimos construyendo con más educación; actividad que hemos desempeñando desde que iniciamos como proyecto, creando una Ruta Educativa en comunidad.
Estamos constantemente desarrollando actividades para impulsar nuestra blockchain y como ya les hemos compartido en otras oportunidades llevando Hive y la Web3 a más personas; mostrando las oportunidades que ofrecen ecosistemas como Hive.
Hoy les compartimos otro encuentro fabuloso, en esta oportunidad @enmy y @danielvehe estuvieron en APROFEP ubicado en El Paraíso (Caracas), un lugar espectacular con unas condiciones perfectas para llevar a cabo actividades educativas. Este espacio nos abrió la puerta para impartir una charla enriquecedora a jóvenes estudiantes de Diseño Gráfico de la Academia CENTECPRO.
Gracias a la Profesora Yakira Velazco, se logró el enlace para llegar a estos espacios y compartir con estos jóvenes; estamos complacidos que nuestros fundadores puedan expandir más información sobre Hive y la Web3.
La receptividad de los participantes fue muy positiva, lo que nos motiva a seguir programando estas actividades. Jóvenes con un gran futuro de desarrollo dentro de Hive y que aprovecharon la información y el momento para disipar dudas sobre Blockchain y Hive.
Queremos motivar a la juventud, a que se inserte en este mundo digital que les permite desarrollarse, aprender y crecer desde varias aristas importantes; nos apoyamos con Hive para mostrar de forma simple los ecosistemas Blockchain.
Pronto les compartiremos más detalles sobre nuestra Ruta Educativa, sobre Hive y Web3, que llevamos con @enmy y @danielvehe para todas aquellas personas que deseen ser parte de este ecosistema.
Esta actividad fue realizada el domingo 27 de noviembre de 2022 y fue una invitación gracias a nuestro proyecto **Hive va a la Escuela.
**
---
Excited and above all happy, we continue building with more education; activity that we have performed since we started as a project, creating an Educational Route in community.

We are constantly developing activities to promote our blockchain and as we have already shared with you in other opportunities bringing Hive and Web3 to more people; showing the opportunities offered by ecosystems like Hive.

Today we share with you another fabulous meeting, this time @enmy and @danielvehe were in APROFEP located in El Paraíso (Caracas), a spectacular place with perfect conditions to carry out educational activities. This space opened the door for us to give an enriching talk to young students of Graphic Design of the CENTECPRO Academy.

Thanks to Professor Yakira Velazco, we were able to reach these spaces and share with these young people; we are pleased that our founders can expand more information about Hive and Web3.

The receptivity of the participants was very positive, which motivates us to continue programming these activities. Young people with a great future of development within Hive and who took advantage of the information and the moment to dispel doubts about Blockchain and Hive.

We want to motivate young people to get involved in this digital world that allows them to develop, learn and grow from several important aspects; we rely on Hive to show in a simple way the Blockchain ecosystems.

Soon we will share with you more details about our Educational Route, about Hive and Web3, that we carry with @enmy and @danielvehe for all those people who want to be part of this ecosystem.

This activity was held on Sunday, November 27, 2022 and it was an invitation thanks to our **Hive goes to School project.
Translated with www.DeepL.com/Translator (free version)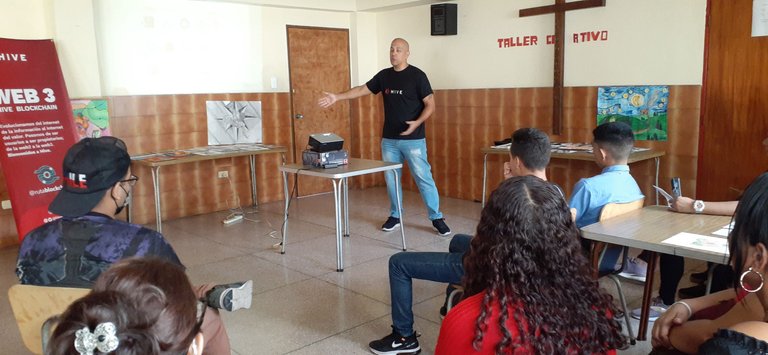 ¡SÍGUENOS EN NUESTRAS REDES!
Botones creados a partir de esta plantilla