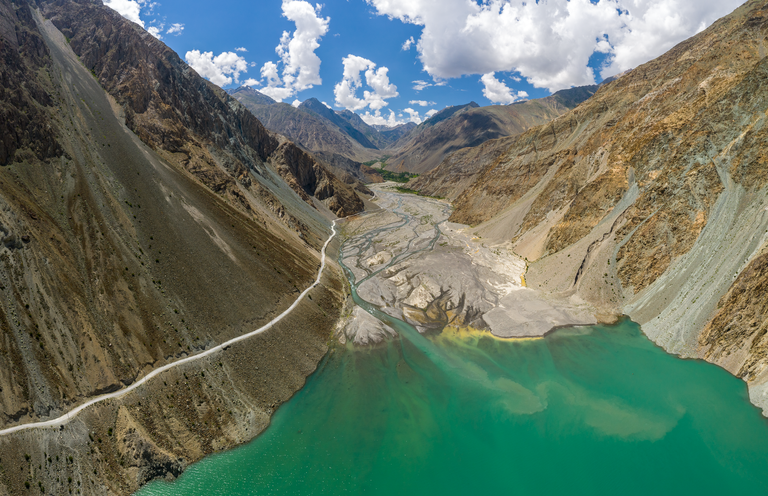 Lakes in the mountains are always distinguished by the beautiful turquoise color of the water. This is because they feed on water from melting glaciers — like this Satpara Lake in the vicinity of the city of Skardu, Pakistan.
The lake is located at an altitude of 2636 meters above sea level and is fed by waters from the Deosai Plains high-altitude plateau. Water, either in a wider stream, or in narrow, flows into the lake, and in this place a bizarre pattern of water and ground is formed.
Satpara Lake provides fresh water to the city of Skardu, which lies below, just a few kilometers from the lake. At the opposite end of the lake, from where a small river flows out, a dam was built about 9 years ago, which increased the area of ​​the lake and made it possible to receive enough electricity for the city and some other households in the Skardu valley.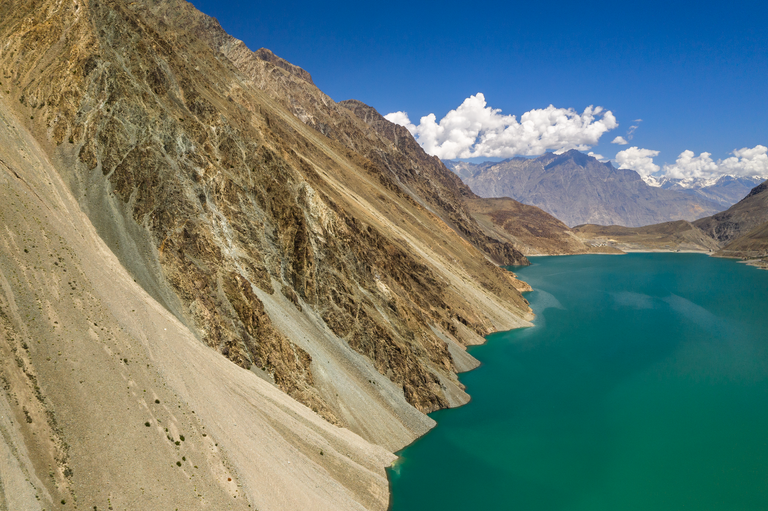 The lake is quite popular as a local attraction: it is beautiful and, due to the short distance, it is easy to get there from the city. However, it is not adapted for any type of public recreation: it is sandwiched among the mountains, so the banks along the long sides of the lake are steep and crumbling, there is a dam on the side closest to the city, and at the opposite end there is just the mouth of streams flowing into the lake and walking there is not the best idea. Of course, you can go down to the water, although it is not very convenient: if you look closely, there is a thin path to the right of the photo from the road to the water, at its beginning there are two minibuses on which we arrived there. If you open the photo in high resolution, you can even notice a couple of bright little dots descending the path :)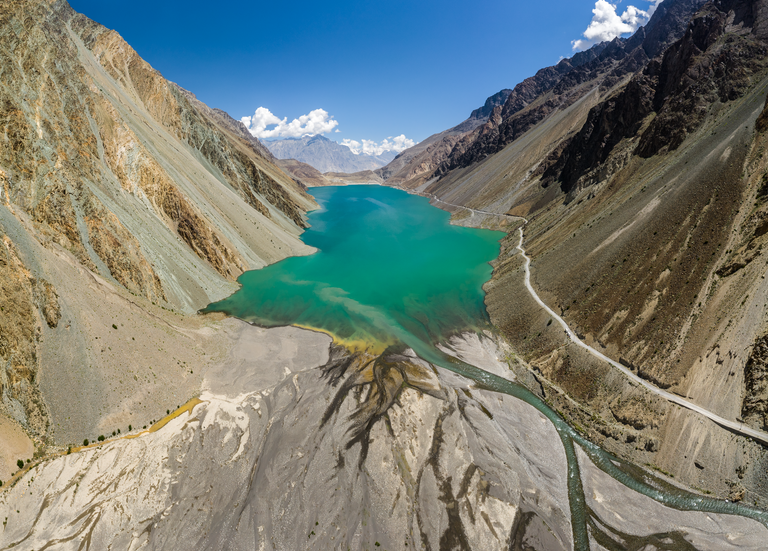 On this road, which runs along the lake, people drive from Skardu to those Deosai plains. They are, by the way, the second highest plateau in the world with an average height of 4114 meters above sea level. Deosai National Park is located there, and tourists rather often visit it. So on the way it is very convenient to make a short stop at Satpara Lake and admire its wild beauty.
It's better to watch the photos in high resolution.
---
This post is also an entry to the PhotoFeed Around The World Contest — Asia dedicated every day of the week to one of the continents. Check out @photofeed for more information :)
---
Camera: DJI Mavic 2 Pro
---
You can also see my photos in my blog LJ and in my profile on NatGeo. You can read a short interview with me here.
---