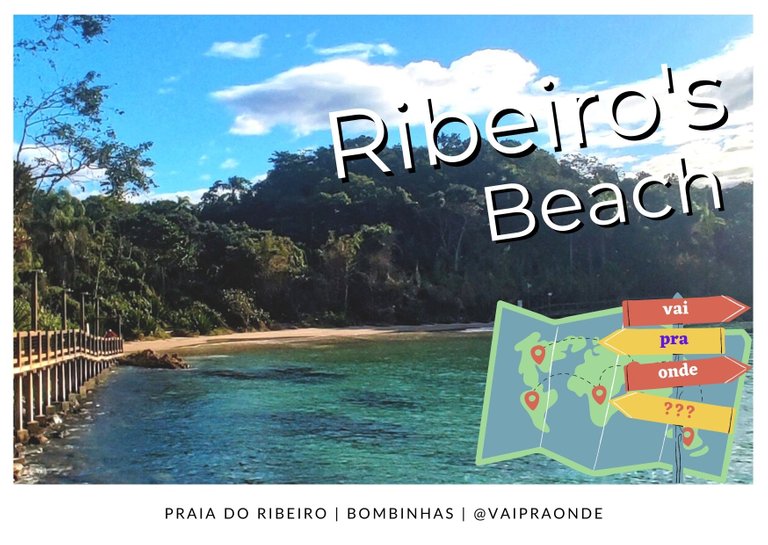 Hi friends, how are you today?!
I'd like to show you a very beautiful location that is a daily pass for the residents of the area.
It all started when I asked around the inn about the nearest market. They told me that there was a very good fair on Wednesday for buying fruits and vegetables, and that it was close to the main market in the region, which had more varieties at a reasonable price.
Photo Session at Praia do Ribeiro
I made the decision to go, grabbed an empty backpack and some reusable bags, and went for a walk.
The walk is two kilometers one way and two kilometers back, but there is a very steep hill between the beach where I am and the beach where I want to go.
Then they instructed me to use the footbridge!
Footbridge? This didn't exist the last time I was here. OK, it's been a few years since my last visit to the region.
Yeah! You can get out there without going over the hill thanks to a new footbridge that crosses the coast.
That's fantastic; I had no idea what to expect from this footbridge, and to my surprise, it turned out to be a very beautiful place to visit.
I thought it was funny that no one mentioned that it would be a lovely place to visit as a tourist; I believe that the locals are so accustomed to the beauty that going there during the day is just the norm.
I leave the hotel filming, planning to record my steps for Wednesday's walk, but the photos turned out so well, at least for me, that I decided to share them here in the Photography community. What do you think of them? Is it true that I'm improving as a photographer?
Those who follow me know that I've always enjoyed photography, but that I'm now devoting more time to taking better photos and sharing them with you. combining the trips and photos I enjoy taking...
Several photos were taken during this session, and as usual, I chose a few to show you in order not to overwhelm you with a slew of similar images.
I also made a hyper-lapse along the way and decided to compile them into a video, which I'm new to and have only edited a few videos in my life. Tks @mipiano for explaining hype and time lapse.
I prefer photography to filmmaking, but I'm attempting some short takes in the hopes of discovering a new hobby.
The selection of videos, photos, and music used in this video editing was fantastic. Trying to create something that represents this walk, as well as taking pictures along the way.
I wish the video would never end, that it would go on and on, but I decided to make a short video. Nobody seems to have more patience for long videos... Maybe I'll make a larger compilation of the best moments from the entire trip later.
Meanwhile, let's go for a walk to see what the footbridge view looks like and visit Praia do Ribeiro, a small, beautiful, and pleasant beach to take a break from the walking.
---
⭐ That are my 3 favorite pictures from this session!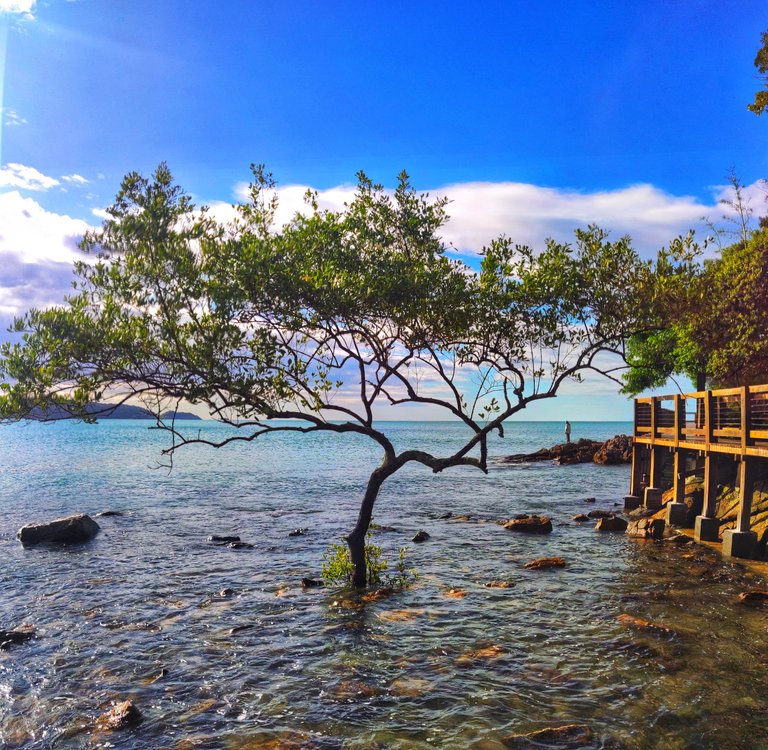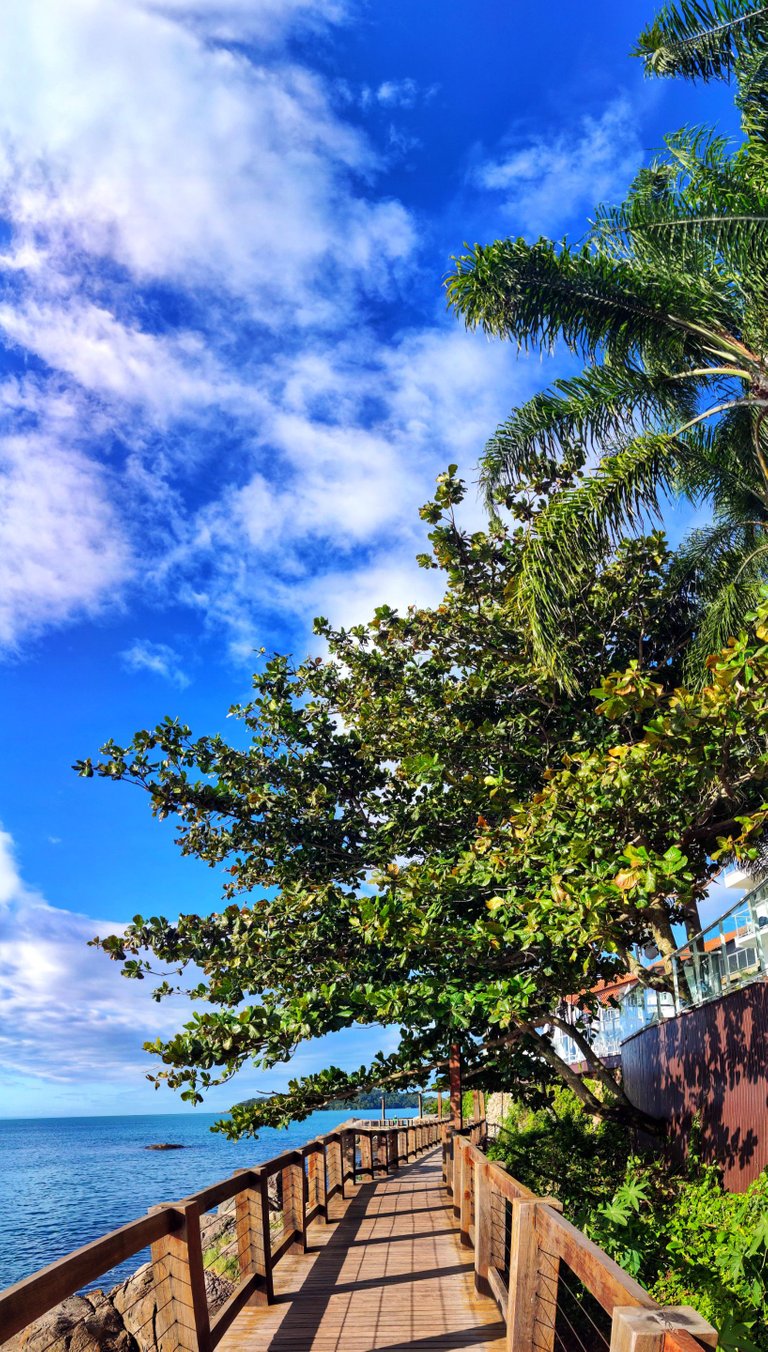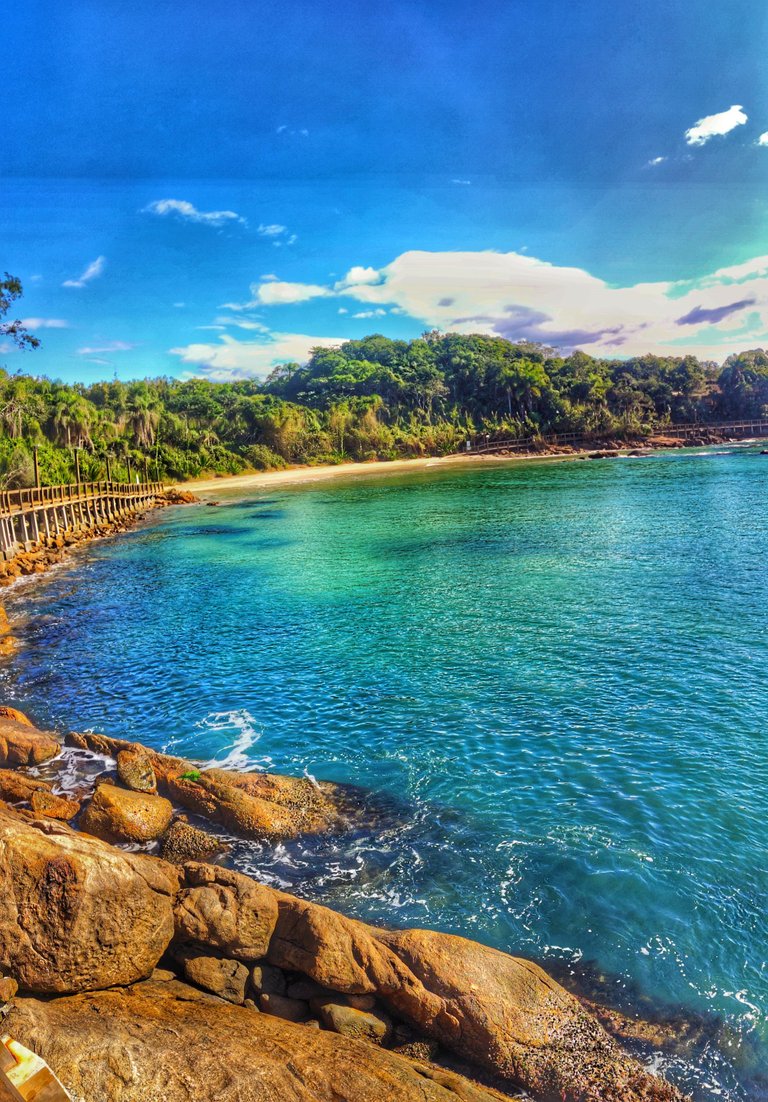 ---
Street view to show how is typical city buildings. The beachside has small buildings to don't create shadows on the beach, and on the other side taller ones, but not so tall.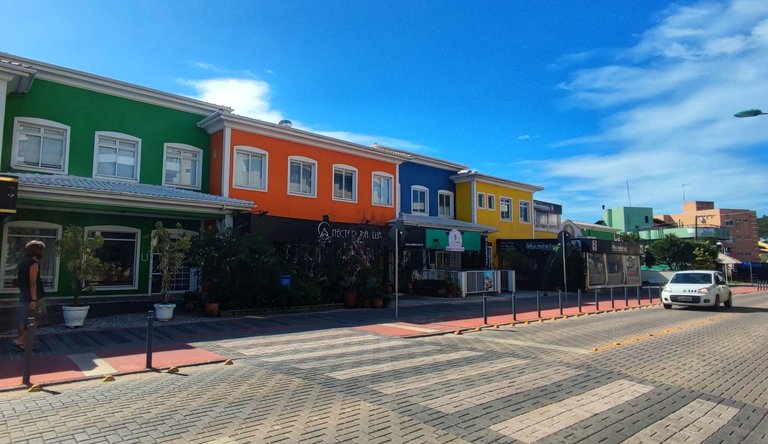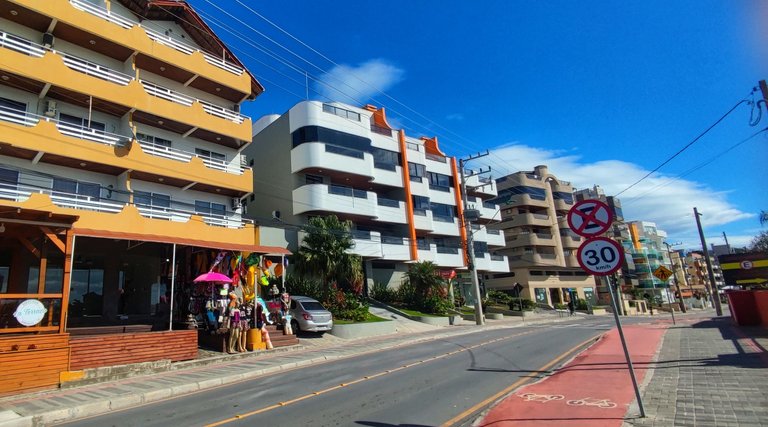 ---
After getting out of the street in the Beach direction, you will find the footbridge, that start in front of this beach club named Bora Bora.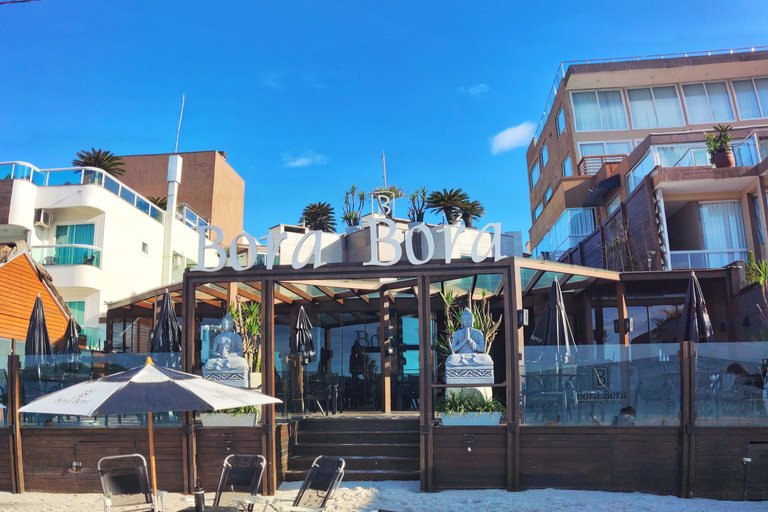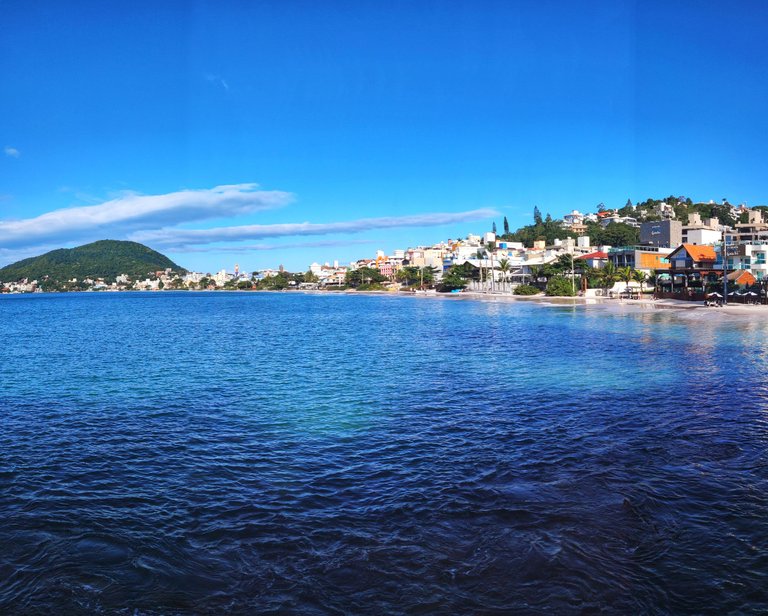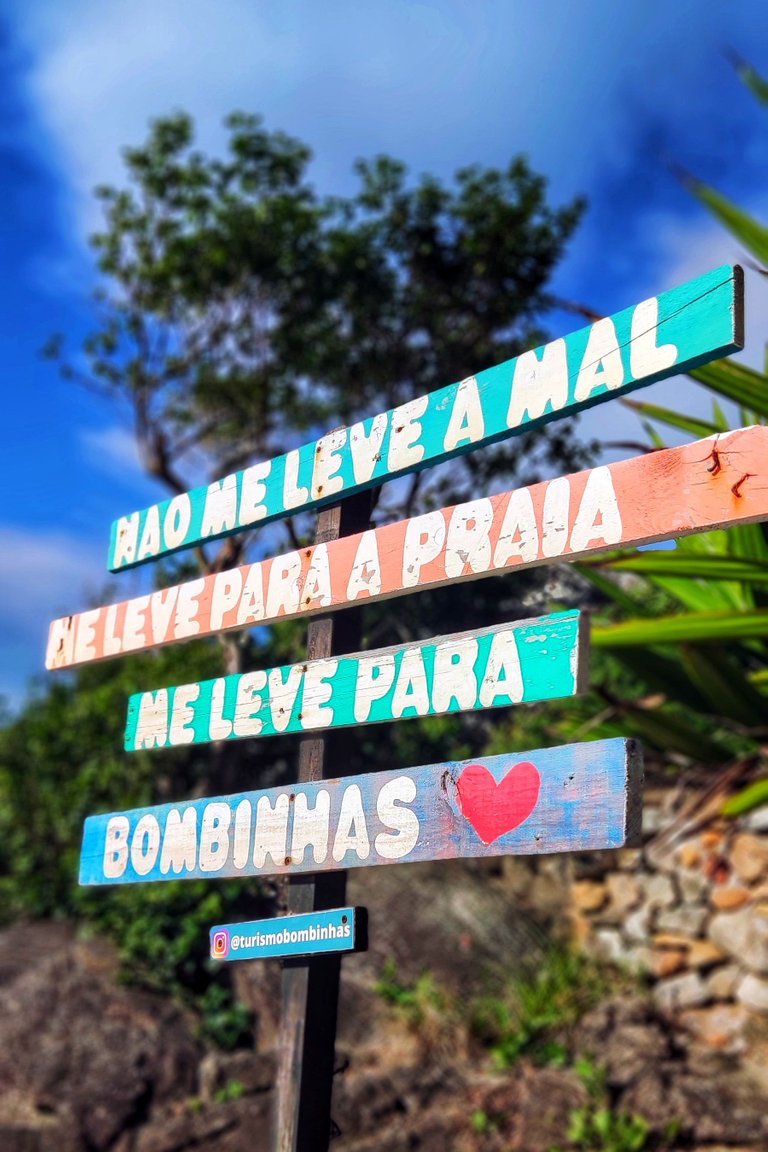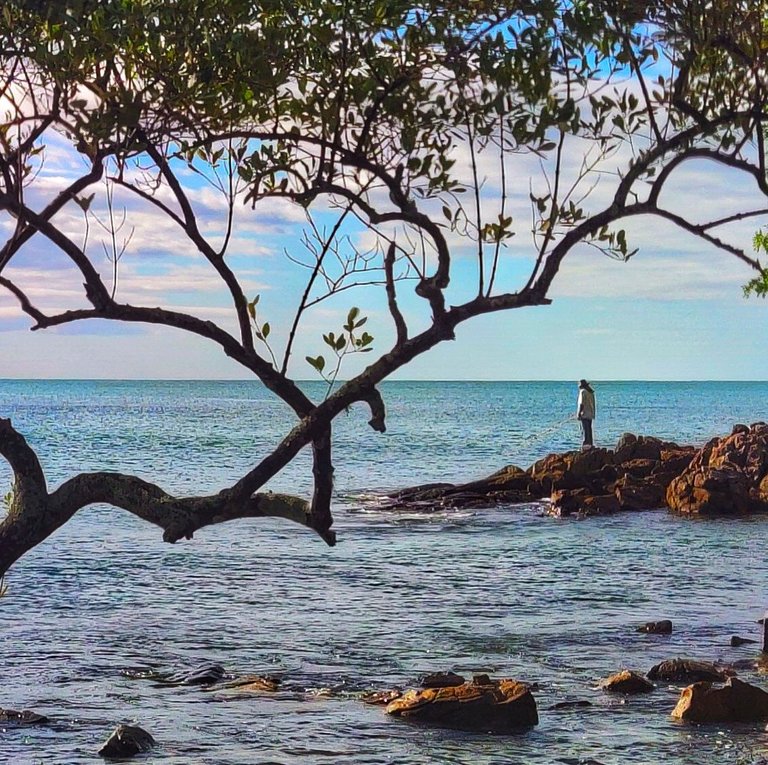 This is Ribeiro's beach, a small beach interconnected by the new footbridge.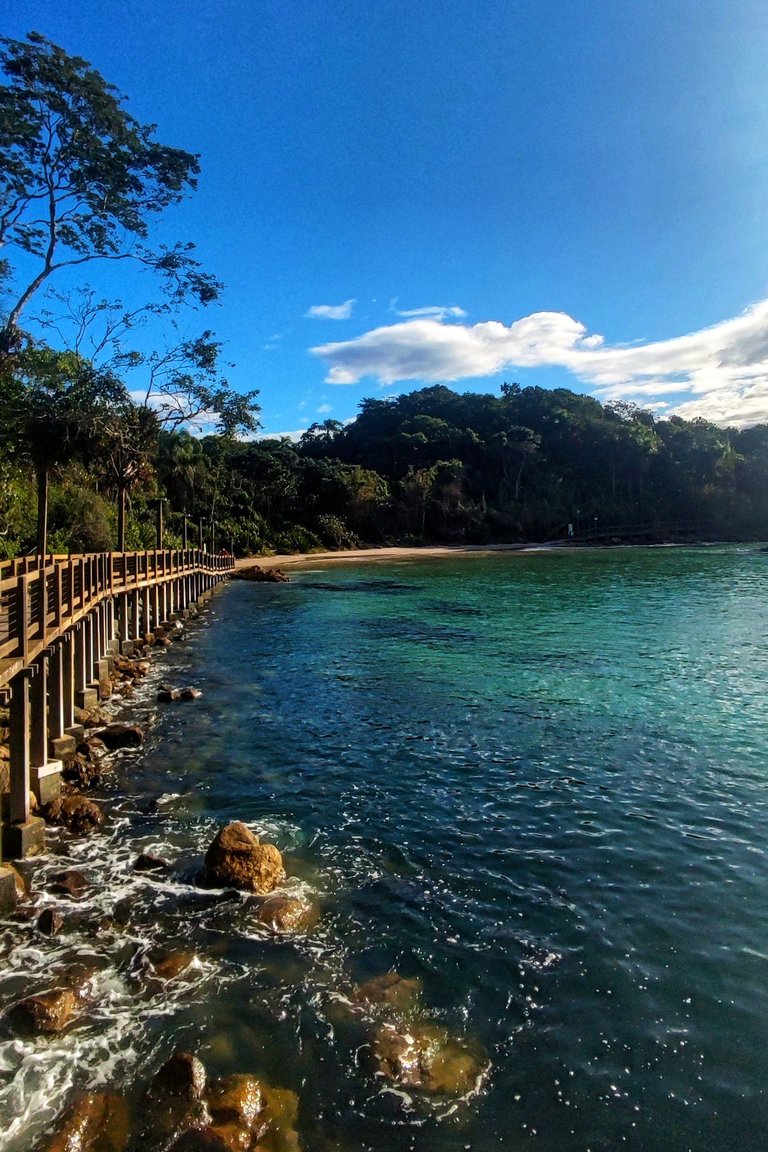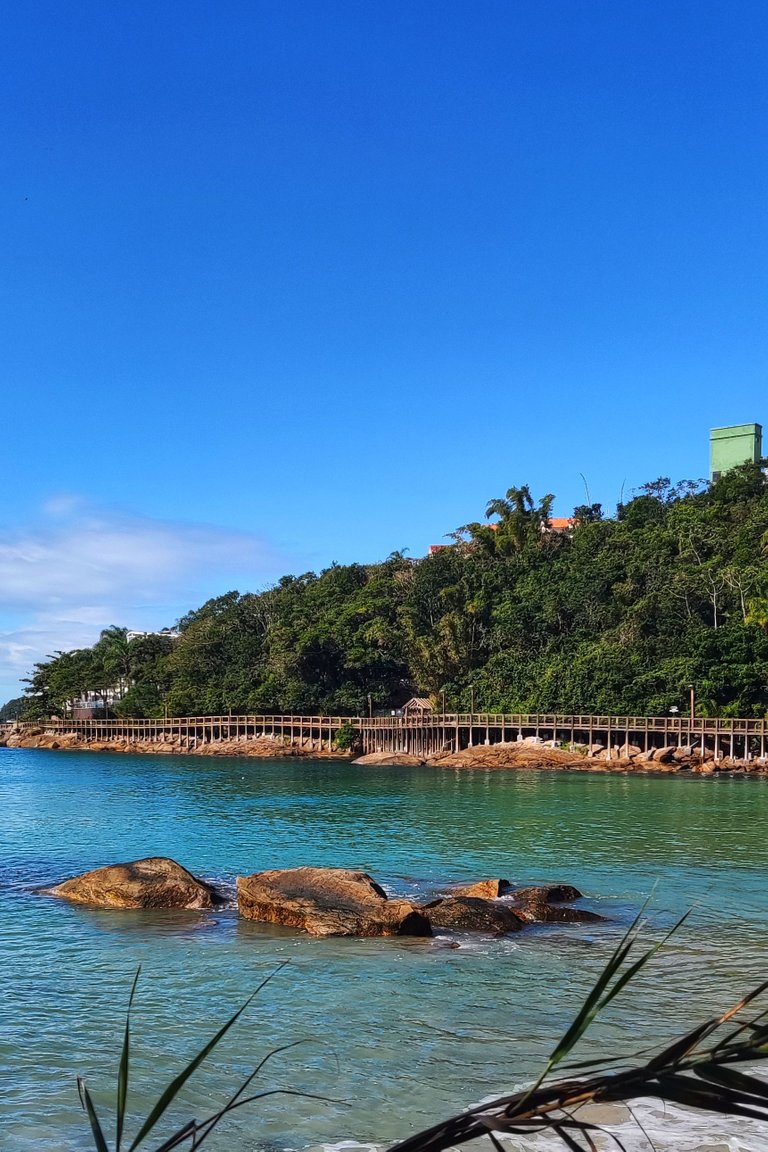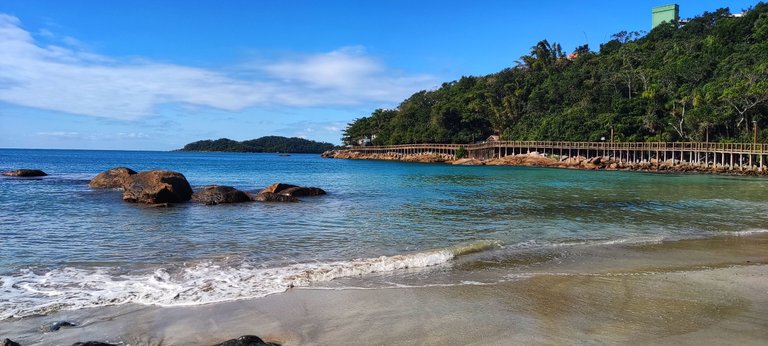 Water here has these amazing Emerald green colors with some blue touch.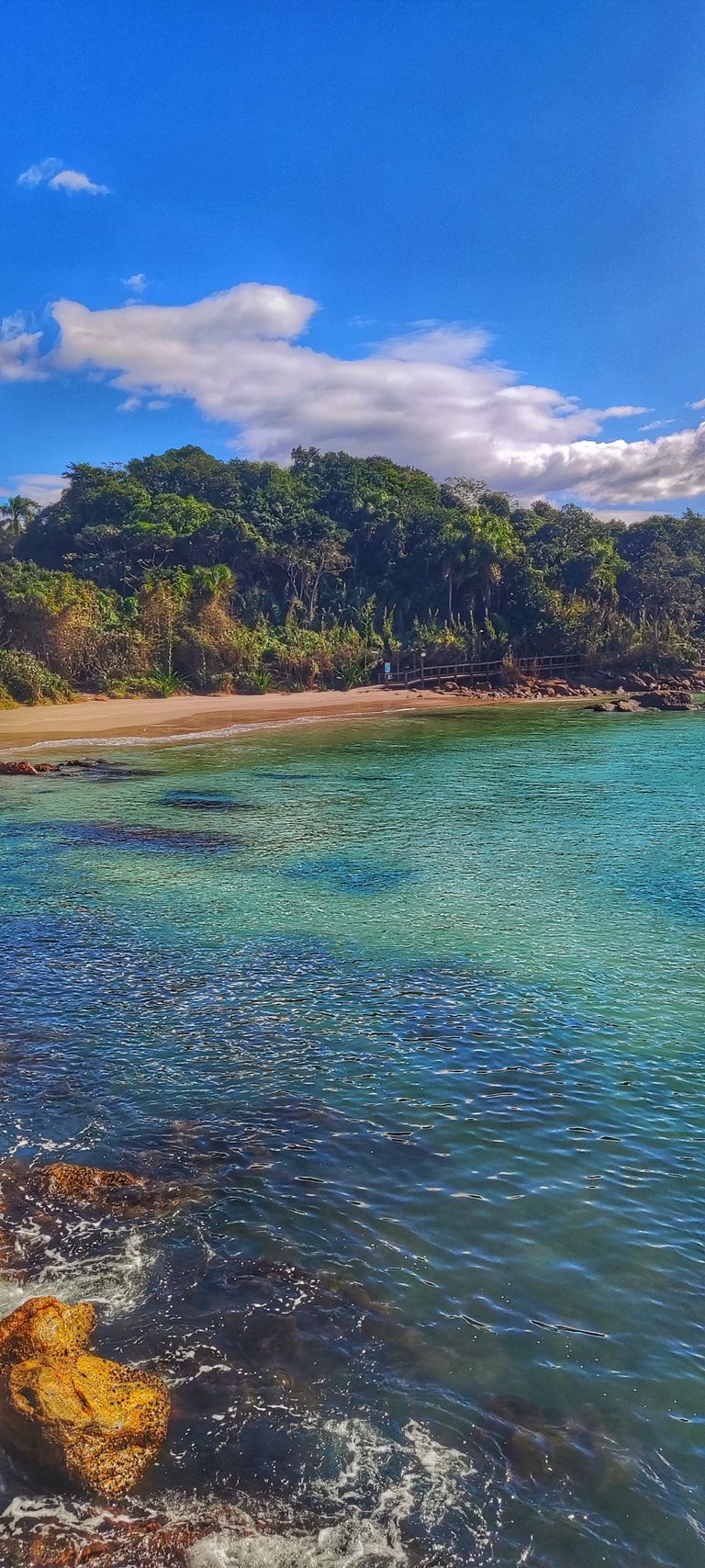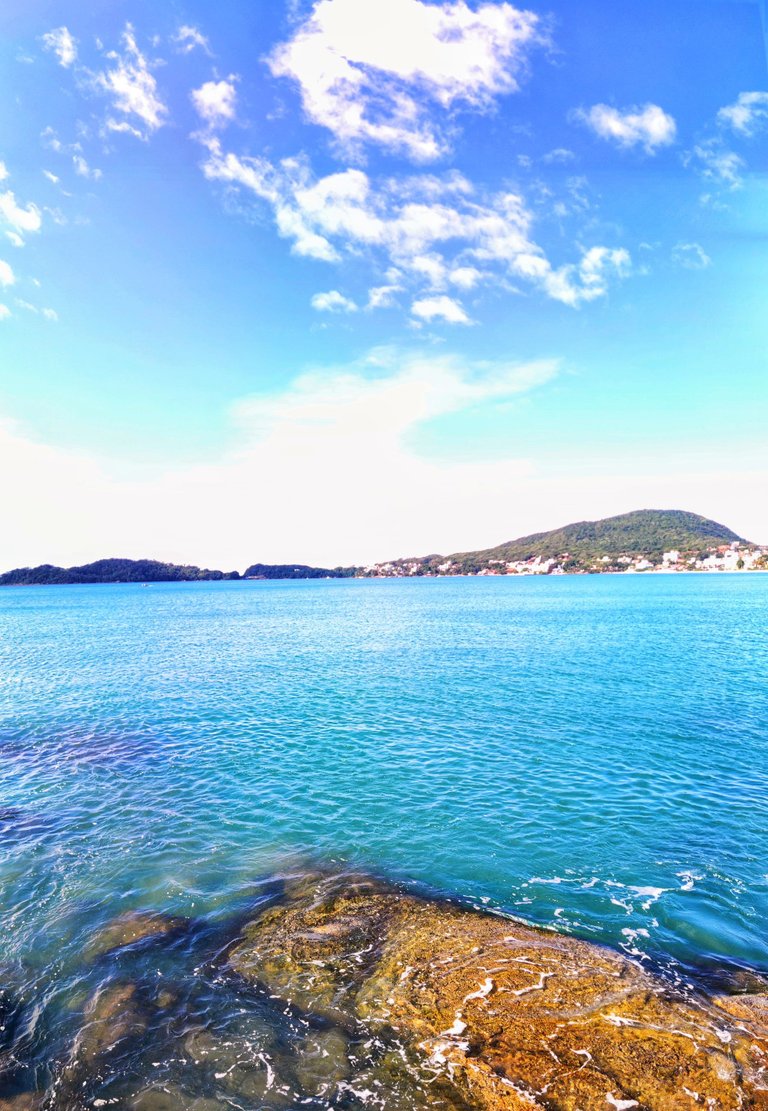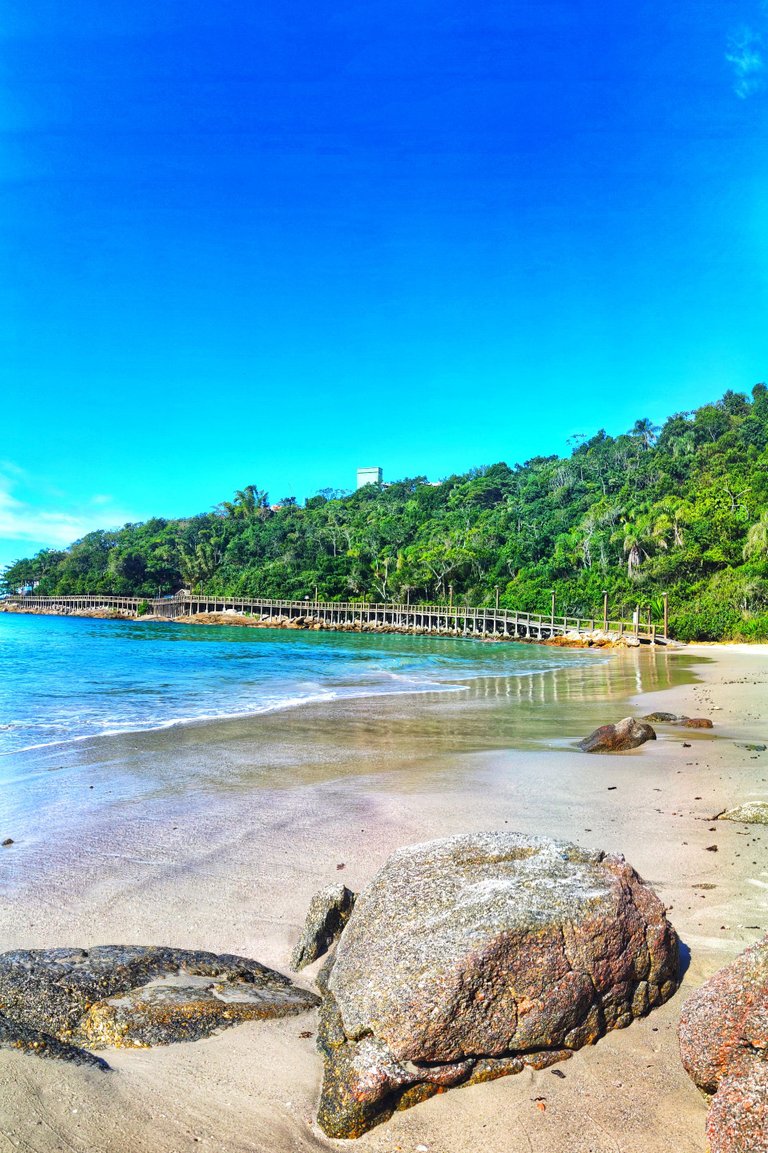 ---
The rocks give a special charm to the Ribeiro's Beach 🏖️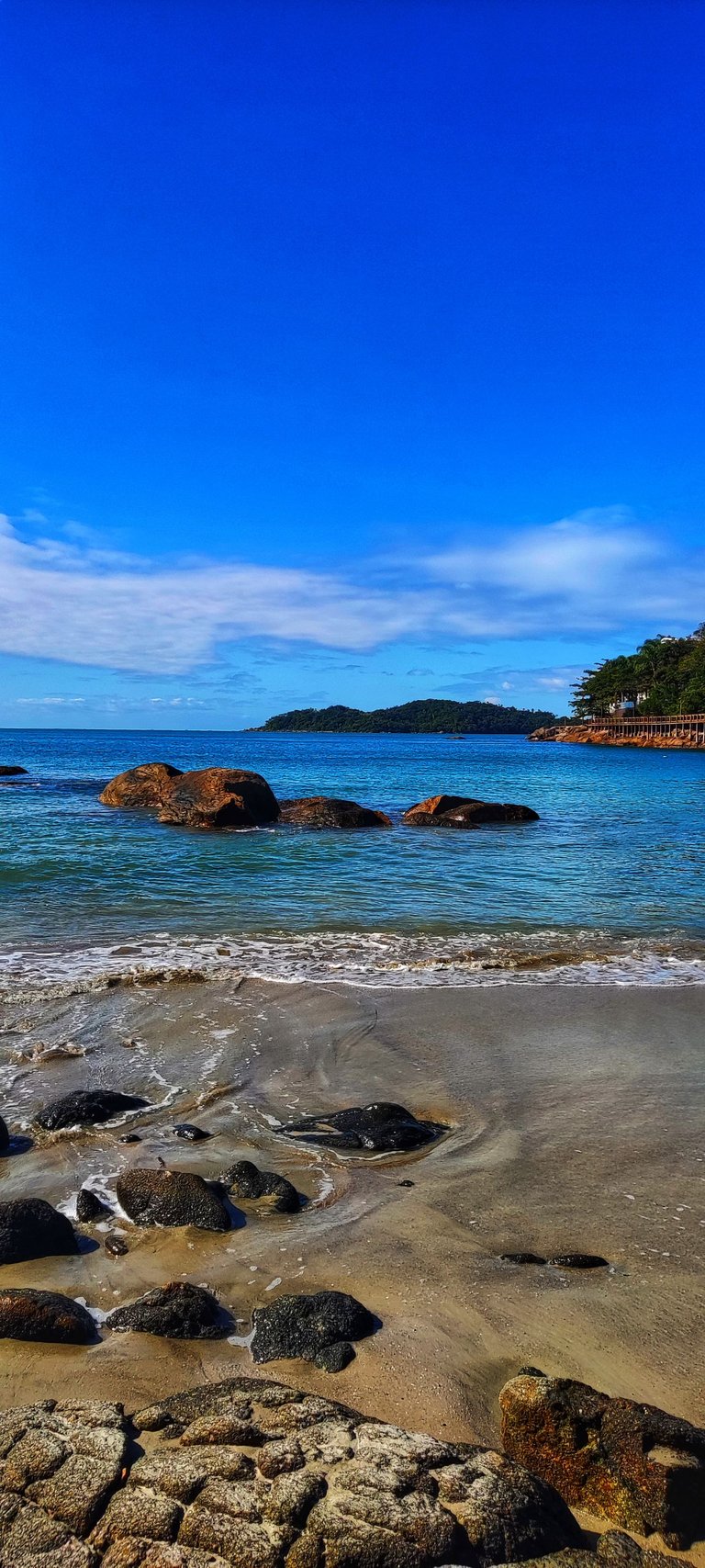 ---
Panoramic view to contemplating all beach beauty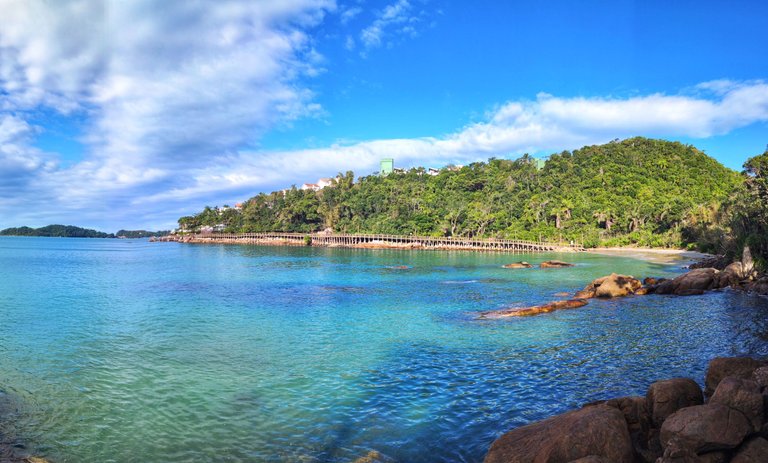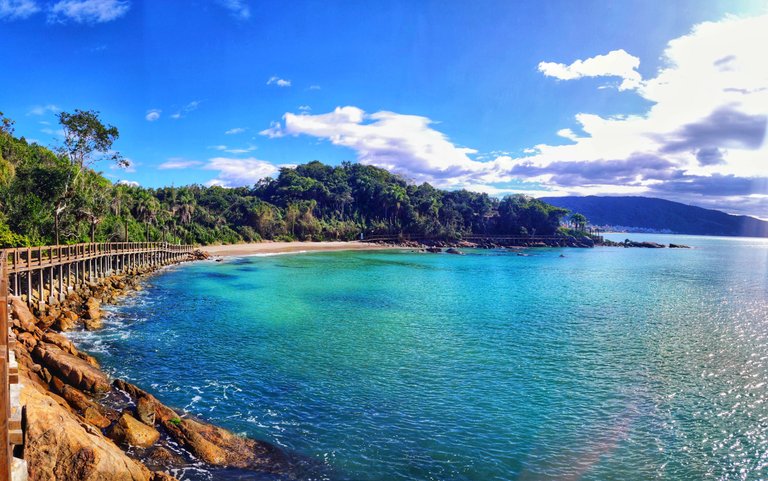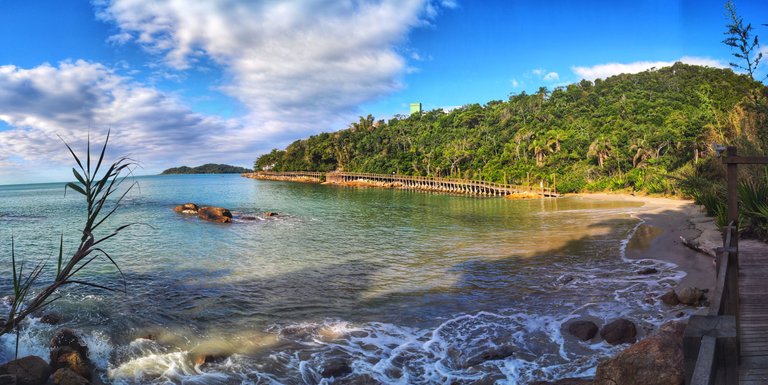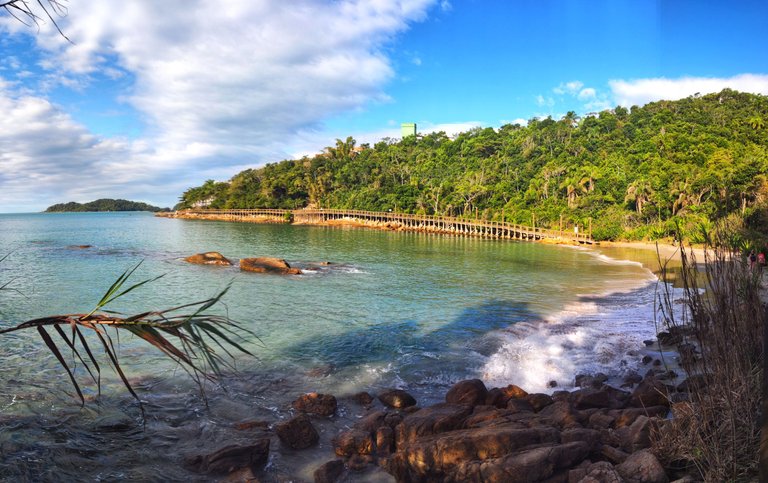 ---
Searching where to stay? How about an Oceanview room?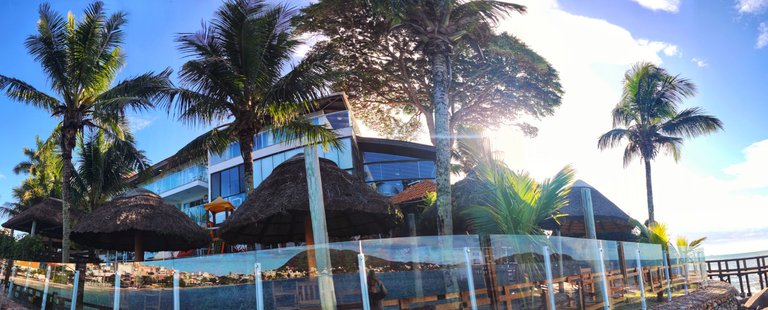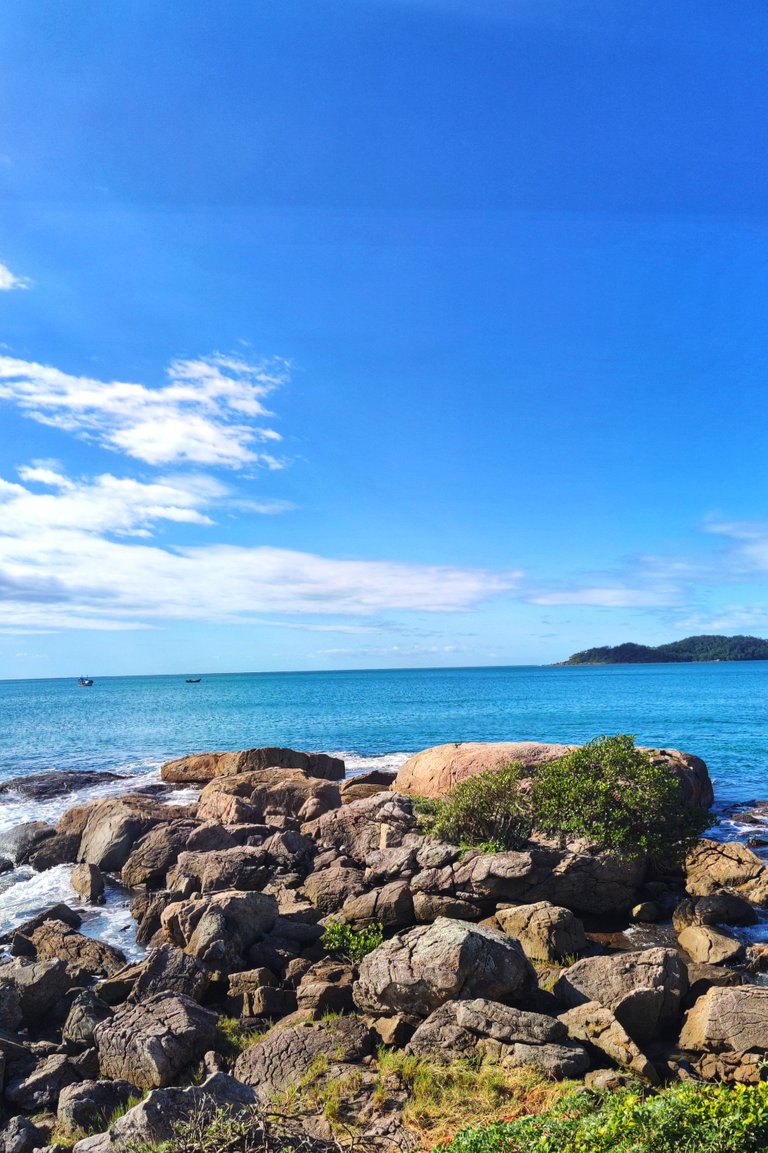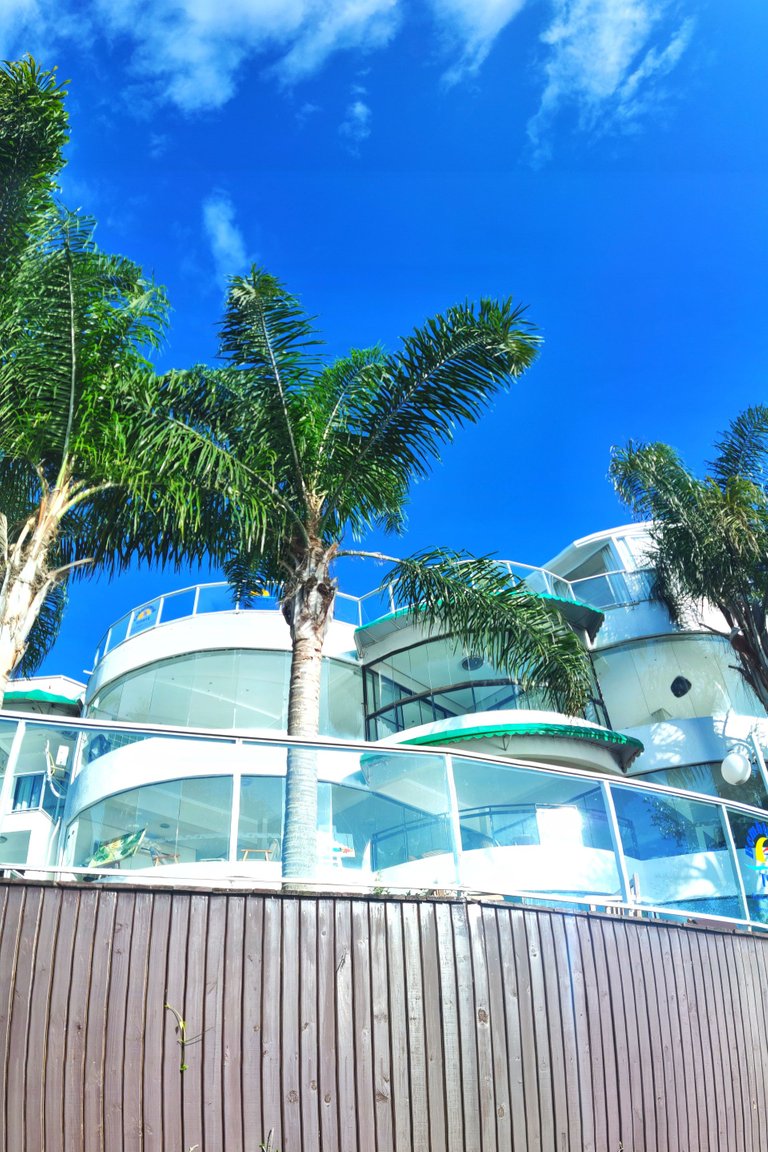 ---
More from Brasil South Coast Trip
| In case you missed this trip Part 1 post Visiting Balneário Camboriú | |
| --- | --- |
| Second stop on this trip to Brasil South Coast. Quatro Ilhas Beach | |
Thanks for reading.
Leave a comment that I'll be glad to reply to.

Portuguese version
Viagem Litoral Sul do Brasil | Parada 3: Sessão de Fotos na Praia do Ribeiro
Eu gostaria de mostrar a você um local muito bonito que é um passe diário para os moradores da região.
Tudo começou quando perguntei na pousada sobre o mercado mais próximo. Disseram-me que na quarta-feira havia uma feira muito boa para comprar frutas e verduras, e que ficava perto do principal mercado da região, que tinha mais variedades a um preço razoável.
Tomei a decisão de ir, peguei uma mochila vazia e algumas sacolas reutilizáveis, e fui dar uma volta.
A caminhada é de dois quilômetros de ida e dois quilômetros de volta, mas há um morro muito íngreme entre a praia onde estou e a praia para onde quero ir.
Então eles me instruíram a usar a passarela!
Passarela? Isso não existia da última vez que estive aqui. OK, já se passaram alguns anos desde minha última visita à região.
Sim! Você pode sair sem passar por cima da colina graças a uma nova passarela que atravessa a costa.
Isso é fantástico; Eu não tinha ideia do que esperar dessa passarela e, para minha surpresa, acabou sendo um lugar muito bonito para se visitar.
Achei engraçado que ninguém mencionou que seria um lugar lindo para se visitar como turista; Acredito que os moradores estão tão acostumados com a beleza que ir lá durante o dia é apenas a norma.
Saio do hotel filmando, planejando registrar meus passos para a caminhada de quarta-feira, mas as fotos ficaram tão boas, pelo menos para mim, que decidi compartilhar aqui na comunidade de Fotografia. O que você pensa deles? É verdade que estou melhorando como fotógrafo?
Quem me acompanha sabe que sempre gostei de fotografia, mas agora estou dedicando mais tempo para tirar fotos melhores e compartilhar com vocês. combinando as viagens e fotos que gosto de fazer...
Várias fotos foram tiradas durante esta sessão e, como de costume, selecionei algumas para mostrar para não sobrecarregar você com uma enorme quantidade de imagens semelhantes.
Também fiz alguns lapsos de tempo ao longo do caminho e decidi compilar em um vídeo, no qual sou novo e editei apenas alguns vídeos na minha vida.
Prefiro fotografia a fazer filmes, mas estou tentando fazer algumas tomadas curtas na esperança de descobrir um novo hobby.
A seleção de vídeos, fotos e músicas usadas nesta edição de vídeo foi fantástica. Tentando criar algo que represente essa caminhada, além de tirar fotos ao longo do caminho.
Eu gostaria que o vídeo nunca acabasse, que continuasse, mas decidi fazer um vídeo curto. Ninguém parece ter mais paciência para vídeos longos... Talvez eu faça uma compilação maior dos melhores momentos de toda a viagem depois.
Enquanto isso, vamos dar um passeio para ver como é a vista da passarela e visitar a Praia do Ribeiro, uma praia pequena, bonita e agradável para fazer uma pausa na caminhada.
Obrigado por ler.
Deixe um comentário que ficarei feliz em responder.