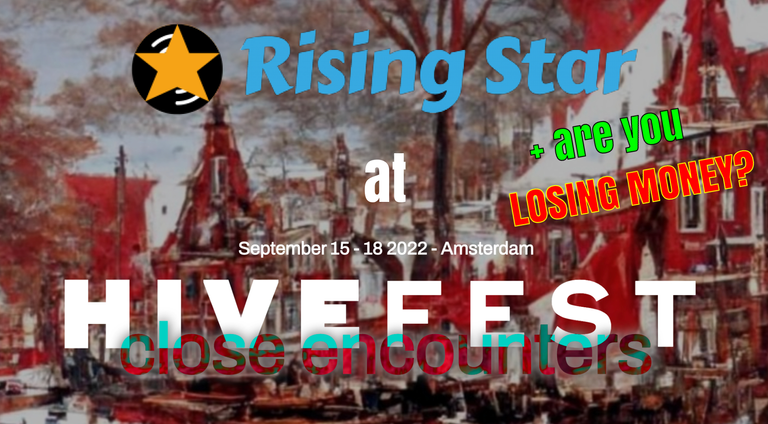 Rising Star will be presenting at HIVEFEST!
We are very excited to announce that I will be presenting Rising Star at this year's HIVEFEST.
We have a little fun surprise and we will also be ANNOUNCING THE NEW FEATURE we have been working on. It won't be ready to go live by then as it involves quite a lot of work but I will be revealing the details and look forward to your questions.
I am really looking forward to meeting many of you who I have known for years but not actually met plus a few old friends that I have met in the past.
Are you losing money selling STARBITS ?
We realise that Music Promoter can be a little confusing and that many players just don't bother even trying it however we have now added new information to the game so that you can see what you are missing.

As you can see the Music Promoter Rewards page now shows you a lot of data but most importantly you can see if it would have been better to burn your STARBITS in promoter or sell them on the market (or buy STARPRO on the market).
As you can see from the above statistics you could have made 4.25% MORE HIVE or saved 4.25% on the market price of STARPRO by using Music Promoter yesterday.
And you can see from the bottom of the table that you don't need to burn much to start getting a little STARPRO.

We would recommend you burn at least 2000 STARBITS otherwise it's possible that you may not get the minimum of 0.01 depending on how many missions are run in a day, etc.
So what are you waiting for? Bag yourself MORE STARPRO / HIVE by burning your STARBITS instead of selling them at a discount.
Thanks as always for supporting Rising Star and being the amazing community that you are!
Cheers and rock on \m/
Jux and the Rising Star team.


Rising Star - The Play2Earn NFT virtual music career game built on Hive.