About a month ago I started playing Rising Star, a game built on Hive that is based around the music industry. Like some other blackchain-based games this is mostly about clicking things every so often to do 'missions', in this case busking, gigs, recording, interviews.
You can collect cards which boost various aspects of your performer. There are various character cards that come into their own once you reach the end of the second zone. At that point you need to do Band Audition missions. This is a low-paying missing that takes four hours, but you need to get four players into the band. You have a one in five chance of succeeding each time, but I got away with just 15 attempts. Each time it goes well you can pick another player and an instrument from your cards. This is what I have gone with for now plus the glam rocker as my singer.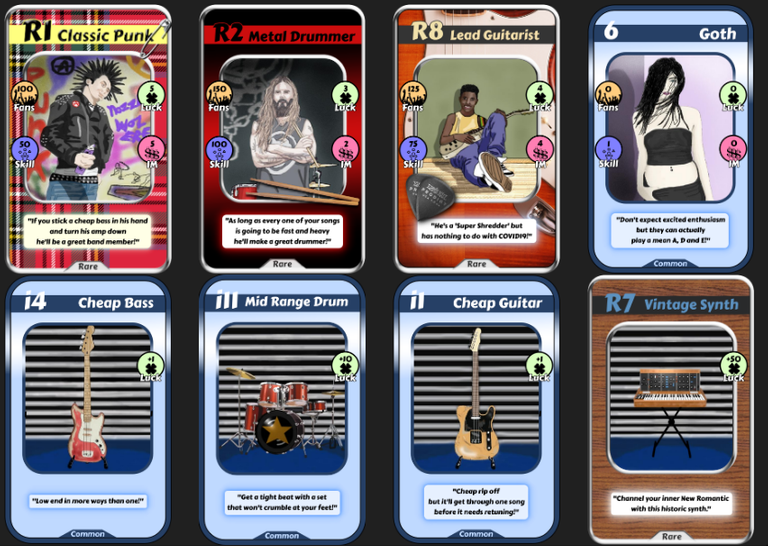 You can hear what they sound like here. Members of the community have contributes loops that are designed to fit together in thousands of combinations. I was aiming for a rock vibe. I will have a play to see what other sounds I can get.
I have bought various cards to try and get at least one of each. I have most of the common and rare cards, but just one epic musician (the Pop Diva). At this stage I would not mind some of the legendary people as the large number of fans they have would mean I could earn a lot more Starbits.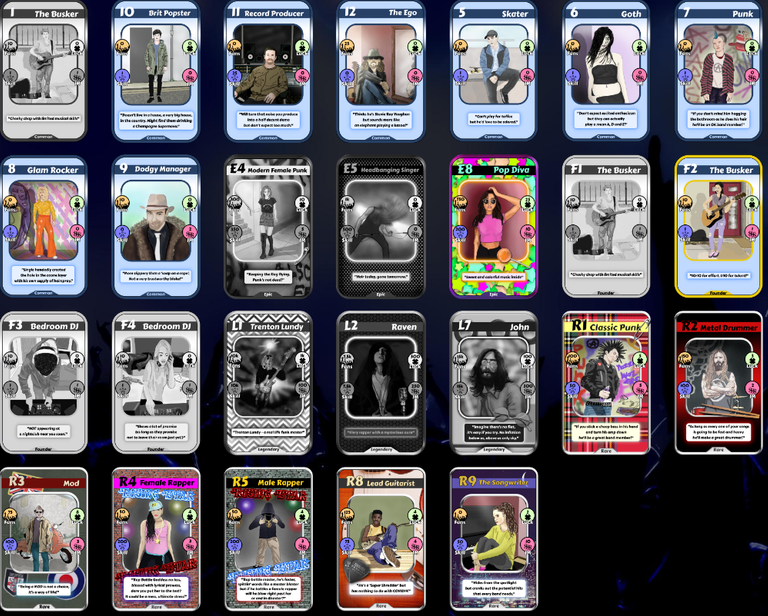 I have quite a lot of different instruments too. Having too many of these makes less difference as they just add to your 'luck' so you have more chance of winning extra cards. I have bought some cards on the internal market, but also done deals with people in the Discord trading zone to get some better deals.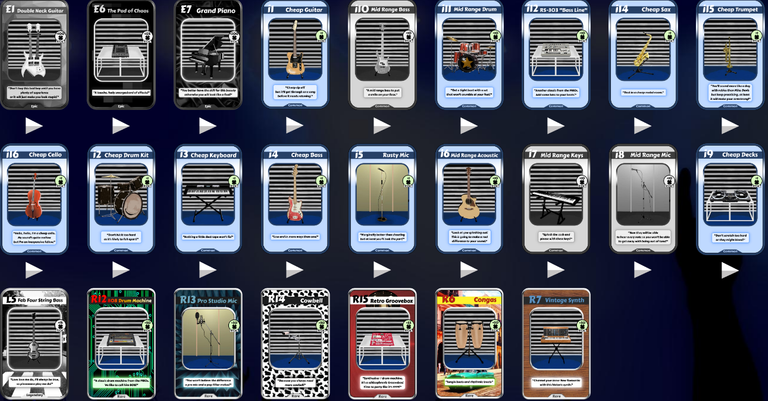 Some people are buying dozens of card packs and amassing huge collections that they may be able to sell at a profit, but this does depend on having enough players wanting the cards. The latest statistics show strong growth. I expect there will be some players who are just in it for the profit, but I am enjoying seeing where it goes.
For now I am running the Band Rehearsal mission to work my way up through the levels (currently at 81) to be able to do the next one. Running the shortest (5 minute) missions tends to give you the best return, but you need enough pizza to keep you going. I run long missions overnight. That can be a good time to do the music lessons you need to build you skill level which counteracts a destructive ego brought on by too many fans. I love all these little details.
I suspect the gameplay will need a few more tweaks before it comes out of alpha to prevent it getting too top heavy with big players being able to exploit the newbies. The ego is part of that as it requires you to do time-consuming lessons that do not pay anything. I know the developer @risingstargame (aka @atomcollector) is working on lessons that require you to have specific instrument cards. Getting the balance right is tricky, but he is working with the community to see what can work.
I needed a rehearsal room card for my current missions and will need fuel for my tour vehicle in future, so I will have to invest in appropriate cards for that. I get to live out my rock star dreams in the game.
The game has a referral scheme that gives you extra Starbits based on the missions your recruits do.
I am also playing beer brewing game Cryptobrewmaster.
Rock on!