Yesterday was my last day of work. It's been a long and challenging process to exit that place. Basically, it's been on my mind 24/7 over the last 2 weeks or so. I can't remember I felt this way when leaving previous jobs. But the situation here was different. Before, I have always resigned. It's been my choice to leave. This time they didn't offer me a new contract. And even though that also happened to many of my coworkers, plus the fact that I don't want to work there, it has been challenging. Especially since I found out, about 5 weeks ago. The reason they decided not to keep us is because of some regulations. I have had a temporary contract for almost 2 years now and after 2 years, they have to offer me a permanent one. And they didn't offer anyone that so basically they decided to keep the least experienced staff and fired us with the most experience. And even though I was prepared and knew this was going to happen, it's just been a humiliating process to go through.
I felt I couldn't afford to say no when they asked if I was interested in a new contract. This question came in late July. They said they wouldn't need as many of us anymore but that they had some positions they could offer and basically asked everyone if they were interested or not. The next step was to have interviews with everyone who had expressed an interest. So I basically had to go through this 'fake' interview for a position that I had already had for almost 2 years and then they came up with some 'fake' reason why they had decided not to keep us with the most experience. (Obviously, they can't officially say it's because they would have to offer us a permanent contract). As I said, it was humiliating.
Source: Pixabay, image by ermaltahiri.
You might ask why I said yes in the first place if I didn't want to work there anyway. Well, as I wrote, I felt I couldn't afford to say no. If I had said no I wouldn't be eligible for unemployment benefits. This way, I am. That's why I put myself through this. Looking back, I don't know if it was worth it. But hopefully I'll think so soon. When I have distanced myself more from that place.

So well, yesterday I went to the office to return my laptop. I'm kind of never there since I have worked entirely remotely. It's strange to come to the office because it's so empty. (Almost everyone works remotely). But one of my coworkers who also worked her last day yesterday came and we had a nice chat. I haven't actually talked so much with her, again, since we work remotely, and I have always felt that we are very different and that something is a bit fake about her. But she opened up a lot and expressed how she kind of hated this job and said that our tasks are very boring. And I couldn't agree more. I told her I didn't know she felt this way since she often puts on a smiley face and appears to be so enthusiastic. She said that she hadn't told anyone how she really felt.
So I was right, something had been fake about her. I told her that of course our tasks are very boring, and that I couldn't understand how anyone could find this job interesting or fulfilling. It's soul-crushing. It felt so nice to just let ourselves go and openly share how we felt about this place.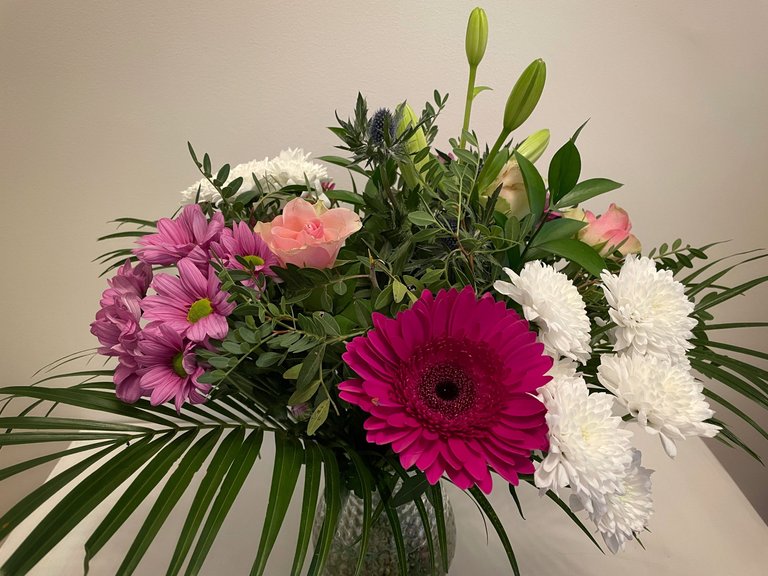 Even so, it was hard to hold back the tears when I walked out the door. Even though I feel the way I do about this job I have been obsessing over a lot of stuff there over the last 2 weeks. I have been worried that I might have missed something or that something will go wrong somehow. It's the perfectionist in me, she isn't happy about this at all. She feels like she did something wrong and that is a feeling that is so deeply rooted in my body and subconscious, it just feels life-threatening to me, failure. My nervous system has been, and still is, on high alert and is in fight-or-flight response. I hope my system will calm down and will be able to let go soon. But it'll probably take some time.
Anyway, I did my best to take care of myself yesterday. Bought myself some flowers. But I couldn't help to feel that it would have been so nice to have a partner. I really needed to be held. But I'm also good at holding myself nowadays. I'm doing my best. And I felt writing about this experience might help.
And to end on a somewhat positive note, I'm happy and relieved that I'm finally free from that place. Like I said. Working there has been soul-crushing. And I hope this was the last time I ever take a job like that.

Thanks for reading 🌸
Love and blessings to you all 💚