Market Friday Acushnet Ave
Before I get into this post I have been sitting in the dark in our sunroom for a couple of hours this morning listening to the rain bucketting down but more so watching some amazing lightning all around the sky and the thunder is so loud
Now I know some gate and fear the lightning and if I was outside or camping or walking on a beach in this lightning well I would be foolish but also worried
But sitting indoors looking out the window watching it in awe at the power of nature and in fact I find it kind of calming
How do you feel during a lightning storm?
Ok now onto the post
A post for Market Friday hosted by @dswigle, if you haven't followed her yet you should she is one of the kindest and most supportive people here on Hive, a comment from her is like a ray of sunshine on your page.
This is the one tag and challenge that I always make a point of joining, Each week I try and get out and get new shots, over winter I get out less but I still try each week to get out at least once for a photo walk, to get shots from Market Friday and the other challenge I consistently Join Wednesday Walk host by that Crazy Kiwi, Tattooed Thug, Tattoodjay
For this weeks post, I was driving down Acushnet Ave here in New Bedford and saw Frem's Jewelry, and since I had some time to spare, I thought about how often I say in my Market Friday post how I Have never been in there, so this week will Include the outside of this jewelry store than I have been to.
But I will include some other shops in the area, such as the breakfast club restaurant in this first photo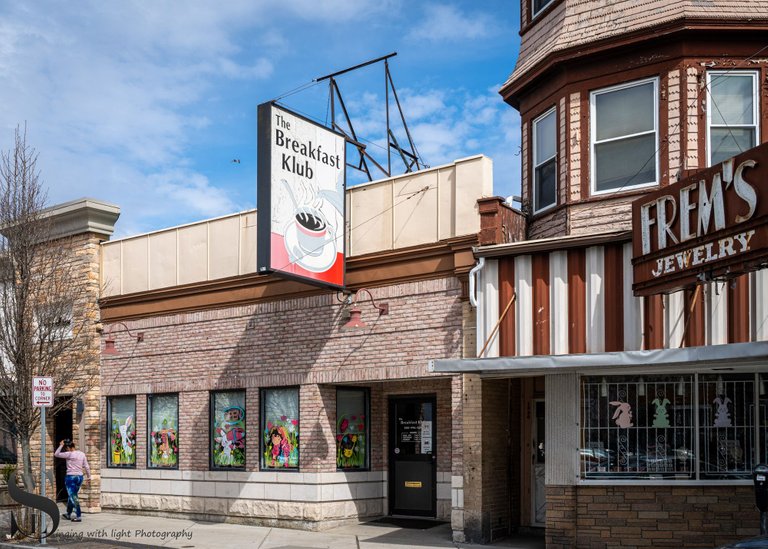 Sony A7iv 35mm F11 1/200 Sec ISO 100
Click here to view larger



Its the old worn sign above the entrance to the Frem's Jewelry store that has caught my eye driving by here often, and how I thought of it when my wife needed a necklace repaired.
I went there with her once to drop the necklace in for repair and they had some cool stuff in the store, including of course jewelry but some knick knacks,
While I was talking to the Jeweler about the repair of the necklace I noticed my wife was quite taken by a ring on display, so I took a mental note of which one it was.
I then planned it so that I would just go a couple of days later to pick up the necklace, hoping it and a cool old style coca cola decoration they had were still there when I returned.
Well the Coca Cola Item was sold, but the ring was still there, so I asked for it to resized and bought it, to return a day later to pick it up.
I kept the ring hidden away for a few weeks if I remember correctly, till a day my wife was feeling a little stressed and then gave it to her which brough out huge smiles.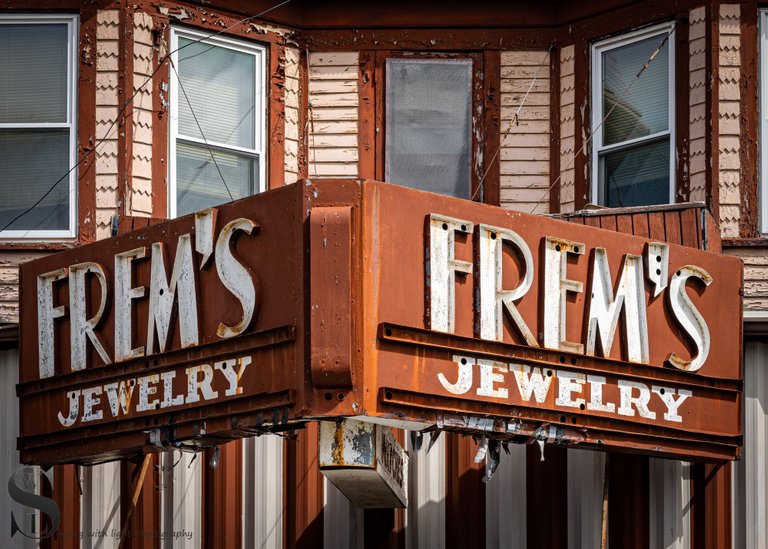 Sony A7iv 61mm F11 1/100 Sec ISO 100
Click here to view larger



Just down the road I spotted a mural that I walked over to get shots of which I may well share in a future post, but I spotted this aged sign for Pepin's Men's apparel that caught my eye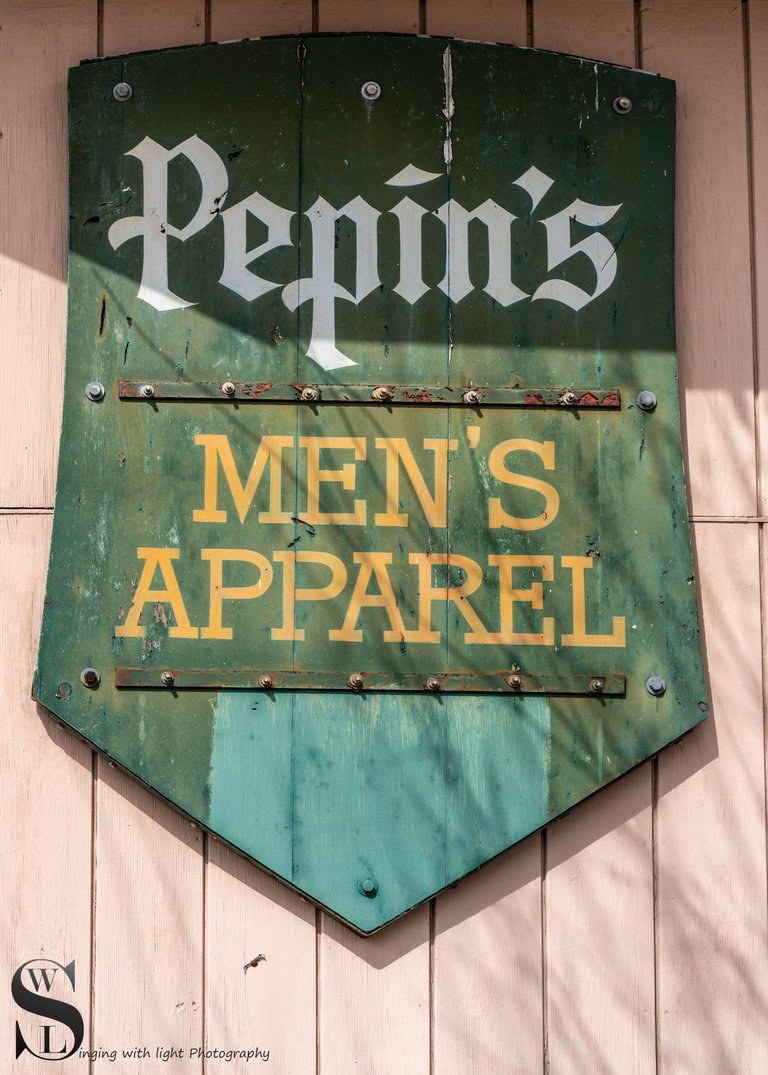 Sony A7iv 54mm F11 1/100 Sec ISO 100
Click here to view larger



And just down the road a little more I saw this stylish looking building, with the tower of St Anthony of Padua Church in the background since we moved here it has had the scaffolding on the tower, I always hope one day I will drive by and the scaffolding is gone s I can get shots of it, but back to this building which may at first glance not look Market related, but the sign on it says Furnished rooms, with Cable Wifi and Laundry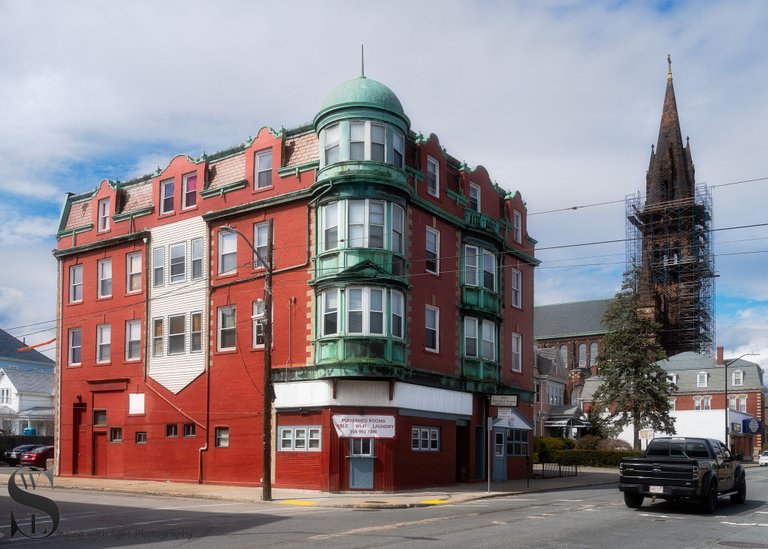 Sony A7iv 28mm F11 1/200 Sec ISO 100
Click here to view larger



And finishing off with a shot of the Entrance to Frem's jewelry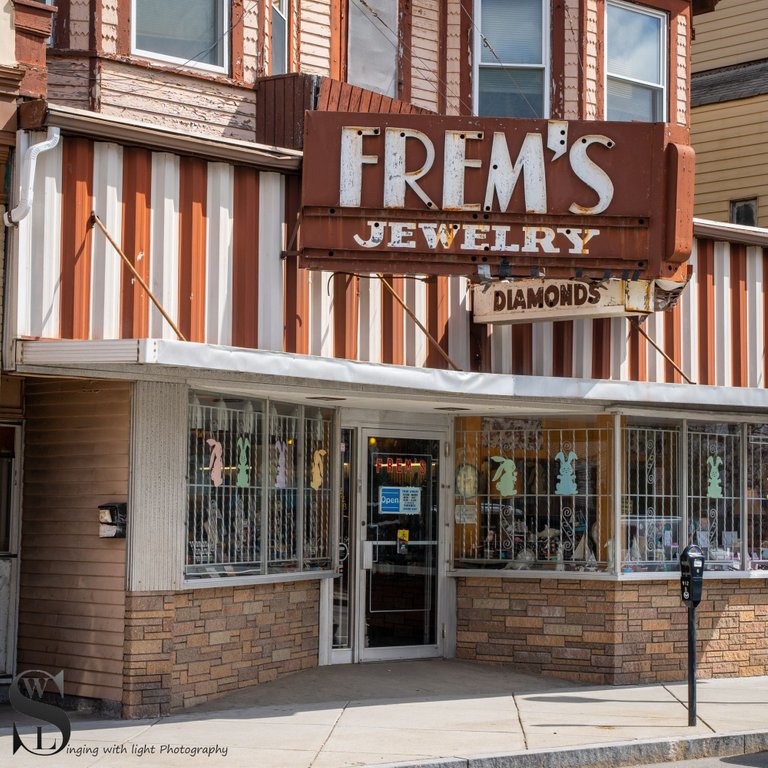 Sony A7iv 51mm F11 1/80 Sec ISO 100
Click here to view larger



And that's all folks
---

---
unless stated otherwise all photos used in my posts are taken and owned by myself, if you wish to use any of my images please contact me.