While reading this post by @anomadsoul, I came to a part where he briefly mentions OG status on hive and what it takes to be awarded such a title. According to @anomadsoul, the title of OG, or "Gen1", can only be bestowed on those who have been around since early 2017 and are still active.
Well what do you know?! Looks like I'm an O-to-the-mother-fuckin-G 😎 In fact I'm a super OG, because I've been here since September 2016! And I'm still very active.
Man! Realising how long I've been around makes me feel like someone from the time of King John who was actually there the moment he pressed his royal seal onto the Magna Carta. I may only just be a peasant and not one of the barons who engineered such a plan, but nonetheless I was there!
"Hold on @article61, your profile page says it began in August 2017?"
That's correct, I did start this profile in late 2017, but that was after losing the password to my original account, @dogtanian.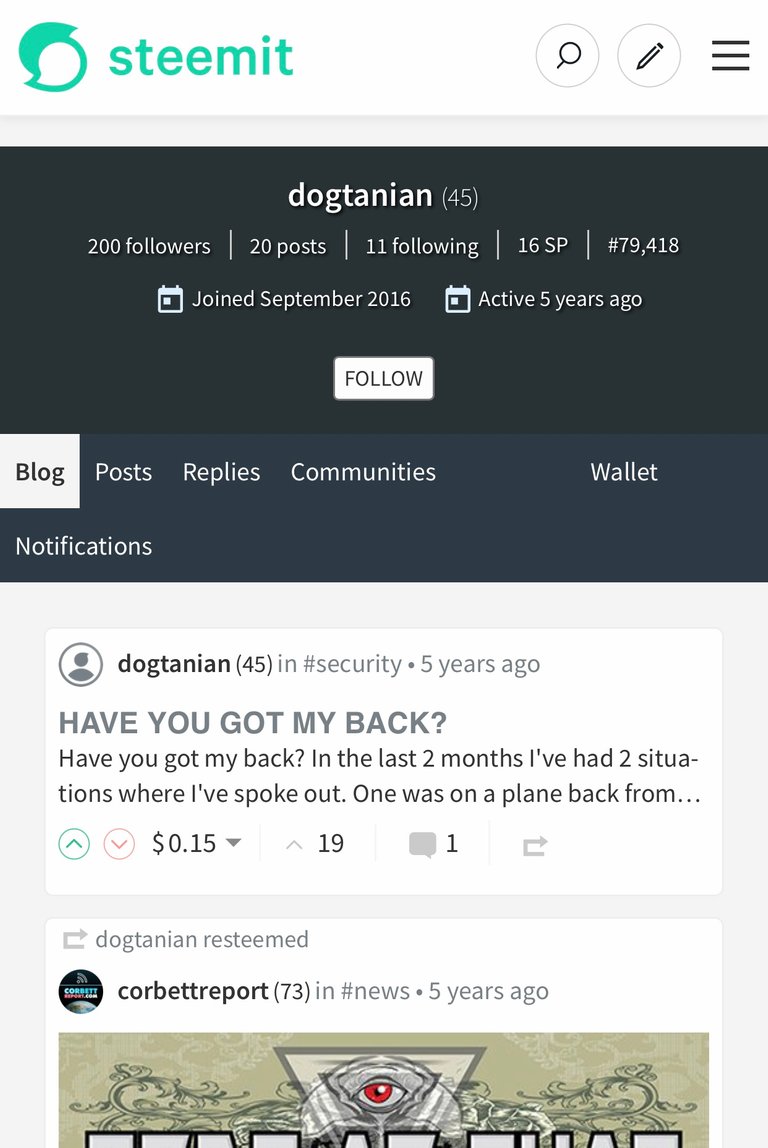 It's been a long time since I last thought about that account, let alone visited it, and I must thank @anomadsoul for prompting the memory. Looking through my very first posts on Steem makes me smile and cringe in equal amounts. My first few posts were simply outbursts but even in the short period @dogtanian was active I can see improvements. What I find most interesting about those fledgling posts, is how they capture the moment I was going through at the time. After reading them again I can see I had just been introduced to the world of "conspiracy theories", which for anyone who knows is a very special moment in life. I can just see myself now, aghast at every newly discovered topic and excited to share it with the world! It's comforting to read how even in those early days I had the sense to make up my own mind on what to believe and what not to.
It appears I was also going through some dark days too, but felt comfortable enough to openly express myself through writing about it on Steem. I do remember how much that helped and it's no surprise that I carried on doing so long after creating my 2nd profile. I think that in those early days, being able to share my most private emotions, I formed an unbreakable bond with this blockchain community and that is probably why I've stuck with you all through the good times and the bad. OK, so I've not become a crypto millionaire, even though I've been here long enough to have earned a seat at the big table, but that was never my intention. Don't get me wrong, I've done pretty well, financially, and was lucky enough to have been here while Steem had its mega-pump which saw SBD rise to double-figure $$! Man that was an exciting time to be around. However, in hindsight I should have played the long game I guess and maybe not sold so much, but that's easy to say now. Back then it kept me afloat and almost saved me from eviction (had it not been for the inevitable bear market that followed I think it would have). I guess when you have a head as thick as mine it takes a while for these lessons to sink in. I mean only yesterday I discovered I'd sold a gold foil splinterlands summoner in 2018 for £60 which is now worth $2500! Ouch!!
Fact of the matter is, money comes and money goes. What really matters are the memories I've created and the people I've connected with, and continue to connect with. People like @trucklife-family, @richq11, @pensiff, @rondon and of course, @canadian-coconut, all of whom have supported my journey on this wonderful blockchain from the beginning. And then there are those who have come into my world more recently, people such as @ashtv, @shepz1, @j85063, @zekepickleman, @detlev, @rynow, @livinguktaiwan, to mention but a few! Basically, what I'm saying is that although I may not have earned myself a million bucks for all my efforts I have earned a priceless amount of friends, and as cheesy as that sounds it is true.
And it is with that thought that this OG says goodnight to you all. I look forward to spending another 5-years blogging away to my hearts content and then hopefully another 5 after that. It's been the best experience and I'm very proud to be part of this crazy community. We ain't perfect but we are unique, and that's just the way I like it.
See you soon, folks ❤️❤️