Hello, We hope everyone is well and staying safe at home. We want to share some really exciting updates and really beautiful animations. We are going to show features such as Double tap upvote, Account Settings page, Profile image action, Transfer hive tokens and Dark and light modes of Account Settings screen. We will let you watch the video now…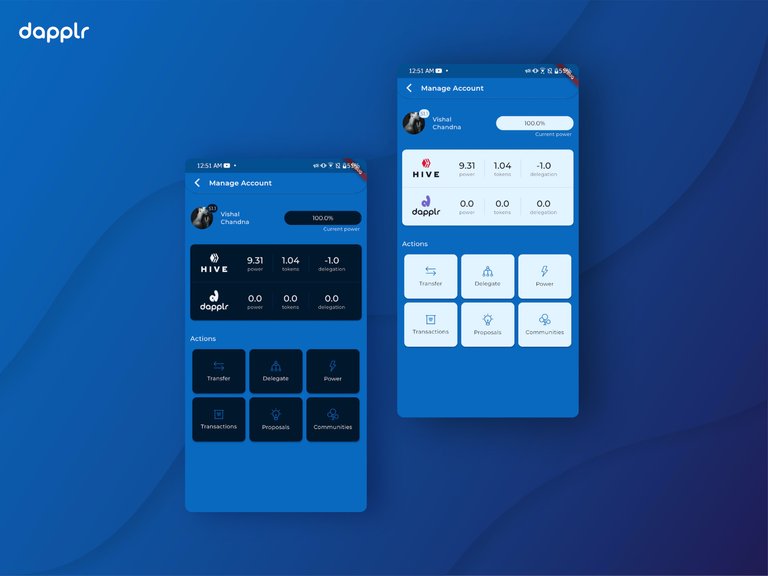 Frontend Progress-
Double Tap Instant Upvote
As suggested by some of the community member that they don't always require upvote slider to upvote and a great suggestion by @ash to double tap upvote by setting the default percentage. The double tap upvote action is smooth and instantaneous.
Account Settings
Account settings is where a user will take care of its transaction basis operations along with some really neat stuff. It contains Transfer, Delegation, Power, Proposals and a lot more to come as we go forward.
Transfer screen in actions
Search and validate user while transacting hive tokens and it's really fast. It makes use of HiveSIgner to take care of its basic operation.
Design Progress
Content Detail page has been designed and we will be sharing its preview at the end of the post.
New animations are on the way.
Back-end
Content Drafts has been done.
Really productive discussion around file storage, that will not only help us reduce the cost but also it will be performant to read them.
Difficulties
Content Details
We have started working on the content detail page and It has started to look nice. Currently, we have used the official parser offered by Flutter team and tweaked it up a bit to handle Youtube videos, normal videos and images but we are facing some issues while parsing a complex markup. We are working on it and soon it will be resolved. In the end, if nothing works, build it from scratch and completely customized.
Double Taps
We introduced double tap to upvote and because of that we started facing some touch delays while opening up the content detail page on single tap. So we had to change the core touch delay inside Flutter source code only. It really worked and provides a seamless experience.
ToDos
Handling Complex markup on Content Detail Page.
Start working on drafts and content editor
Adding Reblog and Gift action button on the homepage.
Beneficiaries details.
We have started working on the Content Detail. You are going to love the experience. Here is a sneak peak.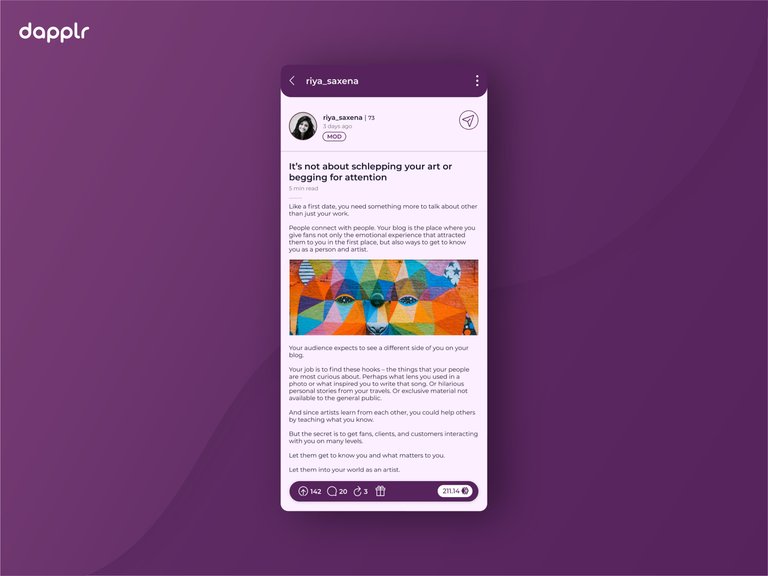 The Team Needs Your Support
The Dapplr team is working very hard to help the community deliver its First Design Based Application and we have been working for more than a month. We need your support to cover our expenses and help this community build an application that will standout from any Social media user interface. We are not asking for much, it's only 30 HBD / day , just so that at least 50% of daily expense could be covered. We want this community to live forever and compete with Giant centralized social media platforms. We all can make this happen together.
We want to thank our wonderful supporters - @soyrosa , @runicar , @ash , @acidyo @cryptoctopus , @zacknorman97 , @roomservice and our recent supporter @liondani. People are helping us with their upvotes and marketing.
Support us by voting for our proposal
Total funds requested - - - > 4830 HBD (30 HBD daily)
Runs from - - - > Apr 17, 2020 - Sep 25, 2020 (161 days)
If funded, these funds will be used to cover 3rd party costs: our server and the junior dev/design team.


Vote using your favorite UI:
Hivesigner - - - > https://hivesigner.com/sign/update_proposal_votes?proposal_ids=%5B%2295%22%5D&approve=true
HiveDao - - - > https://hivedao.com/proposal/95
Peakd.com - - - > https://peakd.com/proposals/95


-------------------_____Support us with your upvotes and tips/donations _____-----------------


Follow us on Instagram - https://www.instagram.com/dapplr_app
Follow us on Twitter - https://www.twitter.com/@Dapplr_app