Hiveinvite now offers a public onboarding mechanism, which is accessible at https://hiveinvite.com/public.html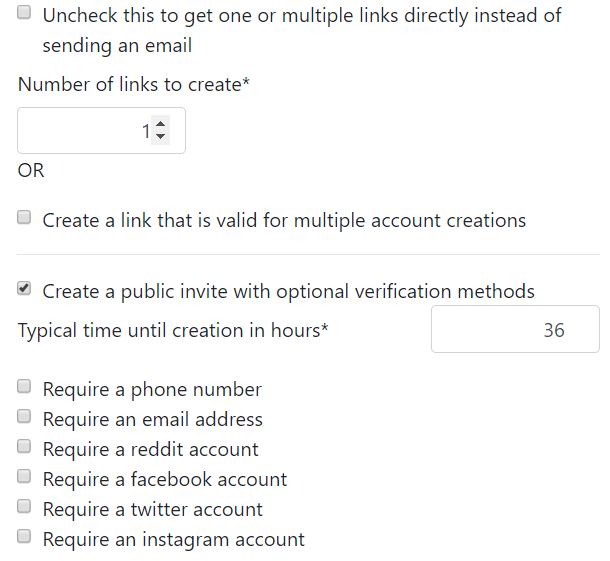 It's not polished for the wide public yet, I will not promote this post outside of Hive and would ask you to do the same until it at least looks good.
The process is pretty straight forward. When creating an invite link, there's now an option to make it public and select out of a list of verification options. These invites will show on the public invites page together with your name, the reaction time you specified and the requirements.
When someone claims an invite of yours, they are presented with a text input for each verification requirement before the normal claiming process starts. You will receive an email in the end which contains the data, the site only stores a hash to avoid using the same data multiple times. There are no checks on that data yet, but bringing them in a unique format is one of the next tasks.
The site clearly needs a restyling, which is not my strong side. I'm hopeful that someone would step up for a logo and css work using the branding guidelines found on hive.io. The old logo was inspired by a big fish bringing in a small one which doesn't work any more now that we left the sea.
Everything is possible.
Which is a good transition to the second part of this post. There are a few rants in the history of my blog complaining about some parts of the community being more interested in growing their piece of the pie instead of improving things for all. I want this text to be more optimistic.
We all know about the history with Inc., and I think everyone here learned how they secured the huge stake at the beginning claiming they intended to use it for ecosystem development. It was also obvious to mostly everyone that this intention quickly changed and it was used for personal profits, even at the cost of nearly bankrupting the company.
With their dominating role in nearly every aspect of the blockchain, they took on a leadership role they weren't able to fulfill. The example they set was one of taking out the most value with the least effort. This was the culture on Steem, and instead of human nature I prefer to blame the leaders right now.
As I state in my description, I define myself as an Anarchist, and I have been doing so since I can remember. This would quickly get philosophical and not about the point, but in an international community with a lot of Americans it's always important to add that classical Anarchism is from ground up socialist. @joshman made a post about half a year ago, on which I had some comments, and it's definitely worth a read if you don't have anything else to do or are interested in understanding some peoples motivations.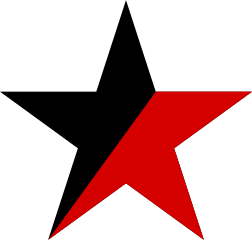 And if you want to dig deeper, rationalwiki.org is awesome
During my life I always looked for communities to create things and enhance our surroundings together. This happened in the real world in squatted/restaurated houses, communes, free villages etc as well as online for different hobbies. It is intrinsically rewarding for me to have improved something not only for me, but also for others.
I despise artificial hierarchies, and believe the world would be a lot better place if more people cared about holding their leaders accountable and organize themselves wherever possible.
And there we are at the current day. The decentralized community of Hive is Anarchism in action. But in a society without leaders, it's up to everyone to set examples. Of course structures will naturally emerge, but right now we're at the point of chaos where everything can be questioned.
What kind of society do we want to build?
Who will define the culture on hive?
It is a bit hard to not get into the multitude of problems we still have another time, and I think everyone knows anyway. The airdrop freed us not only from Inc., but also from a great part of those who showed the least community spirit. This seems like a chance to show that what happened on Steem isn't unavoidable, as long as those who are watched the most set another example.
We started this project as a community to improve the situation for everyone. I hope we can all together start to act more responsibly going forward, to make this a reality.
The last weeks showed how important voting is, and that doesn't only count for witnesses. Of course personal reasons will always play a certain role. But I would love to see things like the amounts of a SPS/HPS, or what a witness does besides running for-profit businesses on the chain, to be considered a lot more.
And those putting themselves up for a vote, think about the future value too. This chain is not thought to pay an individual what a professional company would bill. We are in the building phase of a startup. Please don't let this become a place of a lot of little neds again, but a home we can all be proud of.