A new Hive dApp called Hive Alive is online and ready to help the Hive community to learn, balance, grow and evolve. For the first time we can visualise, track and respond to downvoting patterns on Hive.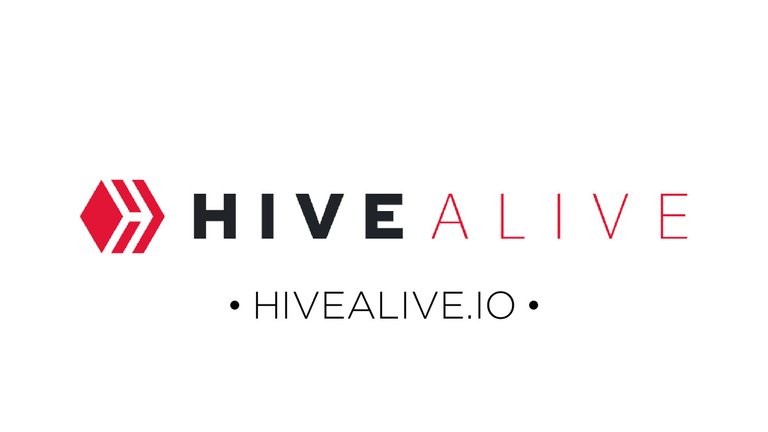 Hive Alive allows you to visualise key data from the Hive blockchain – starting specifically with data on downvoting and reputation that has been missing previously from the Hive community.
You can now easily see who has been downvoted recently and find posts that you may think have been unfairly treated, enabling you to counter the downvotes. The aim here is to both increase awareness of the importance of up/down voting on Hive and to also empower the community to better understand the intent of other users and to defend itself against ideologically driven attackers.
Hive was born from a hostile takeover of Steem which then led to censorship on Steem – yet similar can occur on a smaller level against individual creators, sub communities and topics via downvoting – so we need a way to defend against this potential, no matter what form it may take. History repeats because we fail to learn the lessons. Layer 2 tokens allow niche communities to have their own space and effectively 'fork' themselves from the voting patterns on Layer 1 Hive – but for now, most of the voting action and stake is focused on Layer 1, so the community needs to focus on making intelligent voting decisions, which in turn starts with having access to the necessary data to know what is actually happening on Hive.
Note: the VYB Layer 2 Community does not allow any downvoting, so please go check them out and support their experiment if you like!
Background
---
As some may recall, I previously created a website for Steem called Steemocean that showed a full index of Steem users and examined their voting behaviour. I have now updated it for Hive and relaunched it as Hive Alive. The present version is currently focused on the topic of downvoting on Hive.
While there is a huge amount of possible data to show and connections to be highlighted surrounding voting patterns on Hive, this first version just gets the ball rolling by enabling us to see, for the first time, the details of the downvoting activity across the blockchain. This is important for many reasons, not least that Hive is intended to offer a censorship resistant space for the web, yet has a built-in ability to 'soft censor' content via downvoting.
The Untrending Report helps us find posts that have been 'Untrended' or removed from Hive's trending list by downvoters (and buried) after having first received community support via upvotes.
For most of Hive's history the downvoting seems to have been restricted to mainly responding to spam posts and plagiarism, which along with bid bots were the main justifications for introducing free downvotes in a previous Hard Fork. However, there have also been times where 'downvote wars' have taken place, causing both entertainment and disruption to the chain as whales or large groups of people came together to downvote specific accounts for various reasons.
While there is a legitimate need for downvoting in some situations, it has been a previous consensus that downvoting based on 'opinion' or disagreement is not something that helps the blockchain to gain mass acceptance or that cultivates good will and community spirit. None the less, there are no rules to prevent downvoting for any reasons whatsoever and so we have a potentially difficult weakness in the reward pool algorithm and thus with the daily operation and public perception of Hive.
Youtube and other sites pay 'some' content creators ad revenue (despite most never seeing a penny) and Hive's solution is meant to decentralise the reward process, via 'Proof of Brain'. The decentralisation of rewards ensures more people have access to rewards and therefore we find a broader range of quality content emerging from the community than is possible on sites like Youtube. The Web 2.0 sites such as Youtube heavily skew their content based on demands from advertisers and for their own political reasons - arguably this amounts to heavy censorship from Google/Youtube.
It can be difficult to gain support from the Hive community in the form of upvotes that can sustain sufficient rewards that in turn result in enough resources being made available to make better/more content in future. Those of us who have been fortunate enough to achieve consistent community support, including many followers and regular upvoters, are intended to then be in a position to build the quality and consistency of the content we produce and if we don't, our followers may stop voting for us. This is a decentralised approach that is based on subjective valuation.
The DPOS (Decentralised Proof of Stake) design of Hive, however, means that despite having strong community support, even the most rewarded/upvoted/supported posts can be zeroed with impunity by one or two large accounts who choose to do so. There is currently no cost to downvoting and so nothing to stop this from happening. In fact, heavy downvoting returns rewards to the reward pool which are then redistributed to everyone who is receiving rewards. Since this occurs in a stake weighted manner, the larger downvoters definitely boost their own rewards by downvoting heavily!
The Maths & Problems of Downvoting On Hive
---
Basic maths and awareness of human psychology says that since around 4% of the reward pool is currently redistributed as a result of downvoting and so therefore 4% of all post rewards come from previously downvoted posts, big stakeholders are going to heavily downvote to gain that extra 4%.
Since the incentive for some will be extra profits and not actually to downvote based on the merit or content of particular posts, it is likely that such self serving downvoting will be focused as large downvotes on well rewarded posts, rather than being distributed over many posts as smaller downvotes. Curation takes time and as a result we might expect to see minimal downvoting taking place as a result - however, the financial gains involved mean that we do, indeed, see a minority of large stakeholders repeatedly heavily downvoting well rewarded posts - regardless of the content and how much support the posts have.
Of course, many downvotes are justified in my eyes and probably in most other people's too - but many are not. The Untrending report gives us an opportunity to easily find examples of heavy downvoting that are not motivated by any breach of (generally recognised) community standards and where it seems likely that the attempt to suppress accounts is taking place in a way that actually breaks proof of brain.
Fragile Proof of Brain
---
Much of the downvoting is justified and rationalised by pointing to the ideal of 'proof of brain' and saying that the high rewards on certain posts are excessive given the quality or content of the post. The 'subjective valuation' that powers Proof of Brain is meant to result in quality posts rising to the top and their creators being the most rewarded. We should then end up with a network that is run for and by top quality content creators (or at least that is heavily influenced by them). This was an intelligent design baked in to the original Steem blueprint.
However, just as downvotes can be used to try to improve the quality of 'Proof of Brain', they can actually be used to break Proof of Brain too. When downvotes are made not based on genuine assessment of posts, but for personal reasons or even ideological suppression of ideas - proof of brain fails. In these cases we end up only with 'Proof of Wallet' and the network recreates the problems of Web 2.0 that many people came here to try to escape.
This could create an environment that is really not much different to the censored one we see on Facebook and Youtube - except it has been rebranded as being decentralised and sold in a way that claims to represent evolution. Clearly we need to ensure that Hive lives up to the promise of Web 3.0 and this takes community action to do so.
We cannot have real decentralisation as long as the majority of people don't get involved in key parts of the system that empower decentralisation. We can't call a network decentralised if there are only a handful of people engaging in key areas of it.
POB is further affected by upvote patterns being based not on the content of posts but on other metrics that the largest curation groups apply for their own reasons that sidestep the entire concept of rewarding posts because they are subjectively good. Rewarding posts based on the number of comments they receive is something that totally breaks POB, since it rewards users who have active followers more than others, but this is not something that results in quality content gaining traction.
The Untrending Report
---
The Untrending Report shows that only a small percentage of the votes on Hive are downvotes and the majority of their value comes from only a handful of accounts - so a key balancing aspect of Hive is currently being dominated by a tiny number of brains.
While commentators such as @theycallmedan over at @3Speak have said that part of the answer is for us all to issue more downvotes and to normalise them (while not abusing downvotes by 'nuking' accounts - as currently occurs) - we also need a way to counter any major downvotes that the community disagrees with.
This is the main purpose of the Untrending Report on Hive Alive. Tools have been provided to help you to easily identify posts that you want to upvote to counter any downvotes that have been made and you can send tips, delegations and upvotes to them directly from HiveAlive (just sign in as usual via Hive Keychain).
The top 3 small tables provide quick summaries of the biggest downvoters, most downvoted authors and also show the biggest downvotes occurring a short time before posts are due to pay out ( a tactic used to try to hide the downvote and reduce the chance of someone countering it with an upvote). The main table then follows, which provides extensive data about the top 5000 biggest active downvotes from the last week.
If you really want to support your favourite content creators on Hive who are being downvoted then please consider sending them gifts directly as Hive/HBD transfers (as occurs on Patreon and numerous other platforms). Some of these people are victims of political attacks due to their activism and have issues receiving donations (see Julian Assange for reference) – so anything you can give them directly, bypassing the Hive rewards pool, will help them.
Delegating your Hive is a next level way to help content creators – you can do this via HiveAlive too – just choose an amount to 'loan' to the recipient and they can then use your Hive Power to upvote on your behalf until you cancel the delegation – whereby your Hive Power is returned to you automatically.
Conclusion
---
Downvoting is a deceptively big subject since it draws together so many elements of economics, psychology, politics, tech and so on. This initial version of the Untrending report (and other reports on Hive Alive that will be added over time) goes some of the way to providing what is needed to help to evolve Hive and to help build an atmosphere that is attractive to new users and feels good to existing users too.
Hive Alive will continue to be upgraded and new reports added, so check back regularly to take your understanding of the Hive community to the next level!
Related Links
---
For more info on the downvoting situation that led to me creating The Untrending Report (hint: most of my posts have been zeroed and downvoted by hundreds of dollars for several months – mostly by the same 2/3 people) – please see these related (and mostly zeroed) posts:
@ura-soul - When Is a Censor Not A Censor? The Wider Implication of Downvote/Cancel Culture on Hive.

@ura-soul - How Many Of My Upvoters Are Actively Using Hive? (Addressing Downvote Cancel Culture on Hive
@ura-soul - Your Comments On The Cancel Culture And Zeroing of Viral Posts on Hive By Curangel.

@kennyskitchen - My Most Successful Post in Years (Promoting Hive) Was Just Downvoted by Curangel for Over $200 Right Before Payout
@3speak – Discussion of Downvoting Issues with 3Speak team - (2nd half of recording)

@ura-soul - The Dynamics of DPOS & POB Pitch Money Against Freedom in a Constant Brawl for Decentralisation Over Centralisation... But We Will Evolve!



Wishing you well,
Ura Soul
---