So far, almost 400 people registered to attend the five year HiveFest anniversary for free, which can be attended through Desktop 2D apps for Mac & Windows next to the immersive VR Headset experience. On the HiveFe.st website you can see all names so far added to the speaker line-up. It will be a packed 4 hour program.
Some lol'ings🤣 : last week's Blackfriday sale of HiveFest 5 merchandise rendered me in a loss :P. Not only did I permanently lower all prices of the t-shirts, hoodies, scarfs and socks, I also added a BlackFriday additional discount. Exactly that discount is the difference I'm paying myself now to the manufacturer 😀. (Failed my math exam I guess).
Don't feel bad for me tho, I'm happy some of you got the swag at a reduced price level and concluding from my mailbox I saw already many items shipped to your destination!
Since last monday I've removed the extra black friday discount, but rest assured the prices stay at newly lowered (break-even) price point, so you pay exactly what I pay to the manufacturer to create and dropship your HiveFest swag. Check out the swag on merch.hivefe.st
HiveFest Program Glossary:
Friday 18 December: Plenary Event with presentations. 5PM UTC start, warming up 1 hour in advance.
Saturday 19 December: Explorer Event with Art gallery (including some presentations), games, AltspaceVR epic world tours. 5PM UTC start, warming up 1 hour in advance.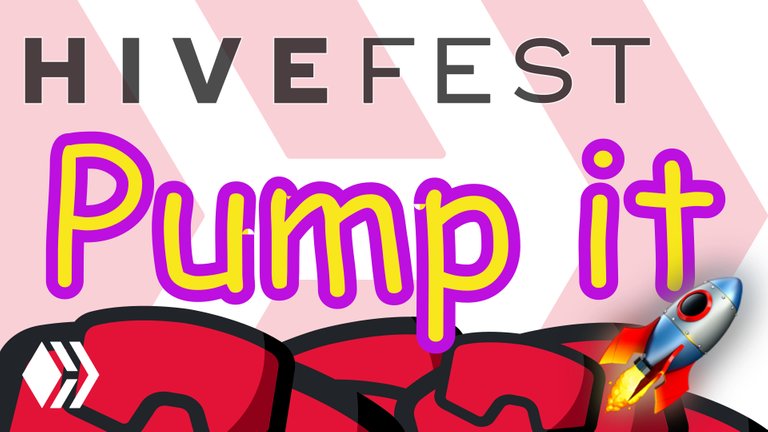 Pre-Pump III (last one!) - this Sunday 6 December - 8PM UTC
Last week the Pre-Pump II event (raw footage here) was pretty well attended with about 45 people and almost 75% in VR. I use these pre-pumps to test VR gear, test side-app / 3d models enhancing the whole event experience (photobooth, chat connection, background music, videostreams). It was not so much fun due to a bug I could not talk for the first 20 minutes, causing me to reboot my VR headset and re-enter.
This week I've asked AltspaceVR / Microsoft to upgrade the upcoming PrePump III event features to mimic HiveFest's event settings so that the last things can be tested. The way AltspaceVR works is that once an event reaches a certain amount of people, copies of the event will be spawned. This way the experience stays manageable and enjoyable by all, as too many avatars in one room would be too much realtime rendering, overloading the experience.
But with last week's updates to AltspaceVR's software, upon entering an event room you can pick which copy you want to be teleporting to. The interface will show you in which "copy" your friends are so you can opt to join them too.
Come and show off your avatar in Pre-Pump III. RSVP here on AltspaceVR. It is mainly an informal hangout, but still attracts quite some folks who want to test their VR gear or app setup. If anyone wants to go on stage to present or perform, reach out via [email protected]
AltspaceVR setup? Last chance to win part of that 3,333 HIVE
As announced 5 days ago, anyone who has setup AltspaceVR, and created & shared their attendeecard here (and on social media preferably) is eligible to join the 3,333 HIVE prize-pot contest.
It's not only handy and fun to setup and test AltspaceVR in advance instead of discovering everything during HiveFest itself (we can't provide much support during the event itself)... Now you have a good reason to already setup and show off your custom avatar on your own HiveFest Attendee Card.
In order to join the contest, submit yours in the section linked here before December 7th, following these guidelines.
Here is my HiveFe.st Attendee Card: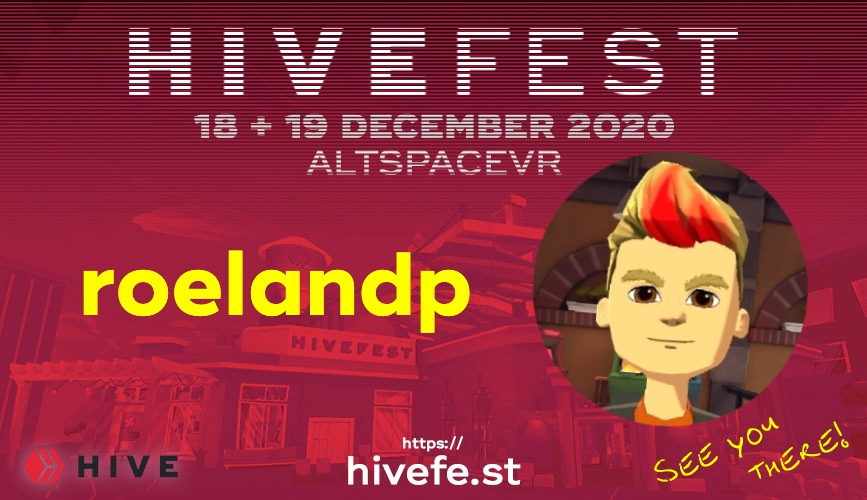 Update your AltspaceVR software!
Last week the AltspaceVR team updated their software with bugfixes and convenient new features for event organisers. This means you will need to run the latest update of the software. On most VR Headsets and Windows PCs upgrading will be done automatically, however just check you are in the 4.81 / 4.82 version. If you are on Mac, you will need to update manually. Learn here how to get started on AltspaceVR and where to get the free software.
Reminder:
Free registration for HiveFest 5 closes Monday December 7th
Wear HiveFest gear IRL
That's it for today, wishing you a great weekend, see you maybe sunday at the
Pre-Pump III
.