In 63 days (and 15 hours, 1 minute and 27 seconds) HiveFest 2022 kicks off in Amsterdam. As by now you know, the 7th edition of the event runs from Thursday 15 September until Sunday 18 September in several locations (to be revealed, see for hints the HiveFe.st website).
HiveFe.st aims to be an inclusive, but also all-inclusive, and dynamic event. By having the event scattered across the city in several venues, you don't only see walls and people but also really visit and explore the host city in all its diversity. It is part of the DNA of Hivefe.st and keeps the conversation going, by having these informal touristic parts of the program interwoven with the more serious conference parts of the event.
This however also means the event does come at a price. And especially these days, where hospitality businesses come out of a 2 year something something forced lock downs, staff shortage, rising prices, it doesn't come particularly cheap to make it all happen. Therefore I'm very happy that the Hive Blockchain via @valueplan is helping to cover the fixed costs for the event (venues, tech, livestream, production, some branding), to significantly lower the price to be paid for attendees. It takes care for about 30-50% of the real cost price of the event (at about 50K EUR fixed costs).
That said, catering (food, beverages) will undoubtedly be of high standard, but also come in at a price and still make the event's variable cost-price come at approx 400 EUR. Still a heavy price. Mix in expensive hotel nights, travels and you come in at a significant price.
So, being all about inclusive (whether big or small wallets) here are some tips on how to enjoy the full experience this September in Amsterdam with this special publication about: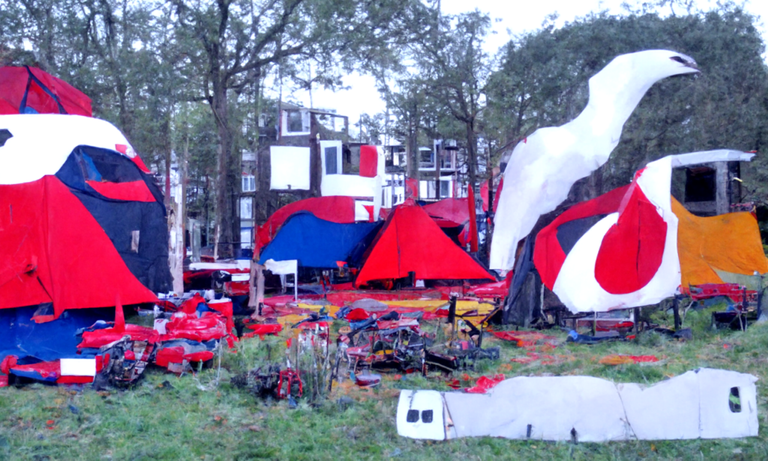 HiveFe.st on a shoestring - tips for tickets, travel and stay
---
Tip 1: HiveFest ticket - Free or at a reduced cost.
1.1 - Ticket discount for Minnow and Planktons!
For the event itself you need a ticket. Everyone needs a ticket. As said, thanks to the Hive Dao @valueplan proposal these are already reduced by 50% to 400 EUR, but even then: if you are a plankton or minnow hiver, you can get up to 45% discount on the attendance price, thanks to sponsorships by @yabapmatt, @splinterlands, @3speak, @gandalf, @smooth and myself. Simply fill in your Hive username in the hivefe.st website's ticket section to discover your price.
1.2 - Win free tickets (and even accommodation!) in these contests:
Thanks to the sponsorships of fellow Hivers/dApps @Blocktrades, @FinanceLeo, and @actifit you can currently win Hivefest tickets (including accommodation) in the #roadtohivefest competitions which are hyped and initiated by the great work of @anomadsoul:
---
Tip 2: Staying in Amsterdam - Partner Hoteldiscounts or even cheaper?
2.1 - Official Partner hotel discounts
HiveFest starts and finishes in Amsterdam Eastside in our partnerhotels: Volkshotel and The Student Hotel (The City branch). Using the couponcode HIVEFEST gives you a nice discount on their rates. Book through hivefe.st/#stay
2.2 - Camping Zeeburg, an economic alternative (BYO & serviced cabins)
Just across the bridge in Amsterdam East, the Camping Zeeburg is situated on the banks of the IJ river. Here you find a place to either park your motorhome or bring your own tent or caravan.
But next to this they also have Eco-Cabins in various group sizes available. Pricing is very affordable and vary from 13.25 / EUR night for your own tent, 24.50 EUR / night for a motorhome, 1 person eco-cabin 44.50 EUR / night, 4 person eco-cabin 33 EUR/night (per person).
Getting from Camping Zeeburg to town? You need to cross one bridge by foot (850 meter) and grab public transport, or hire a bike on-site.
Check out and book at CampingZeeburg.com (or campingzeeburg.de for german)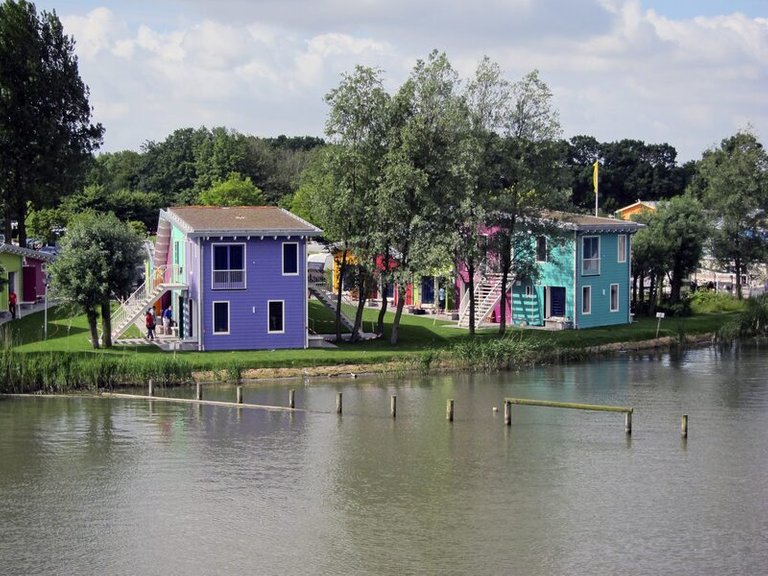 2.3 - Connect with locals and sleep on their couch?
Couchsurfing is an option in Amsterdam too, but you need to have a contributing membership these days. I guess it is only for those who want to really interact with their host, as you can't see this as a hotel obviously. Maybe it can work out for you and maybe you are already a member of the platform:
---
Tip 3: Travel to Amsterdam - Travel Reimbursement Fund (@T-R-F), multi-leg trips or even hitch-hike?
3.1 - Apply for @T-R-F funds at HiveFe.st
The famous @T-R-F fund will be announced soon, which is a generic fund in which anyone can donate some Hive/HBD, get a badge for HiveBuzz and then help fellow hivers out getting some of the money spent on the trip back in Hive/HBD. Anyone can apply for the T-R-F fund at the HiveFest event days and all the funds will be distributed based on single leg direct line distance from departing city to Amsterdam.
3.2 - Coming by plane? Opt for multi-leg trips
Use an app like Skyscanner to find cheaper flights by opting for a non-direct flight. This can save you up to 70% of a plane ticket. For example when I lookup just now a direct return trip from NY to AMS, it lands me at 1,426 (EUR/USD) - trip time: 8hrs. However if I opt for multi-leg, there is one for 499 EUR/USD (1/3 of price!) flying through Copenhagen, swapping planes, and coming at trip time of 10.5. This is only 2.5 hours extra trip time, but earning back your complete stay and HiveFe.st ticket!
3.3 - Coming by train? Check if Interrail pass is more economic for you
Interrail offers attractive pricing for those who want to explore Europe some more, or coming from afar. Tickets vary from 185 EUR for 4 days of travelling in 1 month across Europe. Note that on some trains you have to pay an additional obligatory seat reservation.
Additionally it is recommended to check out the nifty articles and tips on European train travel by the man in Seat 61, as tips 'n tricks vary by departing/destination country!
3.4 - Come by bus for an economic option
Flixbus might not be the most charming way to travel europe, but it can be pretty cheap and at least worth checking for your trip? For example flying from Brussels to Amsterdam is 166 (EUR/USD) return. (46 minutes, but a lot of hassle). Train is 50 EUR for 3 hr trip and Flixbus is under 20 EUR for also 3 hr trip.
3.5 - Hitch hike to Amsterdam! For more adventure.
Into adventurous mode? Opt to hitch hike to Amsterdam. Allocate additional time to get from your departure to Amsterdam both ways :) Previously @anomadsoul and @martibis hitchhiked all the way from Brussels to Lisbon for Hive(steem)Fest 2 back in 2019! Read their story here.
Hitchhiking is not for the faint-hearted. Some resources worth checking:
---
---
So there you have it, use your creativity to travel & stay in Amsterdam and obtain your HiveFe.st ticket!
See you in Amsterdam, 15-18 September for HiveFest 7!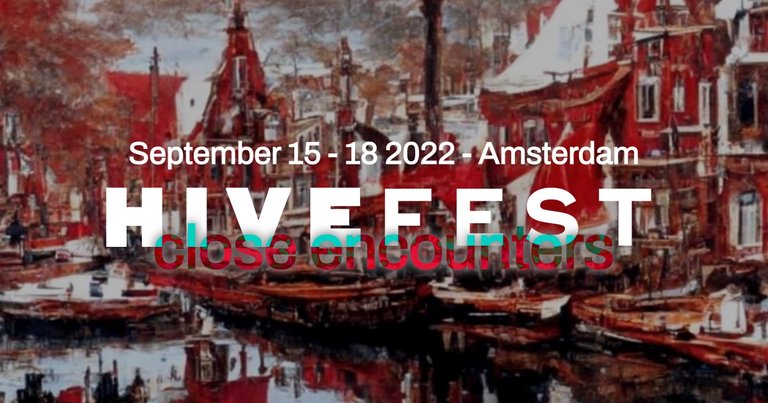 Rewards from this post go to @HiveFest using beneficiaries