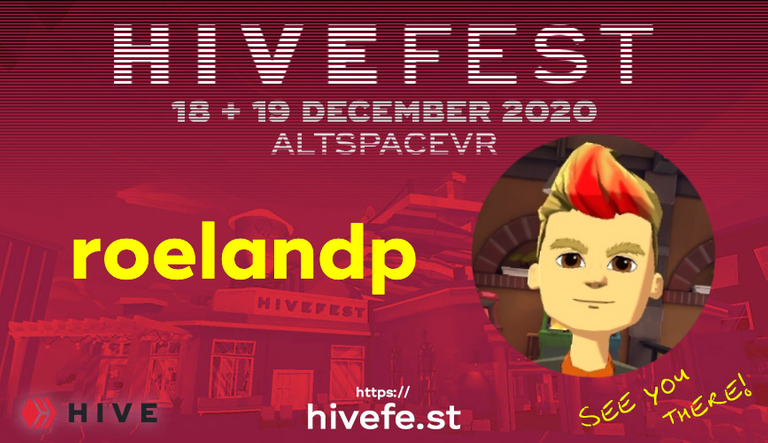 My HiveFest Attendee Card - Generate yours at https://hivefe.st/attendeecard/index.html
3,333 HIVE GIVE AWAY FOR EARLY AVATAR BIRDS
Get your avatar ready in AltspaceVR, share it here (and elsewhere!) and win part of that 3,333 HIVE prize pot.
Basically all you have to do to have a chance to win (part of) that juicy Hive, is to get ready for HiveFest 5.
Register for HiveFest on the website on the website
Download AltspaceVR (free for Mac, Win, VR) and setup your account
Customise your Altspace Avatar and make a selfie
Create your HiveFest Attendee Card using your Altspace Avatar's selfie via this creator
Share your HiveFest Attendee Card as a reply under this comment (hit reply).
Prizes allotted on 7 December!
Prize categories:
Random selection winners
Most original avatar
Attendee Card with most social reach (so be sure to share on Twitter and Hive and link back here together with your attendee card-reply!)
Please read the above 5 steps carefully
Only original submissions are elligible