24 hours of decompression was needed after being goggled up in VR for 20+ hours the past days with only minimum sleep in between (goodmorning kids!). But I'm back at it and officially wrapping up HiveFest 2020. It was a blast and I could not have done it without you! In this post I iterate over some stats as logged by the badge computer inside AltspaceVR, key findings and obviously thank you to who made it happen.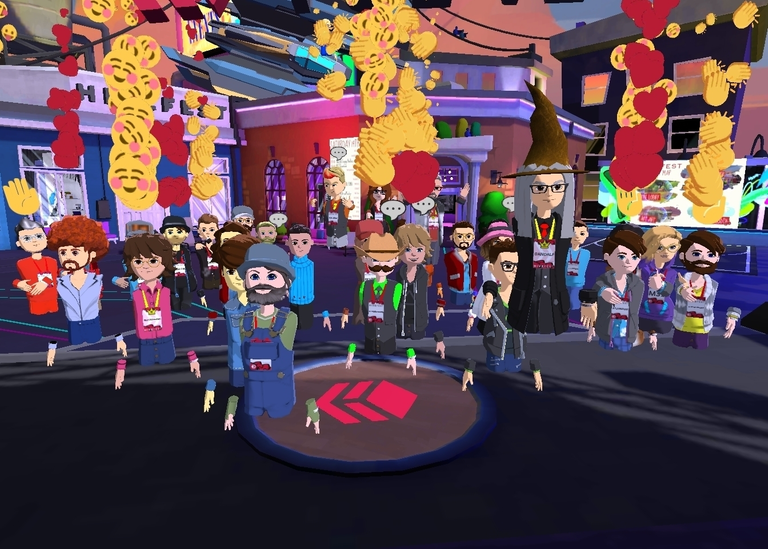 It was nerve wracking, stressful and beautiful at the same time. Nerve wracking and stressful to find presenters, get them setup just in time and to the correct room, restart the presentation slideshow every other presentation, manage magical "mutes" and "off air" triggered by I-still-dont-know-whats (causing the intro presentation of day 1 to be audioless, and part of the core-dev presentation too, so sorry for that). Beautiful to see so many of you show up and interact with one another! The event also drew in many "regular AltspaceVR people" and personally humbling was this remark from Aria, long-time ASVR user: "Congrats, this was the most professional and awesome event in ASVR I ever seen here". Not bad for a virgin VR event organiser :P
Of course the bugs of the software were regrettable and only discovered during the event itself and not in pre-events, as the pre-events did not feature teleports. (I figured those teleports being a regular feat. of AltspaceVR to work anyhow). Great to see @ewkaw undertake and launch their own Livestream viewing room in AltspaceVR and instantly create a social place for those being bugged out.
On Day 2 I made all AltspaceVR rooms fully public for ease of teleportation, which I explicitly did not do inititally to prevent trolls from to quickly randomly hop in the Mainstage Presentation zone through the discovery tab. The idea was that anyone discovering HiveFest through AltpsaceVR's native discovery would only see the "Lobby event" and enter there, which was the place for fun, mingle and seriousness in the Mainstage area. Anyhow, those bugs aside, personally I give the event and organising a 4 out of 5 stars :P
HiveFest welcomed 782 unique people (!)
The badge computer also had some stats logging attached to see monitor the events attendance. This now gives unique insights in how the event was attended. I'm not certain whether the data is skewed a bit, because some of you could not properly load the Badge Computer App and instead saw the "Question / frowning"-emoji, so I'm not sure whether those did trigger event logs. I don't think they did so those visits are excluded from the following stats:
782 Unique Visitors
174 of those visitors happened to get their Hive Badge
The HiveFest worlds in total saw 4,629 entries:
2,337 times to the HiveFest Lobby by 734 unique people
1,542 times to the HiveFest Mainstage (presentations) by 389 unique people
455 times to the NFT Art Gallery by 201 unique people
182 times to the Photobooth by 130 unique people
Visits came from 71 countries across the world

360 from the United States
68 from United Kingdom
44 from Canada
42 from Germany
31 from Spain
21 from The Netherlands
19 from Australia
17 from France
12 from Italy
11 from Mexico
11 from Malaysia
11 from Portugal
10 from Poland
and then 58 other countries with visits: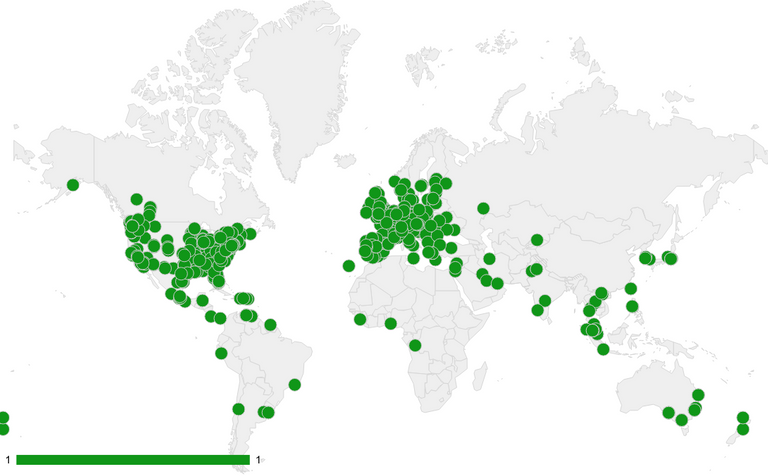 Thanks so much to:
You! For attending and voting on the Hive.Fund proposal which covered the costs to organise this edition!
My famfam for keeping up with "daddy in the glasses computer" for countless hours
All speakers for prepping and working in this new format and delivering their inspirational talks. I will cut up the livestream files later this week and get them all published on 3Speak and YT. @poezio, @blocktrades, @howo, @themarkymark, @stoodkev, @yabapmatt, @good-karma, @getblock, @jarvie, @fbslo, @aggroed, @andrarchy, @cryptomancer, @qwoyn, @jacobgadikian, @arcange, @crimsonclad, @theycallmedan, starkerz, @khaleelkazi, @enginewitty, @martibis, @scrooger, @rollie1212, @lukeStokes, @hellomsq, @tyhran and @detlev thank you!
Thanks to all individual sponsors for chipping in big and small (some of you still have an outstanding invoice :P): @knozaki2015, @jza, @timsaid, @waybeyondpadthai, @lemony-cricket, @nateaguila, @anthonypslate, @akipponn, @pharesim, @jedigeiss, @poezio, @bitrocker2020, @p15, @schmidi, @whatsup, @happyfrog420, @joythewanderer, @livinguktaiwan, @gaottantacinque, @whatamidoing, @balte, @nathanmars, @paolobeneforti, @noemilunastorta, @dmilliz, @connecteconomy, @carolinacardoza, @emrebeyler, @cryptospa, @elizabeths14, @jeanlucsr, @tobetada, @vyasgarima, @macchiata, @glass.wolf, @charlie777pt, @breadcentric, @bitcoinsud, @walterjay, @quochuy, @shaka, @jasonbu, @freecrypto, @silviabeneforti, @planetauto, @dalz, @katerinaramm, @followbtcnews, @marfonso, @wolven-znz, @richardfyates, @mister-meeseeks, @bozz, @c0ff33a, @stoodkev, @actifit, @logic, @louis88, @abh12345, @arcange, @hivebuzz, @chekohler, @edb, @junkfeathers, @taliakerch, @blind-spot, @pboulet, @elizacheng, @satren, @hivetrending, @bigtom13, @gringalicious, @gandalf, @inertia, @grampo, @preparedwombat, @jongolson, @soyrosa, @liliana.duarte, @jaybird, @gamer00, @vincentnijman, @oleg326756, @elianaicgomes, @starstrings01, @steemean, @manncpt, @ahmadmanga, @mattclarke
Special thanks to the following people:
Thank you too to Yunji from Microsoft/AltspaceVR Event Support for replying to countless emails and explaining all the extensive features for running HiveFest inside AltspaceVR
Last but not least thanks to longtime AltspaceVR people BenVR for the Slideshow software and Andy for making the Museum gallery world available for use for NFT Art Gallery!
---
Stay tuned for future AltspaceVR Hive related events, the individual presentations cut up and the some more detailed visitor stats! I will also take some time to digest this whole VR event organising in a more generic post serving as a guide for future events.
By the way, if you attended HiveFest, but did not manage to get the Conference Badge running because of the unexplainable bug, you did not get your Hivebuzz badge for attending the event. If you still want it, please send a selfie from yourself at HiveFest to [email protected] with subject "Hivebuzz Selfie", so that can be fixed!
For now I'm taking a couple of days of to spend some time with the family, but not before paying some Hivefest bills :P
See you on the Hive chain!