(html comment removed: @format )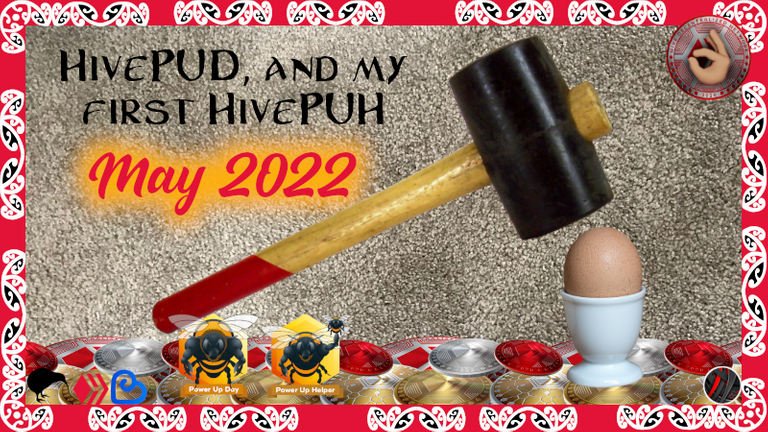 My submission for #HivePUD for 1-May-2022, and my first ever Power-Up Helper ( #HivePUH ) attempt.

HivePUD May-2022.
Powering up at least $ʜɪᴠᴇ10.00 as HP.
This is just a quick post from me this month, without my usual monthly account stats. I'm getting ready for a busy month, as I will be upgrading all of my tech during May 2022, including rolling out the latest

GNU/Linux operating systems on my existing laptops, and buying myself a new

Android phone and setting it up. Hence I don't really have much spare time for this post today, but I wanted to get something out there, as it has been a while since I last posted on the

HIVE social blockchain, anyway.
So, today I have powered up $ʜɪᴠᴇ27.430 as Hive Power (ʜᴩ). This is the most that I have ever powered up at one time. In the past I have powered up around $ʜɪᴠᴇ10.00 to $ʜɪᴠᴇ15.00 maximum. This is the fourth time that I have completed a Power Up Day, but only the third time that I have posted about it. I missed out on posting about it last month, unfortunately, so I was determined to make sure that I posted this month.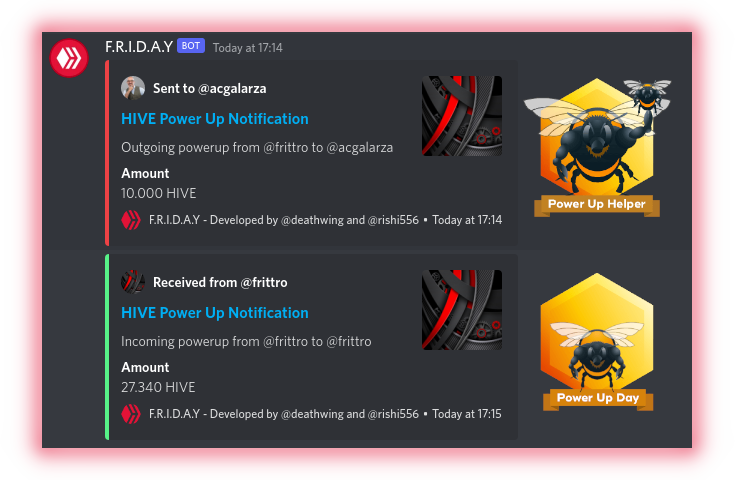 Acknowledging where this $ʜɪᴠᴇ came from.
I am still in the process of powering down my legacy account. I think this will be the last of it now, as there is only about $ʜɪᴠᴇ6.00 left there now, and I'll leave the final $ʜɪᴠᴇ5.00 in there anyway, just to keep the account ticking over. So that is the end of the "easy money" for me now. From now on, I am going to be reliant on the creation/curation rewards; my passive income from Splinterlands; and any gifts, donations, or competition prizes that I might win, in order to raise enough liquid $ʜɪᴠᴇ to be able to power up again in June. What a time to be taking a hiatus while I upgrade my computers!

HivePUH May 2022.
Powering up $ʜɪᴠᴇ10.00 to someone else.
As you can see from the image above, not only did I power up $ʜɪᴠᴇ27.430 to myself this month, but I also powered up a further $ʜɪᴠᴇ10.00 to Armando Galarza ( @acgalarza ) for my first ever attempt at a Power Up Helper ( #HivePUH ) badge. I chose to power-up to Armando because I foresee myself making extensive use of his services online. He is promoting himself here on the

HIVE social blockchain as an experienced "Goal Attainment Coach", or "Personal Development Coach". If there is one thing that I need right now in my life, it is some direction from a life-coach. Armando's arrival here on the social blockchain is very fortuitous for me!

In other news.
I'm taking up a new sport!
I really am not a very sports-minded person. I come from a sports-mad country (🇳🇿 Aotearoa / New Zealand), and I went to one of the most well-known rugby-loving high schools (Kelston Boys High School) that regularly turn out legendary sportsmen like Inga the Winger. But I've never been into sports myself. Now though, I am older and greyer, and my health has deteriorated from this sedentary lifestyle I have led. To help combat the encroaching debilitation, I am at last taking up a sport.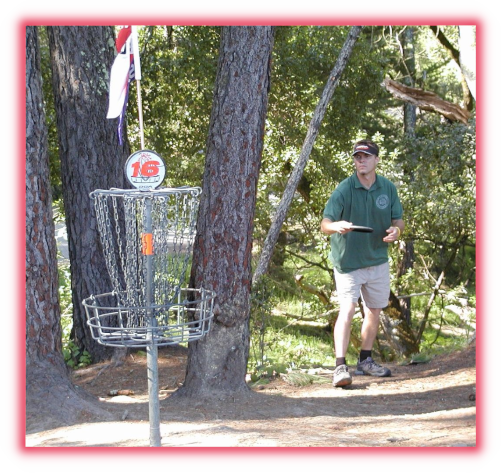 I am learning about the new sport of Disc Golf, which is kind of like a cross between traditional golf, and beach frisbee throwing. Unlike beach frisbee, or even "ultimate frisbee", this sport is more about hitting a target with a disc, rather than playing throw and catch. That is good, because my poor hand-eye coordination would leave me incapable of progressing far in a sport if I had to catch something, haha. Aiming, throwing, and hitting a target seems a lot more within my capabilities. I'm still doing the whole

autistic research bit for now, and haven't even thrown my first disc yet, but I am learning as much as I can about the sport before I begin. While it will be both relaxing for my

mental health and energetic enough to assist with my

cardiovascular and

diabetes conditions; it could also open up further, more competitive avenues if I pursue this far enough. I could become a professional sportsperson one day! Wow, the High School days version of "me" back then, would have been terrified of the "me" from now, hahaha. All sports people are bullies, right? That was the main lesson that I learnt back-in-the-day.

Image Credits
post-head.png – Remix created by @frittro, using elements by @pantone801; a remix created by @frittro, using Hive physical coin design by @bidesign; File:Grey Carpet from above.jpg. (2022, March 19). Wikimedia Commons, the free media repository. Retrieved 06:06, May 1, 2022 from Wikimedia; File:Gummihammer.png. (2020, September 7). Wikimedia Commons, the free media repository. Retrieved 06:00, May 1, 2022 from Wikimedia; and an image by maja7777 from Pixabay.
Various "fair use" organisation and company logos, including Hive, NZ Heart Fdn, Mental Health Fdn of NZ, etc.
friday-bot-notices.png – a screenshot from Discord.
discgolf.png – File:Disc golfer and basket.jpg. (2021, January 11). Wikimedia Commons, the free media repository. Retrieved 10:07, May 1, 2022 from Wikimedia.
maori-divider.png – Original image by @pantone801. Remix created by @frittro.
frittro-maori-footer.png – Remix created by @frittro, using elements by @pantone801.