I've been less outspoken for a while now for obvious reasons...politics today is being played in a way where anything and everything you say comes under scrutiny not just because of you that's saying it but because of everyone else you support.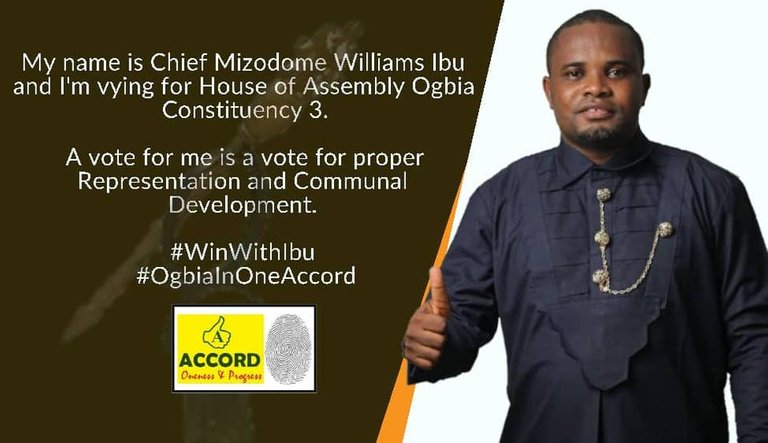 I really didn't want to talk about politics with this post, my mind has been pretty much clouded lately with life's glaring demands all setting their gaze on me. But can I actually escape from talking politics? Politics for me Is ACCORD Party, it is doing everything within my might to give my support to my Principal Chief Ibu Williams Mizodome who I know is the best for the Bayelsa State House Elections to represent Ogbia Constituency 3.
I'd love to talk about all those relationships stuff most of the time you, once in a while, one gets the stick as he gets stuck in thoughts. I ain't getting younger after all...the face might still look young but numbers aren't smiling (don't try to guess the age). Seriously I've been searching everywhere to find where I kept that leftover piece of love (that kind of love) I once had but I just can't find it. Last time I set my eyes on it was sometime in 2013 or early 2014? I really can't remember!
And then there's my family, there are so many plans in my head for my mom but I just don't have the means to execute them, it breaks me down somehow sometimes. Anyone who's close enough to me would know I love her so damn much...she's an inspiration. And then there is Prince Heavens Williams and Emmanuel William, I feel responsible for them most times but Y'all know these things, the best one can do is do the little he or she can and leave the rest in God's hands. I have two lovely sisters they are Faultless and Priceless, my most prized and valued assets who I want to be happy every single minute of the day.
And there's a couple of friends who have been over these years... I can't mention anyone cuz it's a very long list.
Life is happening so fast these days and holding onto God has been the best part of it all. It has helped me stay away from all of the shit and problems other teenagers and youths go through. Despite all that life throws on us we still find the glow and smile always. I can't afford to deprive the world of this beautiful smile that God has given to me.
Please if you're taking my picture to 5 Nights of Glory, do well to pray for the Mizorich Campaign and also pray for me to make good money soon before you start the marriage session. Thank you!
Happy New Year!!!