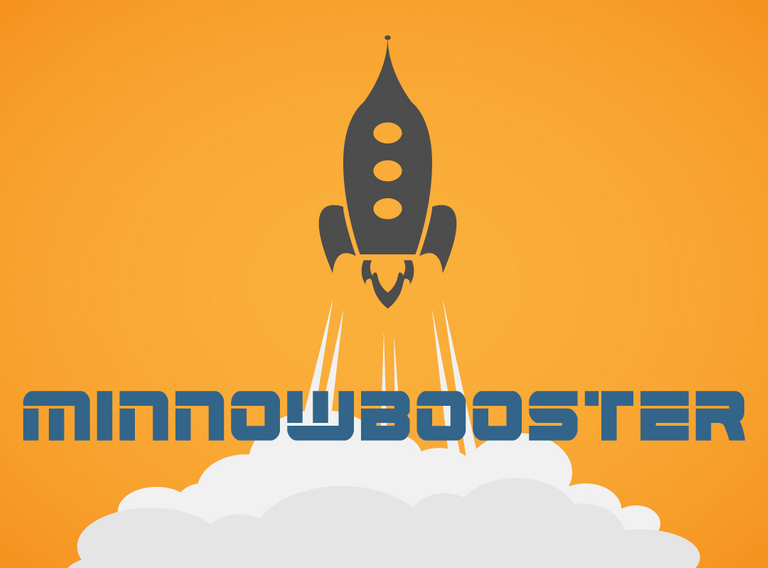 Hi everyone! Minnowbooster and its staff are absolutely stunned at the growth we've just seen in SBD and Steem prices!
Currently, Minnowbooster is experiencing a massive number of lease requests for Steem Power in our Delegated Leasing Market. We would like to formally invite minnows and other Steem users to come and join our DLM by creating a custom request to lease Steem Power at our website, www.minnowbooster.net.
We've added the ability to set your own price for Steem Power leases giving you a better chance to get your lease filled by a willing donor!
Act now and lock in a good price for Steem Power while this feature is still being reviewed by the masses!
Why would I want to lease Steem Power?
Leasing power from investors can help you grow your account, get more followers, support authors and artists you follow with more significant upvote values, as well as give higher visibility to content you deem worthy.
Okay, I am sold! How do I lease SP from Minnowbooster investors?
To lease from our website:
Go to https://www.minnowbooster.com/lease
It will take you to the page below: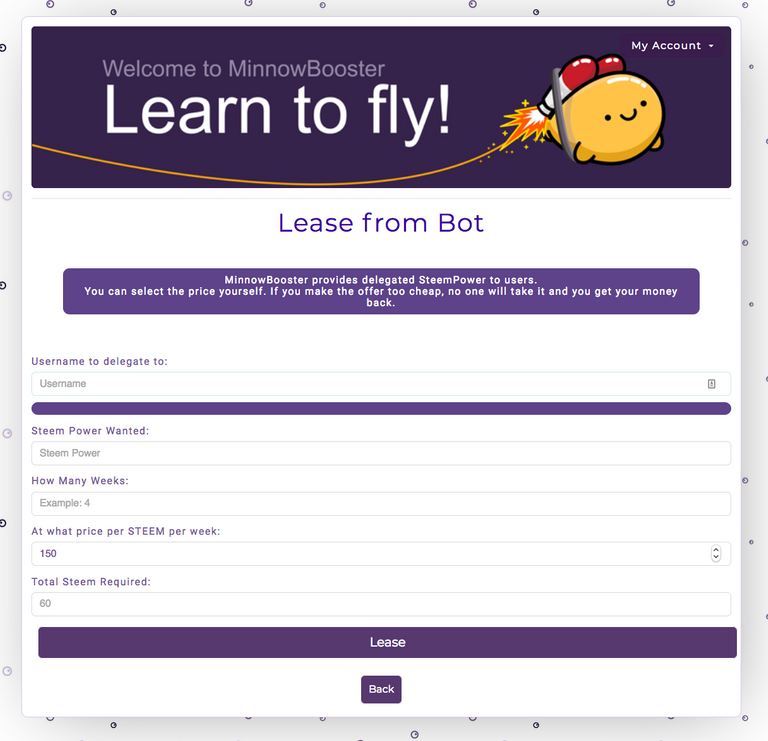 1.) Enter your username
2.) Enter the amount of Steem Power wanted
3.) Enter how many weeks you'd like the lease for (min. 1 week)
4.) Enter the price in Steem per week you are willing to pay.
5.) The calculator will show you the total amount of Steem required to receive the lease.
For example, reggaemuffin would like to lease 100 Steem Power for 4 weeks. They are willing to pay a premium to receive the lease today so they have set a price per Steem per week at 150.
The calculator has automatically filled in the Total Steem Required field to 2.667 Steem.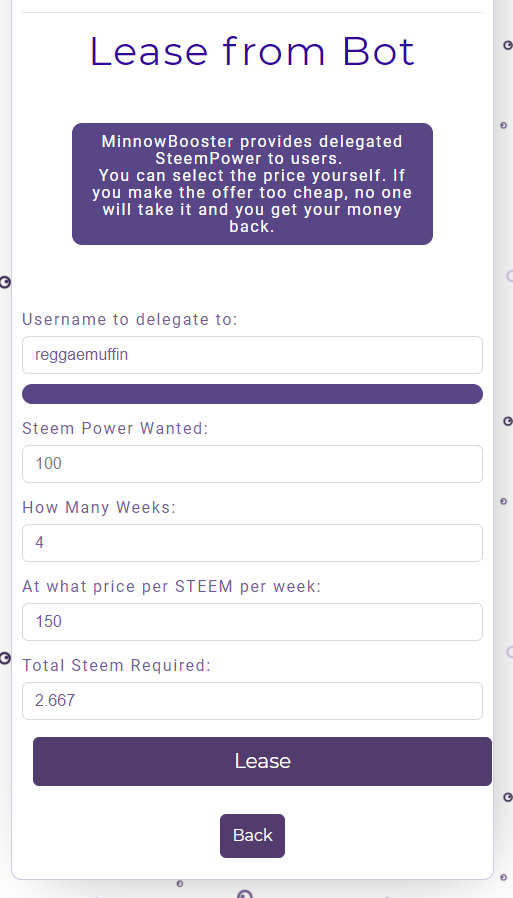 Once you click the "Lease" button you will be taken to a secure Steemconnect authorisation page, which will require your Active WIF key to authorise the transaction.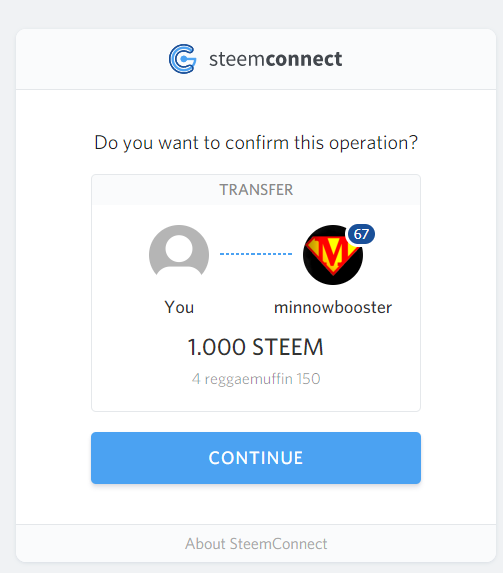 First, the @minnowbooster account tries to fill the lease, but if it cannot, the order will go to the market, to be filled by investors. If the order cannot be filled within 3 days, your STEEM will be returned.
To lease from your own wallet:
You can send a memo to @minnowbooster with your Steem payment and the number of weeks in memo in numerical form. The sending account will receive the lease.
If @techblogger wants to lease 150 SP for 4 weeks he would first use the calculator on www.minnowbooster.com/lease to calculate his lease. Then he would send the Steem to @minnowbooster with the memo in the following format:
Number of Weeks - Username - Steem Power per Steem
---
Minnowbooster strives to provide a truly investor-class model for Steem investors who are either not good at curating content or do not have the time or inclination to do so and would prefer to earn a "Masternode like" competitive APR return on investment with daily payouts, and simultaneously empowering the community and stimulating the attention economy of the Steem blockchain.
Thank you again for your continued support as we work on providing the most socially beneficial toolset on Steem.
Our team will continue to move forward to equip you with the services you need to succeed on Steem!
Don't forget @minnowbooster has got your back!
---
What can MINNOWBOOSTER do for you?!
| What? | Currency | Advantages |
| --- | --- | --- |
| Buy upvote | SBD | Earn an instant return |
| Lease SP from market | STEEM | Increase your vote strength and curation rewards |
| Delegate SP to market | STEEM POWER | Earn daily STEEM dividends |
| Invest STEEM in MinnowBooster | STEEM | Earn daily SBD dividends |
| Delegate SP to MinnowBooster | STEEM POWER | Earn daily SBD dividends |
| Sell your vote to MinnowBooster | VOTING POWER | Earn SBD share of sells |
---
CURRENT PARAMETERS:
Parameter
Value
Remarks
Minimum Upvote
0.01 SBD
Minimum SBD you can send
Upvote comments?
Can Be Enabled
Profit
135% Fixed Return
Minimum SP Lease
1 STEEM
Maximum SP Lease / Steem
1 STEEM/50 SP
Price per week/Lease size
Minimum SP Lease / Steem
1 STEEM/400 SP
Price per week/Lease size
Provide us with feedback
We are happy to hear your feedback about where we can improve.
---
Join our Discord chat
Get support and connect with us and other Minnowbooster fans!

We are always looking to improve @minnowbooster and try to keep you up-to-date whenever something changes. If you have any suggestions about what we should change or add to @minnowbooster, then please write us a comment :)
---
Please remember, that while we are a business and work for a profit, that we share 90% of our income with the various investors in our services. There is no other booster available which shares it's rewards with such a diverse set of people on the Steem BlockChain.
Thank you for your continued support.
---
Missed the BuildTeam announcement? Here's all the juicy details.
---
Video Tutorials
---

---
And last but not least, here's our cute little footer made by the most epic @ryivhnn! Yes, there are cute little minnows floating around!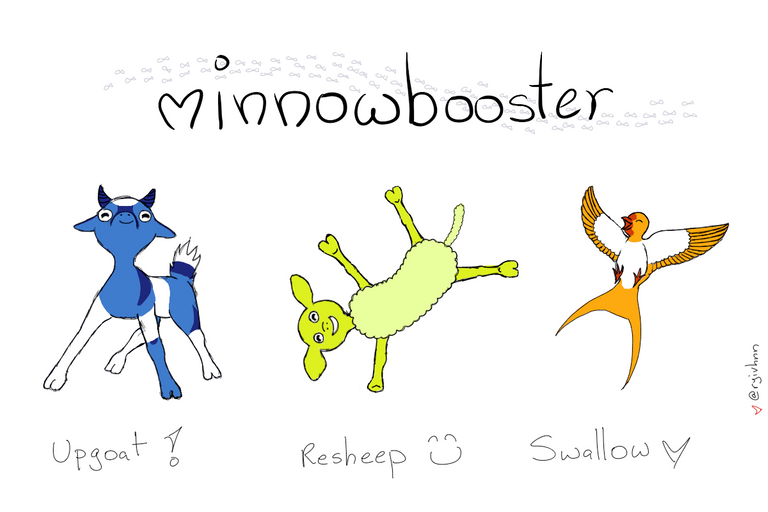 ---
Minnowbooster is a @buildteam project by @thecryptodrive (witness) @cryptomancer and @reggaemuffin (witness)
---
---
This is a @steemvoter subscription payment post. Thank you to Steemvoter customers for allowing us to use your Steem accounts to upvote this post by virtue of your free subscription to the Steemvoter.com bot service. @steemvoter is proudly a @buildteam subsidiary and sister project to @steemsports and @minnowbooster.