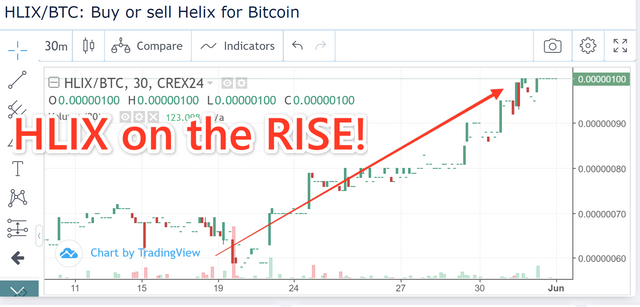 Helix Token on the RISE!
Two days ago I posted a tutorial on how to set up a Helix master node ( Read it >> here << ) so I've been starting to watch the price of this token, and WOW! so far it been a study uptrend.
Check out the current price here: https://crex24.com/exchange/HLIX-BTC
From the 20th of May to June 1st, the price change from .00000060 to .00000100 a Difference of .00000040 per token !! WOOT!
I know that might not seem like a lot of money especially if you only have one or two tokens, however, if you have a handful of these that could be up sizable rise. Also being that this token is on track to hit one dollar per token, it's a nice starting point (* glad I got in and got this master node set up before the price started to rise)!
With the interesting information about this token on the horizon, and its privacy features for sending transactions to each other. I'm very excited to see where it goes.
While not a financial analyst or investor broker, I do see the value in things. Personally feel there is still a solid opportunity to make wealth in this token as well as increase privacy features across the board. My idea is to hold onto these tokens for about a year or so until they get there ideal price point, then with luck live off the residual income from master node hosting.
Currently, one master node on average will mine 23 tokens a day.
If HELIX hits their target goal of one dollar token or even $0.10 a token
23 X $0.10 = $2.30 a day x 30 = $69 a month X 6 Master nodes = $414 a month in passive income. For me that's not too bad it would allow me to cover a chunk of my monthly expenses while living abroad also provide savings. Of course, all these numbers could change at any moment... But for now, this is what it looks like, and it's exciting.
It's about future planning and looking to the horizon.
Take the time to read.
Best regards
Jacuzzi
---
Disclaimer
The information presented is for educational purposes only and is not to be considered investment advice. Please do your own research before making any investment decisions. Cryptocurrency investments are volatile and high risk in nature. Don't invest more than what you can afford to lose. I make no representations, warranties, or assurances as to the accuracy, currency or completeness of the content contained in the information or any sites linked to or from this document for future material.
---