When you play Piggericks, there's much to gain. Winning a battle means your pigs will gain experience, and you may even add some of your opponent's pigs to your own piggery. Actually, you will always get Grunts, even if you lose a match!
To get these sweet rewards, you have to take risks, namely the risks of losing experience and even some pigs. But it's in your control, which pigs will lose experience or defect to your opponent. Let's talk about risk management!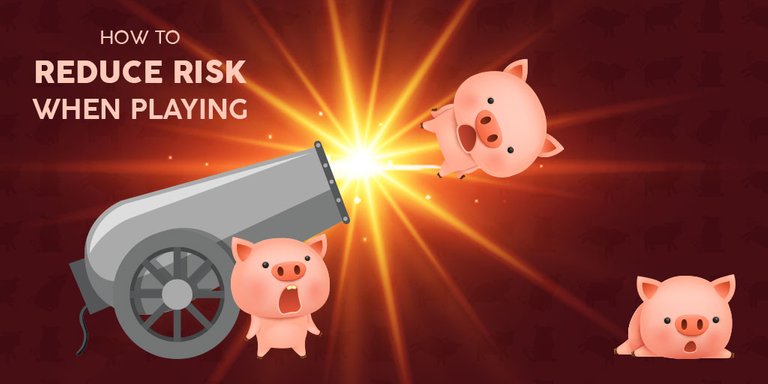 1. Manage Your Portfolio
First of all, you need to make sure you are okay with the overall risk you are taking. Let's say you want to spend $10 on Piggericks. Even if it's tempting, don't buy two Level 3 pigs as losing even one of them essentially means you cannot play the game anymore. Instead, buy ten Level 1 pigs to make sure you have enough warriors in your piggery.
To sum it up: Don't play at a level you are not comfortable losing in.
2. Take the Right Pigs to Battle
We talked about What Makes for a Good Pig and The Safe, Risky and Ideal Option in the past and while this is certainly a topic reading up on, let's instead talk about how to avoid losing those precious pigs.
A. Always bring a bonus pig to battle.
Bonus pigs have one big advantage: They are cheap. You might even have gotten some for free, as we often give them away to active players. On the downside, you can never use more than one bonus pig at a time, you cannot sell them and they usually decide to run off to freedom if you don't devote enough attention to them (just click on the bonus ribbon on the card to learn more about that).
So, why bring them? Essentially because they have little to no value to you. Hence, if you are going to lose, lose something that doesn't hurt much.
B. Bring another crappy pig to battle.
If you don't have enough (bad) pigs in your piggery, consider taking a pig from a higher level to the Butcher and spend your Grunts on a few low level pigs.
C. And obviously, yes, also bring a pair of good pigs to battle!
3. Toss the Right Pigs
When you play the game, always check if you are at an advantage or disadvantage relative to your opponent.
A. If you are at a disadvantage, toss your canon fodder.
Let's say your opponent gets to toss first and banks quite a few points. You are now at a disadvantage, so instead of risking your good pigs, toss your bonus pig and its poor companion from section 2B. When calculating rewards, the game takes into account how often a pig has been tossed - you will never lose a pig that simply stood at the sidelines for the entire battle.
B. If you are at an advantage, toss your favorite piggies.
Let's say, instead, you get to toss first or your opponent started off with a Pig Out. You are now at an advantage, so toss your good pigs and bank all the sweet points you can get. That way your good pigs will gain experience and become even more gruntastic!
We talk a little more in-depth about this strategy in Why You Should Always Bring Trash to Battle.
C. Learn, when to toss or bank.
We dedicated a whole article / video to this subject too but as there is quite a bit of math involved, let's simplify things:
As a rule of thumb, if you play with an average or good pig, toss until you have reached one third of the target score, then bank. If you play with a crappy pig, bank a bit earlier.
D. Be aware of your pig's experience.
You've probably noticed your pig's experience bar and know that, once that bar is maxed out, your pig will upgrade to the next higher level.
More experience also means your pig will gain more points per toss. However, there is one thing we haven't talked about much yet: The handicap effect.
Let's say your pig's experience bar is basically zero, you toss and land 100 points. Next up, you toss a pig that's experience bar is practically full. How many points will you get?
Not 200. Not even 150. There's a max. of a 30% experience bonus, so you will gain only 130 points.
However, the latter pig is worth a lot more in terms of Grunts than in terms of tossing points. If you have a pig that's experience bar is even only half full, the Butcher is willing to pay you approximately 50% more for your pig.
So, before you toss that highly experienced piggy, make sure, you are really okay with the risk you are taking.
Feel like tossing a bunch of pigs now? Awesome news - we just distributed 150+ bonus pigs amongst active players so check your piggery for new inhabitants!
---
Stay tuned
We have much more in store:
Gameplay Trailer
How to Play
When to Toss and Bank
Follow us
Twitter | Telegram | Discord | Website | Blog
P.S.: Our campaign with Splinterlands is still running so get your monster piggy deal now!