Physical pinball games are a favorite pastime of mine when I can find them. As fun as video games can be, there is something very special about a machine that operates manually and provides hours of fun; like old cars, these games have some character of their own. I have written about my pinball interest before in several posts over the past few years. In this post, I'll introduce you to a selection of games from the 1960s and 1970s. The images here are my own snapshots.
All games featured in this post happen to rank in Pinside.com's Top 100 pinball games. All of them are made by one company, Gottlieb, except for the first one here, which is a Williams creation. I've been fortunate to be able to play them at various locations. There are several pinball "museums" around the U.S. and the world where you can pay an entrance fee and then enjoy many of the historic pinball games that they have. If you'd like to find a game close to you, some countries still have a few places where you can play. At the end of this post, you will find a list of some resources for you to locate some games that may be close to you, though in many parts of the world these are difficult to find.
Apollo (1967)
With the space race at its peak, Williams created three space-themed games that it released in 1967. The other two were called Lunar Shot and Blast Off. The latter had an add-a-ball feature, while Lunar Shot had some modifications to comply with strict anti-gambling laws in certain countries. During that period, Williams tried to capitalize on some other themes as well by having multiple games with titles such as sports-themed Base Hit, Touchdown, Big League, and Kick Off.
Apollo was one of the company's best. Its background and board graphics and its appealing play helped it rank it as a favorite. The bagatelle launch pad display was a great addition, providing not only a fun feature, but a nod to pinball's roots. Here are some pictures of the game.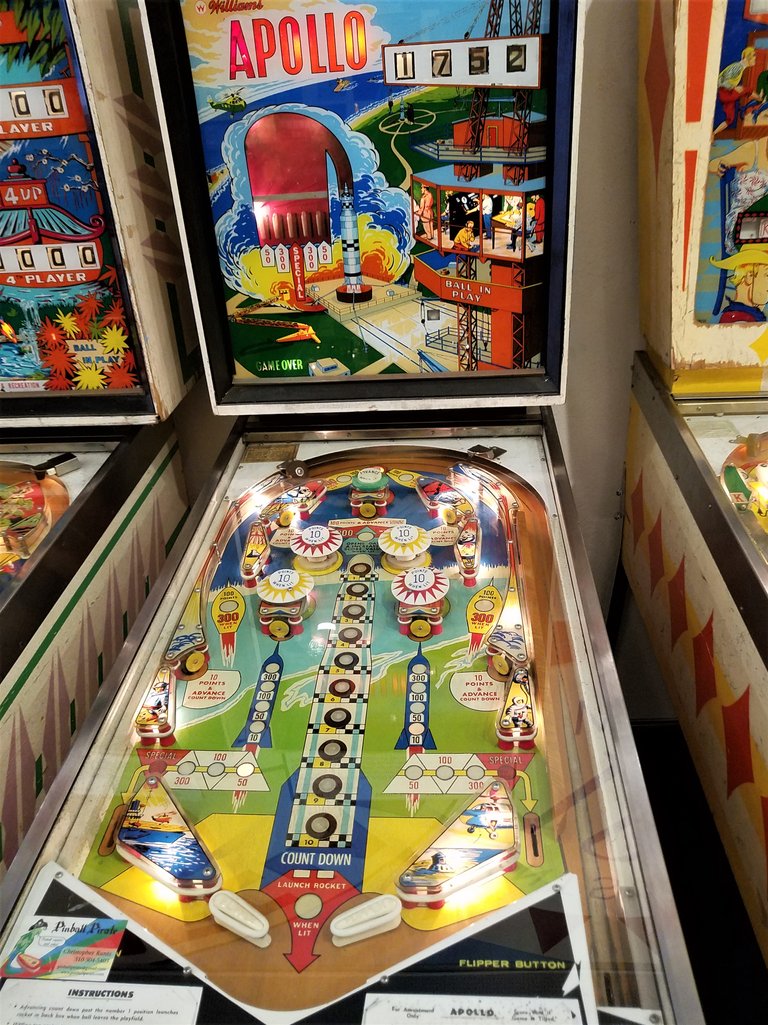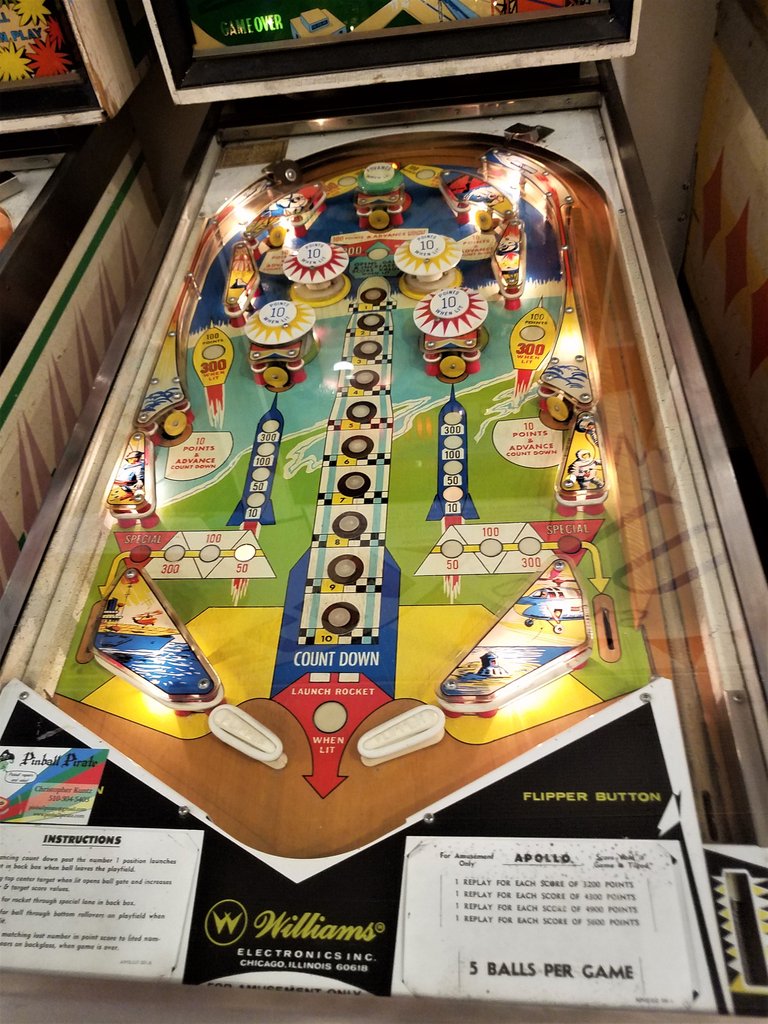 Buckaroo (1965)
Buckaroo is considered a wedge head design with its trapezoidal orientation. The theme was a cowboy (also known as buckaroo), which was reflected in the artwork. However, if you are looking for a cowboy, you'll actually see many more girls than boys. As the spirited horse centerpiece suggests, the real cowboy is the player.
The Buckaroo is you!
The game features seven consecutive numbers. If you get four of them, then it awards an extra play, giving you the possibility of multiple plays. This is a fun, well-designed game that classifies as a real bucking bronco!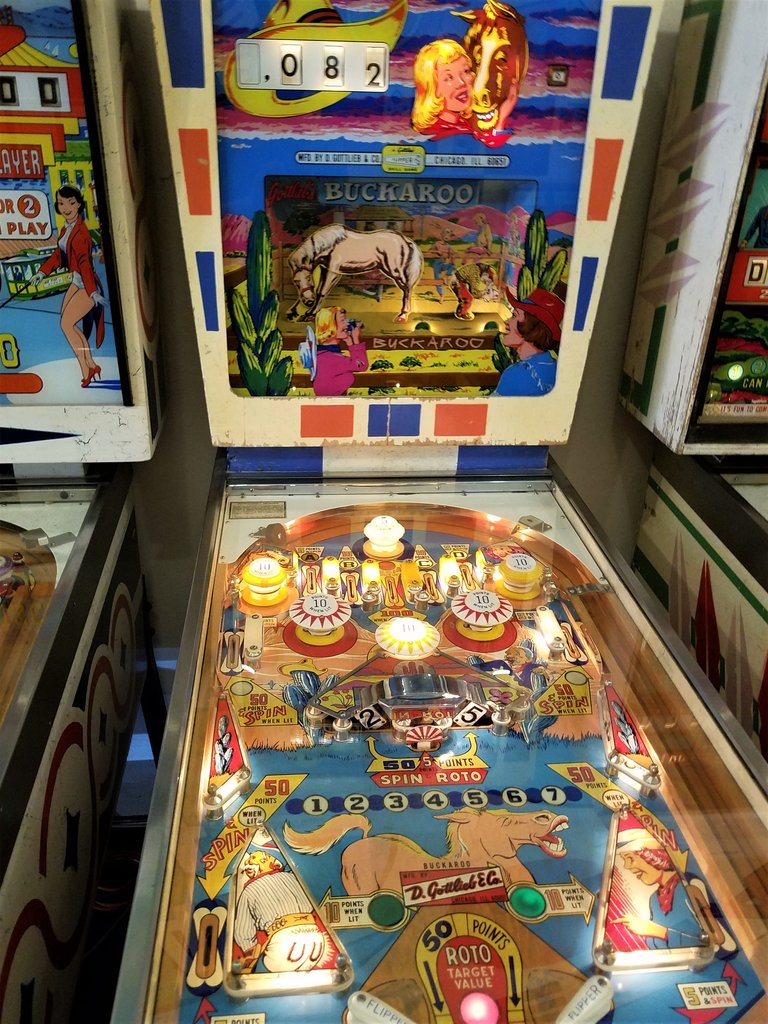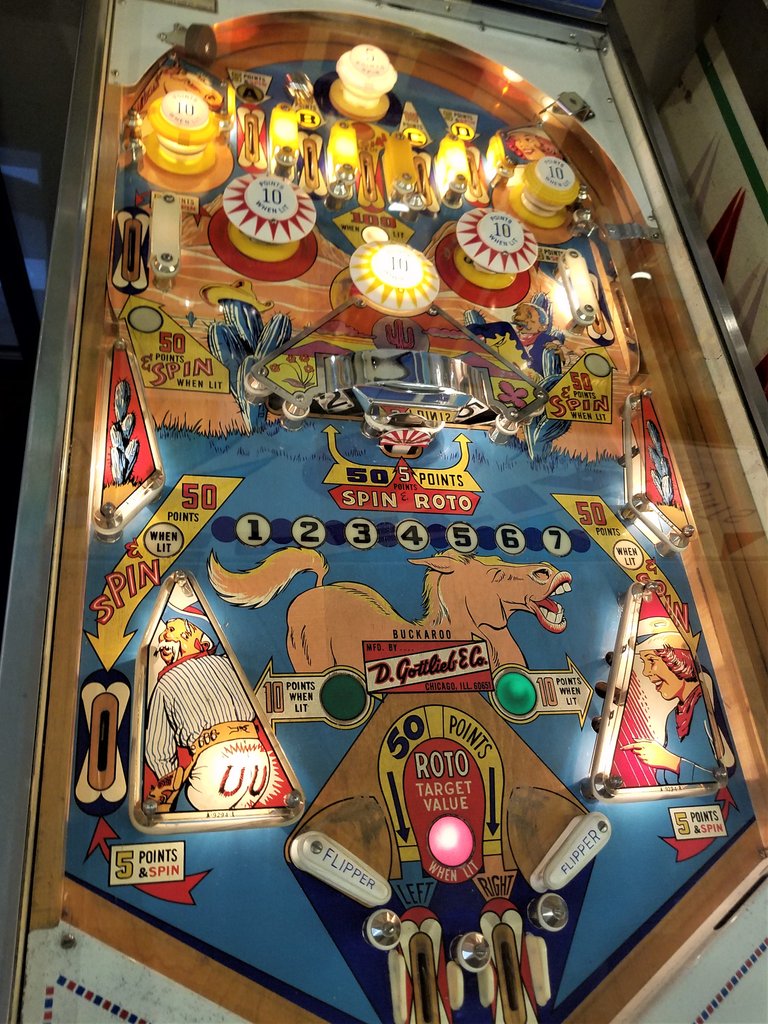 4 Square (1971)
The backglass design on this game defies easy explanation. To that end, it's eclectic and a bit trippy. That makes the game a perfect fit during a year that would feature new rock albums from Pink Floyd, the Doors, Janis Joplin, and Jimi Hendrix. Joni Mitchell, and Led Zeppelin, among others.
Looking more closely at the play field and playing a few balls, it becomes clear that the central theme is "fours". So they didn't lie to us, since the title spelled that out clearly. Aside from the three bulbs on top, nearly every feature comes in sets of four here. The numbers targets, the colors, the lanes, and the rollovers: it's all about fours. Complete a set of numbers for higher achievement.
Here are some images along with a YouTube clip of someone playing this game. As you can see, it's a lot more fun than many games of this vintage.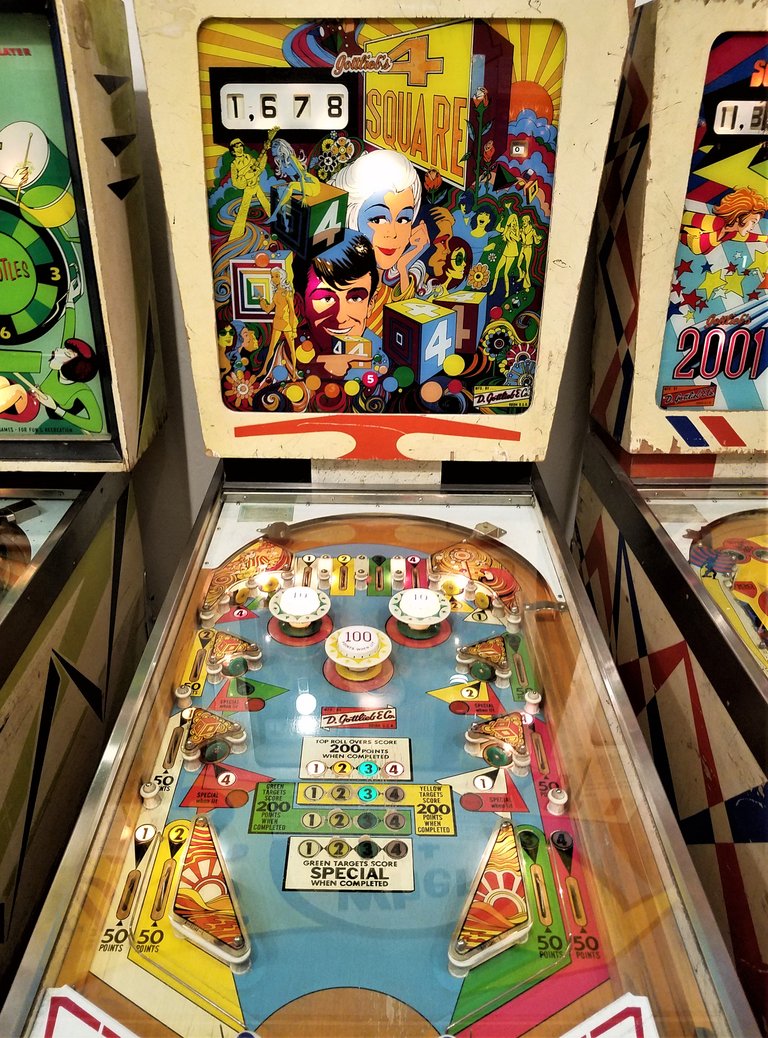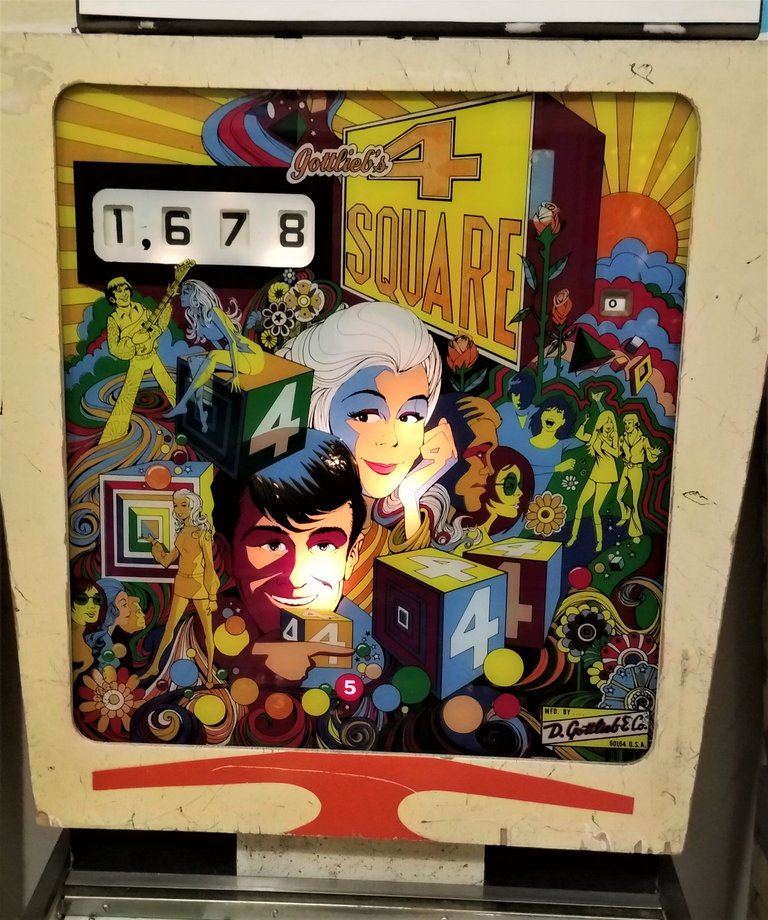 King of Diamonds (1967)
Yes, it's a card-themed game. What else is new? That must be the most popular theme for older pinball machines. Gottlieb did well here and KoD ranks with the other selections in this post as a Top 100-ranked pinball game of all time.
The lighted lanes and bulbs at the top, the jeweled posts, and the attractive centerpiece featuring a card hand are all quite attractive. I love having the specials lit in color. There is plenty of intrigue going on as the play unfolds. The King of D's is definitely a rogue and made me think of the Jack of Diamonds song by Bob Dylan a few years later. A little space wasted at the bottom of the board, but all in all, a great design is the king.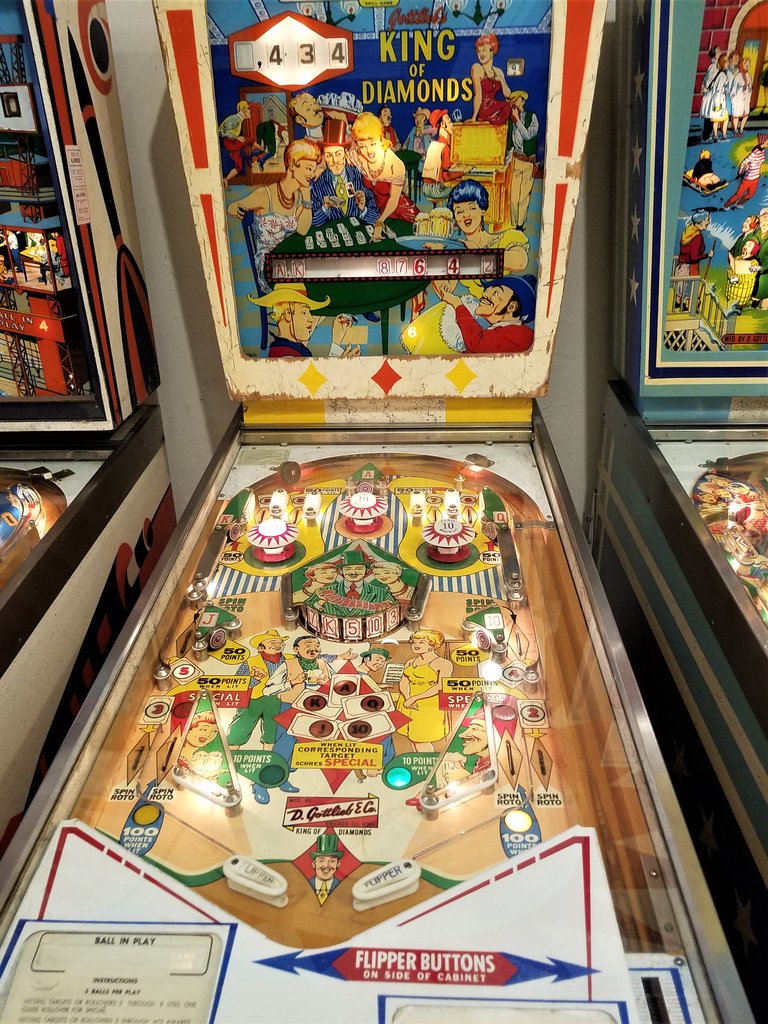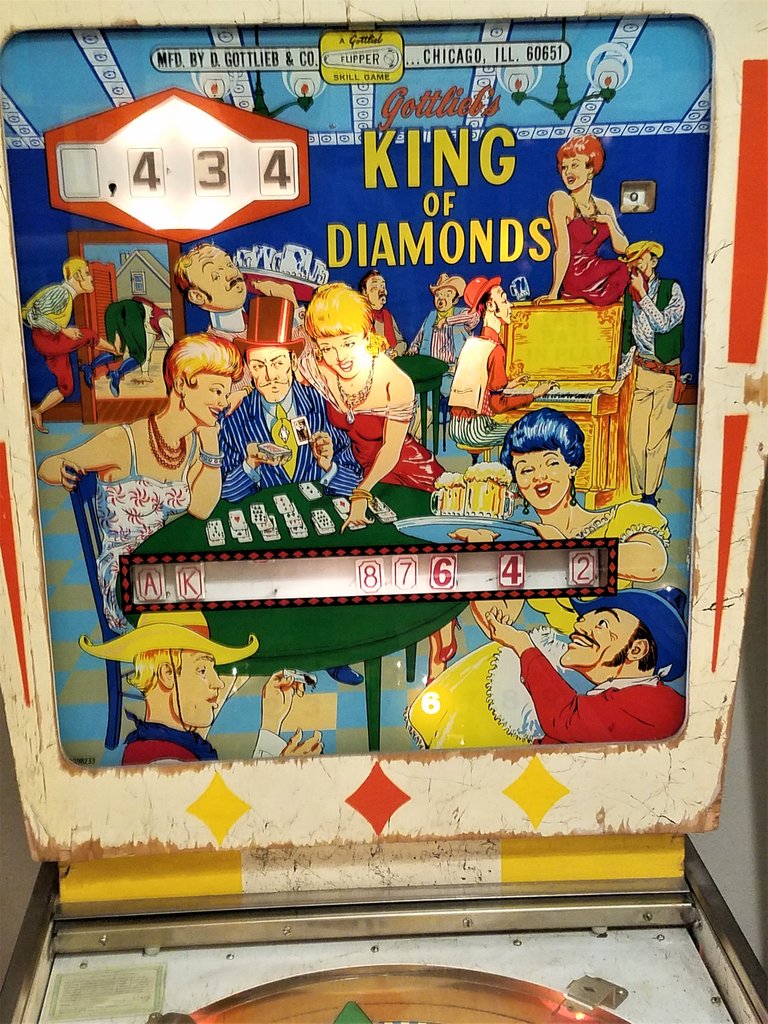 Sing Along (1967)
I think the layout of this one is really attractive. It is music themed and has some stellar artwork to go along. Some play field surfaces just feel good and this one does. That is, until you start playing it.
The play on Sing Along is a bit disappointing. First, there are loud bells ringing and the thing makes a real racket as you play. Not much fun. It's also one of those games where you seem to lose balls too often to the gaping gaps on the sides. I do like the sequence of holes, but it's not enough to add much to the big bulbs, which are really about all this game has going for it. It's not as fun to play as I would have hoped, but still an enjoyable, classic pinball game.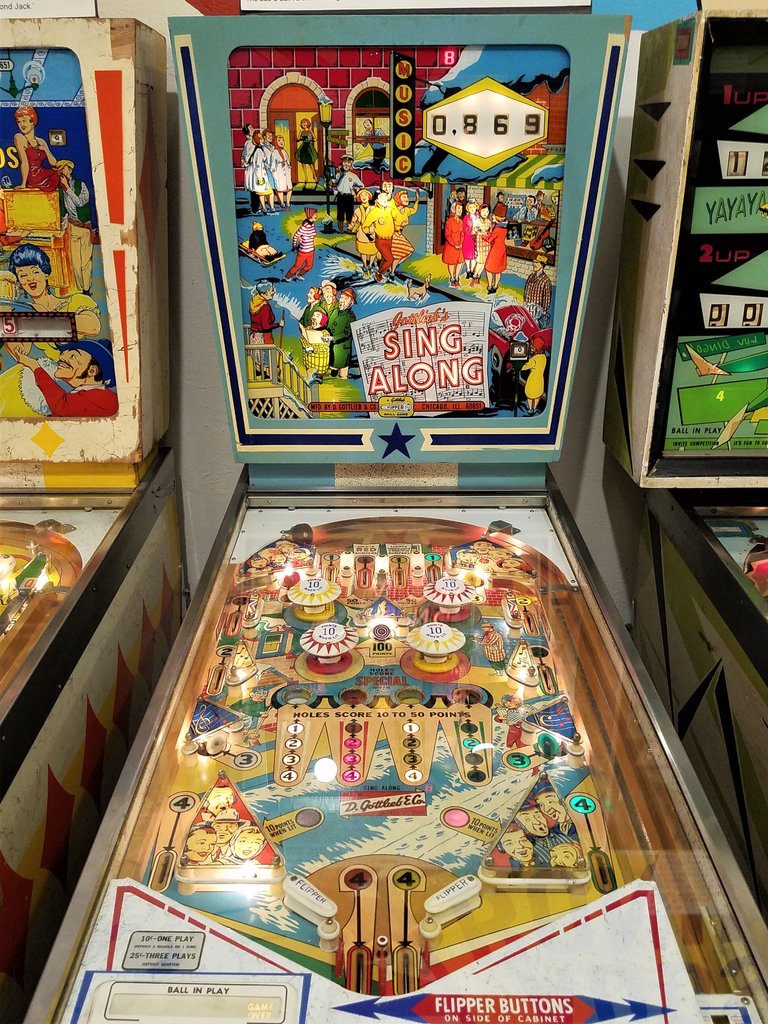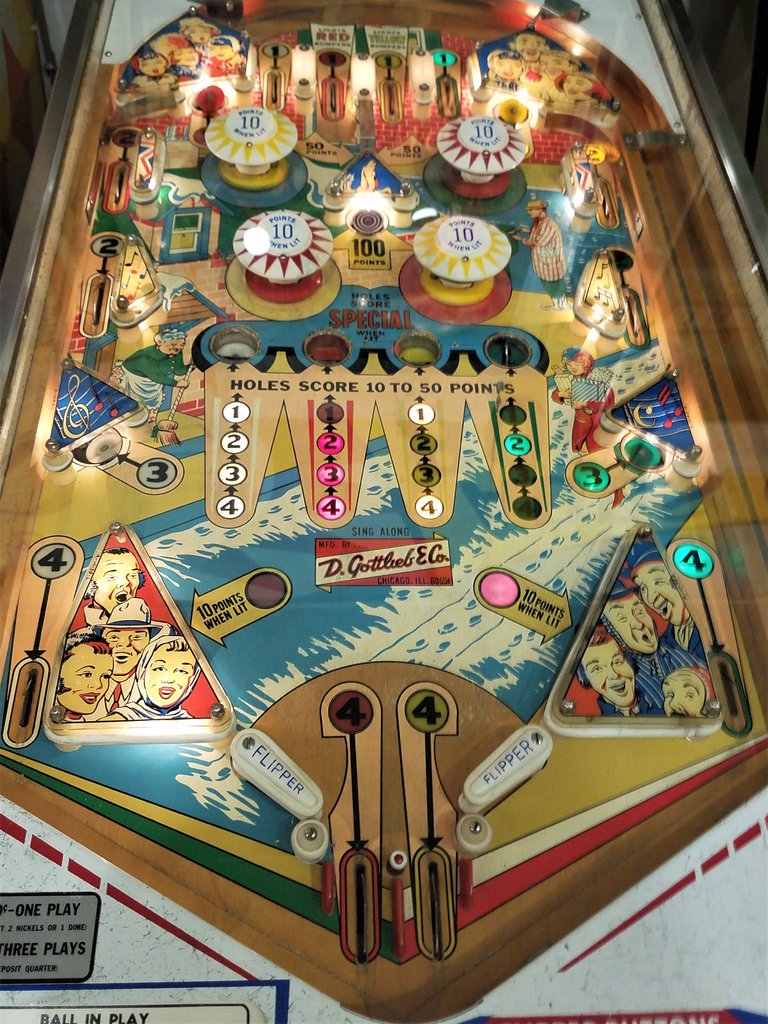 Find a Pinball Machine
If you'd like to play pinball, here is a map of current public locations. There aren't many of these games left, but it's a much different experience than playing on a computer or phone. And if you can find a good selection of old games somewhere, perhaps you'll look for one of my favorites.
https://pinside.com/pinball/map/mapbox?f=locations#1.71/35.2/-66.4/0/26
Here's a map showing North American locations:
https://pinballmap.com/
This site is a good general resource for pinball games; I consulted it as I was writing the above reviews.
https://pinside.com/pinball/machine
References:
Silverball Museum (NJ and FL)
Miami Pinball Museum
Pacific Pinball Museum
Pinballbayarea.com
Roanoke Pinball Museum
Pinside.com (with some great info on each of the games)
http://www.ipdb.org/ (which also has feature pages for each game)
https://pinside.com/pinball/machine/apollo
Photos by the author or as credited in the text.