For several decades, nuclear energy was the topic scientists were too shy to talk about and politicians too aware of its sensitive nature. In political science terms, nuclear energy was "outside the Overton window". Yet lately public perception started to evolve as a consequence of several factors, the first and most important being the need to effectively fight climate change.
But the fight against climate change would not have been sufficient as a strong anti-nuclear lobby long maintained that renewable energies (solar and wind) were enough and there was no need for nuclear. Lately, with the surge in the price of gas, coal and oil leading to sustained increases in the price of energy in general and electricity in particular, the inanity of those claims was laid bare: the numbers simply cannot add up, renewables will not be able to take over from fossil fuels fast enough for humanity to avoid a climate catastrophe ... unless we agree to "degrow", i.e. to "revise down" our standards of living to a 18th century, pre-industrial level ... a political non-starter ...
Therefore, here I propose my "Climate change trilemma"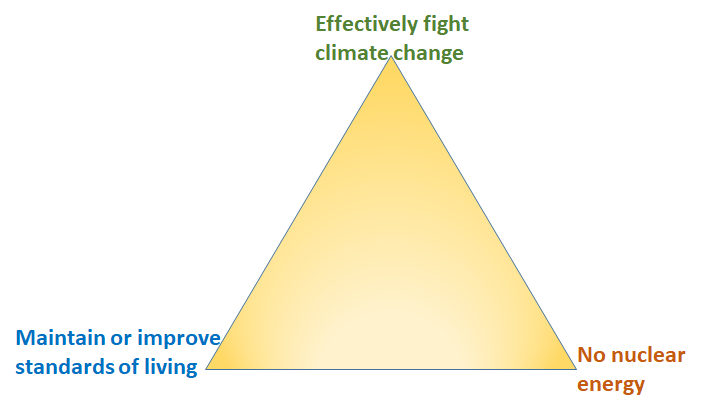 I posit policy makers can choose any two of the above, but not all three:
You can effectively fight climate change WITH no nuclear energy ... provided you agree to decreasing standards of living ... or
You can maintain or improve standards of living WITH no nuclear energy ... provided you give up on effectively fighting climate change... or
You can effectively fight climate change WHILE maintaing or improving standards of living ... but then you need nuclear energy
Corollary
The most significant policy decision Europe can make is to overturn the hapless 2011 Merkel's decision and turn Germany's nuclear reactors back on.