Kevian21 here
zup people im here today to share my rising star first ever rapper.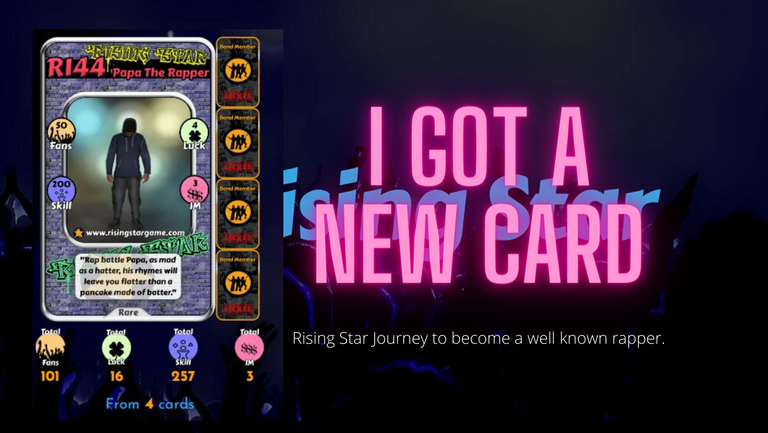 I like rap music, i really do and for that reason i will aim to become a famous rapper in rising star.
so far i've saved up to 8k starbits in 5 days of playing that was after i bought 2 cards from my previous post here.
my strategy was simple and with a little bit of luck i got some pizza for energy refill.
my technique for farming starbits:
Illegal busking - when below 30% energy
Open Mic night - When 31 - 50% energy
Mid Week Support Slot - 50% - 64% energy
Busking With A License - 65% and above energy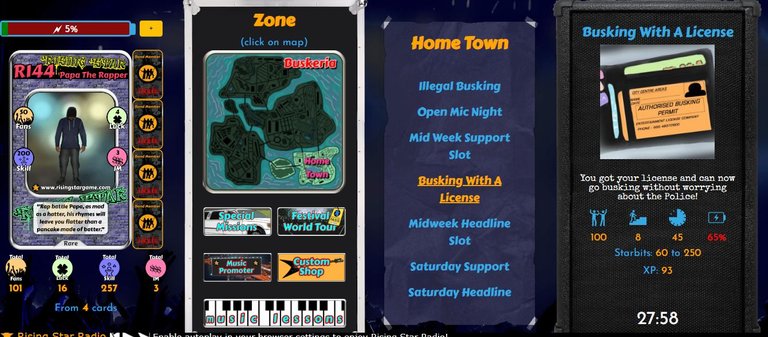 this game is free so its cool I registered through my splinterlands account and bam! 0$ investment I'm in.
also im pumping up my skills as of late i dont know if this is the case but i noticed that as my skills went up the starbits im getting are always from the better end of the rng.
ex: starbits : 60 to 250
i always get like the 70% and above i dont know if that was the case or not, but i feel like that was.
i was gonna spend more time in this game so might aswell makeit a long term so imma pump my skills some more up to 1k is my goal for now i think.
as of late im trying to figure out to save up for cards via doing mission or is it better to just go to the music lesson with the 40% energy cost.
from my experience i made up 8k starbits in 3 days from my luck so far.
any suggestion is greatly appreciated.
thank you for reading my post and have a good day!

Disclaimer: All the images used in this post were taken from the game's website https://www.risingstargame.com/