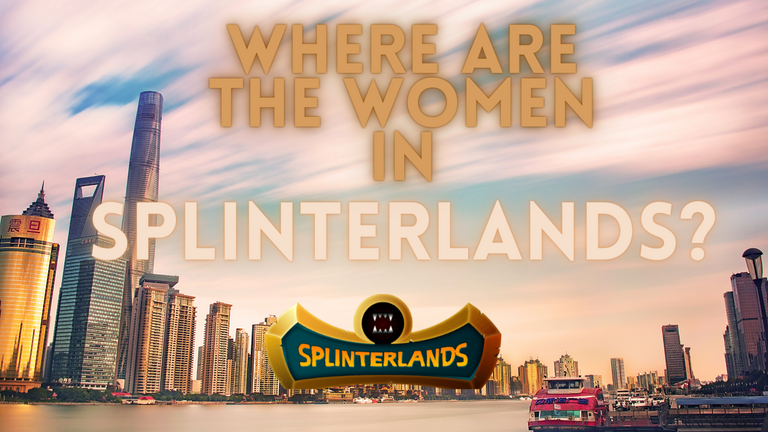 Where Are the Women?
I'm continually shocked by the lack of women in this game. Yes, we have more women playing than we have in the past, but if you watched the Town Hall today, it's always striking to me that it's a bunch of guys making this game happen but we don't see women's involvement. The women roles are often the more of a "community" gathering sort of role. Or look at the great YTers like @clove71 or what about the engagement @marianaemilia brings to the table with her writing and being a top player? I would really love to hear their insight as a guest on Splinterlands' Town Hall someday.

What Women Want
Trust me, I'm not a raging feminist and rarely do I even like to make the distinction about male vs. female because I just don't like to get into that whole political game-play; however, if you want more players in Splinterlands, I think you're missing a big group of people when you don't get some input on what women want from this game.
Certainly it depends on their state in life as to what women are valuing at the moment. However, I think most women just want a place to relax, not think about all the million stresses or events they have going on in their life and play a couple rounds of Splinterlands. I know I've enjoyed having my breakfast and playing a bit of cards in the morning before I get my day started. Now, if I had a place where I can chat then perhaps I would sit around, make some friends and find myself forming a Woman's Guild or something which would develop the women's group even more.
I would just love to hear what others think about bringing in some more women into this game. Is that even a focus? Perhaps this game just isn't meant to be designed for women? What do you all think? I would really like your thoughts about this, @sjarvie5 and any other women out there who would like to share. What do women want from Splinterlands?
If you enjoyed my post and want to try Splinterlands, please use my referral link: https://splinterlands.com?ref=rosiew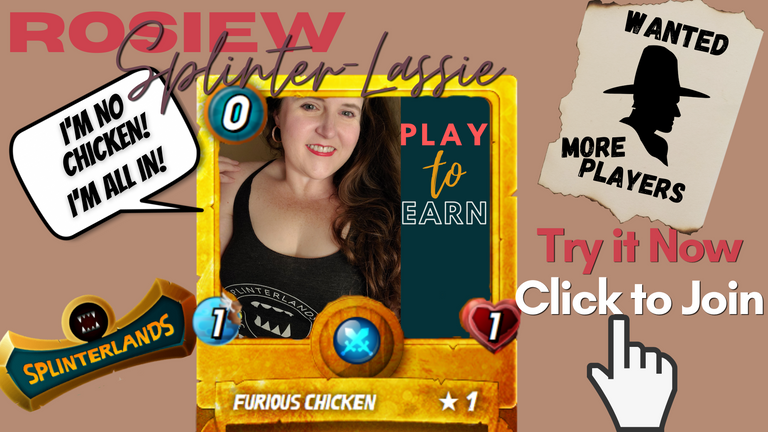 Please remember my post is not meant to be financial advice and is just my opinion.
Follow These Folks:
Splinterlands: https://peakd.com/@splinterlands/
PeakMonsters: https://peakd.com/@peakmonsters/
Monster-Curator: https://peakd.com/@monster-curator/
1Up (#OneUp): https://www.1up.zone/
Here are some great links to join as well!
Splinterlands Discord: https://discord.gg/Tw7KjNsQGs
PeakD Discord (PeakMonsters as well): https://discord.gg/7mQmzZeugE
Monster Market Discord (Monster Curator): https://discord.gg/DR3J9rfRFV
NFT Studios Discord (aka 1UP Discord #OneUp): https://discord.gg/4VYBcNuVQd