In my last post, I introduced you all to WhaleVault, the Secure Graphene Cross-Chain Key Store Extension 🐳. This time around, I'll be introducing SHAREBITS. 🎁
SHAREBITS, in conjunction with WhaleVault, is the first cross-chain, graphene-centric Social Gifting and Micro-Tasking Platform that empowers you to safely, securely, and seamlessly send tokenized gifts to users over more than TWO DOZEN Social Media Platforms, including nearly a dozen graphene-based blockchains!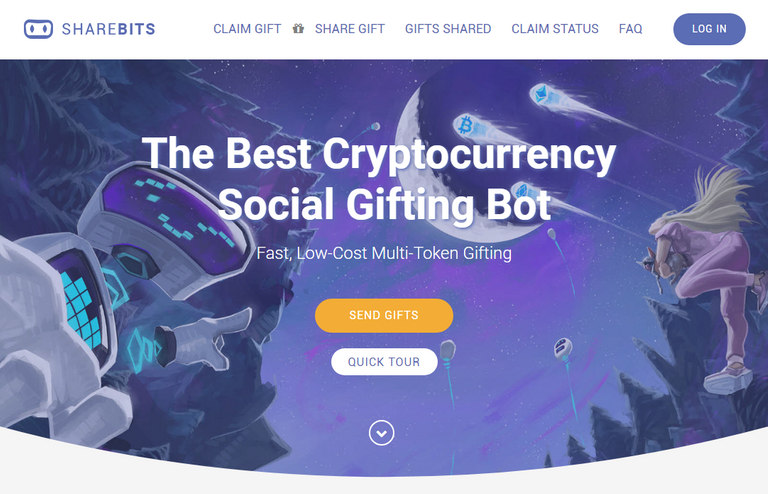 Gifts issued through ShareBits can encompass entire social campaigns, even requiring additional actions, such as a post or a tweet, to be performed before social gifts can be claimed and redeemed.
As an example, with ShareBits you can easily send 1,000 twitter users a gift of STEEM if they tweet a specific phrase. If you'd like, you can even gift a STEEM UPVOTE! To claim the gift, recipients would have to verify both their twitter and STEEM accounts, along with any other data required to fulfill the gift, such as the URL of the tweet, and the URL of the post to UPVOTE.
😲 Through ShareBits, anyone can now offer SMT-like Community Tokens simply by issuing a gift link! 😲
Finally, as validated gift claims appear on your CLAIM STATUS dashboard, with just a few extra clicks, you can pay out all outstanding gift claims in a single bulk transaction, all within a matter of seconds!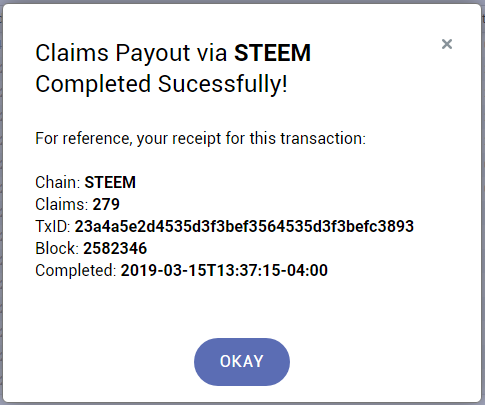 Using these streamlined tools, you're now able to much more easily attract new followers to all your various personal causes, campaigns, fan pages, or well, pretty much any other project you'd like to promote! 😊
Scripting

warning: only execute scripts you fully trust and understand!
Taking this a step further, through scripting you can customize ShareBits to your heart's content, and create an ideal solution specifically tailored to your particular use-case. Here's an example of a simple script that adjusts gift payouts with a bonus reward based on social reach: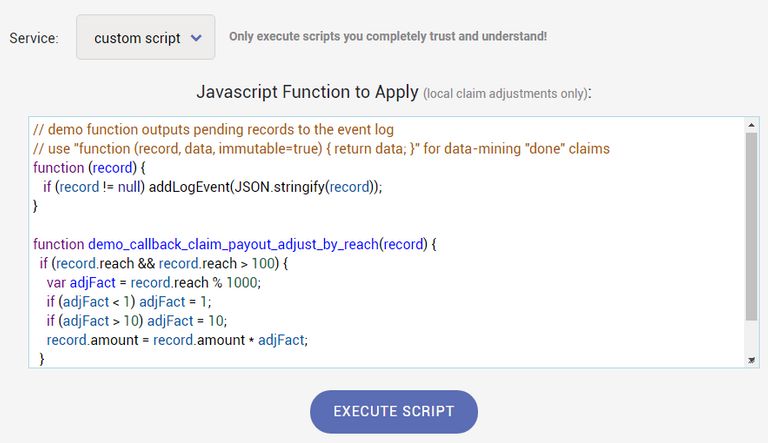 in this script, the payout multiple increases with every additional 1000 followers, up to a maximum of 10x the original gift amount
Simple scripts such as the one above can be executed directly from the ShareBits front-end, from the CLAIM STATUS -> actions -> Verify pane.
Services Supported by ShareBits
It certainly was not an easy feat to accomplish, but I must say that I'm rather proud of all the services that ShareBits currently supports...
Graphene blockchains supported
Steem-Based Sites

STEEM
WhaleShares
Smoke
Golos
Scorum
Vice
Social identities supported
Text-Chat / Notifications

Discord (send/receive gifts via WhaleBoT)
Telegram (send/receive gifts via wfWhaleBoT)
Blogging / Micro-Blogging / Social

Twitter
Facebook
Instagram
Medium
Minds
Gab / Dissenter
Gravatar / WordPress
Forums / Threads

Reddit
BitcoinTalk
BitsharesTalk
Artistic Hubs

ArtStation
DeviantArt
pixabay
Unsplash
How do I Start?!
First, you'll want to install the WhaleVault Browser Extension if you have yet to do so.
Next, you'll want to log into ShareBits. For this demonstration, I added the STEEM guest123 account to my WhaleVault.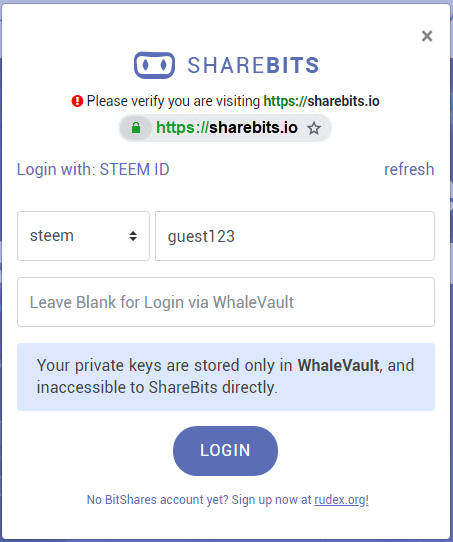 If you changed your private keys, "refresh" requests an update of your public keys.
After clicking LOGIN, you should receive a WhaleVault popup asking to authorize the login transaction, along with the option to automatically accept this type of transaction in the future. You'll be offered this option for each type of transaction that requests a signature by either your Posting Key or Memo Key.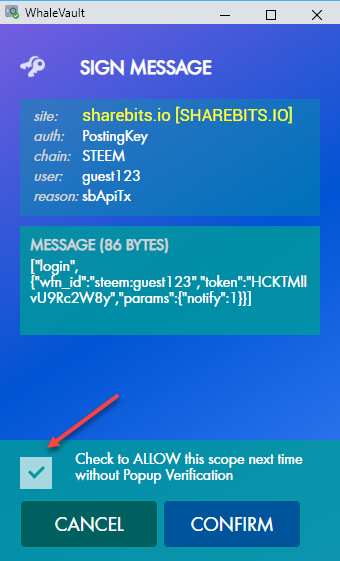 WhaleVault transactions signed with an Active Key always require Popup Verification!
Setting up Additional Identities and Notifications
Once you're logged in, you may also want to add additional identities to your account from the "Settings" screen, including your discord and telegram ID, so that you can send gifts directly from WhaleBoT, and receive event notifications as well.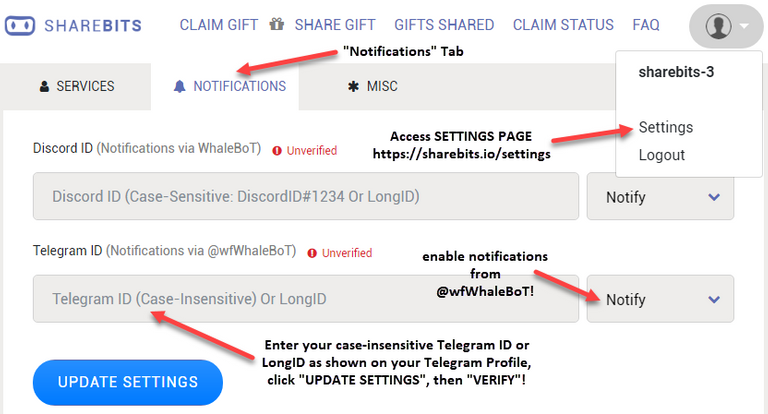 Note: any chain account linked via "Settings" can also be used to log into the same ShareBits account.
Once verified, gifts can be issued directly from Discord and Telegram, either via PM, or from any group or server that has invited WhaleBoT. Here's a quick example of how to issue a gift to another Discord user via Private Message to WhaleBoT:

Gifting format for Discord
whalebot gift @discord_id#1234 bitshares 1.234 bts memo
Gifting format for Telegram
/gift @telegram_id steem 1.50 sbd memo
Access ShareBits from any discord server or telegram group that has invited WhaleBoT!
Issuing Gifts from ShareBits
Next, let's try issuing a more "advanced" gift. In this case, we'll create a gift that can be redeemed by anyone for a 100% STEEM UPVOTE from the guest123 account. If we wanted to allow up to 10 people to claim this same UPVOTE gift, we would set the "Total Claims" field on the ADVANCED tab to 10.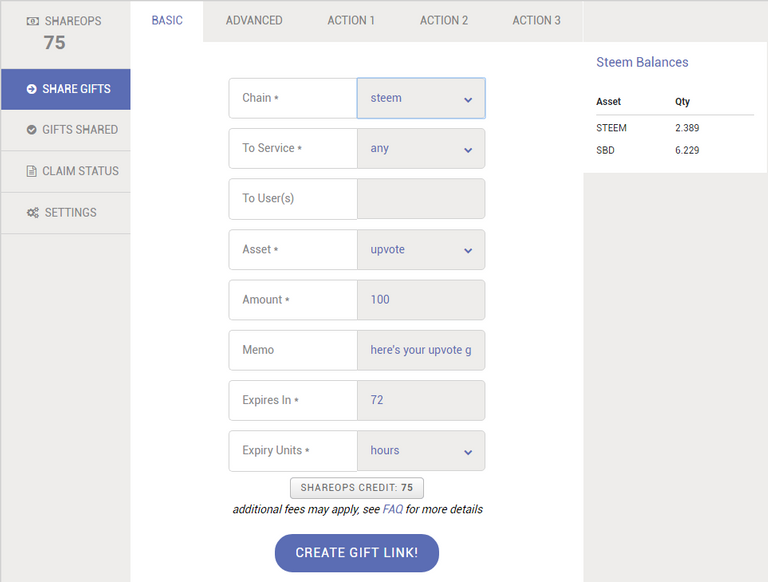 If we wanted only twitter users to claim this gift, we would set the "To Service" field to "twitter" (though you'll first have to link your own twitter account for this option to appear). If we wanted to direct this particular gift to a certain group of twitter users, those users can be specifically listed in the "To User(s)" field.
After clicking "CREATE GIFT LINK!", not withstanding some data entry error, you should see the following popup message that provides you a new gift link that you can share with those you are seeking to reward.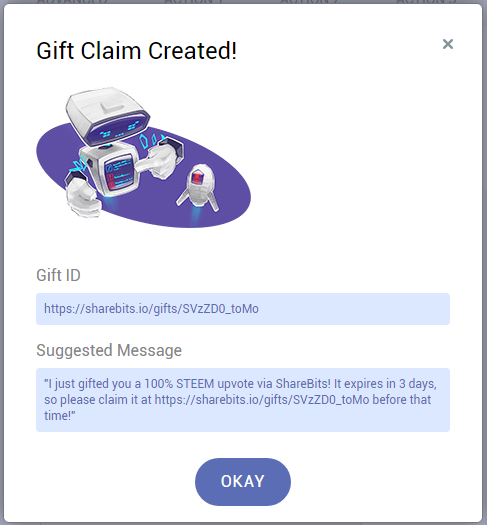 If you plan to share the link over an insecure channel such as a comment on a post, you'll want to "lock" the gift so that it can only be redeemed by that particular user by setting the "To Service" and "To User(s)" fields. If locked, gift links can be safely shared by any means you choose, from a post, comment, private message, tweet, or email. Only those that have the appropriate set of credentials will be able to successfully redeem the gift.
Gifts issued directly from discord or telegram are also locked "To User".
Once recipients are successfully validated, they will be greeted by the following window requesting the URL upon which to apply their post reward.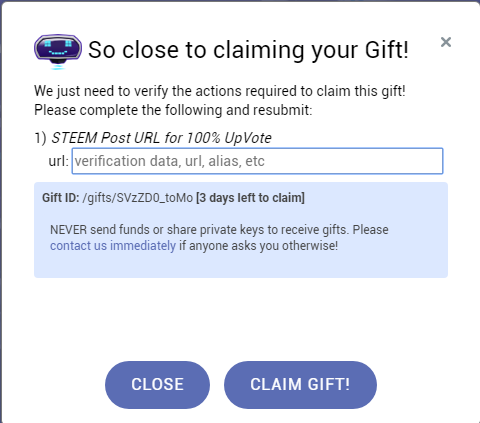 As claims trickle in, the issuer can complete the payout (or in this case, fulfill gifted upvotes) from the CLAIM STATUS page, by selecting either "actions -> Payout ALL" to payout all outstanding claims, or by selecting "actions -> Payout" to selectively complete the set of claims you highlight.
Cost
To reduce spam and maintain a sustainable service, each ShareBits operation generally costs gift issuers 1 SHAREOPS, which equates to approximately 1 cent U.S. each. Gift recipients are not charged.
SHAREOPS can be pre-purchased from your linked accounts in the graphene-based crypto of your choice from the CLAIM STATUS page, by clicking the "SHAREOPS CREDIT" button on the SHARE GIFTS page, or by clicking the SHAREOPS credit display on the sidebar .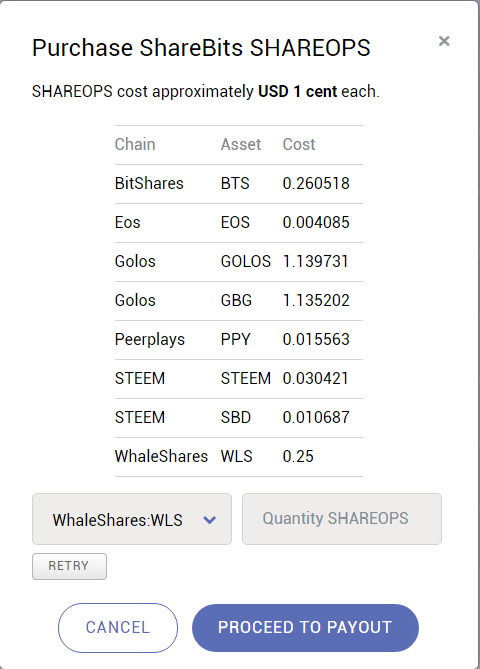 upon adding identities, among other activities, you'll also receive more complimentary SHAREOPS!
SHAREOPS can also be acquired on the fly, "pay as you go". In this case, any outstanding SHAREOPS balances will be included in the next payout, paid for in the chain's base currency (ie. STEEM, BTS, WLS, EOS, etc).
Keep in mind that some chains such as BitShares also charge additional transfer fees. However, the total cost of all transfers will be presented to you by ShareBits upon payout, for your explicit consideration and acceptance. For more detail on the current list of fees, please refer to the ShareBits FAQ page.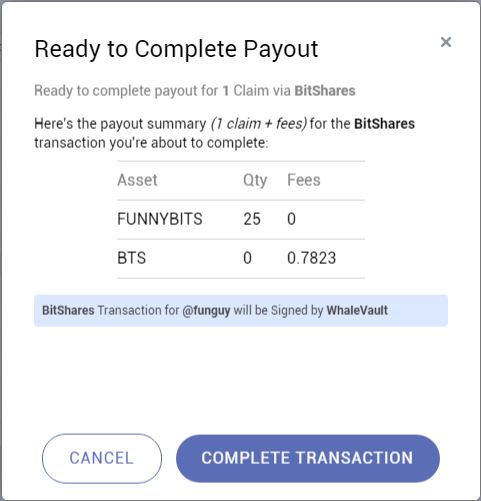 In Closing...
It's easy for me to get carried away with showing off all of ShareBits' features. However, as I'm sure this is likely quite overwhelming as is, it's probably best I wrap it up here, as this overview should be more than enough to get you all started. In future posts, I'll expand even further on the new possibilities now available to all of us through SHAREBITS!
And for those that have stuck with me this far and managed to reach the end of the post, I'd like to offer you my first little "THANK YOU"!
FOR THE FIRST ONE-HUNDRED 100 STEEM USERS who successfully claim the following ShareBits gift over the next two weeks, you'll receive a 100% UPVOTE from @alexpmorris, rewarded to the STEEM post of your choice, courtesy of SHAREBITS!
I just gifted up to 100 STEEM users a 100% STEEM upvote via ShareBits! It expires in 14 days, so please claim it at https://sharebits.io/gifts/RVZNk4PxBtw before that time!
note: rewards may be throttled to allow MANA to recover!
Thanks again, and ENJOY! 😃
ShareBits Discord Server: http://bit.ly/discord-sharebits
ShareBits Telegram Group: https://t.me/Sharebitsio
As always, I appreciate your upvote, your follow and all your comments!