Steem Basic Income
Steem Basic Income is a social experiment to bring a voluntary self & crowd-funded basic income to as many Steemians as possible. Members join by sponsoring others into the program. Steem Basic Income is delivered through providing regular upvotes to member content.
Upvoting Bonuses
Each time we receive author rewards for a post or comment by any official SBI account, we check the value that each member added to the reward. That value will be added to the member's balance with a multiplier of 1.10x.
For example, if you upvote us by $0.10, then $0.11 would be added to your balance when the post pays out. In most cases, this means that a vote for SBI is more profitable than a self-vote. You are rewarded directly for your contribution to the long-term sustainability of the program! You do still have to be enrolled in Steem Basic Income to receive this benefit.
This is a great way to boost the voting power for program accounts. If your program (or account) does any self-voting to build a permanent SP base, please consider upvoting @steembasicincome each day instead.
We aim to post only once per day from the main account, with up to two more posts total from our other accounts. If you are trying to not miss any updates you should set your auto-voters at a 2 per day limit due to time zone differences.
(Official SBI Accounts: @steembasicincome, @sbi2, @sbi3, @sbi4, @sbi5, @sbi6, @sbi7, @sbi8, @sbi9, @sbi10, @sbi-booster.)
Here is a step-by-step guide for how to use SteemRewarding to deliver your VP overflow to these accounts: https://steempeak.com/rewarding/@holger80/6whidb-current-state-of-steemrewarding-com
SCOT
We are consolidating all of our Scot tokens into a trail account to optimize their voting power independent of which account your upvotes come from. You will start noticing upvotes from
@sbi-tokens
in addition to your regular upvotes.
SCOT tag usage
We believe that staking SCOT tokens across our service accounts delivers additional value to our members, and their communities. Reporting on our token holdings (and including those tags when we do) provides value to those communities.
We can not include every tag on each post, especially now that we have many different SCOT tokens staked and expect to increase over time. We are happy to remove SCOT tags and not use them on any more of our Steem Basic Income updates and upvote reports, if requested by the leaders of those SCOT communities.
Member Responsibility
It is the responsibility of every Steemian to ensure that tags used are appropriate to their content. If you use SCOT tags and they are not relevant to your content, it may sometimes result in upvote removal, if requested by the leaders of the SCOT community you elected to tag. You will not receive restitution for these removed votes.
@sbi7 accounts voted
As each upvote is delivered by our newly automated system, it selects the highest VP account that can deliver the full scheduled upvote value. This visual represents the upvotes that were delivered by
@sbi7
over the last
six
days, and the table shows the actual % weight of each upvote.
In cases where 20% of pending vote balance is greater than the 100% maximum deliverable upvote from all ten voting accounts, the unvoted amount remains in pending upvote balance until eventual upvote delivery.
STU shown are estimated, and may be different than actual STU at post payout. The 100% upvotes are delivered alongside additional upvotes from our other voting accounts.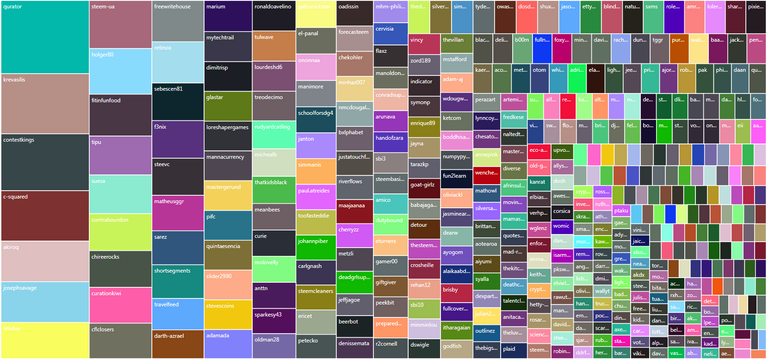 (@steemsql data visualized in Power BI by @josephsavage)
| author | vote_weight | STU_estimate | permlink |
| --- | --- | --- | --- |
| @qurator | 10000 | 0.055 | qurator-s-photo-friday-or-photography-competition-87 |
| @qurator | 10000 | 0.055 | qurator-s-shining-qurite-59-or-anouk-nox |
| @qurator | 10000 | 0.055 | qurator-s-tasty-tuesday-86 |
| @qurator | 10000 | 0.055 | qurator-s-toss-up-thursday-45-free-for-all-promotion-competition |
| @qurator | 10000 | 0.055 | the-daily-qurator-678 |
| @qurator | 10000 | 0.055 | the-daily-qurator-679 |
| @qurator | 10000 | 0.055 | the-daily-qurator-680 |
| @qurator | 10000 | 0.055 | the-daily-qurator-681 |
| @qurator | 10000 | 0.055 | the-daily-qurator-682 |
| @krevasilis | 9899 | 0.055 | facebook-libra-help-or-problem |
| @krevasilis | 9743 | 0.054 | elephone-u2-6-26-inch-dull-screen-display-pop-up-camera-128gb |
| @krevasilis | 9428 | 0.052 | a-night-story-at-beach-side-2019-08-03-11-00-26 |
| @krevasilis | 9364 | 0.052 | no-1-s10-sports-business-smart-watch |
| @krevasilis | 8979 | 0.05 | oppo-k3-design-to-perform-smartphone |
| @krevasilis | 8931 | 0.05 | a-nice-wedding-table |
| @krevasilis | 8803 | 0.049 | happy-morning |
| @krevasilis | 8697 | 0.048 | nikkor-z-85mm-f-1-8-s-fast-medium-telephoto-prime-lens-ideal-for-portraits |
| @contestkings | 10000 | 0.055 | contest-kings-splinterlands-guild |
| @contestkings | 10000 | 0.055 | contest-kings-splinterlands-guild-structure-summary |
| @contestkings | 10000 | 0.055 | contest-kings-verified-1st-august-2019 |
| @contestkings | 10000 | 0.055 | contest-kings-verified-2nd-august-2019 |
| @contestkings | 10000 | 0.055 | contest-kings-verified-30th-july-2019 |
| @contestkings | 10000 | 0.055 | contest-kings-verified-31st-july-2019 |
| @contestkings | 10000 | 0.055 | contest-kings-verified-3rd-august-2019 |
| @c-squared | 7016 | 0.039 | 20190730t212425861z |
| @c-squared | 6796 | 0.038 | 20190802t165808807z |
| @c-squared | 6743 | 0.037 | 20190730t165753585z |
| @c-squared | 6689 | 0.037 | 20190803t183918217z |
| @c-squared | 6582 | 0.036 | 20190803t165521035z |
| @c-squared | 6094 | 0.034 | 20190730t143416806z |
| @c-squared | 5852 | 0.032 | 20190729t231334787z |
| @c-squared | 5836 | 0.032 | 20190803t055450780z |
| @c-squared | 5370 | 0.03 | 20190801t094913770z |
| @c-squared | 4873 | 0.027 | 20190731t091033767z |
| @akiroq | 10000 | 0.055 | 3snva1-intro-to-quantum-computing |
| @akiroq | 10000 | 0.055 | 5lvizp-sharing-photos-from-my-walk |
| @akiroq | 10000 | 0.055 | 6lmjer-thoughts-on-reality-and-higher-consciousness |
| @akiroq | 10000 | 0.055 | 6lzfp-the-supporthonesty-challenge |
| @akiroq | 10000 | 0.055 | 6xbsjz-today-s-walk |
| @josephsavage | 10000 | 0.055 | 2zaxqw-trading-journal-day-10 |
| @josephsavage | 10000 | 0.055 | trading-journal-day-10 |
| @josephsavage | 10000 | 0.055 | trading-journal-day-12 |
| @josephsavage | 10000 | 0.055 | trading-journal-day-13 |
| @josephsavage | 10000 | 0.055 | trading-journal-day-9 |
| @fitinfun | 9997 | 0.055 | freewrite-day-647-ashtrays-all-over-the-house |
| @fitinfun | 9619 | 0.053 | freewrite-day-651-fake-video |
| @fitinfun | 9182 | 0.051 | ntopaz--fitinfun--1064003528--ntopaz-palnet-neoxian-health-weightloss--2019-08-03-21-14-25--artwork--none |
| @fitinfun | 8317 | 0.046 | ntopaz--fitinfun--965978598--ntopaz-thailand-palnet-neoxian-fitinfun--2019-07-31-13-52-32--artwork--none |
| @fitinfun | 7409 | 0.041 | freewrite-day-650-creature |
| @steem-ua | 7166 | 0.04 | re-actifit-axeman-20190730t204651739z-20190802t143128z |
| @steem-ua | 6699 | 0.037 | re-coinbase-earn-did-you-get-your-free-dai-and-eos-crypto-yet-value-usd70-20190730t033232z |
| @steem-ua | 6198 | 0.034 | re-actifit-lightsplasher-20190728t052057491z-20190802t143251z |
| @steem-ua | 5793 | 0.032 | re-epicdice-epicdice-20190803t111212z |
| @steem-ua | 5610 | 0.031 | re-actifit-and-blocktrades-steemfest-4-contest-status-update-5-20190803t113756z |
| @steem-ua | 5269 | 0.029 | re-the-daily-qurator-677-20190731t025947z |
| @steem-ua | 5163 | 0.029 | re-steemrewarding-com-voting-delay-has-been-strongly-reduced-20190731t030007z |
| @holger80 | 10000 | 0.055 | 462euh-scotbot-huge-speed-boost |
| @holger80 | 10000 | 0.055 | scotbot-huge-speed-boost |
| @holger80 | 10000 | 0.055 | steemrewarding-com-voting-delay-has-been-strongly-reduced |
| @holger80 | 10000 | 0.055 | update-for-beem-handling-could-not-find-api-exceptions-and-other-node-failures |
| @fitinfunfood | 8558 | 0.047 | what-does-today-mean-to-me-my-entry-for-ccc-contest-2-07 |
| @fitinfunfood | 7920 | 0.044 | the-death-of-haggen-s-grocery-store-coronado-california |
| @fitinfunfood | 7693 | 0.043 | tasteem-5fdd6d |
| @fitinfunfood | 6520 | 0.036 | tasteem-3dfffc |
| @fitinfunfood | 5789 | 0.032 | my-thursday-favorites-2-08-contest-entry-my-favorite-sports-to-watch |
| @tipu | 9979 | 0.055 | re-c0ff33a-re-dswigle-sublimely-beautiful-sunday-walking-chincoteague-beach-20190801t193121028z-20190801t200752 |
| @tipu | 9013 | 0.05 | re-reviewing-review-hunt-my-thoughts-so-far-20190801t220223 |
| @tipu | 7820 | 0.043 | re-woven-shoes-made-with-love-20190801t223911 |
| @tipu | 7171 | 0.04 | re-spud-day-4-spud4-powered-up-1193-steem-20190801t225951 |
| @suesa | 9146 | 0.051 | re-reggaemuffin-pvm5br |
| @suesa | 8637 | 0.048 | re-diefvandieven-pvjp2z |
| @suesa | 8590 | 0.048 | re-hatoto-pvidvm |
| @suesa | 7450 | 0.041 | re-googlyeyes-pvi9lp |
| @contrabourdon | 9227 | 0.051 | easy-sbi-contest-26-qqmgbgfriq |
| @contrabourdon | 9188 | 0.051 | the-winner-of-easy-sbi-contest-22-nb813a45gnf |
| @contrabourdon | 7752 | 0.043 | flute-piece-william-hine-or-secrets-of-organ-playing-contest-week-31 |
| @contrabourdon | 6236 | 0.035 | easy-sbi-contest-22-y3pnwpnuri |
| @chireerocks | 9365 | 0.052 | actifit-chireerocks-20190730t182913864z |
| @chireerocks | 7913 | 0.044 | cpzmaxqk |
| @chireerocks | 7471 | 0.041 | actifit-chireerocks-20190731t181624846z |
| @chireerocks | 7254 | 0.04 | actifit-chireerocks-20190803t182929488z |
| @curationkiwi | 9923 | 0.055 | re-eos-dynasty-is-officially-freetoplay-now-rd798fdh |
| @curationkiwi | 8939 | 0.05 | re-opening-champion-season-reward-40-neoxag-power-contest-7-winner-announced-of-the-great-neoxian-contest-3 |
| @curationkiwi | 6682 | 0.037 | re-ezhednevnyi-kvest-v-steemmonsters-2-avgusta |
| @curationkiwi | 5854 | 0.032 | re-la-crisis-cinetica-carlos-cruz-diez-memorias-de-un-no-emigrante |
| @cflclosers | 6998 | 0.039 | fan-who-hit-96-mph-at-rockies-speed-pitch-challenge-signs-contract-with-athletics |
| @cflclosers | 6547 | 0.036 | actifit-cflclosers-20190730t055014330z |
| @cflclosers | 6488 | 0.036 | the-trail-is-over-3-4-million-steem-power |
| @cflclosers | 6419 | 0.036 | actifit-cflclosers-20190801t183718070z |
| @cflclosers | 4465 | 0.025 | actifit-cflclosers-20190803t063806434z |
| @freewritehouse | 10000 | 0.055 | freewrite-house-favorites-from-your-recommendations-week-7-30-2019 |
| @freewritehouse | 10000 | 0.055 | making-a-positive-impact-on-our-blockchain-mariannewest |
| @freewritehouse | 10000 | 0.055 | week-7-30-2019-win-a-membership-in-steem-basic-income-tell-us-about-a-favorite-freewrite |
| @retinox | 10000 | 0.055 | 63-rounds-of-steembasicincome-upvote-game-you-could-be-on-our-list-of-winners |
| @retinox | 10000 | 0.055 | my-5-cents |
| @retinox | 10000 | 0.055 | upvote-game-round-65-the-winner-takes-4-shares-for-steem-basic-income-upvotes-with-every-post-reglas-traducido-en |
| @sebescen81 | 6674 | 0.037 | re-actifit-actifit-devil-20190730t213535361z-20190730t214904z |
| @sebescen81 | 5876 | 0.033 | re-20190730t000002006z-post-20190730t001145z |
| @sebescen81 | 5278 | 0.029 | re-7kzglx-20190801t064005z |
| @sebescen81 | 5168 | 0.029 | re-day-649-5-minute-freewrite-wednesday-prompt-opens-a-lot-of-doors-20190801t140028z |
| @sebescen81 | 4345 | 0.024 | re-cx7j1j2yfg-20190731t111225z |
| @f3nix | 8048 | 0.045 | pvijnc |
| @f3nix | 6838 | 0.038 | pvlyzi |
| @f3nix | 6518 | 0.036 | pvi1do |
| @f3nix | 5871 | 0.033 | pvi1a3 |
| @steevc | 9795 | 0.054 | xhst-activity-1564595825 |
| @steevc | 9703 | 0.054 | follow-friday-third-steemiversary |
| @steevc | 7500 | 0.042 | xhst-activity-1564745070 |
| @matheusggr | 9513 | 0.053 | cblol-entre-os-playoffs-e-a-segunda-divisao |
| @matheusggr | 8273 | 0.046 | de-olho-no-pundi-x |
| @matheusggr | 8047 | 0.045 | estreando-no-sports-talk-social |
| @sarez | 9829 | 0.055 | the-flood-may-be-coming-very-soon |
| @sarez | 7916 | 0.044 | lionel-messi-suspended |
| @sarez | 6960 | 0.039 | anniversary-party-my-entry-for-wewrite-1 |
| @shortsegments | 9343 | 0.052 | passive-income-on-steemit-delegation |
| @shortsegments | 8187 | 0.045 | orchid-contest-you-be-the-judge-for-ten-ccc-in-prizes |
| @shortsegments | 7020 | 0.039 | planes-trains-automobiles-and-cryptocurrency |
| @travelfeed | 8040 | 0.045 | america-weekly-round-up-75 |
| @travelfeed | 7983 | 0.044 | travel-advice-weekly-round-up-75 |
| @travelfeed | 6754 | 0.037 | europe-weekly-round-up-75 |
| @darth-azrael | 7747 | 0.043 | vintagephotos-oestreicher-497500-1564774885433 |
| @darth-azrael | 6946 | 0.039 | computistmay-1987-1564604135304 |
| @darth-azrael | 6226 | 0.035 | americanpeoplelink-1984-1564493933068 |
| @marium | 7700 | 0.043 | actifit-marium-20190802t203302519z |
| @marium | 6811 | 0.038 | actifit-marium-20190731t195759283z |
| @marium | 6375 | 0.035 | actifit-marium-20190801t204246212z |
| @mytechtrail | 7586 | 0.042 | daily-flower-ng1vddqn |
| @mytechtrail | 6845 | 0.038 | daily-flower-wgqalbp0 |
| @mytechtrail | 5731 | 0.032 | w0p74khxae9 |
| @dimitrisp | 10000 | 0.055 | now-powered-by-120mbit-ftth-connection |
| @dimitrisp | 10000 | 0.055 | saint-koris-waterfall-9pgd8yjz |
| @glastar | 10000 | 0.055 | 4efrux |
| @glastar | 10000 | 0.055 | 5hzwd4 |
| @loreshapergames | 10000 | 0.055 | reflections-on-hammercalled-playtest-7-27 |
| @loreshapergames | 10000 | 0.055 | the-legacy-of-eight-imperial-culture |
| @mannacurrency | 10000 | 0.055 | hedge-for-humanity-podcast |
| @mannacurrency | 10000 | 0.055 | mannabase-verification-update |
| @mastergerund | 10000 | 0.055 | 3rethx-daily-quest-reward-gold-iii-11-cards |
| @mastergerund | 10000 | 0.055 | 5jsrsh-daily-quest-reward-gold-iii-11-cards |
| @pifc | 10000 | 0.055 | week-68-s-curation-contest-winners-14-sbi-shares-awarded |
| @pifc | 10000 | 0.055 | week-69-pay-it-forward-curation-contest |
| @quintaesencia | 10000 | 0.055 | quintaesenciaabrenuevopuntowi-fiserviciodeaccessowi-fi-4y3fgv670h |
| @quintaesencia | 10000 | 0.055 | reporteproyectomontaaasociados-apoyoalprocesodeconsolidacinlocaldemontaaasociados-heh6s77c1q |
| @slider2990 | 10000 | 0.055 | focus-stock-of-the-day-hsy |
| @slider2990 | 10000 | 0.055 | option-income-xbi-round-2 |
| @stevescoins | 10000 | 0.055 | gym-progess-8-1-19-also-what-keeps-you-from-going |
| @stevescoins | 10000 | 0.055 | spygate-news-declassification-tomorrow-considerations-and-concerns |
| @adamada | 9741 | 0.054 | re-huisa-ntopaz--huisa--520564372--ntopaz-illustration-drawing-tarotcard-toonspoon--2019-08-02-19-38-15--artwork--none-20190802t160320634z |
| @adamada | 9727 | 0.054 | re-curly-xu-ntopaz--curly-xu--1817287186--ntopaz-artzone-art-palnet-creativecoin--2019-08-02-15-00-50--artwork--none-20190802t155702467z |
| @ronaldoavelino | 9666 | 0.054 | 429-moedas-da-olimpiada-de-moscou-parte-7 |
| @ronaldoavelino | 8810 | 0.049 | 428-estados-americanos-parte-5 |
| @tulwave | 9735 | 0.054 | brisket-piled-high-g2ddrtww |
| @tulwave | 8618 | 0.048 | yellowtail-sashimi-ihw4n8nw |
| @lourdeshd6 | 9484 | 0.053 | cercopis-feuug8hdz4 |
| @lourdeshd6 | 8789 | 0.049 | araatejedoradejardngardenweavingspider-sfijbew7f0 |
| @treodecimo | 9165 | 0.051 | actifit-treodecimo-20190802t150905761z |
| @treodecimo | 8889 | 0.049 | actifit-treodecimo-20190730t133119945z |
| @rudyardcatling | 8986 | 0.05 | dtube-on-my-nerves |
| @rudyardcatling | 7912 | 0.044 | idpn33y9qou |
| @michealb | 6147 | 0.034 | pvg1n1 |
| @michealb | 5375 | 0.03 | pvjjyw |
| @michealb | 5181 | 0.029 | pvk8yc |
| @thatkidsblack | 8436 | 0.047 | a-certain-je-ne-sais-quoi-august-1st |
| @thatkidsblack | 8113 | 0.045 | on-a-camera-roll-august-1st |
| @meanbees | 8487 | 0.047 | pvfsuv |
| @meanbees | 7606 | 0.042 | pvgltk |
| @curie | 9208 | 0.051 | curie-author-showcase-july-30-2019 |
| @curie | 6772 | 0.038 | curators-review-july-2019 |
| @molovelly | 8241 | 0.046 | 0ad8053db942e94ad9564e42a30b9c3c-vimmtv |
| @molovelly | 7587 | 0.042 | f1c1be52d9e3be5d8cf6316f9dd3f853-vimmtv |
| @anttn | 6830 | 0.038 | do-little-actions-but-think-bigger-cleanplanet-30-07-19 |
| @anttn | 5912 | 0.033 | actifit-anttn-20190730t215819236z |
| @anttn | 3077 | 0.017 | spud-day-4-the-question-is-rather-when-don-t-i-power-up |
| @sparkesy43 | 9468 | 0.053 | pvfgsu |
| @sparkesy43 | 5818 | 0.032 | sparkesy43-re-bengy-first-time-diamond-20190731t074224597z |
| @oldman28 | 7801 | 0.043 | re-x22report-all-pieces-in-place-full-control-of-economic-narrative-has-arrived-episode-1929a-20190730t010214496z |
| @oldman28 | 7397 | 0.041 | re-marketreport-fed-day-if-i-am-wrong-on-this-one-stocks-will-plunge-by-gregory-mannarino-20190731t160550630z |
| @gaborockstar | 7950 | 0.044 | r8v60eekkiq |
| @gaborockstar | 7223 | 0.04 | 56shcaqbrx9 |
| @el-panal | 8017 | 0.044 | elpanal-presentacindeautoresdestacados-da01082019-tq4mxdmx2b |
| @el-panal | 6828 | 0.038 | elpanal-presentacindeautoresdestacados-da31072019-fj5go7w2ed |
| @ononnaa | 9241 | 0.051 | my-photography64901bba505e4est |
| @ononnaa | 5585 | 0.031 | my-photography-collection-or-elephant-apple-flowers |
| @manimore | 5458 | 0.03 | 1016 |
| @manimore | 5155 | 0.029 | 1005 |
| @manimore | 4171 | 0.023 | 1014 |
| @schoolforsdg4 | 7659 | 0.042 | re-raining-makes-it-even-more-hard-for-me-to-go-for-my-dialysis-2019730t23319336z-20190730t025316z |
| @schoolforsdg4 | 6949 | 0.039 | re-giving-flowers-brittandjosie-20190803t191436z |
| @janton | 7732 | 0.043 | final-conclusions-the-controversial-answers-to-the-anasazi-mystery-c9fa745d83a35est |
| @janton | 6781 | 0.038 | found-some-more-stone-faces-3597e5f6bd93est |
| @simmanis | 5343 | 0.03 | 990 |
| @simmanis | 5137 | 0.028 | 1001 |
| @simmanis | 4014 | 0.022 | 995 |
| @paul.atreides | 7447 | 0.041 | pvh91u |
| @paul.atreides | 6801 | 0.038 | paul-atreides-re-improv-7tw6xg-pocket-friday-20190803t000457370z |
| @toofasteddie | 4168 | 0.023 | oux8tws5m7t |
| @toofasteddie | 3438 | 0.019 | bitcoiniwouldnot-8o9jhz8ow5 |
| @toofasteddie | 3312 | 0.018 | alpha-kw-8-appics-im-30775 |
| @toofasteddie | 3283 | 0.018 | spud4-done-at-the-limit-of-the-day-8kphjv1f |
| @johannpiber | 4123 | 0.023 | bumblebee-on-clover-hummel-am-klee |
| @johannpiber | 3585 | 0.02 | nock-mountains-nockberge |
| @johannpiber | 3456 | 0.019 | moody-autumn-in-july-stimmungsvoller-herbst-im-juli |
| @johannpiber | 2871 | 0.016 | vintgar-gorge-vintgar-klamm-slovenia |
| @carlgnash | 7338 | 0.041 | her-eye-glowed-red |
| @carlgnash | 6669 | 0.037 | patient-number-redacted |
| @steemcleaners | 7032 | 0.039 | steemcleaners-report-for-21-july-2019 |
| @steemcleaners | 6926 | 0.038 | impersonator-warning |
| @ericet | 7220 | 0.04 | 8co5xo6eba |
| @ericet | 6533 | 0.036 | wwfdc |
| @petecko | 7190 | 0.04 | petecko-re-krakonos-re-petrvl-2xeswo-pel-mel-20190802t211442600z |
| @petecko | 6383 | 0.035 | petecko-re-babajaga01-actifit-babajaga01-20190730t060000073z |
| @oadissin | 6819 | 0.038 | applied-strategies-or-words-memories |
| @oadissin | 6358 | 0.035 | actifit-oadissin-20190731t031708455z |
| @forecasteem | 3526 | 0.02 | 2019-08-02-updown-upbit-report |
| @forecasteem | 3455 | 0.019 | 2019-08-01-updown-upbit-result |
| @forecasteem | 3372 | 0.019 | 2019-08-03-updown-upbit-report |
| @forecasteem | 2774 | 0.015 | 2019-07-31-updown-upbit-sbd |
| @chekohler | 5145 | 0.029 | actifit-chekohler-20190803t203301674z |
| @chekohler | 4288 | 0.024 | will-you-embrace-or-reject-ai |
| @chekohler | 3557 | 0.02 | week-69-pay-it-forward-curation-entry |
| @minhaz007 | 4911 | 0.027 | roadside-photography-4da8e5f2fce43 |
| @minhaz007 | 4446 | 0.025 | sharing-my-1st-quest-pack-opening-of-this-season |
| @minhaz007 | 3587 | 0.02 | finally-touch-champion-1-and-opening-last-quest-of-this-season |
| @nmcdougal94 | 6791 | 0.038 | day-131-of-777-seven77-exercise-challenge |
| @nmcdougal94 | 6125 | 0.034 | day-133-of-777-seven77-exercise-challenge |
| @bxlphabet | 6845 | 0.038 | recommending-freewritehouse-for-the-neoxianpowercontest-delegation |
| @bxlphabet | 5924 | 0.033 | my-own-lyrics-challenge-1954-that-s-amore-jac-brooks-and-harry-warren |
| @justatouchfey | 7484 | 0.042 | the-english-garden-photos-from-my-walk |
| @justatouchfey | 5161 | 0.029 | leo-mol-sculpture-garden-photos-from-my-visit |
| @riverflows | 6829 | 0.038 | three-books-three-wisdoms-natural-medicine-in-written-form |
| @riverflows | 5628 | 0.031 | spheres-of-influence-porridge-days |
| @maajaanaa | 6970 | 0.039 | matrix-a-takove-ty-jine-veci |
| @maajaanaa | 5479 | 0.03 | kukuricne-pole |
| @cherryzz | 6645 | 0.037 | sailboat-p15st6qfm6 |
| @cherryzz | 5782 | 0.032 | --02steem-pyqbk6mucc |
| @metzli | 7041 | 0.039 | the-power-of-the-people-supporting-our-undocumented-communities--la-comadre |
| @metzli | 5227 | 0.029 | how-gentrification-hurts-students--la-comadre |
| @deadgrlsuppastar | 7942 | 0.044 | deranged-flower-photography-contest-tmq6jpts |
| @deadgrlsuppastar | 3621 | 0.02 | actifit-deadgrlsuppastar-20190801t192646197z |
| @jeffjagoe | 6689 | 0.037 | jpc0po8y2m2 |
| @jeffjagoe | 4675 | 0.026 | mosaeek-on-reviewhunt-a-video-reply-to-the-disco-biscuits-camp-bisco-12-friday-sunset-jam |
| @beerbot | 5372 | 0.03 | newslink-stop-and-shop-now-has-a-googly-eyed-robot-that-announces-spills-in-supermarkets |
| @beerbot | 3211 | 0.018 | newslink-new-14-year-old-the-glenlivet-scotch-finished-in-ex-cognac-casks |
| @beerbot | 2724 | 0.015 | newslink-rare-japanese-whisky-set-could-fetch-over-usd750-000-at-auction |
| @denissemata | 6137 | 0.034 | the-more-we-can-bear |
| @denissemata | 4771 | 0.026 | family-time |
| @mhm-philippines | 3889 | 0.022 | long-exposure-gods-paintbrush-xos5uloi |
| @mhm-philippines | 3764 | 0.021 | alpha-kw-8-appics-im-30344 |
| @mhm-philippines | 3158 | 0.018 | actifit-mhm-philippines-20190801t101536290z |
| @cervisia | 5790 | 0.032 | pvliht |
| @cervisia | 5015 | 0.028 | pvi271 |
| @flaxz | 4027 | 0.022 | actifit-flaxz-20190803t155854102z |
| @flaxz | 3721 | 0.021 | fyghudbr1yc |
| @flaxz | 2990 | 0.017 | actifit-flaxz-20190731t153439048z |
| @manoldonchev | 4373 | 0.024 | actifit-manoldonchev-20190730t205222310z |
| @manoldonchev | 3286 | 0.018 | providing-free-photos-for-editorial-use-on-steem-update-22-selection-19 |
| @manoldonchev | 2890 | 0.016 | actifit-manoldonchev-20190801t204950927z |
| @arunava | 2972 | 0.016 | steem-basic-income-share-giveaway-18 |
| @arunava | 2685 | 0.015 | the-hunt-trailer-review |
| @arunava | 2412 | 0.013 | winners-of-my-19th-steem-basic-shares-giveaway |
| @arunava | 2246 | 0.012 | actifit-arunava-20190730t222347614z |
| @handofzara | 5437 | 0.03 | gold-silver-miners-plus-the-ugliest-chart |
| @handofzara | 4649 | 0.026 | what-a-difference-a-day-can-make |
| @amico | 10000 | 0.055 | my-steem-power-up-for-spud4-400-steem-powered-up |
| @conradsuperb | 10000 | 0.055 | play-ball-lod0r74z |
| @dutybound | 10000 | 0.055 | ntopaz--dutybound--1610118142--ntopaz--2019-08-03-08-50-23--artwork--none |
| @eturnerx | 10000 | 0.055 | q-pop-selection-for-june-july-2019 |
| @gamer00 | 10000 | 0.055 | dust-sci-fi-short-movies-that-ll-blow-your-socks-off |
| @giftgiver | 10000 | 0.055 | giftgiver-updates-to-our-site-update-to-delegations-and-looking-for-a-curator |
| @peekbit | 10000 | 0.055 | honor-board-59-weeks-of-peeklink-upvote-game |
| @preparedwombat | 10000 | 0.055 | random-rambling-from-a-soon-to-be-retired-wombat-and-movie-spoilers |
| @r2cornell | 10000 | 0.055 | it-is-a-flower-and-beneficial-insect-weekend |
| @sbi3 | 10000 | 0.055 | 55vart-sbi-upvote-report |
| @steembasicincome | 10000 | 0.055 | 6xbkm9-monday-night-contests |
| @thedarkhorse | 10000 | 0.055 | entry-for-neoxian-silver-neoxag-power-contest-for-communities |
| @silverstackeruk | 9996 | 0.055 | win-the-40-spi-token-raffle-only-1-steem-per-chance-to-win-no-limit-and-ends-in-4-days |
| @simmania | 5290 | 0.029 | 1014 |
| @simmania | 4700 | 0.026 | 1009 |
| @tydebbie | 9955 | 0.055 | fpijk7zq |
| @owasco | 5728 | 0.032 | wednesday-walk-at-my-feet |
| @owasco | 4214 | 0.023 | mizu-no-oto-every-image-has-its-haiku-edition-35-english |
| @shuxuan | 4996 | 0.028 | 07-31-2019cnsbi-xxg7drgv38 |
| @shuxuan | 4842 | 0.027 | 08-01-2019cnsbi-q89h6wigtk |
| @jason7282 | 9817 | 0.054 | casino-round-2-uuvzdrgr |
| @ettydiallova | 9811 | 0.054 | warna-tentang-kehidupan-1ad8ba3cd14f7 |
| @blind-spot | 9770 | 0.054 | actifit-blind-spot-20190730t203634153z |
| @naturalmedicine | 9615 | 0.053 | 5-questions-for-nateonsteemit-s-other-half |
| @sxms | 3378 | 0.019 | 1hm8q734yk3 |
| @sxms | 3152 | 0.017 | vuf1qocsvs2 |
| @sxms | 2995 | 0.017 | smdg4ty6fxt |
| @roleerob | 9511 | 0.053 | re-steemcommunity-pvk626 |
| @amr008 | 9473 | 0.053 | actifit-amr008-20190802t180431090z |
| @loler555 | 3512 | 0.019 | have-you-ever-felt-so-destroyed-after-a-day-at-work-you-wanted-to-quit |
| @loler555 | 3128 | 0.017 | actifit-loler555-20190730t191724596z |
| @loler555 | 2812 | 0.016 | actifit-loler555-20190801t195754399z |
| @sharpshot | 9428 | 0.052 | actifit-sharpshot-20190730t202627564z |
| @pixiepost | 3335 | 0.018 | uk6gfuze45o |
| @pixiepost | 3058 | 0.017 | alpha-kw-8-appics-im-30762 |
| @pixiepost | 3034 | 0.017 | sneazypdnqp |
| @vincy | 9414 | 0.052 | alpha-kw-8-appics-im-30715 |
| @zord189 | 9410 | 0.052 | designeasydexgifbanner-14fcu7znkq |
| @indicator | 9373 | 0.052 | 2019-08-02-updown-upbit-midreport |
| @symonp | 9342 | 0.052 | tiger-woods-will-attend-the-first-two-fedex-cup-playoffs-2019 |
| @enrique89 | 9287 | 0.051 | lascriptomonedasylablockchain-57toiwswya |
| @jayna | 9250 | 0.051 | actifit-jayna-20190802t045929020z |
| @tarazkp | 4684 | 0.026 | getting-pwnd |
| @tarazkp | 4529 | 0.025 | losing-influence-and-gaining-control |
| @goat-girlz | 9188 | 0.051 | flowers-and-tedium |
| @babajaga01 | 9107 | 0.051 | actifit-babajaga01-20190803t175228645z |
| @detour | 9054 | 0.05 | moving-battle-spt-and-gg-to-detour |
| @thesteemengine | 9017 | 0.05 | the-daily-whistle-stops-issue-523-07-29-19 |
| @crosheille | 9009 | 0.05 | ntopaz--crosheille--1035234481--ntopaz--2019-07-29-23-58-56--artwork--none |
| @rehan12 | 3183 | 0.018 | actifit-rehan12-20190801t174634605z |
| @rehan12 | 2902 | 0.016 | marketfeeder-pro-programmable-betting-bot-for-betfair |
| @rehan12 | 2901 | 0.016 | splinterlands-season-rewards-or-or-curation-report |
| @sbi10 | 8984 | 0.05 | 28ohxh-weekly-upvotes-report |
| @minminlou | 8943 | 0.05 | seas-of-rulers-going-up-or-burned-so-i-can-get-more |
| @dswigle | 8928 | 0.05 | a-little-bit-of-monochromatic-love |
| @thevillan | 8906 | 0.049 | minnow-pat-on-the-back-showcase-saturday-3rd-of-august-2019 |
| @mstafford | 8852 | 0.049 | xhst-activity-1564541420 |
| @adam-aj | 8802 | 0.049 | the-giraffe-lovers-or-photography-wildlife |
| @wdougwatson | 8738 | 0.048 | actifit-wdougwatson-20190802t212422221z |
| @ketcom | 5006 | 0.028 | actifit-ketcom-20190802t222023888z |
| @ketcom | 3704 | 0.021 | my-transformation-bearded-and-no-bearded-ken |
| @boddhisattva | 3002 | 0.017 | rosebud-2019729t132517591z |
| @boddhisattva | 2915 | 0.016 | monomad-photographic-challenge-the-spatter-dock-201981t81526197z |
| @boddhisattva | 2783 | 0.015 | little-spider-201981t14502724z |
| @numpypython | 8698 | 0.048 | 456gut-j-league-bet |
| @fun2learn | 2960 | 0.016 | exercisetoimproveourbrainfunctions-qczib2cnd1 |
| @fun2learn | 2889 | 0.016 | amazing-talented-kids |
| @fun2learn | 2802 | 0.016 | childgenius-7i2hmoixtn |
| @oliviackl | 8629 | 0.048 | oliviackl-re-mermaidvampire-guess-the-color-game-day-335-mermaidvampire-s-daily-splitter-contest-20190802t125638987z |
| @jasminearch | 8612 | 0.048 | allhailthemightyloon-moc4kdng8q |
| @dearw | 8604 | 0.048 | actifit-dearw-20190801t041258782z |
| @ayogom | 8560 | 0.047 | 4pqaem-19-08-02 |
| @alaikaabdullah | 8529 | 0.047 | lineationberbagi-baktisosialtigabulanandarilineationcenter-dvuz3nc11k |
| @brisby | 8514 | 0.047 | pvjyg6 |
| @fullcoverbetting | 8458 | 0.047 | lukaku-good-or-bad-inter-juve-or-united |
| @itharagaian | 8448 | 0.047 | je-me-prepare |
| @godfish | 8376 | 0.046 | actifit-godfish-20190730t210233483z |
| @blacklux | 8314 | 0.046 | mind-detox |
| @delishtreats | 8280 | 0.046 | a-short-visit-of-muestair |
| @b00m | 8243 | 0.046 | there-is-a-place-for-that |
| @fullnodeupdate | 8235 | 0.046 | full-api-node-update---3172019-20190731t210032z |
| @foxyspirit | 8232 | 0.046 | summer-days-ajyzd2yc |
| @minsoenaing | 8230 | 0.046 | alw-dan |
| @davidpakman | 3233 | 0.018 | sick-trump-tells-9-11-first-responders-i-was-down-there |
| @davidpakman | 2621 | 0.015 | how-trump-will-win-2020 |
| @davidpakman | 2353 | 0.013 | youtuber-union-50-000-might-join |
| @rachel1990 | 8175 | 0.045 | some-funny-picture |
| @dunstuff | 8155 | 0.045 | new-month-new-life-1 |
| @tggr | 4655 | 0.026 | 4shfsh-rose |
| @tggr | 3477 | 0.019 | actifit-tggr-20190731t144735127z |
| @purapapita | 8116 | 0.045 | anochecer |
| @wakeupkitty | 3078 | 0.017 | alpha-kw-8-appics-im-30806 |
| @wakeupkitty | 2716 | 0.015 | kein-mittwochsquikie-xnjifxcw |
| @wakeupkitty | 2293 | 0.013 | alpha-kw-8-appics-im-30417 |
| @baasdebeer | 8059 | 0.045 | c56a2ef1-b118-4bdd-8611-c38778b1864b |
| @jackmiller | 8052 | 0.045 | does-anyone-see-anything-familiar |
| @pennsif | 8033 | 0.045 | anyone-know-what-this-plant-is |
| @dosdudes | 8032 | 0.045 | 176-dosdudes-is-proud-to-present-steemmonsters-alpha-earth-elemental-card-giveaway-contest |
| @kaerpediem | 7978 | 0.044 | 5m33no8h4tm |
| @acostaeladio | 4708 | 0.026 | ntopaz-talented-network-service |
| @acostaeladio | 3237 | 0.018 | announcement-of-the-winners-of-bodegon-contest |
| @methus | 7904 | 0.044 | belated-netflix-reviews-the-defenders |
| @otom | 7785 | 0.043 | drop-a-comment-challenge-an-introduceyourself-entry-and-earn-a-plankton-token-now-at-round-05 |
| @whitelistauthor | 7706 | 0.043 | white-list-author-winners-29th-july-2019 |
| @adriansky | 7700 | 0.043 | into-the-weekend |
| @elamental | 7653 | 0.042 | ydr0oay495c |
| @lighteye | 7572 | 0.042 | yx3ncjbvhys |
| @jeezzle | 7554 | 0.042 | nobody-knows-a-damn-thing |
| @princessmewmew | 7525 | 0.042 | the-many-stages-of-a-road-trip |
| @ajorundon | 7518 | 0.042 | pvl03c |
| @robertyan | 7484 | 0.042 | lens |
| @pak | 7430 | 0.041 | rb92j625d5d |
| @philippekiene | 3780 | 0.021 | 162b369a661f343c41919d72743edd82-vimmtv |
| @philippekiene | 3568 | 0.02 | nr9eomxoyej |
| @daan | 7254 | 0.04 | open-letter-to-rt-international-how-about-investing-in-steem |
| @quekery | 7155 | 0.04 | tokenbb-topic-check-my-latest-fight-narlaghelo-1564770464072 |
| @perazart | 7124 | 0.04 | drawing-a-distorted-portrait |
| @lynncoyle1 | 7114 | 0.039 | pvmlgp |
| @chesatochi | 7010 | 0.039 | pej9s302wg2 |
| @annepink | 3516 | 0.019 | f09efbd3f3308 |
| @annepink | 3455 | 0.019 | 0hjs9uovcb |
| @wenchebakken | 6921 | 0.038 | actifit-wenchebakken-20190731t022702908z |
| @mathowl | 6886 | 0.038 | pvhc0c |
| @silversaver888 | 3651 | 0.02 | silver-stacking-for-beginners-part-5-the-do-s-and-don-ts-of-stacking-precious-metals |
| @silversaver888 | 3231 | 0.018 | bermuda-crown-silver-coin |
| @brittandjosie | 3501 | 0.019 | our-ducks-featheredfriday |
| @brittandjosie | 3285 | 0.018 | alpha-kw-8-appics-im-30336 |
| @aotearoa | 3608 | 0.02 | btc-ta-for-07-30-2019 |
| @aotearoa | 3171 | 0.018 | btc-ta-for-08-02-2019 |
| @aiyumi | 6772 | 0.038 | steem-monsters-duels-saiba-quando-outros-jogadores-estao-online |
| @syalla | 6689 | 0.037 | re-kirstin-pvgnyi |
| @dexpartacus | 3983 | 0.022 | huts6ipscan |
| @dexpartacus | 2685 | 0.015 | wdbuuikcg78 |
| @julian2013 | 3347 | 0.019 | p-163 |
| @julian2013 | 3277 | 0.018 | p-166 |
| @outlinez | 3344 | 0.019 | actifit-outlinez-20190802t223041149z |
| @outlinez | 3214 | 0.018 | stir-the-volcano-battle-and-rewards |
| @thebigsweed | 6507 | 0.036 | to-me-homesteading-is-lending-a-helping-hand |
| @artemislives | 6480 | 0.036 | acupressure-for-emotional-healing |
| @fredkese | 6430 | 0.036 | fifty-word-story-contest-trial |
| @naltedtirt | 3557 | 0.02 | bitcoin |
| @naltedtirt | 2823 | 0.016 | 2-upvotes-really |
| @master-set | 3197 | 0.018 | 371dsc-welcomeday-free-and-fast-steem-account-for-you |
| @master-set | 3165 | 0.018 | ru-ruday-segodnya-podborka-vidosov-politika-kompyutery-televizory |
| @diverse | 6331 | 0.035 | partiko-cashout-to-buy-more-leo-crc4lgbm |
| @afrinsultana | 6161 | 0.034 | artful-new-app-for-photo-artful |
| @movingman | 3425 | 0.019 | lunchbox-smell-torture |
| @movingman | 2736 | 0.015 | actifit-movingman-20190803t075621974z |
| @mamasez | 6132 | 0.034 | just-testing |
| @quotes-haven | 6107 | 0.034 | snippets-of-life-in-benalmadena |
| @mad-runner | 3228 | 0.018 | alpha-kw-8-appics-im-30326 |
| @mad-runner | 2824 | 0.016 | actifit-mad-runner-20190802t162351471z |
| @thekitchenfairy | 3296 | 0.018 | huhc2tr10mx |
| @thekitchenfairy | 2748 | 0.015 | homemade-strawberry-jam |
| @deathcross | 3102 | 0.017 | how-many-posts-do-you-curate-a-day |
| @deathcross | 2898 | 0.016 | which-tribe-has-more-future |
| @talentclub | 3040 | 0.017 | club-statistical-summary-07-31-2019 |
| @talentclub | 2909 | 0.016 | resumenestadsticodelclubdelda31072019-glqhkhu8nv |
| @anitacarolina | 2969 | 0.016 | my-lovebird-5909252dc8e0c |
| @anitacarolina | 2961 | 0.016 | anggora-cat |
| @theluvbug | 3240 | 0.018 | 3kzv5z-luvbug-curation-for-the-passionate-steem-peeps |
| @theluvbug | 2680 | 0.015 | steem-curation-love-from-theluvbug |
| @plaid | 5904 | 0.033 | my-brave-bat-rewards-so-far |
| @sunai | 3249 | 0.018 | lnosth37 |
| @sunai | 2653 | 0.015 | 3egjzq |
| @alfonzo | 5887 | 0.033 | fish-bladder-one-step-further |
| @redheadpei | 5887 | 0.033 | cold-baby-cold-b50d36140f4e5 |
| @kadna | 5844 | 0.032 | sammlung-der-mittwochsquickies-be-real |
| @altobee | 2962 | 0.016 | tagebuch-des-urlaubers-tag-10 |
| @altobee | 2878 | 0.016 | tagebuch-des-urlaubers-tag-14 |
| @mountainjewel | 5801 | 0.032 | seasonofharvests-nk493yiu7t |
| @marekwojciakcom | 5773 | 0.032 | tbilisi |
| @deeanndmathews | 2883 | 0.016 | day-649-5-minute-freewrite-wednesday-prompt-opens-a-lot-of-doors |
| @deeanndmathews | 2856 | 0.016 | my-entry-for-mizu-no-oto-every-image-has-its-haiku-edition-35-english |
| @steemmatt | 5716 | 0.032 | my-regular-baseball-season-is-complete-stats-and-pics-370-avg-30-hits-26-rbi-16-runs-7-doubles-1-home-run-now-it-s-playoff-time |
| @dlike | 5702 | 0.032 | an-additional-source-of-earnings-on-dlike-usdt-tips-for-authors-and-readers |
| @bala41288 | 3494 | 0.019 | my-steemmonsters-adventure-reached-gold-ii-league |
| @bala41288 | 2199 | 0.012 | activechart-a-tool-to-create-interractive-charts |
| @mulletwang | 5690 | 0.032 | pvjfsm |
| @davidke20 | 2879 | 0.016 | loseweightandlookgoodday044-k7huvmpjbt |
| @davidke20 | 2808 | 0.016 | steem-talk-claim-steemengine-reward-automatically-and-suggestion-whjoszxc |
| @hlezama | 5650 | 0.031 | ulog-068-or-my-daughter-s-high-school-graduation |
| @forykw | 5642 | 0.031 | yey-got-my-first-legendary |
| @vimukthi | 5635 | 0.031 | vertoe-the-uber-of-short-term-storage-with-usd5000-insuarance |
| @swhomebiz | 2976 | 0.017 | a7uhgd2htdr |
| @swhomebiz | 2618 | 0.015 | j5dtrx3yijd |
| @florenceboens | 5573 | 0.031 | the-magicians-saison-4 |
| @mango-juice | 5504 | 0.031 | show-me-your-winning-sm-deck-8-win-30-neoxag-power-winner-announced-of-show-me-your-winning-sm-deck-2 |
| @brian.rrr | 2977 | 0.017 | lots-of-strawberries |
| @brian.rrr | 2515 | 0.014 | bad-luck-at-grocery-store |
| @djennyfloro | 5483 | 0.03 | insight-of-a-story-end |
| @felixgarciap | 5458 | 0.03 | creature-5-minute-freewrite |
| @botefarm | 2774 | 0.015 | non-stop-acts-a-freewrite-poetry |
| @botefarm | 2658 | 0.015 | actifit-botefarm-20190731t211857536z |
| @mardax | 5423 | 0.03 | 1lkivdyr21b |
| @steemflow | 2743 | 0.015 | ntopaz--steemflow--1552497934--ntopaz-india-creativecoin-palnet-photography--2019-08-02-07-21-11--artwork--none |
| @steemflow | 2670 | 0.015 | n6b9tqky61v |
| @voxmortis | 5383 | 0.03 | mqcs790em0b |
| @onlineprds | 2729 | 0.015 | 6wfxy-mobile-photography |
| @onlineprds | 2644 | 0.015 | 3xdyjh-mobile-photography |
| @marieeedraws | 5356 | 0.03 | ntopaz--marieeedraws--1887909351--ntopaz-art-philippines-digital-drawing--2019-08-03-09-57-18--artwork--none |
| @eii | 2683 | 0.015 | myflowerphotography-31-07-2019 |
| @eii | 2625 | 0.015 | myarchitecturephotography-02-08-2019 |
| @aarongmunoz | 5284 | 0.029 | finding-out-we-re-pregnant-reactions |
| @eco-alex | 5252 | 0.029 | he-ll-be-comin-down-the-mountain |
| @old-guy-photos | 2775 | 0.015 | 3k2e0g2h52t |
| @old-guy-photos | 2472 | 0.014 | ren87cq7lw1 |
| @kanrat | 5158 | 0.029 | 6b1fd0ae3b96b4344afe3eeaf44706f1-vimmtv |
| @elbiasto | 5139 | 0.028 | sbi-giveaway-2-bundesliga-tippspiel-spieltag-2-bis-zu-20-sbi-gewinnen |
| @verhp11 | 5097 | 0.028 | from-long-long-ago-dutch-motorsports-heroes |
| @wglenz | 5085 | 0.028 | 4dxsy4-linuxopolis-2019-08-03-logging |
| @enforcer48 | 5063 | 0.028 | casual-deck-building-jade-rogue |
| @immarojas | 5059 | 0.028 | a-typical-english-weather-at-the-park-w03iwn2f |
| @keithboone | 5009 | 0.028 | deranged-photography-contest-flowers |
| @cryptojiang | 2718 | 0.015 | bitcoin-is-ludicrously-underpriced-ex-goldman-sachs-exec |
| @cryptojiang | 2272 | 0.013 | bitcoin-bull-run-hasnt-started-says-analyst-after-new-peter-schiff-remarks |
| @hetty-rowan | 4989 | 0.028 | alpha-kw-8-appics-im-30511 |
| @rosargelisperez | 4979 | 0.028 | face-of-tenderness |
| @scienceblocks | 4975 | 0.028 | actifit-scienceblocks-20190802t175431943z |
| @steeminganarchy | 4962 | 0.028 | agora-one-a-space-adventure-slice-7 |
| @upvotebuilders | 4892 | 0.027 | upvotebuilders-contest-winners-august |
| @allyson19 | 4761 | 0.026 | we-draw-the-letter-h |
| @dosh | 4741 | 0.026 | actifit-dosh-20190802t010709836z |
| @awesomemike | 4728 | 0.026 | actifit-awesomemike-20190802t004413276z |
| @corsica | 4669 | 0.026 | your-favorite-gadget-contest |
| @womic | 4544 | 0.025 | actifit-womic-20190801t111645615z |
| @danmaruschak | 4540 | 0.025 | actifit-danmaruschak-20190801t144441837z |
| @isarmoewe | 4445 | 0.025 | taeglich-ein-neues-thema-tag-80-fake-video |
| @pkswe9 | 4377 | 0.024 | xzhafedqkvo |
| @elvielins | 4322 | 0.024 | the-dirty-sea-2cibgghx |
| @rawutah | 4302 | 0.024 | alpha-kw-8-appics-im-30398 |
| @manuelgil64 | 4254 | 0.024 | lacancindeldasevennationarmythewhitestripes-cover-82mypqe5nm |
| @davidchen | 4235 | 0.023 | 5ftasq |
| @steemitprime | 4231 | 0.023 | bittradeinvest-new-bitcoin-mining-siite-launch-100usd-bitcoin-instant-live-withdrawl-proof |
| @robinsonr810 | 4196 | 0.023 | 2v2jvg-steemmonsters-giveaway-and-winner-announcement |
| @kavaeron | 4188 | 0.023 | livestream-kavaeron-dd561307-2d7f-41a9-abfc-e87bc7a3bdd2 |
| @anomaly | 4139 | 0.023 | how-to-survive-the-raid-on-area-51 |
| @budapestguide | 4013 | 0.022 | tasteem-e1523c |
| @musicvoter | 4005 | 0.022 | atomcollectorrecordsmusicvoteratomtokenupdate-37ns2g2tjj |
| @blessed-girl | 3953 | 0.022 | beautifulgardenoforangezinnias-ind3scssnl |
| @wwf | 3949 | 0.022 | be-a-culture-of-one |
| @lordneroo | 3909 | 0.022 | micro-stakes-grinding |
| @coruscate | 3884 | 0.022 | a15bp2xwn48 |
| @djlethalskillz | 3853 | 0.021 | 20190731t115531563z-1n2s-hustlin-the-mixtape--old-school-hiphop-non-stop-mix-by-dj-lethal-skillz |
| @martha75 | 3842 | 0.021 | caminar-caminar-y-caminar-excelente-ejercicio |
| @deadspace | 3825 | 0.021 | vw2qtklq110 |
| @jenel | 3807 | 0.021 | respect-jeremy-lin |
| @momogrow | 3722 | 0.021 | it-s-96-degrees-in-the-shade-too-hot |
| @p3d1 | 3692 | 0.02 | pelatihan-mengajar-dengan-digital |
| @gmdatacenter | 3662 | 0.02 | tyrnannoght-the-small-things-in-life-precompiled-regex-in-javascript |
| @nurseanne84 | 3652 | 0.02 | microwaveable-food |
| @s77assistant | 3642 | 0.02 | s77assistant-daily-report-21 |
| @mk992039 | 3632 | 0.02 | quest-rewards-steemmonaters-2ca8d2f1481a5 |
| @makinstuff | 3620 | 0.02 | steem-gratitude-and-update-post-issa0ssb |
| @whatsup | 3616 | 0.02 | hf21-scheduled-for-august-27th-what-does-that-mean-to-you |
| @psos | 3593 | 0.02 | your-scot-tokens-voting-power |
| @pompe72 | 3576 | 0.02 | actifit-pompe72-20190801t213407502z |
| @tormus1958 | 3542 | 0.02 | largo-from-bach-s-2nd-trio-sonata-in-c-minor-bwv-526-secrets-of-organ-playing-week-31 |
| @cyrus33 | 3492 | 0.019 | memeday-s03m40e01---entry-2---bearded-dudes-20190802t141520 |
| @msearles | 3490 | 0.019 | actifit-msearles-20190730t201139995z |
| @khiabels | 3475 | 0.019 | tax |
| @inthenow | 3467 | 0.019 | song-of-the-day-162-layers-of-time-lacuna-coil |
| @cpdesk | 3457 | 0.019 | 4.3E+34 |
| @arkmy | 3434 | 0.019 | lamansindefermicrorelatooriginal17-aookkdg0if |
| @mermaidvampire | 3434 | 0.019 | proof-of-steem-game-for-everyone-in-steemit-or-day-229 |
| @cryptohustlin | 3424 | 0.019 | disc-golf-is-not-a-crime |
| @investinthefutur | 3383 | 0.019 | invest-in-the-future-day-38-20190803t031707z |
| @skramatters | 3381 | 0.019 | its-small-but-organic-just-like-me-ttg4rost |
| @xmauron3 | 3376 | 0.019 | the-mythycal-desiderata-ancient-teachings-for-eternity |
| @morningshine | 3366 | 0.019 | my-little-garden-daily-27 |
| @rem-steem | 3365 | 0.019 | z7f2d8uero1 |
| @anggreklestari | 3362 | 0.019 | a-good-community-is-a-good-reason-for-investing-let-s-make-steem-better-59f5884e9251d |
| @lisbethseijas | 3354 | 0.019 | the-folk-art-colouring-contest-26 |
| @olivia08 | 3349 | 0.019 | how-to-become-a-plankton-investor-week-2-by-chrismadcboy2016-h-f61ba4539bf8b |
| @hanneloree | 3347 | 0.019 | ein-wetterchen |
| @empress-eremmy | 3324 | 0.018 | different-thinking |
| @damarysvibra | 3320 | 0.018 | hablemosden13carloscruz-diez-y695mz63tx |
| @sjarvie5 | 3311 | 0.018 | olowuru-keri |
| @ddrfr33k | 3302 | 0.018 | going-retro-h9wt5uui |
| @rossfletcher | 3300 | 0.018 | 47r3dp-monomad-photography-entry |
| @ruth-girl | 3299 | 0.018 | where-has-ruth-been |
| @athomewithcraig | 3292 | 0.018 | the-subs-have-been-sunk-and-the-vault-doors-have-been-blown-off |
| @enchantedspirit | 3285 | 0.018 | it-s-astro-logical-practical-advice-for-conscious-living-issue-105 |
| @kawaiicrush | 3279 | 0.018 | if-anybody-knows-identity-of-person-behind-themarkymark-account-please-contact |
| @roveana | 3274 | 0.018 | practica-de-musculatura-completa-de-dos-cuerpos-proceso |
| @darrenclaxton | 3273 | 0.018 | steemit-open-mic-week-148-somehow-true-original-song-by-darren-claxton |
| @dmilliz | 3270 | 0.018 | 1viw32o18u0 |
| @wallyt | 3269 | 0.018 | actifit-wallyt-20190731t192417572z |
| @trucklife-family | 3251 | 0.018 | lughnasadh-celebrating-the-festival-of-gratitude |
| @pocketrocket | 3245 | 0.018 | this-bench-is-all-you-need-9zei1mwl |
| @scaredycatguide | 3233 | 0.018 | et1bd-scaredycatguide-s-weekly-money-and-crypto-curation-minnow-support-project-community-curation-initiative |
| @rubencress | 3228 | 0.018 | chili-peppers-incoming |
| @hermannsol | 3199 | 0.018 | adapting-to-life-in-a-new-environment |
| @rpgbuilders | 3192 | 0.018 | bitcoin-7-31-19-i-m-in-now-the-nervous-part |
| @camiloferrua | 3189 | 0.018 | dailysplinterlandscardgiveaway48-h5xuh0t04h |
| @tsnaks | 3186 | 0.018 | battlegames-curation-series-15 |
| @jamethiel | 3184 | 0.018 | needleworkmonday-july-29-2019-finished-cross-stitch |
| @thecastle | 3176 | 0.018 | i1dlas1ptyw |
| @sidekickmatt | 3173 | 0.018 | potionchestv25e-kv64qq3017 |
| @clove71 | 3159 | 0.018 | d9yzfoi8iip |
| @ace108 | 3156 | 0.018 | top-level-1-commenters-for-20190802-active-hours-and-how-their-comments-looks-like-by-ace108 |
| @ange.nkuru | 3145 | 0.017 | actifit-ange-nkuru-20190801t194326016z |
| @isauris | 3142 | 0.017 | entrenandoparaelfindelmundo-uj46sbxl3s |
| @angelina6688 | 3137 | 0.017 | e9b2b5e8a0378 |
| @darewealth | 3136 | 0.017 | actifit-darewealth-20190802t221730676z |
| @sergiomendes | 3126 | 0.017 | photoshop-or-reflection |
| @ptaku | 3124 | 0.017 | xxfm7-be-fit-or-be-dead-post-workout-meal |
| @gaeljosser | 3121 | 0.017 | messysunset-d0ia6auyov |
| @ady-was-here | 3116 | 0.017 | aukey-lc-c5-wireless-charger-graphite-wireless-charger |
| @mosdad | 3114 | 0.017 | steemchurch-the-end-of-the-world-part-1 |
| @greenmask9 | 3084 | 0.017 | actifit-greenmask9-20190730t182553704z |
| @wakeupkitty.pal | 3084 | 0.017 | tip-7-steembasicincome-sbi |
| @lightcaptured | 3074 | 0.017 | that-famous-beautiful-place-in-spain |
| @badmusgreene | 3066 | 0.017 | actifit-badmusgreene-20190731t202936708z |
| @chunkysoupsvc | 3066 | 0.017 | actifit-chunkysoupsvc-20190803t044651801z |
| @axeman | 3064 | 0.017 | pal-neoxag-battle-spt-dec-sports-gg-tokens-sm-cards-giveaway-32 |
| @dinglehopper | 3064 | 0.017 | doodle-dailies-app-developer-spider |
| @stanism | 3045 | 0.017 | memeday-s03m40e01---entry-1---last-year-20190730t145112 |
| @barmbo | 3043 | 0.017 | abschlussbericht-lotto-suche-deinen-topf-31-07-2019 |
| @sczed | 3038 | 0.017 | entry-for-artstorm-contest-87-fire |
| @bait002 | 3035 | 0.017 | actifit-bait002-20190731t223411163z |
| @krakonos | 3013 | 0.017 | actifit-krakonos-20190801t181556877z |
| @jlordc | 3008 | 0.017 | my-steemmonsters-adventure-gold-i-d006c15967ad6est |
| @dotwin1981 | 3003 | 0.017 | actifit-dotwin1981-20190801t213129181z |
| @brancarosamel | 3000 | 0.017 | actifit-brancarosamel-20190729t231954817z |
| @charcoalbuffet | 2996 | 0.017 | simple-life-deck-day |
| @jbap85 | 2991 | 0.017 | meme-challenge-132---entry-1---da-bombs-20190731t121621 |
| @shenchensucc | 2988 | 0.017 | 3ceasj |
| @starjewel | 2986 | 0.017 | wednesday-walk-nice-ethnic-store |
| @luegenbaron | 2980 | 0.017 | ganz-entspannt-yh8xqrkk |
| @traciyork | 2976 | 0.017 | moonmonday-12fullsnowmoonphotosfromfebruary192019-yykd1jcfl3 |
| @viniciotricolor | 2973 | 0.016 | daily-quest-rewards-01-01-08-2019 |
| @jaichai | 2968 | 0.016 | ijch-human-2-0-bug-fixes-vulnerability-patches-and-updates-humor |
| @also.einstein | 2966 | 0.016 | daily-chinese-calligraphy-lrlr1bzv |
| @nealmcspadden | 2965 | 0.016 | yc1l3q5r4wx |
| @akdx | 2959 | 0.016 | why-dpoll-is-not-upvoting-since-last-42-hours |
| @steemcameroon | 2956 | 0.016 | actifit-steemcameroon-20190801t225136478z |
| @julisavio | 2952 | 0.016 | i-reach-golden-league-very-fast |
| @freedompoint | 2949 | 0.016 | why-i-choose-plant-based-protein-or-my-first-post-on-natural-products |
| @kid4life | 2948 | 0.016 | english-motherf-cker-do-you-speak-it-scene-in-5-languages-nugporn |
| @carolinacardoza | 2947 | 0.016 | anicecushiontodecoratemyhome-gh2i3wjoi3 |
| @votomasivo | 2945 | 0.016 | reportedecuracin-curationreport59steemit-ryhmalyq13 |
| @vikisecrets | 2936 | 0.016 | conquered-the-medieval-fortress-cherven |
| @qam2112 | 2934 | 0.016 | betting-with-dropil |
| @cryptopie | 2929 | 0.016 | my-personal-thoughts-onsteem-hardfork21-economic-improvement-plan-eip |
| @txmek | 2929 | 0.016 | 20af3182b22a66f6b6960025ba6946c7-vimmtv |
| @ayjoe | 2921 | 0.016 | indonesia-reggae-movement-balinese-rasta-style |
| @mr-phoenix | 2921 | 0.016 | let-s-eat-something-good-afternoon-to-all |
| @marianis | 2919 | 0.016 | ntopaz--marianis--2118659172--ntopaz--2019-07-31-23-14-16--artwork--none |
| @rael5 | 2918 | 0.016 | la-alianza |
| @welshstacker | 2918 | 0.016 | my-splinterlands-daily-quest-reward-cards-has-all-this-playing-finally-paid-off |
| @xplosive | 2918 | 0.016 | if-steem-will-go-below-020-usd-in-the-near-future-then-will-you-buy-some-steem |
| @abh12345.sports | 2914 | 0.016 | actifit-abh12345-sports-20190801t192025947z |
| @geekdancing | 2914 | 0.016 | actifit-geekdancing-20190801t062949837z |
| @atongis | 2909 | 0.016 | prize-distribution-for-the-unscramble-the-letters-game-53-winners |
| @ekan | 2904 | 0.016 | 21de96b5af2eb7431a6555cb63327b45-vimmtv |
| @gduran | 2898 | 0.016 | reminiscing-about-my-football-days |
| @silverd510 | 2894 | 0.016 | n9yi4-well |
| @psyceratopsb | 2889 | 0.016 | actifit-psyceratopsb-20190802t193817059z |
| @karinanunez | 2886 | 0.016 | emma-watson-con-pasos |
| @htliao | 2860 | 0.016 | actifit-htliao-20190802t155201196z |
| @steemnova | 2855 | 0.016 | steemnova---2019-08-02-daily-alliance-shares-and-player-rewards |
| @acousticsteveo | 2852 | 0.016 | poetry-365-or-day-213-or-focus-pocus |
| @torachibi | 2850 | 0.016 | alpha-kw-8-appics-im-30839 |
| @moderndayhippie | 2846 | 0.016 | actifit-moderndayhippie-20190801t000921462z |
| @bitandi | 2844 | 0.016 | 24kfke-steemmonsters-season-mit-gold-iii-beendet-und-22-reward-cards-kassiert |
| @tuanis | 2834 | 0.016 | tuanis-growth-8-2-2019 |
| @liumei | 2829 | 0.016 | 4j6bp9 |
| @dandesign86 | 2827 | 0.016 | chillin-like-a-villain |
| @lotto-austria | 2823 | 0.016 | unser-lotto-schein-fuer-heute-31-juli-2019 |
| @alphaccino.art | 2815 | 0.016 | australian-number-one-songs-1969-july |
| @davidad | 2807 | 0.016 | butterfly-at-the-backyards |
| @angelro | 2805 | 0.016 | my-entry-for-monomad-challenge-by-monochromes-31-07 |
| @hmayak | 2803 | 0.016 | actifit-hmayak-20190801t165644096z |
| @purepinay | 2798 | 0.016 | lets-put-on-some-muscles-asx8nutb |
| @ferrate | 2786 | 0.015 | they-are-ashame-a4e57c8b90651 |
| @fbslo | 2747 | 0.015 | trade-crypto-anonymously-and-fast-350-cryptocurrencies |
| @sereze | 2745 | 0.015 | how-do-you-keep-motivated-with-this-up-down-price-changes-at-crypto-market |
| @cheetah | 2741 | 0.015 | ######## |
| @trudeehunter | 2740 | 0.015 | daily-pet-photography-playful-pup |
| @ackhoo | 2725 | 0.015 | walk-about-the-ocean-side |
| @spl | 2725 | 0.015 | today-on-lucksacks-jul-31st-pcste-10-token-and-followbtcnews-5-token-freerolls |
| @rxhector | 2714 | 0.015 | steemmonsters-daily-quest-ended-the-season-in-gold-3 |
| @sawcraz.art | 2713 | 0.015 | actifit-sawcraz-art-20190731t023847095z |
| @birdsinparadise | 2710 | 0.015 | healthy-mind-and-body-or-cheers-to-42-years-with-general-tso |
| @belemo | 2706 | 0.015 | where-should-i-store-bitcoin-for-maximum-safety |
| @sawyn | 2697 | 0.015 | klaudia |
| @vasigo | 2684 | 0.015 | zavrshen-rat-na-proksimi-b-svemirac-mica-oslobodjen |
| @haejin | 2683 | 0.015 | golar-partners-inc-gmlp |
| @zockerlounge | 2674 | 0.015 | issos-4-5-die-siedler-4-he-grosse-feldzuege-trojaner-2-deutsch-133 |
| @akhimoni | 2670 | 0.015 | very-beautiful-blue-sky-view-today-cd02e5d227925 |
| @richgang | 2670 | 0.015 | suge-knights-son-clarifies-claims-that-tupac-shakur-is-alive-and-well-and-living-in-malaysia-video |
| @amos1969 | 2669 | 0.015 | actifit-amos1969-20190802t225638058z |
| @ivansnz | 2651 | 0.015 | ubjkgv4fb57 |
| @abcallen | 2646 | 0.015 | sghaoltw |
| @ashikstd | 2639 | 0.015 | 2tbins-daily-quest-reward-of-steemmonsters-9th-pack-of-current-season |
| @grapthar | 2636 | 0.015 | short-song-new-original-music-experimenting-w-various-sounds-electronic-instrumental-walkthrough |
| @monsterbuster | 2634 | 0.015 | monsterbuster-s-steemmonsters-block-nr-137-e0iobapr |
| @bwar | 2626 | 0.015 | daily-delegation-day-3-1-000-neoxag-delegation-everyday |
| @jgvinstl | 2623 | 0.015 | pagm9jpnnie |
| @vgholdingsllc | 2616 | 0.015 | if-youre-out-tonight-look-up-kxwhzrnp |
| @detlev | 2612 | 0.014 | lonely-beaches-that-still-exist-haad-khom-beach-at-koh-phangan-thailand |
| @bookoons | 2605 | 0.014 | happy-new-month |
| @lpessin | 2603 | 0.014 | 1e4xmdjwbag |
| @enmy | 2600 | 0.014 | dia-n-5-de-cuentame-un-cuento-con-enmy-despertando-la-creatividad-en-los-ninos |
| @kadishakho | 2580 | 0.014 | xtot1xau |
| @nelinoeva | 2580 | 0.014 | clouds-above-water |
| @kiryck | 2571 | 0.014 | actifit-kiryck-20190802t050657835z |
| @triverse | 2557 | 0.014 | sega-unleashes-shining-force-onto-sega-genesis-today-in-retro-gaming-july-30th-1993 |
| @alokkumar121 | 2468 | 0.014 | amazon-chime-app-that-makes-work-life-easy-and-simplified |
| @gghite | 2425 | 0.013 | 2juatq-15 |
| @cabalen | 2424 | 0.013 | we-draw-the-letter-h-my-entry |
| @poeticsnake | 2416 | 0.013 | haiku-5-sorrow |
| @emiliomorles | 2411 | 0.013 | q9dup88zqr1 |
| @lyon89 | 2410 | 0.013 | distance-original-song-of-environmental-electric-guitar-produced-by-lyon89 |
| @aellly | 2397 | 0.013 | 3qcjmy |
| @daisybuzz | 2390 | 0.013 | actifit-daisybuzz-20190730t183003053z |
| @aggroed | 2261 | 0.013 | steem-witness-forum-hf-21-sunday-at-1pm-nyc-time |
| @nureza | 2186 | 0.012 | real-madrid-goalkeeper-courtois-is-injured |
| @doggodfroglog | 2181 | 0.012 | doggonegreat-giveaway-1-of-6-steemmonsters-or-sbi-weds31st |
| @schubes | 2173 | 0.012 | what-s-your-greatest-album-of-all-time |
| @grenouille | 2171 | 0.012 | histoire-magique-13-jour-20-1564569005181 |
| @mrscwin | 2169 | 0.012 | actifit-mrscwin-20190731t033537461z |
| @buildawhale | 2164 | 0.012 | buildawhale1564526651 |
Questions?
Please read our
FAQ
, which has a wealth of quality information. If you still have questions, ask in the comments section or join us in our
discord channel
.