Yet another reaction to the latest news from Steemit Inc. CEO @ned. Yawn. So I'll try to keep this to what people aren't discussing as much to try to draw attention to some of the things I think are important and this juncture.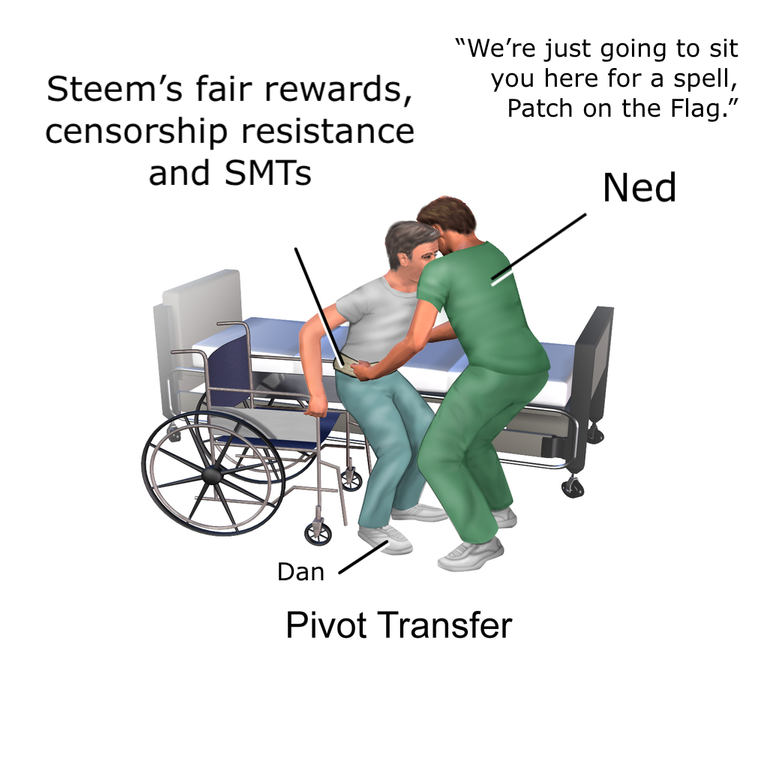 😂forgive the crudeness, the format isn't my speciality 😜
Ned indicated strongly that fair rewards and censorship resistance are no longer part of his goals from the perspective of Steemit Inc., calling them part of what was a "patch on the flag" of Steem. He said this to make the implied claim that since fair rewards and censorship resistance were not part of his original plan of getting crypto into peoples' hands around the world, that it was added later, it can be abandoned while still staying true.
It would have been good spirited to plainly admit that the social media bootstrapping, if that's all it was / is, is fundamentally baked into the blockchain, and the very means by which STEEM gets into the hands of all those people around the world, those who have little or none invested in themselves. It's disappointing to see the core and central use case casually dismissed as well I didn't like that part anyway as the company belt tightens.
Pivot, realityism and real talk
Pivoting is good, necessary even in today's business climate, but the narrative matters, and it tells it's own tales about what to expect here. Let me make my divinations explicit: with SMTs on prenatal life-support, and ideological principles of fairness and anti-censorship dismissed, we are to make the best of the platform as it in a marketplace of dApp-ish tools, and expect changes to the protocol which discard the failed experiments.
I can't help but read into @ned's core statement on this particular matter as shade towards @dan and a further moving away from that partnership. It was Dan who was the more idealistic one, concerned with ethics (in the scholarly sense), principles of social organization and of course - money. Perhaps the network of influences needs to be unpacked more, and some are digging around for their own amusement on that, but I think my reading is likely true. I don't mean to be overly harsh but Ned's statements compared with Dan's on these subjects are pragmatically bland. That might be a good thing. For all the talk of not appealing to investors I think that kind of thing generally does.
I'm one of those folks who held on to the aforementioned parts of the blockchain design as originally stated as worthwhile achievable aims. I've argued for and created tools to help staying to this course (although admittedly my contribution has been small, others have done much much more). These were elements that drew me deeply in and that excited me to the system here above other ones. That position has become more and more untenable in the environment as things have shifted in the community, and it has in part trickled down from the top. This latest video was solid confirmation of this environment, and I'm holding on the last straw of tenability.
Prepare for restructuring
If ever there was a wonderful ephemistic term, it's this! Expect it to be used hither and yon as statements are made about changes. Changes to almost every organization and conclave on the platform. Like all others I too must take this into account.
Chief among the changes I am making is leaving the @sadkitten project as irrelevant in the current and likely future climate (it has been inactive since HF20 in any case). It's clear that thinking about how rewards are meted out are not proritized over that rewards go out at all. That's right --- I admit defeat.
That doesn't mean I'm closing up shop though. There are newly invigorated opportunities to be sure. For all the talk of whales, dolphins and minnows it's really the sharks to which we all should have the greatest inspiration. Not in their singleminded savagery (though some do great imitations), but in their need to stay ever moving, ever active, ever vigilant.
Addendum: partial transcript of Ned's speech
From about 9:00 in the video, emphasis in original:
Along the way, as steemit.com was put up, other concepts have been adopted into this ecosystem as a sort of "patch on the flag". For instance, rewards for content creators, or, bigger, fair rewards for content creators. Another one that was adopted later, censorship resistnce for social media content. Let me be clear that both of these patches on the flag were adopted after - the founding - of - the company, and not that I don't that they're noble causes but they are not part of the true founding. And another thing is they're not even, you can't even say that they're 100% valid, you know. The algorithms of Proof of Brain to this point, they're not devined by God in a way where you can just contribute content and be rewarded fairly, and I think people have seen that. And it would be amazing if they did reward "fairly" [scare quotes acted in video] according to quality of content but that's never really been the case. As much as many of us wanted it to be, once we realized it sorta had the potential for that, and I do have ideas where that could actually work, but it's just not there [...]. The point is there's kinda three things here. There's distribution of currency, that's the first and founding principle of what's going on here, there's the second and third things, which were adopted later which is this "fair" rewards for content creators and the "censorship resistence" of content. Censorship resistence needs to be addressed too.
That's up to about 10:40. He goes on to say show there is too much reliance on Steemit Inc. run nodes and that censorship resistence hasn't really been tested as a result, and some other things you can get form watching yourself.
Attribution
The image File:Home Care Transfer Pivot.png by BruceBlaus was accessed on WikiMedia Commons.
It is licensed under the Creative Commons Attribution-Share Alike 4.0 International license, which allows for the "remixing" I've done above.
EDIT: corrected a typo in the image since time of original posting and added "Patch on the Flag"