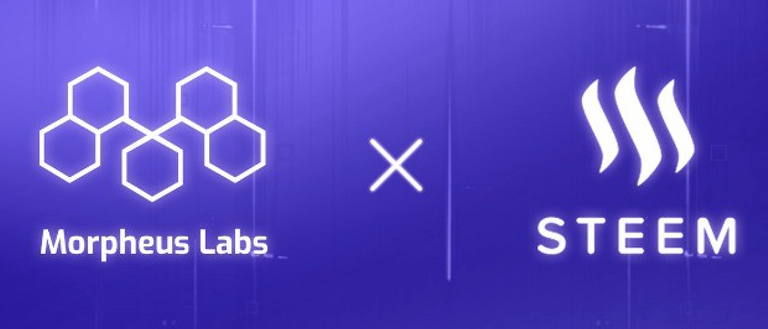 The Steemit Team is excited to announce our partnership with Morpheus Labs. It is Steemit's mission to make Steem the easiest, lowest cost, and most powerful blockchain protocol in the world for powering applications, because we believe this is the key to onboarding the masses to the blockchain.
Steem-as-a-Service
That's why we are excited to be working with Morpheus Labs to make Steem a Blockchain-Platform-as-a-Service (BPaas), making it easier than ever to power applications with blockchain technology. We look forward to Morpheus Labs bringing even more great entrepreneurs and developers into the Steem ecosystem by making it easier than ever to quickly integrate blockchain technology into web applications.
"This partnership is a great opportunity for both Steem and Morpheus Labs to make an impact in the social media industry with Blockchain adoption. With this partnership in place, Morpheus Labs and Steem will move forward integration, offering both enterprises and developers a convenient and powerful tool for building their Steem-powered or Blockchain DApps."
Dorel D Burcer, CIO
To learn more about this partnership, you can read the announcement by Morpheus Labs here.
Morpheus Labs invites you to become part of their community by joining their official Telegram group chat: https://t.me/morpheuslabs.

Stay Connected to Morpheus Labs
Linkedin:
https://www.linkedin.com/company/morpheuslabs-io
Twitter:
https://twitter.com/morpheuslabs_io
Telegram:
https://t.me/morpheuslabs
Facebook: www.facebook.com/morpheuslabs.io
Youtube:
https://www.youtube.com/channel/UCBDcCbFiFDZOcfkGkAo-iLQ
$MITx Trading Channel:
@mltrading
The Steemit Team