Is it okay to re-post from Steemit to WeKu?
First off, WeKu is a Steemit clone with the bad things left out and the good things emphasized. There is almost a zero learning curve. (Even your previous Steemit tags appear in a drop-down menu when you post on WeKu!)
The first question I had when looking at the WeKu platform was that, since it looks and feels in every way like Steemit, why duplicate the work I have already done on Steemit? Some posts take a lot of time and after the rewards period they are locked away forever on the Steemit blockchain, are of no use to Steemit, and are buried so deep no one will ever see them.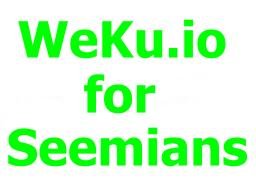 Why not repost the Steemit version on WeKu?
I don't see how that will cause any harm to Steemit. I'm the owner of my posts and I have the original material that produced them, so it would not be a plagiarism conflict. I read the WeKu white paper and FAQs, and found nothing to prohibit a repost.
To make certain, I sent a query to the WeKu team to ask for a ruling on reposts. In part, the request read:
If it is allowable, I feel that it would help add to the value of the platform, and would encourage a great number of other Steemians to change to WeKu if they could reproduce their Steemit postings here.
If each post were marked at the top as "Re-posted from my @willymac YYYY-MM-DD Steemit original", would it be allowable?
I received an email from the WeKu team's Kevin Zou two hours later:
As long as stated as a Re-posted and you owns the original post. It is Ok.
Thanks,
WEKU Team
I take that as a clear approval that it would be acceptable.
Is anything missing from the process?

Jumping Ship?
No, I don't plan to jump ship (picture of rats jumping a sinking ship here) and leave Steemit. What I would like to do is have a presence on a platform that emphasizes quality content above all, prohibits bid bots, encourages the flagging of poor content, and has a reporting method for users to report spam, plagiarism, and general bad behavior.
Steemit users can assist in the move quality improvement on Steemit by supporting
Steem-ua
It is implementing a quality search algorithm to identify and reward quality posts, similar to the one built into WeKu. Unfortunately, the bid bots will still be around draining the rewards pool, although that may diminish over time as steem-ua gains membership.
Unfortunately, there are a lot of Steemians who have strongly expressed their belief that emphasis on quality posts should be dropped entirely to allow single-line posts so Steemit would be a more fun place like Facebook.
I have delegated steem power to Steem-ua because it works harder for me there than it would in my own wallet, and I urge all Steemians to seriously look at supporting it as a great step towards getting support for quality content on the platform.
finis

Comments from real people are welcomed.
About Me:
My Writing: