Share2Steem, the app with the potential to attract millions of new users to the Steem Blockchain, has started a crowdfunding campaign that should allow them to raise money to get the word out about their app.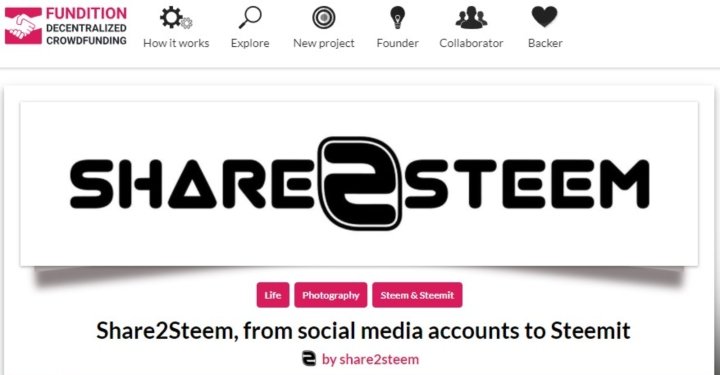 Source
What Is Share2Steem?
Share2Steem
is a small app that allows users to monetize their Twitter tweets, their Instagram posts and their YouTube videos by sharing them on the Steem Blockchain.
You can find more info in my previous article: 'Steemigram Is No More. Meet Share2Steem, A Potential Goldmine'.
Basically, a user only needs a SteemIt (or a Busy) account, and access to the free app.
The big benefit of the app is that a user only needs to set it up once, and then forget about it. This way, they don't have to abandon their favorite apps to replace them for something they are not familiar with.
Once the app is set up, the only requirement to get a tweet, an Instagram post or a YouTube video shared on SteemIt is to use the tag #share2steem.

(A complete user guide can be found here)

Crowdfunding
In my previous post, I showed you the numbers: Twitter, Instagram and YouTube together have about
3 BILLION users
. That's a whole lot of people that can be attracted to the Steem blockchain.
One of the big problems, however, is that it is difficult to reach an audience outside of SteemIt if you don't have the budget for it.
And that's exactly why @algo.coder and @sebbbl, the founders of the Share2Steem app have started a crowdfunding campaign on Fundition.
Their aim is to collect $500, which will be used to get the word out about Share2Steem, through SteemIt promotion channels as well as advertisements on external sites.
The project has been listed on Fundition.io for 2 days now, and although I've seen many Steemians who were very excited about this project, there is not a lot of money or support coming in (yet).
The image on the right shows you the stats from October 2nd, at 2 pm and as you can see only $10.17 has been raised (and the $10 was mine).
Personally, I find it very contradictory that quite a good number of people are very enthusiastic about Share2Steem, but that it appears to be very hard to get people to support the project.
I've seen positive reviews from people like @heyimsnuffles, @apolymask, @goldrooster, @shadowolfdg, @onepercentbetter, @dynamiccrypto and even @taskmaster4450 and loads of Share2Steem posts from a lot of different users, still, at this moment, there are only 5 people who helped raising funds.

How Can You Help?
Remember that this app has the potential to onboard millions of new users to the Steem blockchain, which will make the price of Steem go up significantly.
There are different ways to support the Share2Steem app:

1 - DONATE
It doesn't matter how much, every Dollar is a Dollar closer to the goal of $500.
To donate, visit the Fundition.io page for Share2Steem and use the form on the right to send your donation. You can pay for your donation with Steem or SBD, but also with Bitcoin, Litecoin, Bitcoin Cash, Ethereum, Monero (XMR) and Dash.
2 - SHARE
You can help to spread the word about this Fundition campaign and get more people to support.
On the page itself, you'll find some share buttons. It only takes a second to share this campaign on your other social media.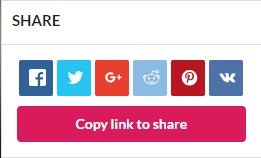 Of course it would even be better if you'd use every social media account you have to get the word out.
Remember to share the site again a couple of days later, adding a follow up message.
Or you can do as I'm doing; you can write a SteemIt post about it, and cross-post it to other platforms.

Help The Account Grow
It's not only important to collect funds for promotion.
To be able to deliver what they promise - monetization of tweets, Instagram post and YouTube uploads - the small @share2steem account will need to grow.
Let's take a peek behind the scenes and have a look at the account stats: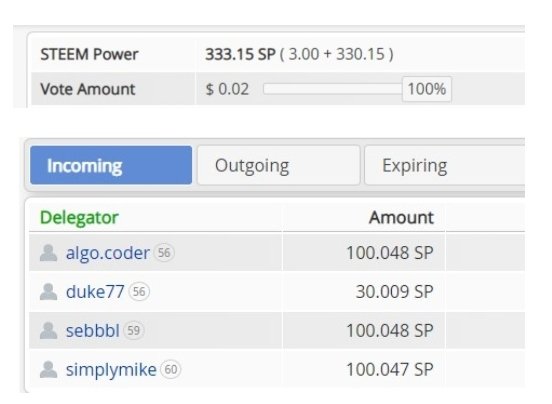 You can see they have only 333 SP and their 100% upvote is worth $0.02.
Imagine that the app goes viral tomorrow. How many posts do you think they will be able to monetize? Right!
They have a curation trail set up, but it's important the @smart2steem account will be able to spread the promised upvotes too.
A second thing you might have noticed is that almost all SP has been delegated to them. Both developers delegated 100sp, I did too, and a noble spirit, @duke77 supports the account by delegating 30 SP.
Is that it, I hear you ask. Yep, that's it.
Why?
When apps like Steemhunt, or DLike and all others popped up, it took them not more than a couple of days to receive thousands of SP in delegations, while Share2Steem has been around for almost two weeks, and as good as nobody took it upon him to delegate a little SP to the account.
It's not very hard to find the reason for this. All the other sites give away tokens or delegator payouts in exchange for every SP one delegates. This does not only create a passive stream of income, but once SMT's go live, some of those tokens might take off and end up being worth a fortune.
All Share2Steem has to offer are upvotes on posts made through the app. So there's nothing passive about it. You have to post to earn an upvote. On top of that, the app is mainly targeted towards people who do not have a SteemIt account yet. I assume a whole lot of Steemians have no intention of ever using it. So they will get no return for their delegation.
So here's my question to you all:

Created with The Logo Creator 7
How Can You Help The Account To Grow?
1 - DELEGATE
Send them a delegation - again, it doesn't matter how much you send. If 10 people delegate 10 SP, that's 100 SP extra.
Remember, a delegation can be retracted any time. I'll add some easy-to-use delegation links at the bottom of this post.
2 - AUTOVOTE
By adding the
@share2steem
account to your list of autovotes, the owners will earn some income, which they can use to power up.
I realize the account makes multiple posts a day. If you don't want to auto-upvote every post - which would probably drain your VP - you can use SteemDunk.xyz to set a limit to the number of posts to vote on each day.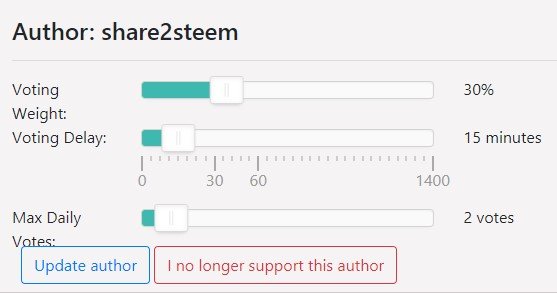 Source
3 - JOIN THE CURATION TRAIL
Inside the
Share2Steem
app, you'll find the curation trail settings. By default, the curation trail is disabled.
By enabling it, you can help the developers to deliver what they promise to all the people outside SteemIt: monetization of their social media posts.
You don't have to drain your VP by following the curation trail either. Depending on the size of your account, you can play with the settings a bit.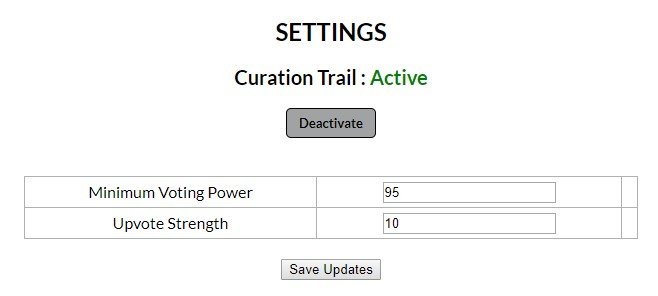 Source
4 - RESTEEM THIS POST
The more people we can reach with this message, the better the results will be.

This Is A Huge Opportunity
Once the news of the app reaches the world outside SteemIt, there will be a giant instream of new people, and the number of transactions on the Steem blockchain will go to the moon.
It would be a shame if we didn't do everything we could to make that happen. And if it happens, I know I would be very pleased to know I played my part in it. Wouldn't you?

Here are the quick delegation links I promised:

10SP | 20SP | 30SP | 50SP | 100SP | 250SP | 500SP | 1000SP | Custom Amount

Signature created with The Logo Creator
Subscribe Ro RSS Feed | Subscribe To Newsletter



Join us @steemitbloggers
Animation By @zord189
---
Posted from my blog with SteemPress : https://mysteemworld.com/share2steem-how-you-can-help/
---