The SteemSTEM project was officially launched on September 29, in 2016 (although a small group of STEM lovers on Steem were already discussing about it for some time). Making us 3 years old - one of the oldest projects on Steem that's still alive!

Happy anniversary SteemSTEM!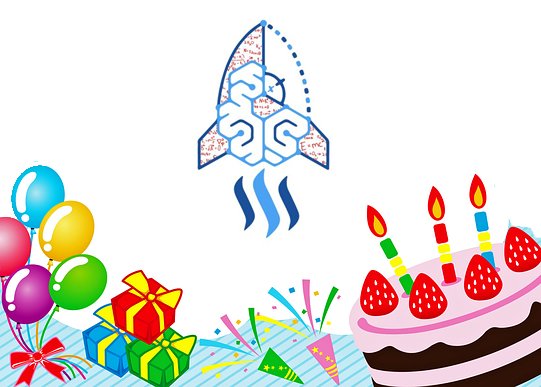 Science communication is a vital force worldwide, and there is a clear potential for Steem to play a role in this context.

SteemSTEM focuses on this goal via several actions that range from supportinig STEM authors (both on Steem and on other social media like Facebook, Twitter, Instagram and Reddit), the development of our frontend, the deployment of our witness @stem.witness, and the organisation of meetups in crazy places (the first two happened at CERN and at Virgo Labs).

We'd like to share with you all a few statistics about curation, engagement and user retention over the last 3 years to commemorate the hard work that our whole community of volunteers and authors have put in to our cause.
---
Curation
Authors are supported according to various criteria. First, objective requirements ensure that any supported post is related to Science, Technology, Engineering, Mathematics (STEM), and that it is not fraudulent or dishonest (references image credits, plagiarism). In addition, we also encourage content creators to use enthusiasm, humour, natural tone, simplified language - generally have a social media personality that may best reach larger audiences. Wikipedia-style posts are not what we are about!
We also stress that there is no length requirements, and that we accept content in Chinese, English, French, German, Italian and Spanish.

There are currently four levels of SteemSTEM support:
10%: To encourage a new user or acknowledge effort.
30%: An average vote for an average post that does not report anything new or exciting, or that is not written with any personality or passion.
65%: Very good posts with character in their writing style and/or that bring unique or fascinating content to Steem. We feel content of this calibre contains information that users might search for in the future from outside of Steem.
100%: The best of the best, often written by authors who master and have a unique approach to their subject, that is completely original, groundbreaking, and/or demonstrates one's own research.
Since the beginning of the project, we have supported 3062 authors who have written 21327 posts. As a plot is better than 1000 words, take a look: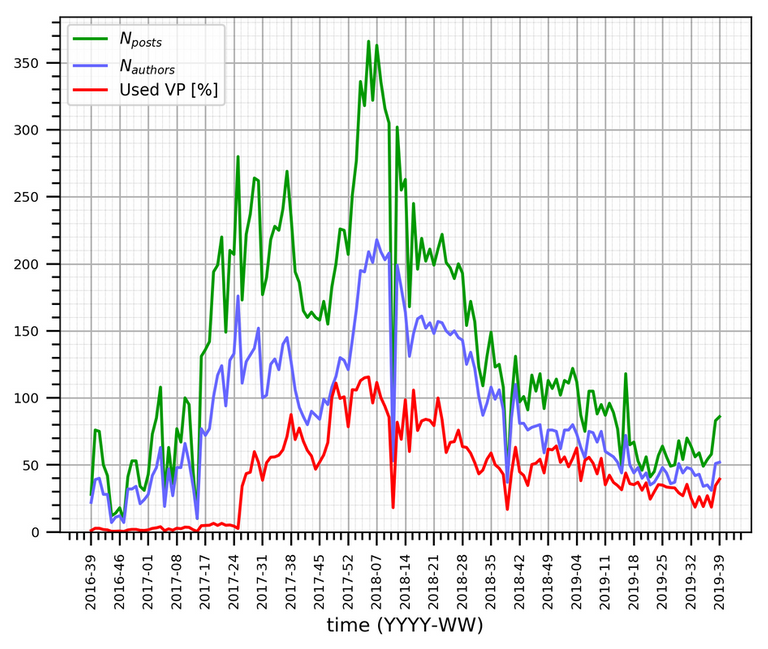 This describes the number of weekly supported posts (green) and unique authors (blue), as well as the usage of our weekly available voting power (red). Ignoring the HF-related spikes and dips, as well as the crypto bubble of January 2018, it is nice to see that HF21-22 generated a revival of the community (the last data points).

Let's cross our fingers the current trend will continue!
Diving deeper, we can break down the amount of supported posts in posts receiving a small-level (less than 20% upvote), medium-level (less than 65% upvote) and high-level (more than 65% upvote) amount of support.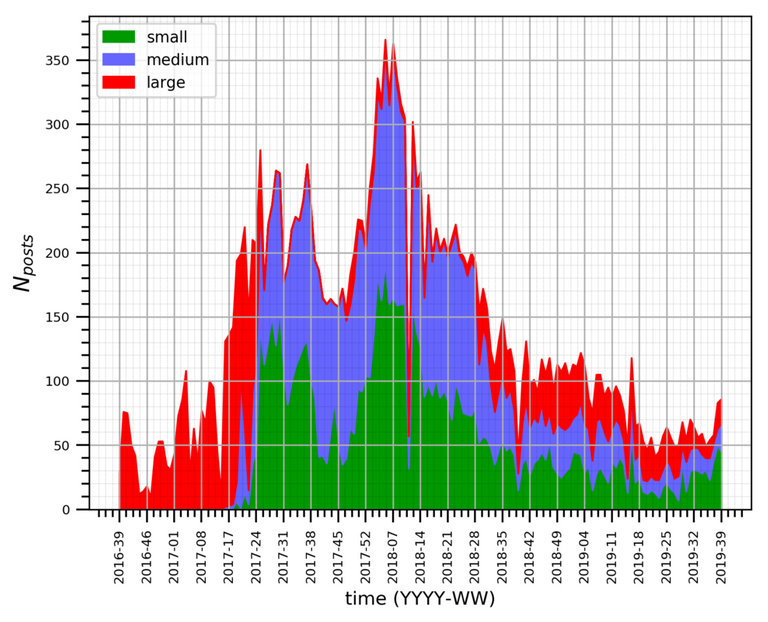 Our goal is clearly to have a larger red area. However, this kind of posts requires more effort that, naturally, many are not willing to put the effort in at current reward rates. This should somehow be accounted for as we have a thriving voting trail so that our best posts easily get several dozens of SBDs of rewards!

In terms of rewards, let's close this section with the breakdown over time of the $685,793.248 of rewards that we have shared with more than 3000 Steem users.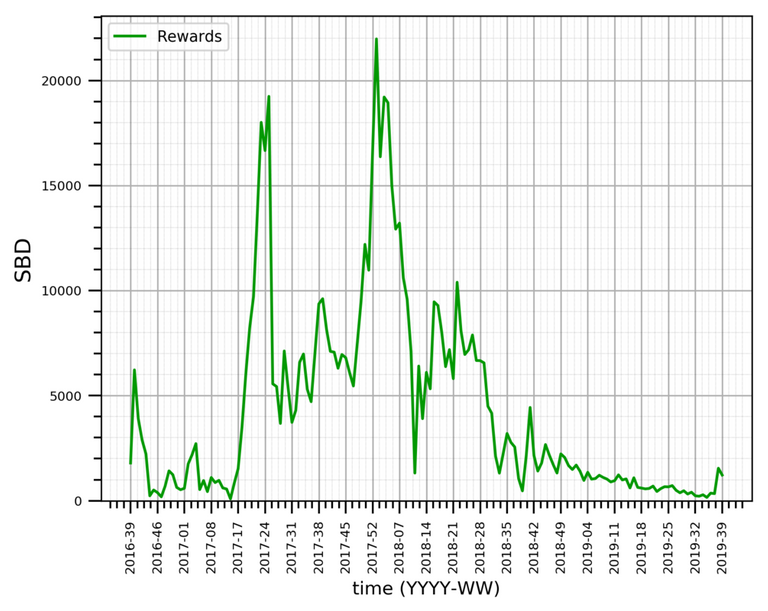 Even today the numbers are not bad. The posts supported by SteemSTEM get all together about 1000-1500 SBD weekly (please check the last data points).
---
Engagement and user retention
The interesting feature is that on average, user engagement measured as the average number of comments over the supported posts has barely changed since the beginning of the project.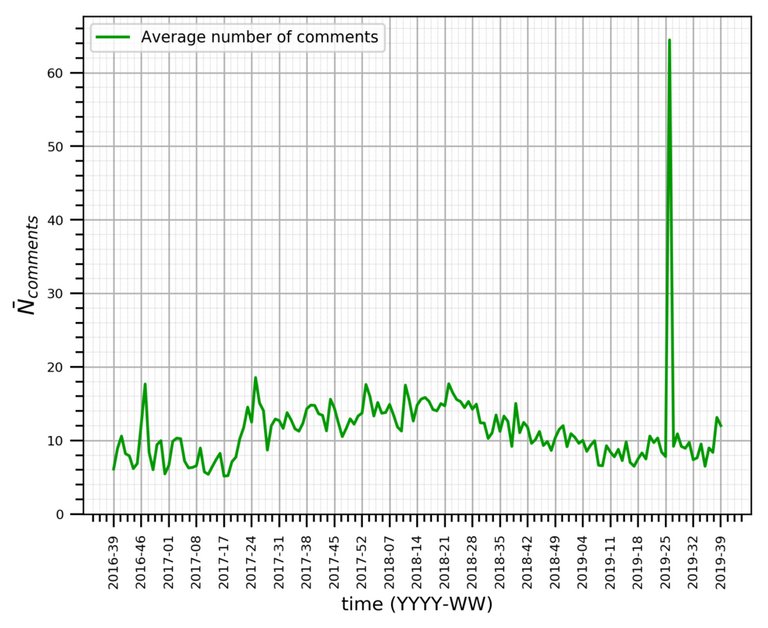 Whilst we have>a lot of posts with not that many comments, we however have a good number of post with more than 15-20 comments. We hope to do better there, thanks to our efforts reaching out to other social media and a future option that will allow people to comment posts without any Steem account.

For the spike at 62, please see here!

On a different aspect, the figure below displays the number of weeks between the last and first posts of all authors supported during the last 3 months (green) and 6 months (green + blue).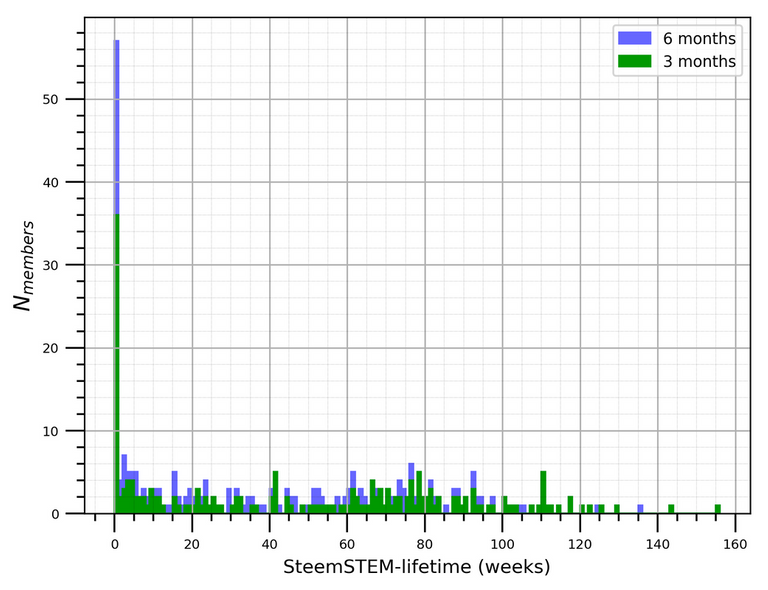 A sad conclusion is that many users write one post and leave (the peak at 0). This is a common theme across the whole blockchain and its various projects.

We however have many community members who are there for some time, contributing to SteemSTEM on a regular basis. Our oldest users (who are here for more than 2 years and who have written at least a post during the last 3 months are:
---
The steemstem.io app
It is finally cool to see our app being used more and more (and hopefully, with all the planned developments, this will continue rising):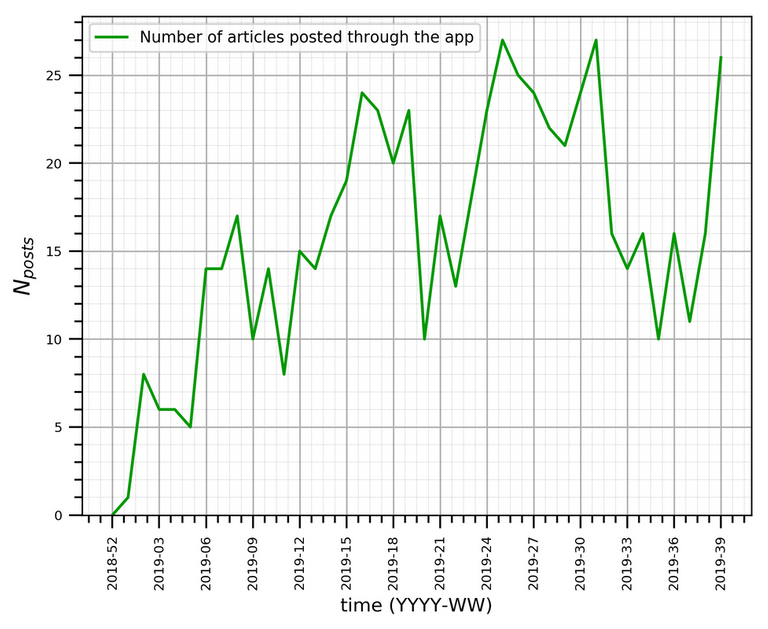 On this curve, we consider all posts supported by SteemSTEM and posted from the app.
As our last words for today, we wish to thank all the supporters, benefactors, curators, trailers and fantastic members of the SteemSTEM community for everything they have contributed that has allowed us to continue doing what we do, evolve, and become better than ever before!