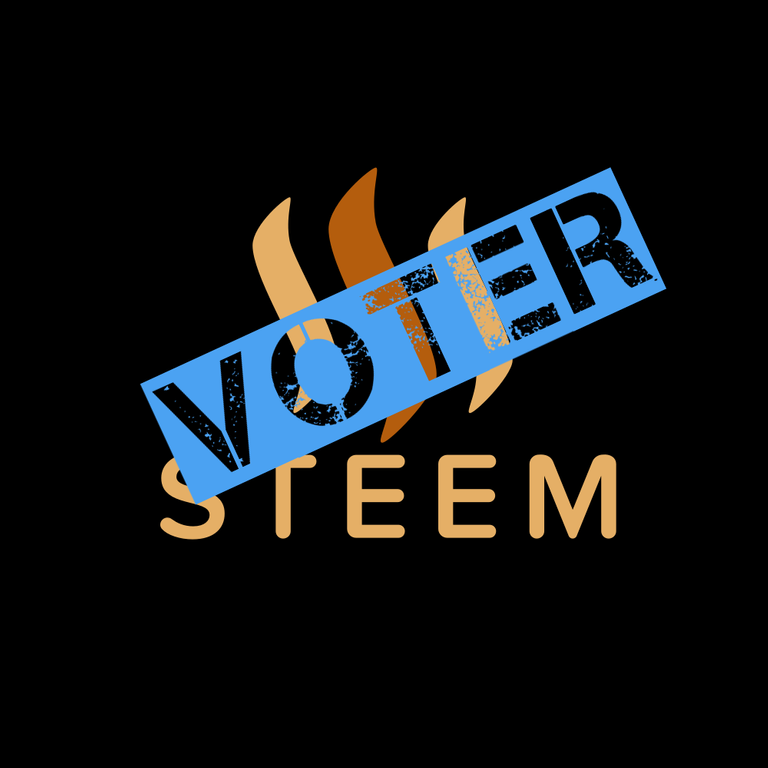 As we turn the corner into 2018, Steemvoter would like to show our users how much we appreciate them with a limited time promotion on Steemvoter premium service!
Upgrade your Steem experience with awesome premium benefits!
---
Premium Members Enjoy
Up to 500 voting rules.
Steemvoter will not use your vote for the daily payment posts.
The guild participation remains optional, simply tick the "Guild" checkbox to donate maximum of one daily vote to our various community initiatives, such as the Steem Exchange Listing project.
Premium member voting rules are processed by a dedicated server, ensuring reliability and consistency of voting.


---
January Premium Offer

Image credit: PixaBay User - Gellinger
Through the month of January we offer you a discounted subscription for the Steemvoter premium service. Instead of the standard 3 SBD per month, you can now purchase a subscription for just 1 SBD per month.
If you have been considering upgrading to premium, now is a great time to try it out!
Already a premium user? Take advantage of this opportunity to extend your membership and enjoy the discounted pricing!
Hurry up! The discounted rate is valid only for payments received in the month of January. So if you just want to try the service for a month, pay 1 SBD and see how it goes. But since on February 1 the rate goes back to normal, so you may want to purchase a few more months of service before the promotion ends. You could even go ahead and get a full year of premium service for what would normally be the standard cost of just four months (12 SBD)!
That's like paying for January through April and getting the rest of the year free!
---
How to Apply for Premium Services
Step 1 - Goto your Wallet

Step 2 - Click the dropdown next to Steem Dollars and Select "Transfer"

Step 3 - Fill out the Form as Indicated Below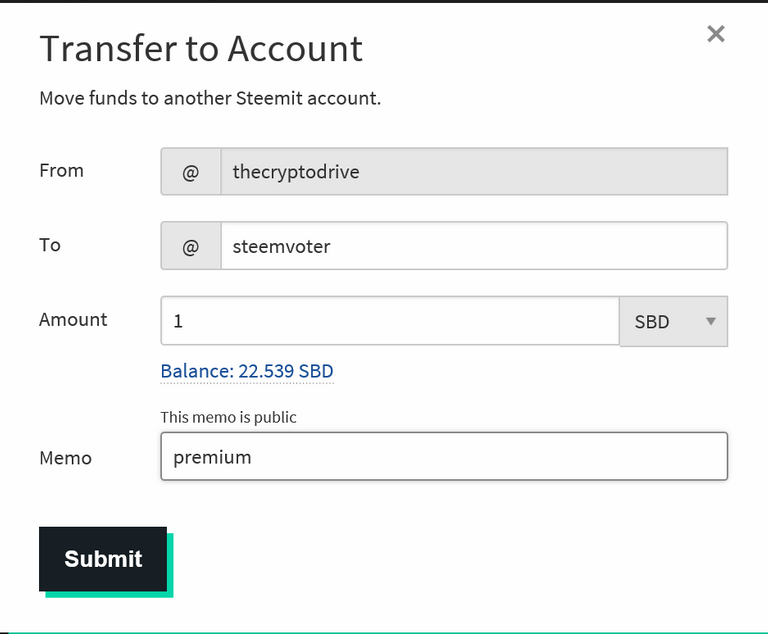 Enter steemvoter in the "To" field
Enter the number 1 in the "Amount" field for SBD
premium in the "Memo" field
Click the Submit button and sign with your Active Key.
Note: If you want to take advantage of the 1 SBD special and pay for a few months up front, send a greater whole number value such as 3 SBD, which will give you 3 months Premium Services @ 1 SBD per month.
---
If you haven't tried Steemvoter before, there is no better time than now to sign up! Registration is free and gives you access to our basic service so you can try it out without spending a dime.
Happy with the service? Be sure take advantage of this special pricing (before January is out), or remain a basic member (at the cost of a single upvote a day at most used by Steemvoter).
Sign up at Steemvoter
Maximize your curation with Steemvoter by automatically voting for the authors you love!
---
Join our Discord chat
Get support and connect with us and other Steemvoter fans!

---
Steemvoter.com is a @buildteam project by @thecryptodrive (witness) @cryptomancer and @reggaemuffin (witness)
---
This is a @steemvoter subscription payment post. Thank you to Steemvoter customers for allowing us to use your Steem accounts to upvote this post by virtue of your free subscription to the Steemvoter.com bot service. @steemvoter is proudly a @buildteam subsidiary and sister project to @steemsports and @minnowbooster.