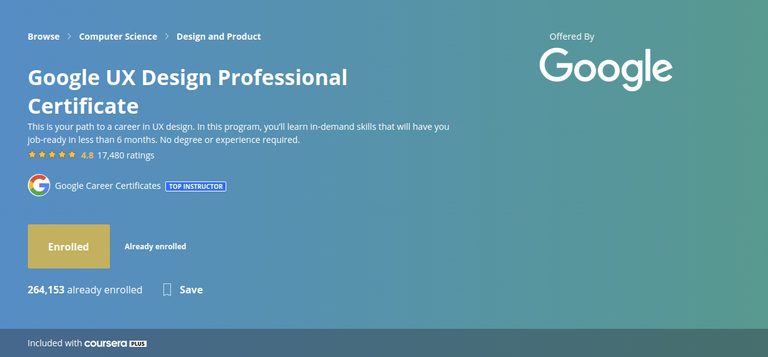 ---
Hello there!
This post is a short review/first impression of the whole Google UX Design Specialization. It's an early review/opinions post because this Specialization consists of 7 courses, and I've just recently finished the 1st course, so not too far in to have a conclusion but deep enough to where I have already formulated an opinion on where this is going and if it is worth it.
So, is it worth paying $49/month to get access to this course? Definitely, but only if UI/UX design is something you want to explore. The course instructors are all google employees currently working on the UI/UX field, so you are learning from people that DO the working day-to-day instead of learning from professors that all they do is teach (not saying there's something wrong with this, but I value the perspective of someone that does the work higher than someone that just teaches but that is me)
The content of the course is distributed in weeks so you can keep a notion of progress, but the content is bite-sized and organized enough that you can comfortably progress faster than the estimates. For example, the first course has 4-weeks of content, but I was able to get through it in 12 days with only doing 2-3 hours a day tops. They estimate the whole Specialization takes the average person six months to complete, but if you're focused, you can probably finish it in 2 1/2 or maybe three months. We'll see after I'm done with it.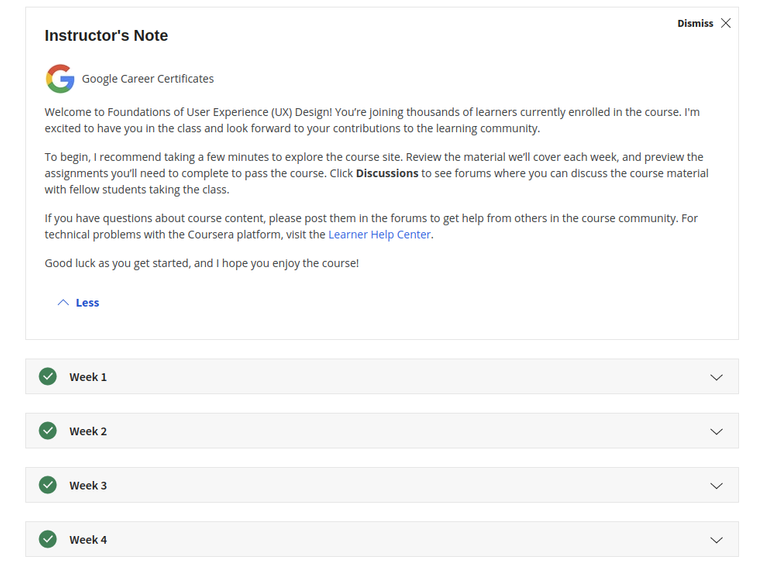 The path is set up in such a way that you're supposed to be able to design websites and mobile applications using tools like Figma and Adobe XD which is the reason I joined the course. In the first four weeks of content, there are not many tools being used, and it is primarily introductions to the concepts of UI/UX and the roles someone specializing in them can cover within a company.
I'm looking forward to starting using the tools Google employees use as I have wanted to introduce actual designing into my toolkit to eventually be a full UX Engineer, which can produce a visual design and implement it themselves in code.
Coursera has a pretty good platform, and you can do course content on both your desktop and/or your phone with their app; very few complaints there. You can do the work-intensive activities on your desktop and then coast thru the theory while laying down in bed like a champ. I'm looking forward to the subsequent courses, and if there's interest, I might do a middle point review and an after completion review. As of right now, I have plans to keep going since I've enjoyed what I've been doing there so far.
If you want to join Coursera, you can use my link here for 50% off, but you also can just go and join without using it. I don't mind, it's a good platform, and I've looked over a couple of other coding courses, and they have an excellent structure, its not all 100% long-ass format videos like what you usually find in Udemy, which is a nice change of pace, content and learning wise.
Bonus:
My passing scores of the first course: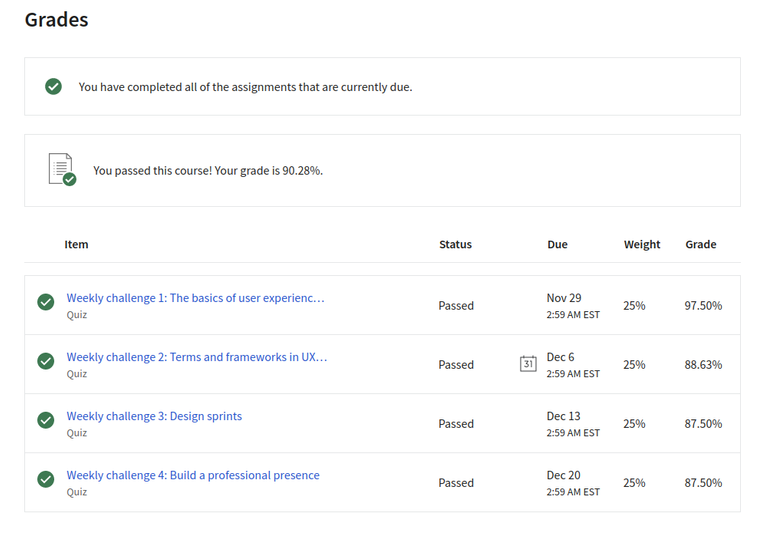 They also gave me 9-months of subscription for Adobe XD for completing the first course, which I haven't claimed yet, which is a $90 value, considering 1-month of premium Adobe XD goes for $9.99. Which already makes it awesome, I guess since I only paid $49 to do this first course, the only thing left to see is if I will be able to extract all of the value provided by it to justify it, but we'll see.