There is no life without communication. Many ways people interact with one another either knowing/ unknowingly. By communicating we can't judge how the person resembles and at the same time, we can't trust them. People tend to realise when they have fallen into that dark trap. It wouldn't strike until it happens to myself.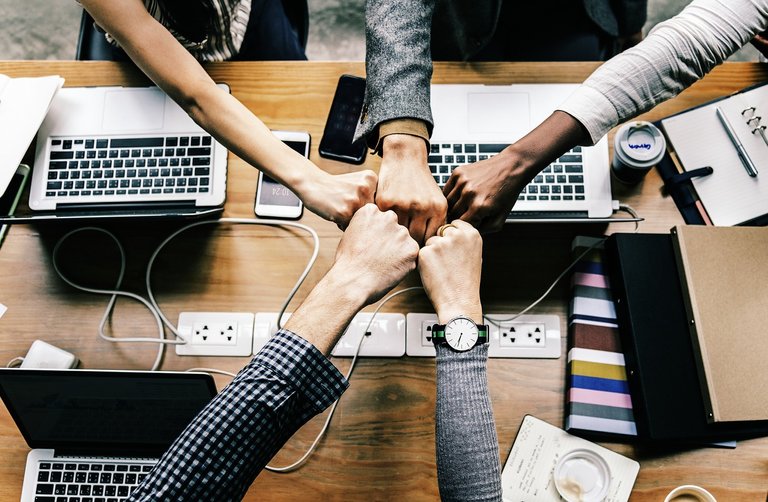 Image Credit: https://pixabay.com/photos/team-team-building-success-computer-3373638/
My story begins in Wechat. I've got to know a girl that address as Mohini. We started our conversation from normal chat till it becomes a phone conversation which is within a month. The craziest thing was that I've never seen her profile and her family background. What I've known were her nickname and profession. She seems so attached until exchanging secrets and problems with me. I've noticed that I'm neglecting most of my leisure time with her by chatting and on the phone. The fact was that we wase is not in any relationship.
All goes well until I have felt she started to force me to spend more time with her on conversation and the phone call. It's pressurised me because I could not concentrate on my other tasks soon she kept on continuing to continue the conversation so frequent until a quiet moment appears on both sides of the call. I always thought to hang up the call but i was fascinated with her and started enjoy her.
She asking me talking about anything else as she likes everything i was talking.
I felt something wrong about her so i closed the apps for a week to focus on my business. After a week of postponed the apps when i reload the apps again i saw 1000 of messages and missed voice calls appear in the chatbox. It's shocked me the last note of the chat that stated that he was addicted to my voice. Like ''your voice is a drug to me". ''I can't start my day without it" the only sound that makes my day stronger and gives faith to alive." ''a voice plays like music to my ears when I was in bed.
I was astonished and terrified because we chatted and talked over the phone. That girl doesn't know who I am I and how am I look beside my nickname. For a second it sounds like she's flirting with me. But a few moments later I've received some messages are ''I need you my friend and not as a boylfriend". I want to share all my feelings with you and be my listener". '' I want you to be there for me whenever I need you"." I want you to be there during my hard times and console me".
Seriously I was stuck, and my mind couldn't capture what was the conversation all about. What I was reply was a smiley symbol. Even though that sounds stupid somehow at least, I've responded to her messages. As soon she started to chat, as usual, sharing her regular daily routine to me over phone conversation and hung up. I was speechless of his behaviour and kept doing these for almost for a week. I've felt she is controlling me to obey her order as robots do. Seriously, she called me again, this time I don't want to talk with all her nonsensee words of her daily life but I interrupt her by changing the topic, but she cut the conversation and continue to speak from the daily routine stuff. Again I've interrupted her, but she is not even responding to my question at all. She continues to talk the same issue till the end and hang up.
I told everything to my real friend he told me not to pick up his call and not to respond to his chat. My friend felt he seems psychotic and asks me to stop for a while and focus on my business . I've just handover my mobile and exchange his mobile for the time being until finding the right solution to this problem.
After a month, my friend visited me and to share his stories regarding the psychotic girl Mahi.
The real intention behind everything is to traumatise the people and threatened them for money purpose. In these case, I am lucky because not sharing all my secrets to her; instead, she is sharing her to me. Luckily, I'm glad that you not fallen into his trap. He told me. (my friend)
He got this news from his friend who has been trapped on her a month before.
It gave me a lesson that not trust someone quickly especially in the apps even though good souls exist out there. And I would like to thank the psychotic girl for makes me realise no matter whatever problem I'm facing, my friend, is there with me always.
Thanks For Reading Me.