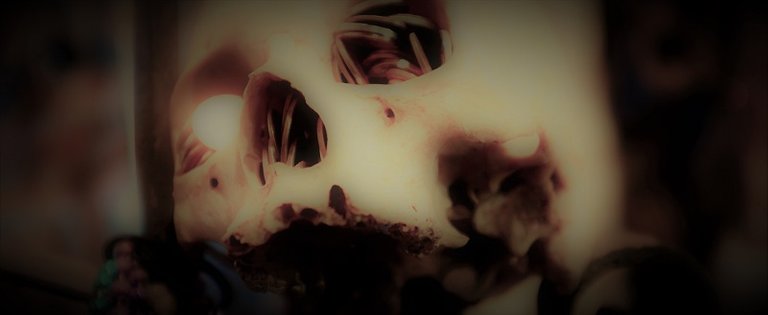 Source
Before you go any further, please start from the beginning

After the events of the past few days and a newfound glimmer of hope, Brooke headed for the beach. She thought a nice long walk would be the perfect thing to help her process the situation and prepare herself for the hectic night ahead. She strolled, soaking in the beauty of her surroundings; the warmth of the sun on her skin, the sand between her toes and the sound of the waves crashing on the shore. It was easy to forget the gravity of the situation she was in.

She had been walking for a while when she found a small spot free of tourists and sat down in the sand facing the Gulf of Mexico. This wasn't her first time at this beach and she was reminded of a simpler time not so long ago when her worst fear was not knowing when the monster she was living with would have another itch that needed scratching. The days of the past suddenly didn't seem so bad.
A vision of Jada lying on the floor dead in her dorm room flashed in her mind and she briefly thought about turning herself in. Not because it was the right thing to do but because she wasn't very confident in her ability to live a life on the run. Constantly on the move and looking over her shoulder. It would feel like an adventure for a while but she imagined that it would become rather tiresome.
She had not sought out any news since arriving and thought it would be a good idea to purchase one of those cheap prepaid cell phones she often saw at gas stations and almost every corner store in the city. She stood up, brushed the sand off, walked back to her car and drove to the first gas station she found. Luckily for her, she lived in a time when cell phones were a necessity and everyone felt the need to be connected at all times. It didn't take long to find a phone she could afford with a couple hundred free minutes.
She sat in her car un-boxing the phone and doing the necessary set up to get it going. She scrolled through the headlines of the local news websites and there it was... "Young Woman Dead on Southeastern Campus in Hammond". She stopped breathing for a few seconds, her heart was pounding in her chest and body was trembling as she pressed the link that opened the article. Her eyes opened wide quickly going over the words.

She learned that Jada had no identification on her and the authorities had no clue who she was. They interviewed Brooke's roommate. She told them she had been out of town for a week visiting fancily and that Brooke had not been on campus in weeks. They had no leads, no suspects and no weapon. Both Chopsticks were in Brooke's possession and her roommate unknowingly gave her the alibi she needed. She expected to see her name plastered all over the news but was pleasantly surprised to see that wasn't the case. She doubted that Jada had someone looking for her and the only thing that connected the two of them was the couple of years they spent in the girls group home. There was no mention of security cameras and she couldn't recall seeing any around campus.
She shut the phone off, closed her eyes and took in a deep breath of relief. She was still worried because she knew things could change instantly, but at least for the moment, she could relax.
She went back into the gas station where they also serve food and got herself a shrimp po' boy before going back to the Hurricane Hole for a nap before her shift. The alarm gently woke her at eight o'clock. She got up, took a shower and was getting dressed when her nerves kicked into overdrive. The only thing she knew about being a waitress was with huge crowds, it wasn't going to be easy.
She checked herself one last time in the mirror and headed down to the bar to get her night started. The bar was already packed with mostly fishermen there for the rodeo. She glanced around looking for Roy when she heard him yell her name. Their eyes met and he pointed her in the direction she needed to go to get behind the bar. He lead her to the kitchen where it was a little quieter.
"You Ready?"
She didn't say a word, just nodded her head. He began to give her a quick training session on the tables she would wait on, handed her a notepad to write down the orders, gave her a little pat on the back and whispered in her ear, "Don't be nervous, you got this."

She gave him a slight smile and said "Thank you." and off she went to take her first order. She had a group of ten tables to take care of. The first couple of orders went smooth. She didn't drop or spill anything and she managed to give the right orders to the right people. Things were bustling and frantic but she did well and seemed to be liked based on the size of her tips. The tarpon rodeo attracted men from all over and many of them had plenty of money to spare.
It was three o'clock in the morning when the last customer left the bar and it was time to get everything cleaned and prepared for the next day. Roy had a tiny office behind the kitchen and called Brooke in for a chat.
"You did well, Brooke. When you told me you didn't have experience I was expecting tonight to be a disaster."
She smiled, "Yeah, I actually surprised myself. I was so nervous."
"Well you did a great job. Same shift tomorrow night?"
"Absolutely."
He reached into a box on the floor and pulled out a couple of the pink uniform t-shirts and handed them to her.
"Awesome! Then you'll be needing these."
"Thanks Roy and thanks for giving me this opportunity."
"It's a win for both of us so thank you!"
She gave him a warm smile and turned to head to her room and call it a night.
She was stretched out across her bed relishing in the fact that she just made almost five hundred dollars in six hours. There was no way she was sleeping. She was on a natural high. She jumped out of bed, grabbed her keys and decided to go for a ride. There were many places opened all night and she was in the mood for a drink.

She saw a flashing sign that said 'live music' and pulled in. The place wasn't overly crowded and the band must have been done for the night but the Jukebox was playing and the alcohol was flowing.
She sat at the bar and ordered a long island iced tea. Waiting for her drink she looked around at the small crowd. There was an older couple on the dancing floor. They were so in sync with each other it was evident they'd been together for years. There were a couple of college age guys hovering around the only pool table and some older gentlemen sitting at the end of the bar telling their fishing stories.
The bartender brought her drink, she grabbed some change from her pocket and walked over to the jukebox to play some of her favorite songs. She sat back at the bar and slowly sipped on her drink while enjoying the music that filled the air. The song 'Into the mystic' by Van Morrison began to play as she felt a tap on her shoulder
She turned around and saw it was one of the guys who was playing pool. He was attractive, blonde hair brown eyes with a nice tan and slender build. He reminded Brooke of a surfer type.
He smiled and motioned to the stool next to her, "Is this seat taken?"
She shook her head no. "It's all yours."
He sat down and extended his hand, "My name is Isaac."
She shook his hand, "Nice to meet you, Isaac. I'm Brooke."
"The pleasure is all mine. Can I buy you another drink?"
She didn't want to be rude but she didn't want to be bothered either. She just wanted to drink her beverage and enjoy the music.
"Thanks, Isaac but No. Listen, if you want to sit there, be my guest, but I just want to be left alone tonight."
He looked a bit surprised by her words like he's never been turned down before.
"Oh. Okay. My Bad."
He went back and joined his friends. She finished her drink and ordered another. When she was done she left a tip on the bar and went back to the hotel to get some sleep.

She had just laid her head down on her pillow and closed her eyes when she heard a knock on the door. She didn't realize while she was at the beach she garnered the attention of someone. The knock startled her. She got up without making a sound and made her way to the door to look through the peephole. Her fear turned to shock when she saw who stood on the other side.
She quickly unlocked and opened the door. She just stood there for a moment with her mouth hung open and tears in her eyes wondering if she was dreaming.
"Adrian, is that really you?"

Dear Loyal Readers,
Happy New Year Steemians! Thank you so much for reading! I hope you have enjoyed Chapter 12. Please stay tuned for Chapter 13. Feel free to leave your thoughts in the comments as I love hearing what you all have to say. If you would like to be added, just let me know and I will be honored to tag you for the release of each new chapter. Thank you for all the love and support you've shown since starting this journey with me.
Thanks for stopping by y'all!
Love, Monch🐝

• @dreemsteem • @andysantics48 • @kiwideb • @enginewitty • @tamala • @andywong31 • @megiscrafty • @marblely • @misslasvegas • @redheadpei •