Hello ! Happy Weekend !
I answered phones all day and BOY ! ... was I ever glad for 5 o'clock to show up ! Now it's time to put that behind me and pretend for two days that I never have to answer work phones again. ahhhhhhhhhhhhh...... That's it.
I bought a fun little piece of art from the Daily Paintworks site. I just recently got around to checking out that site. I'm always looking for ideas on possible ways for me to make a little extra cash for when I do decide to retire. The site has a good amount of original artwork on it. From things I have read though, it sounds like it had a great "hay day" some years back, but is not quite what it once was now. Still.... I loved looking around to see what was there.
A few days back, an artist named David Peine put this painting up and for some silly reason, I attached to it immediately and it did not take me long to purchase it. He called it "Nightly Walk". I believe I laughed as soon as I saw it.
It is so whimsical and there is so much to see in it. I loved all the fun elements in this folk art-like small painting. It is an 8 X 10. The star of the show to me is the skeleton man wearing a hat and shoes and smoking a pipe. The pipe was a comical touch. Then the black cat on the leash with green eyes. On the horizon you see a darkened tree line and then there are other bare trees whose leaves have fallen to the ground. There he goes down the crooked little sidewalk on a fall evening with a big full moon and stars of various sizes.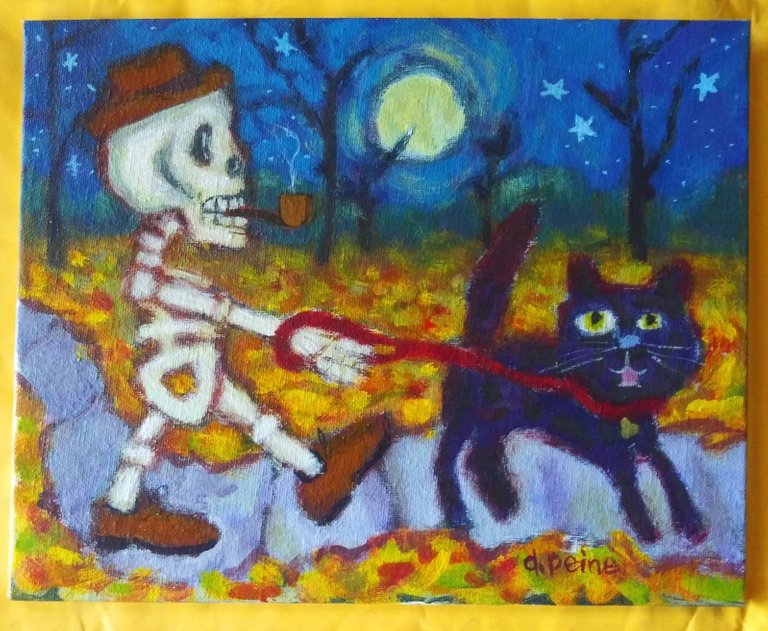 This fella makes me laugh for some reason. I like things that make me laugh.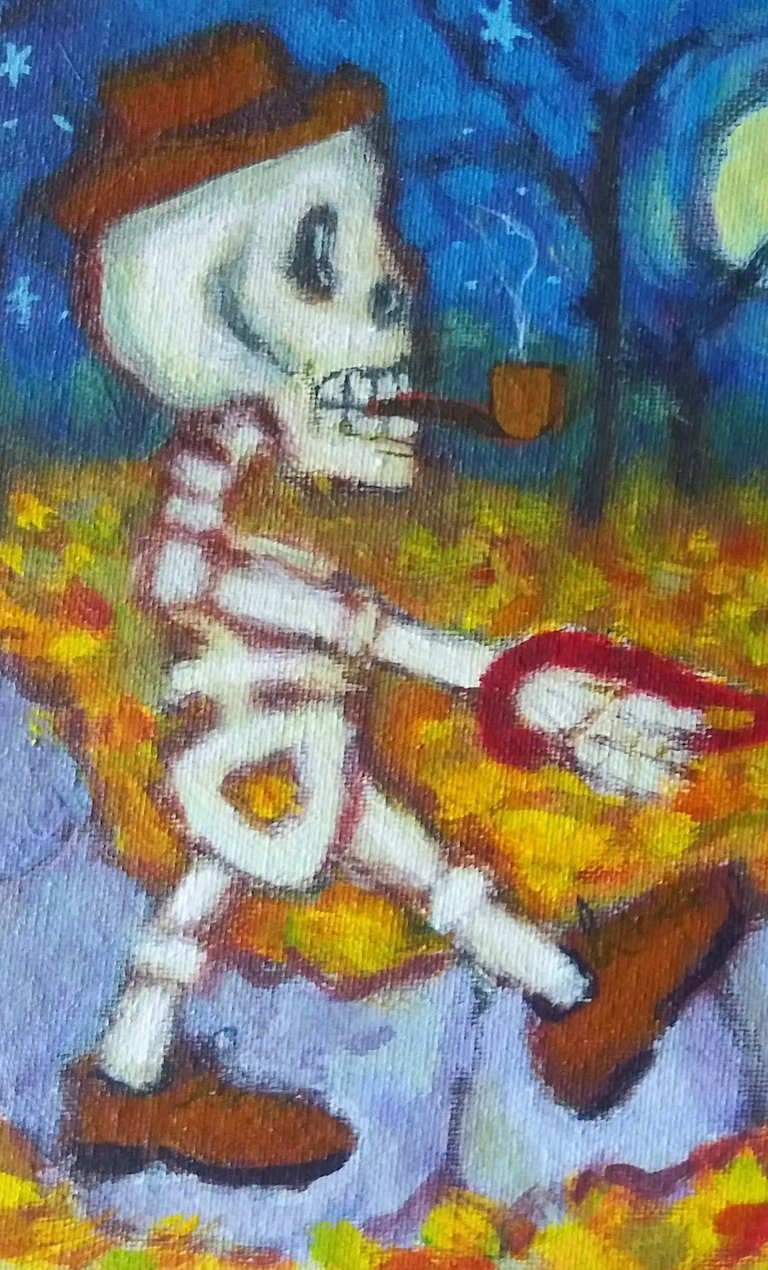 This cat is either saying "meow"... or hissing at me because I am staring at it, I'm not sure which.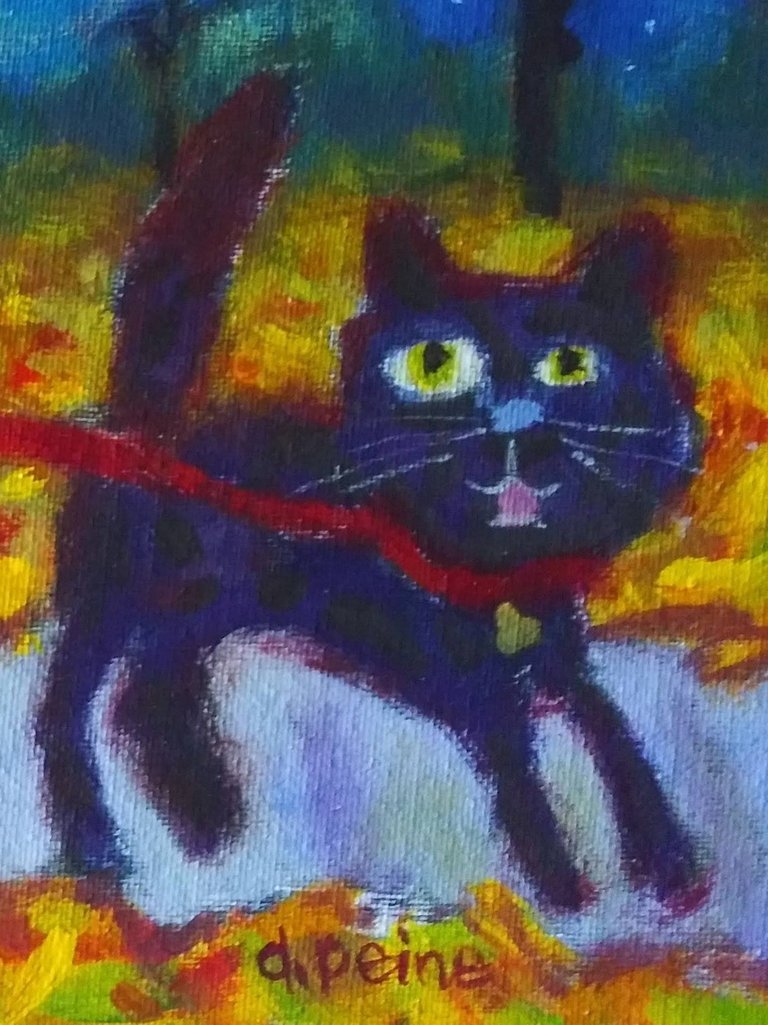 I don't know much about the artist except for this little blurb that is in his artist information on the DPW site:
After I graduated college with a major in illustration (Art Center College of Design) I thought my path was set.
After enduring a marriage, Dad-ing two amazing sons, a long time in the hand painted sign business and alot of very quick years, I find myself returning to what I've always loved...pushing paint around, trying to make beautiful things.
It made me laugh again that he said "after enduring a marriage" 😂
Anyway, now it's mine and I am very happy it is.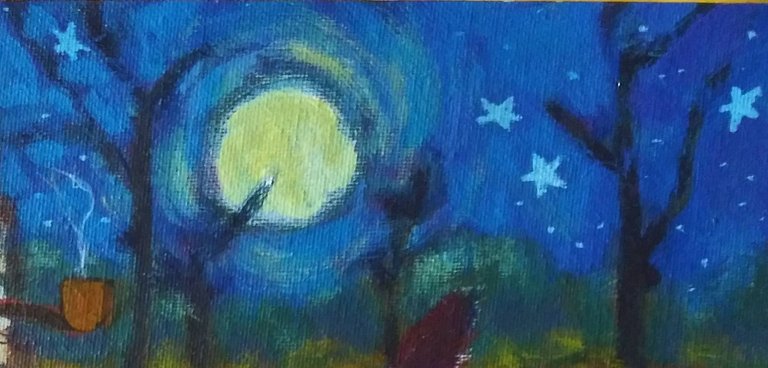 On a different kind of note, I am not plumber, that is for sure, but I can usually figure out the smaller stuff. My bathroom sink drain has gotten slow from time to time and I have plunged it a little now and then, making it act better, but it was just slowing down again too soon. I decided to try this Drain Weasel. It's a cheepy little thing. I am sure it is on sale somewhere for less, but I got it on amazon for right at $20. I knew it was a gamble and that it could work or not work, but, you never know till you try... right?
It got here today and had 5 of these flexable rods in the package along with a handle with a crank on it, so it was good for more than a one time use. One end of the rod would snap and twist into the handle and the other end......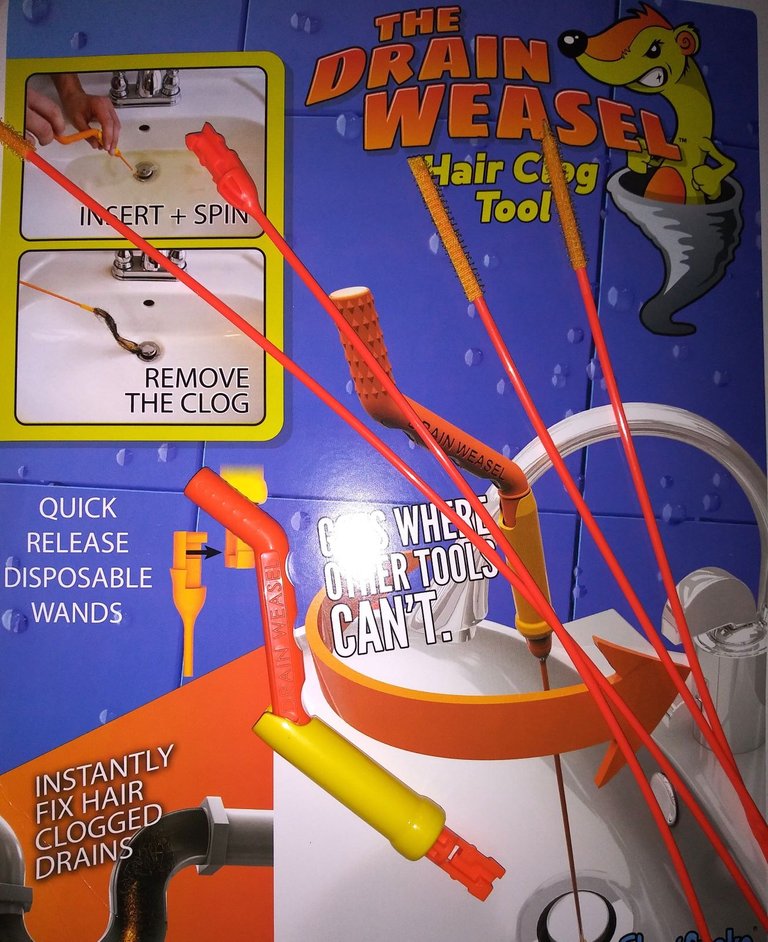 Looked like this ! Little plastic curly hooks covered the tip. You feed this end down the drain and it is flexible enough to bend. After you got it down as far as it would go, you would just turn the little handle round and round and when you felt like it, you pulled it back out and when you did, it pulled out a really gross string of hair and slimy drain goo with it. I would have taken a photo to show you but for real.... it was just too gross to share. 🤢 What came out did not surprise me as on the Amazon reviews, some others folks had put some photos there. I have to say mine wasn't as gross as some of their photos, but it was still awful. Ugh.... but.... now my sink drains so fast, it seems that for me, this worked, so was worth my gamble to try it out.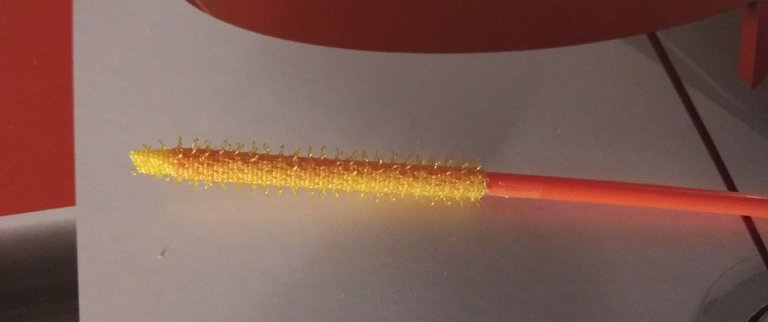 I also bought a little strainer to try to help keep some of the sneaky hair from going down. I have long hair and I nearly never see a strand in my sink. If I do, I never wash it down, I take it out and put it in the trash. I'm not sure how so much of it got down the drain.... but it did.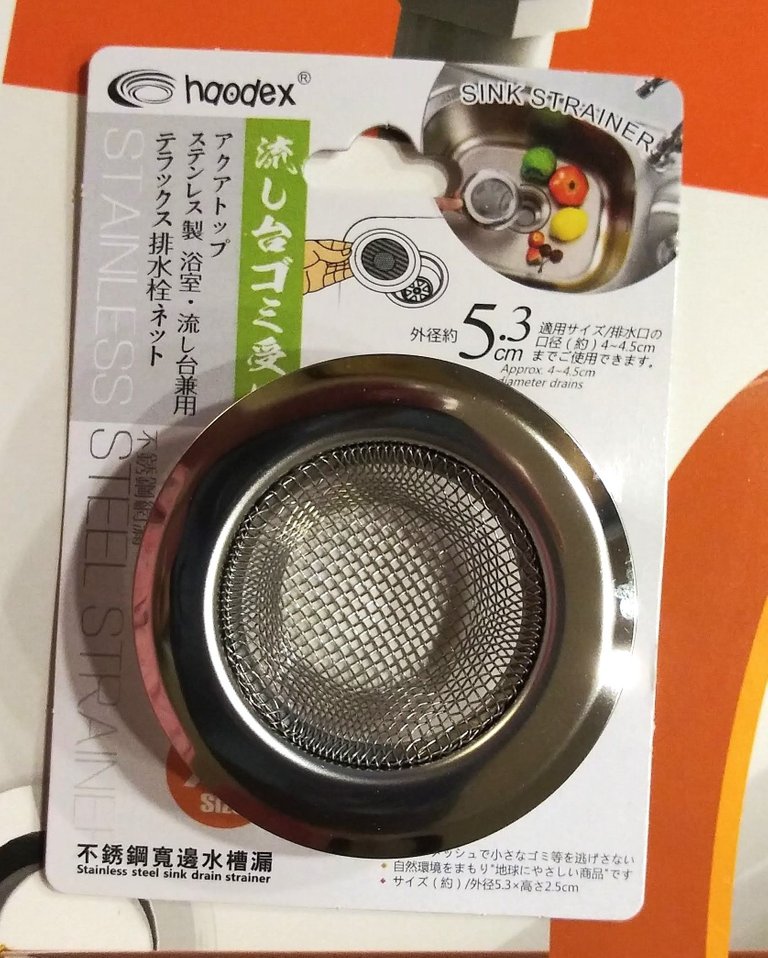 It's Friday, my new art came today ..YAY !.... at lunch time I unclogged my sink... YAY.... I feel so accomplished now. LOL !!!
I hope you all have something fun planned for your weekend and if like me, you have no plan, I hope something fun happens anyway.
Love you !
Jacey