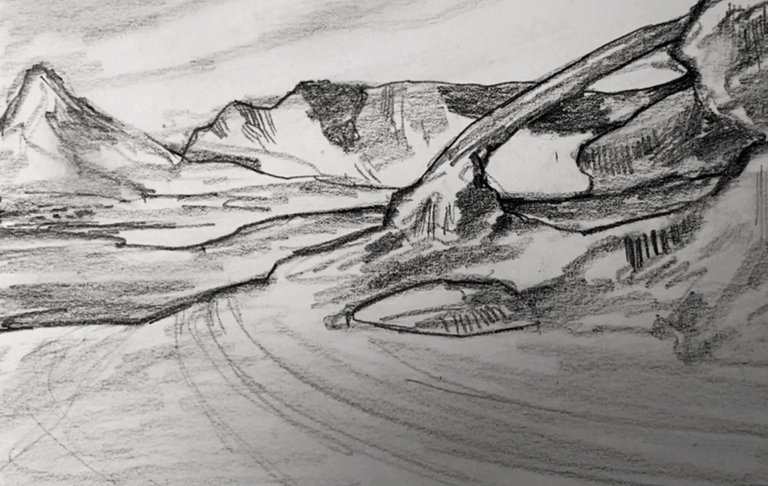 Hi friends,
I was chatting with some friends yesterday and we got into a deep conversation about artists and sourcing their references. To make a long story short, at the end of that chat I was like, yeah okay each artist to their own, if they dont wanna cite their references and get found out later, it's their choice, no skin off my bones~
But now that I've slept on it, I think I realized a fundamental flaw in that thinking:
I forgot that photographers are artists too
It's really a shame, but I sort of bypassed the fact that a photographer would have to make artistic choices with regards to what his model would be wearing, the lighting of the shot, the composition for the shot, and even the model that he will work with for a specific piece. Not to mention, the framing, the editing, and other legitimately creative directions that will generate a beautiful photography.
Heck, I have tried to take pretty pictures with my camera. Shit is NOT easy. It isn't just click one button and a gorgeous shot comes out automatically! (In fact, most of my photography is shitty) (They will not grace the light of day at any blog because I have shame) (lol)
So, I think it's important to change the thinking that only painters or illustrators are artists. Photography is often overlooked or belittled as FREE SHIT. This is kinda bad practice since I know a lot of photographers would welcome the words of mouths to spread, so as to gain more business or even just to bolster their branding online. The more searchable they are, the more discoverable they are.
If I rely on primarily one piece of photography to make an art, I think it is good form to give something back to that photographer and cite my sources. The photographer's name would then be known to my audience and I will be giving back something to my sources instead of just taking and treating their work as freebies.
On another note, I was told that revealing the base photo can be like asking a magician to share their secret magic tricks. I was perplexed with this at first (I never use references that's why my drawings are terrible) but I can understand the desire to want to seem ... 'magical', for lack of better word. Well, for one, you can use your own photos if your own photography is good enough to be used as a base for your artworks. If not? There are a lot of free to use photography out there for this purpose, I think. Pixabay, etc. Sure they will be easily searchable by others, but at least this way we are not taking photography and photographers' work for granted?
But more than that, if someone thinks seeing the base photo diminish the 'magic' off an artwork, just ask the silly person to make one themselves.
It is virtually impossible to gain an artist's experience, training, skills, and artistic eyes, just by seeing the source of the artwork. As I did say in the conversation, TO ME, it is wonderful to see what an artist makes out of commonplace references. TO ME, it is actually magical to see an artist's creative choices that generates their own interpretations out of their base photos. It's like seeing a jumper knitted out of a yarn of wool. The process, the decisions, the artistry matters.
Just cuz we can see the original picture, doesnt mean just anyone can come up with the quality, polish, creativity, and originality that a given artist can bring out from a base photograph!
tl;dr photographers are artists, yo
in summary, photography is a legitimate art. and pretty photographs shouldn't just be treated like freebies for painters / illustrators without some give back. THIS IS MY OPINION, btw. I'm not enforcing this on anyone. Just was ...tossing and turning last night, feeling as if I was missing something and wanting to be a better person out of the brain curling session so this was what I come out with, that's all~
OKAY so because I dont like to make a post without images and I need to demonstrate my point, I DID pick a photo off pixabay and I DID make a sketch out of it to accompany this ramblings of a post... which, you can see in the banner of this post!
This is the picture I chose from pixabay: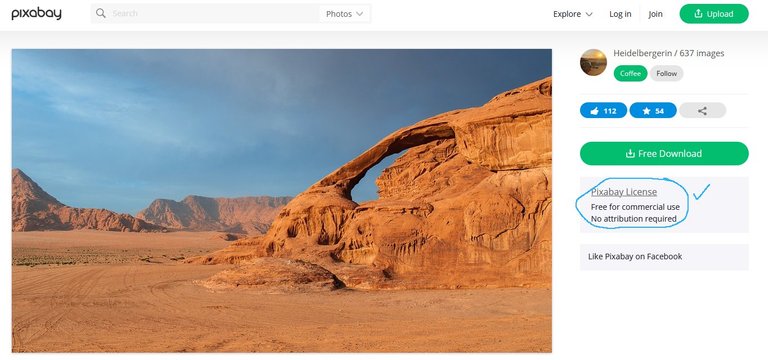 And the result was as the top image of this post~ Here it is again: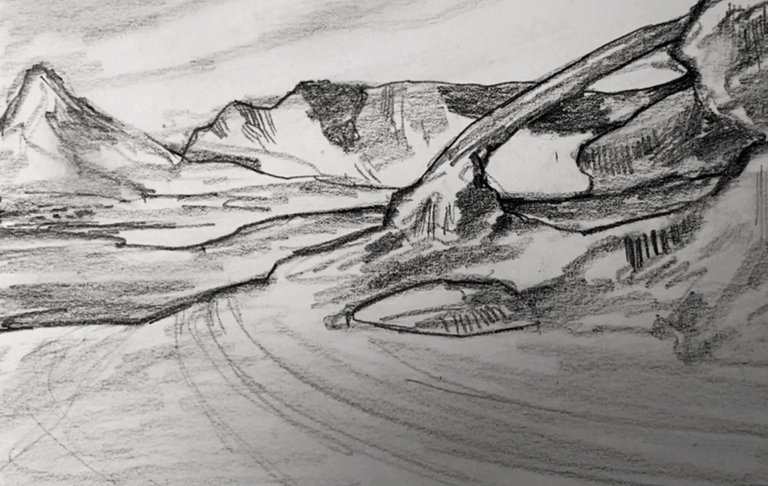 As you can see it is not a 1:1 direct translation as my eyes and brain made their own "director's" choices as to how to frame the inspiration as my own artwork.
And I dont think ....I dont think NOT showing the base picture adds to the "magic" of my piece, to be honest. Besides, if you know me, ...I am very comfortable with adding my own flairs and stories as I go so that picture was only half of what I really ended up with. I added characters so that there is a story in the artwork :D
Here is the finished piece: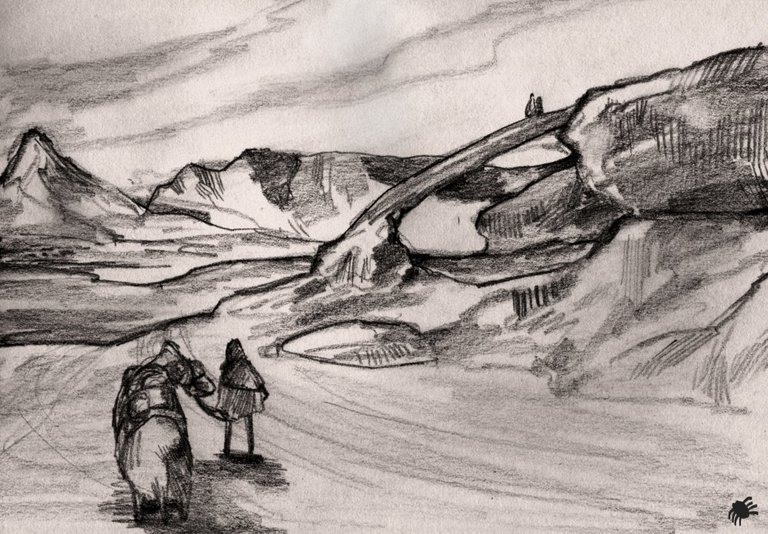 I was thinking ... Star Wars? XD And I was thinking, a long journey through a dry and arid land, where the traveler did not entertain a hope in their heart that they would still be waited for, that there were still people that cared for them. And then, they looked up, and saw their people upon the high rock... !
Didn't have any references for the characters or the beast, so anatomically they may be not quite perfect, but for me it is more important to tell a story than to get things photorealistic~
Anyway, that's MY ramblings and my struggles. I don't mean to pontificate or lecture others. I genuinely was grappling with the topic of citing references for artists and this is what I came up with at the present moment. As usual, all opinions are welcome, please say your piece in the comments if you have your own thoughts on the matter. I find myself always open to challenges, to dialog, to learning what others have experienced, as we all have our own blind spots and the only way to grow is to share and learn from each other... Dont you think?
As a final bonus, here's a video of my drawing the artwork in this post :>

Alrighty, that's all from me for now. Please excuse my stream of consciousness type of writing and I hope you are all having a good day :>
And I think I didn't say this in the last post, but if you are active on mainstream social media, always create a cross post of your hive post! Specially if your article has been well researched, or the art is eye-catching, or it has the potential to gather eyeballs and attract people's interest in joining HIVE :)
We gotta do our bits to help keep the HYPE alive so our new home's success gain strength from day to day, friends~ !!!
Until next time, see you o/
Websites used to make the art in this post
Copyright (c) 2020 veryspider.
No reusing elsewheres unless you got my okay to do so in writing!




https://discord.gg/suvDzUQ