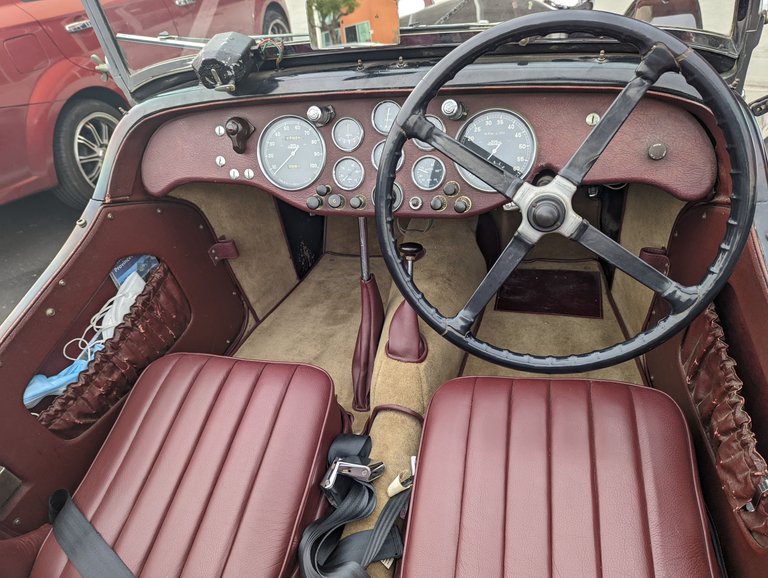 I don't know what kind of car this is. HRG? Maybe that's the guys initial. Does anybody know what kind of car this is. Could just be a retro vintage car. Still expensive.
Just a cool car I saw in Culver City walking around. Went to the groceries doing some day job stuff. And there was this car outside of pep boys, I think it was. One of those automotive supply places. You know where you go and get your oil and charge your battery. Kind of like an AutoZone. But it wasn't an AutoZone. Man. I can't think of the name of that place. Can't think of the name of this car either.
Walked by Just had to take a picture. I mean how can you not take a picture of this beautiful car. Imagine driving around this thing up there in the hills. Wind in your hair. You know I always wondered why an old movies. They wore a scarf while driving around. Ever since being out here in LA. I know why now. It's cold! You can't just drive around in it. Sweet car like this without your scarf on. You got to wear a scar. And maybe a sweater at least. Yeah put a sweater on buddy.
I mean you think about LA and you think it's all like really nice and hot and stuff. Heck no. Especially not on the west side. It's chilly. 70 tops. Usually in the '60s. I know that sounds warm to some places. But you can't go walking around in a t-shirt and 60° weather all the time. And then it drops down into the '50s and then the upper 40s at night. I know that sounds warm some places but then there's that breeze that's coming off the ocean. So you got to wear your scarf. When you're driving around in a sweet car like this. Doesn't look like it's got much of a roof at all.
I mean I like to have a coffee when I'm driving. I haven't had a car for years. But when I did have a car I'd like to have a coffee. I'm not sure where I would put my coffee in this car. But I do like how there's just one big seat. Hey scooter over honey sitting next to your buddy. I mean isn't that the way it used to be back in the day. You and your lady could sit close to each other driving. Or if you're a lady you and your buddy.
I don't know nothing really. I just think it's a cool car kind of like a motorcycle. Yeah it looks a little bit like those electric cars that are coming out. Not really but got that size of those electric cars from Solo and archimoto. Those things are three wheelers. This is a regular old old car. I like this. The more I think about all those electric vehicles coming out. The more I want some kind of old vintage car. What kind of car do you have.? Oh just some really old car don't even know the name of. Hahaha.
Work is fine. Trading is fine. Everything's fine. Life is what it is. But If you got a car like this, I guess you can kind of slip off to that imaginary place that Los Angeles and Hollywood gives that dream off to the world to think about. Well, that's enough dreaming for me. I hope your dreams are nice. And what kind of car is this for goodness sake. If anybody knows please let me know.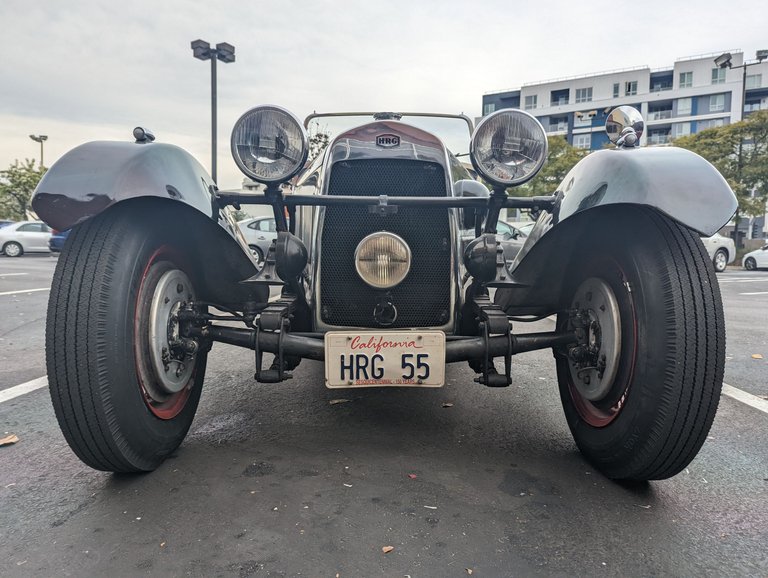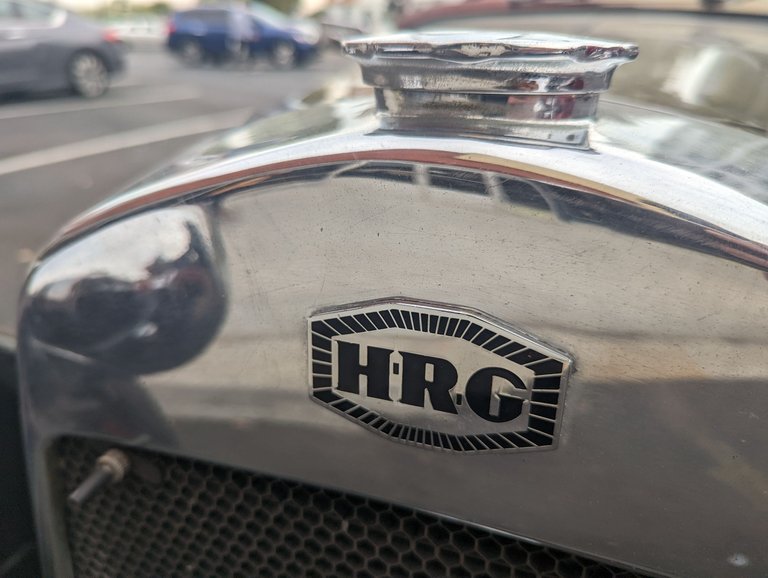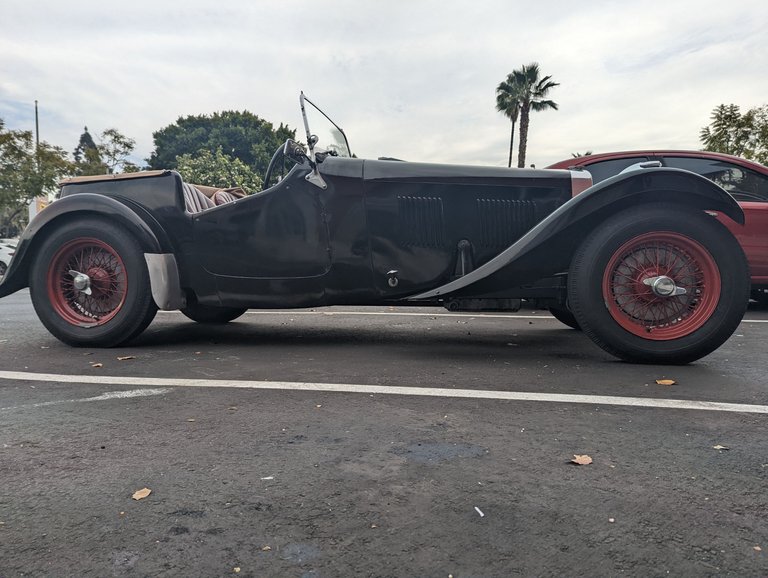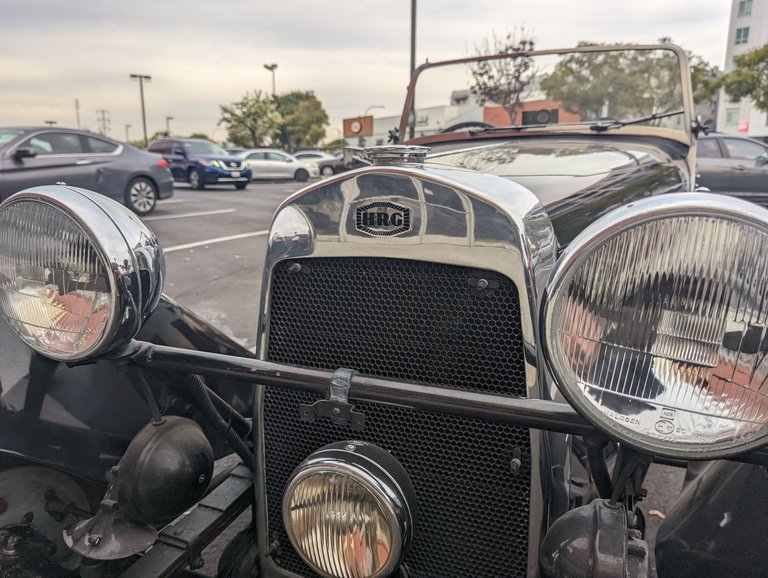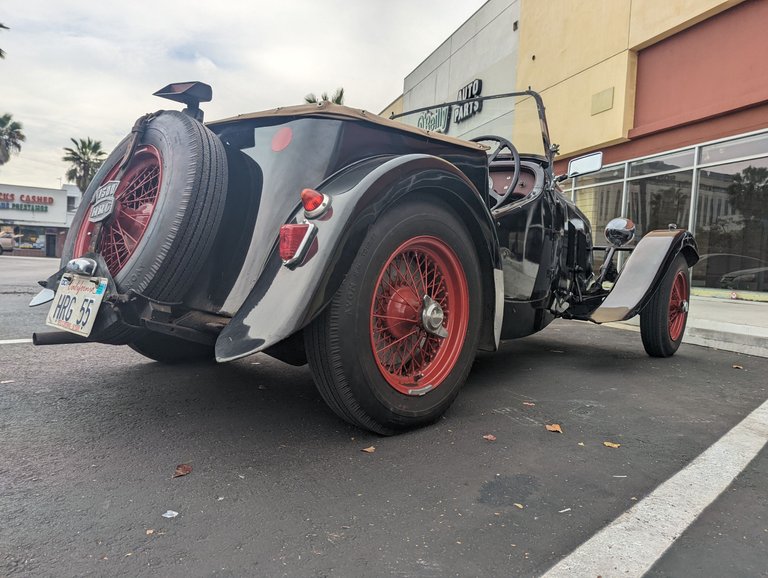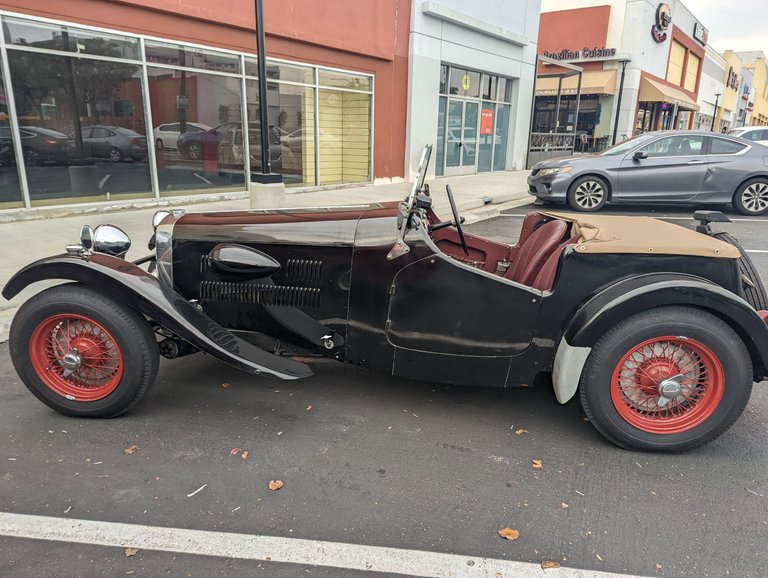 Please please please leave an upvote. It keeps me motivated and encouraged. Leave a comment and your latest post in the comments. Add me to yourhive.vote. I appreciate it. I really do.
I'll be hosting a #Hivechat soon from my Twitter account twitter.com/allthemoneys February 8th
#writing #photography #california #socal #losangeles #car #automobile #allthemoneys