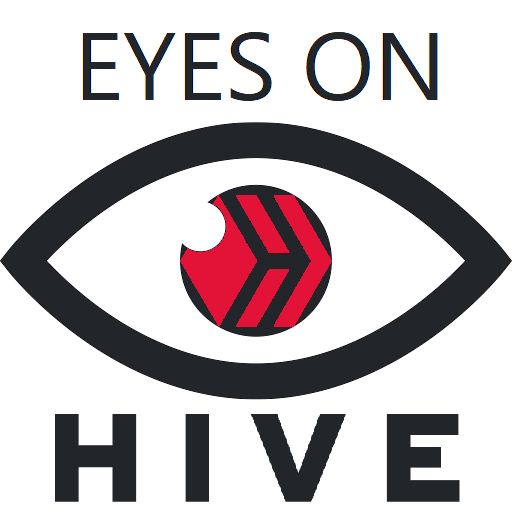 Daily Prizes for Driving Traffic to Hive
Eyes on Hive is an initiative to encourage the driving of web traffic to Hive platforms. Skip down to the rules section below if you wish to participate.
Goal of the Project: To Reduce the Obscurity, Raise Awareness of Hive as a Social Network
It has been clear for a long time that Hive has a problem with obscurity. When you talk to people in the crypto space, nobody seems to be aware of it, despite the long history of the community and despite the level of passion and dedication we have for Hive, as well as trying to get it out there and known. I have been aware of this for a long time, but in the last couple of weeks two things really brought the lack of attention and traffic on Hive into focus.
1. Breaking a 76 Week Streak By Sharing on Reddit
I've written a couple of blogs about this already, linked below, but the long and short of it is that a small amount of sharing on Reddit was able to finally break an extremely long streak of hive-gaming (mostly Splinterlands) content being the top viewed posts on peakd.com, week after week, consistently. It did not take much - showing just how little web traffic is required to take the top spot.
https://peakd.com/hive/@demotruk/a-76-week-winning-streak-on-hive-was-broken-last-week
https://peakd.com/hive/@demotruk/hive-curators-we-need-to-do-better
2. Coingecko's Tweet about "Decentralized" Social Media Platforms
This tweet along with the accompanying blog post caused quite a stir among the Hive community. The definition and conception of "decentralized" by the writer/researcher at Coingecko is clearly problematic, but if you look past the categorization, the mere fact that Hive platforms are so far below other platforms that themselves are very obscure, should be setting off alarm bells. The chart highlights the scale of obscurity that Hive experiences, and just how far the project has fallen in terms of public awareness from the heady days of Steem.
You can argue about the methodology, but realistically two of our front end platforms dominate above the others, and even if you add all the users together (where there is considerable overlap in unique users...) it is clear that the Hive ecosystem as a whole is starved of web traffic coming in from outside of our own space.
Contest Overview
Every day there will be two main prizes.
1. Author Views Prize
This prize will be granted to the author of the post which gets the most views in a day. Initially it will be limited to views on peakd.com, for the simple reason that none of the other major Hive front ends a) provide a view counter on posts and b) allow me to search posts by view count. If those become available on other front ends, they will be included in the future.
Initially the prize will be set at 10 HBD. The prize will be paid out every day, with the possible exception being if I suspect that there may be fraudulent traffic (driven by bot nets, or similar). My accounts including @eyesonhive will also be exempt from the project in order to avoid a potential conflict of interest.
2. Sharer Prize
To compete for the sharer prize, you must follow the rules below, which are similar but slightly modified from the two contests that I posted in the last few days. Just like the author prize, it will initially be 10 HBD per day.
It is highly recommended that you register your account with HivePosh if you wish to participate in the sharer contest. Aside from Twitter and Reddit being good places to share and drive traffic from, it will make it easier to prove that traffic was driven by you specifically. That said, any authentic source of views is valid, so don't be discouraged from sharing on Facebook, Whatsapp or elsewhere if it works for you.
Sharer Prize Rules
The post doesn't have to be yours, but it does have to be current (within the last 72 hours).
You must register the posts you are attempting to push by replying to this post with a comment, linking the post you are entering*. You must do this before promoting the post, that way I can be sure you are not hi-jacking someone else's attempt to promote a post. Make sure you link to a front end like peakd.com that tracks views.
The winning post will be the one that gains the most in views between the time of registration and the end of the contest. Each contest will end at midnight UTC of the following day. The low threshold ensures that someone will always win each day - there is no high bar to win such as in the last two contests.
The traffic must be authentic - you must not pay for traffic or use bots or any similar service to generate inauthentic traffic.
Provide evidence such as links to your sharing on other social media sites to prove that you were the one who drove the traffic to the post. Evidence of the authenticity of the traffic will be required. As mentioned before, joining HivePosh will help with this part.
You can make as many attempts as you like, within reason, as long as you register the posts you are promoting.
I reserve the right to deny the bounty if the above rules are not followed in letter and in spirit.
Registering a Post and Understanding Where to see Views
Registering to participate means choosing a peakd.com link that nobody else has already registered, and making a reply to the contest post. I will attempt to screenshot the peakd header of the post as close as possible to the time you register your post. If you create a screenshot yourself, that can help.
You can find the page for peakd most viewed posts here.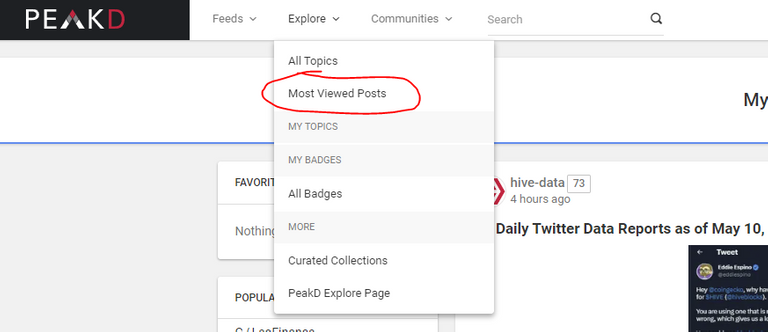 Funding
The money for these prizes will come from donations and from the daily contest post rewards. So far 150 HBD has been donated by myself and @dandays. If you would like to support the project, please make your donation to @eyesonhive. The project will keep going on post rewards and donations until it runs out of money.
If the project sees a degree of success and proves that it can successfully drive web traffic to our platforms, I may seek out funding from the DHF at a later point. In that case we may be able to raise the prizes and perhaps introduce a jackpot system, where some money will be put away each day until someone beats the top viewed post of the last 30 days, winning the jackpot.
---
Today's Contest Begins Now - Author Prize will be paid out tomorrow - Sharer Contest Ends Tuesday 16th May at Midnight UTC.