Just about every virtual currency out there is seeing red right now.
Here is a list of the top handful of cryptos by market cap: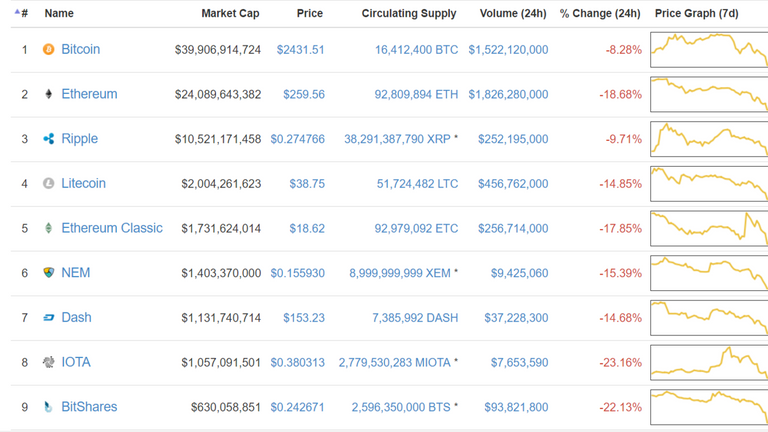 As you can see they are all red.
It doesn't get any better when you scroll down either. When scrolling down the list of the top 100 cryptos by market cap, only 3 of them are currently in the green.
That means roughly 97% of the crypto space is seeing red right now.
What gives?
Well there are a couple possibilities in my opinion.
First you had the flash crash the other day where the price of Ether crashed from around $300 all the way down to $.10 within a matter of minutes. The price recovered quite rapidly but the damage psychologically was already done. 
Then you have the uncertainly surrounding bitcoin and what is going to happen with Segwit and on August 1st. Some are claiming the chain could be split into 2 separate chains. However likely that may or may not be, the uncertainty around it is causing some people to likely take chips off the table.
Then last night there was the rumor that the co-founder of Ethereum had suddenly passed away. It was reported lats night that Vitalik Buterin, the co-founder of Ethereum had died in a car accident that injured 5 and claimed the lives of 2, including him.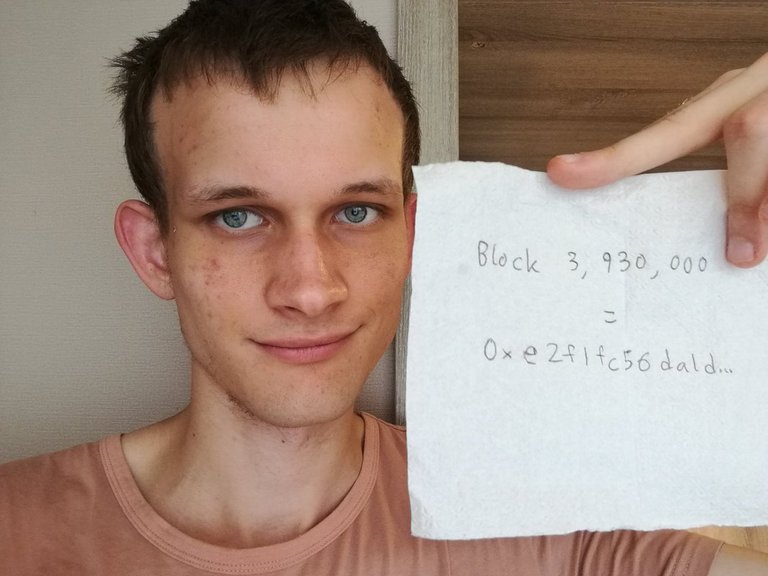 Buterin quickly put those rumors to rest using blockchain (ironically), but again the fear and uncertainty has already crept in.
Basically in my opinion we are seeing the results of people's confidence in the space being shaken, and when many are sitting on large profits, these kinds of things happen. 
What's next?
Well for one I want to see how long this all lasts. 
If this is all mostly just fear and uncertainty around a flash crash and a (rumored) untimely death of a co-founder, then it could be over just as quickly as it all started once some confidence is restored.
If it is mostly over the fear of what is to come with Bitcoin, then it may last a while longer yet as we inch ever closer to those important dates and headlines whip the price around from day to day until a definitive outcome is known.
Either way, the fact that Coinbase has come out and said they will reimburse those that experienced losses from stop losses being hit during the flash crash of Ether, and also the co-founder of Ether verifying he is in fact alive and well should go a long ways in helping restore some confidence.
Confidence can be a tricky things in markets though, once it's shaken it is tough to restore in the very short term.

My thoughts
For me personally, I would not be surprised to see prices across the board come in a bit more. 
Then as confidence is restored and a lot of these exchanges continue to make improvements both in their technology and in their customer service abilities, and as we get past some of the uncertainty surrounding bitcoin in the coming months, I fully expect to see the space rebound and continue upon it's upward trajectory.
Which means, I am using these drops as buying opportunities. :)
Stay informed my friends!
Sources:
https://techcrunch.com/2017/06/24/coinbase-is-reimbursing-losses-caused-by-the-ethereum-flash-crash/
http://www.zerohedge.com/news/2017-06-25/its-virtual-bloodbath-cryptocurrency-carnage-continues
http://www.businessinsider.com/ethereum-cofounder-vitalik-buterin-blockchain-selfie-death-hoax-price-drops-2017-6?r=UK&IR=T
Image Sources:
https://bit-media.org/2016/06/
http://www.businessinsider.com/ethereum-cofounder-vitalik-buterin-blockchain-selfie-death-hoax-price-drops-2017-6?r=UK&IR=T
http://mad-intelligence.com/mongolias-new-government-must-move-quickly-to-restore-confidence/
Follow me: @jrcornel